A writer and director, Maxim Bessmertny is a graduate of NYU Tisch School of The Arts. Born in Russia but raised in Macau, Maxim discovered his passion for cinema in the city. With an MFA in Film Production, his latest narrative short film "Tricycle Thief" had its world premiere at the Toronto International Film Festival, having screened in numerous festivals worldwide. The movie also won the 2015 Kodak Gold Award for Best Short Film. We caught up with the brilliant talent after just finishing his thesis film, "Sampan" and heading off to new adventures.
Did you always think filmmaking would be your path?
No, everything just developed exponentially from one great interest to another. I discovered everything gradually as I continued to yearn to learn more about the aspects of cinema.
What makes a great film for you? 
I think that it's a combination of everything, based on great films that I've watched. Everything starts with the story, the script, and whose vision are we following. I believe that those are key elements. Great film, great team, and a great story are comprised altogether. The characters that were cast for these roles and really give life to it also play a crucial role. If you have the starting ingredients then everything else follows.
When do ideas for stories hit you?
I've had ideas that came from props, gas masks, conversations and real-life experiences. If an idea sticks with me, then I develop it. Nowadays, it's more structural, unless I'm doing an experiment. It really takes time to create a story for me. Cinema is an end product no matter how intellectually conceived it started out to be.
What do audiences want? Is it the filmmaker's role to worry about that?
I think the audience doesn't know what they want. Well, every human being knows what they want in terms of goals and objectives. When you look at audiences as a mass, everything is treated like a factory driven product and it's how the cinema is like now with blockbuster films. I think every audience member is a different human being. If the director follows his intuition an audience would react to it out of curiosity.
What role have film festivals played in your life so far? Why are they necessary?
They are perhaps the thing that helps filmmakers nowadays. They have been crucial and important and inspired the creators of films and what keeps you going as a writer and director.
Is there a recurring message on your films or a common thread that you want people to understand?
I use music a lot. I use Cumbia or Mambo and it's my subconscious, I think. Production design has been an important aspect for me as well. The location is the key that says exactly what I want to evoke and speaks for itself.
You grew up in Macau. Do you think it played an integral role in shaping you?
I think it had great influence on me as a human being. You can't stop being who you are and this is where I grew up. It makes the world more interesting. The city has also shaped who I am. Coming here as a Russian and learning Portuguese and Chinese is pretty fun and amazing. I learn much more in an environment than in classrooms.
Do filmmakers have a responsibility to culture? Do you feel the need to give back or tell a particular story from Macau?
Absolutely, that's why I  did it in the first place. While I was in NYU in Singapore, it seemed like a lot of the American filmmakers in Asia were going elsewhere, like the Philippines, because they deemed it more exciting. You then realize: "I am from Macau, and I have lived here. Every single memory builds escalating memories and that's something else." It's the childhood influences that stick with you so much. The fact that I grew up here will most likely influence all of my future films. Everywhere I go I will always take Macau with me.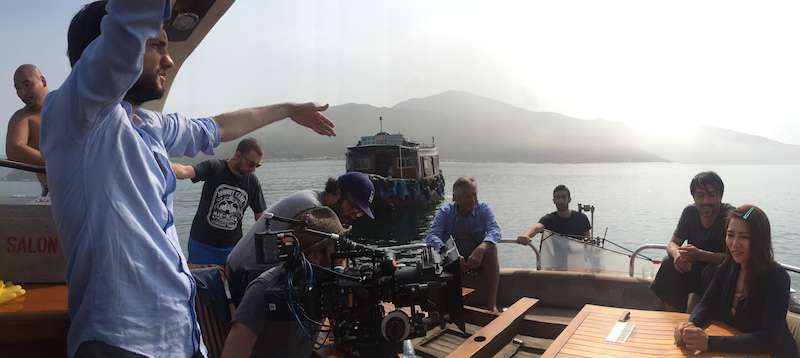 What would make the Macau film industry better?
Los Angeles started with importing artists from all over the world. I think Macau should use local artists and what it has right now but start opening up as well. Studio, space, and people are all factors that will make the film industry better, just like what happened in London, Italy, France and more. To learn more from other people… How else can you discover new things and techniques? We should have great visionaries on the top of our hierarchy. Collaborations also are meaningful but these are all just my opinion but I am positive about it.
What are you working on at the moment? What's next?
I am shooting my thesis film "Sampan". Three characters stuck on a boat with drama and intrigue We shot it on Kodak 16mm. It was very tough to shoot outdoors in the weather and changing circumstances in the middle of the ocean. It was sporadic but we ended up finishing it. I am truly very excited about it!
Can you describe the film in one word?
Lust.
What's coming up for you next?
I am always searching ways in which to be productive. I am constantly bouncing in between Hong Kong and Macau. I had a few projects to develop here in Macau so one coffee at a time until everything unfolds.
A few short ones now …
Where's the best place to eat local stuff in Macau?
I'd probably take them to dim sum somewhere in Taipa. It's the quaint restaurant called Kapok and the eateries in old Macau side.
Five things to do for an unforgettable trip to Macau?
My studio, Coloane village, Reservoir Trail, the Ruins of St. Paul and the Inner Harbor.
Stay updated with Maxim's latest work—visit his personal website, Facebook, and Instagram:
www.pontusmaximus.com, www.facebook.com/pontusmaximusproductions, www.instagram.com/pontusmaximus
Share
Tags
Related Posts