There is a health movement in Macau that continues to grow. Whether you're trying to lose weight, gain weight or just improve your lifestyle, eating smart is the best way you can achieve a healthier outlook towards life in general. We tracked down these special spots to help you begin a wellness journey that will transform your dining habit.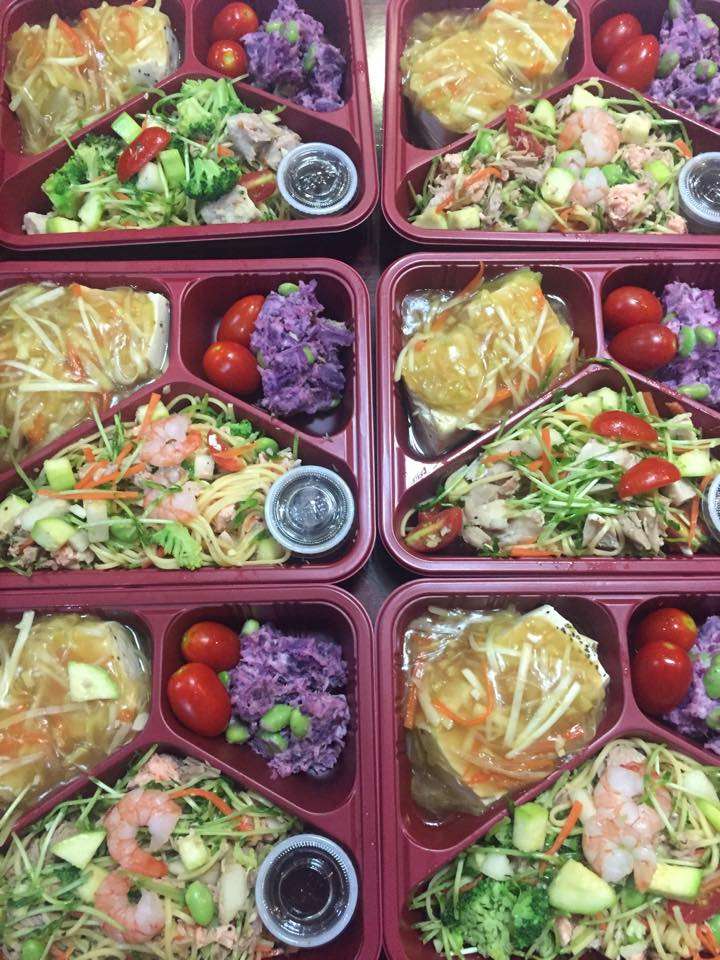 Obento Fit
Have you always wanted to eat clean for the rest of your week but feel like it takes a lot of time and effort to buy fresh ingredients and to pack them for work or school? Sayaka McPherson, Japanese American chef and owner of McPherson's Sweet's Shoppe created Obento Fit. The answer to the woes of a health buff, they deliver single serving home-packed meal or takeout that is common in Japanese cuisine. With an affordable price range from MOP $30 to MOP $60, the menu provides healthy choices from veggie spring rolls, salmon sushi pizzas to vegetarian fit boxes. Orders can be made online two days in advance for your daily nutritious intake of wholesome food at their website. They also provide free delivery services to Taipa and Coloane area. If you live in Macau side, they are offering pick up service at their store, the McPherson's Sweet's Shoppe located in San Ma Lo.
Obento Fit delivery service to Taipa or Coloane, +853 6280 3970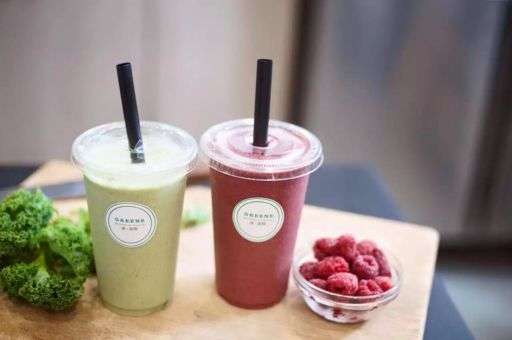 Greens Kitchen & Juicery
When roaming around St. Augustine's Church and Dom Pedro V Theatre, make your way down from there to Greens Kitchen & Juicery located right opposite a hair salon and grab takeaway food items such as salads, wraps, fresh baked goods (vegan/gluten free) and their signature line of cold-pressed juices for a quick energy booster. If you're walking up from Macao Fitness, grab one of their homemade granola bar or energy balls as a fast pre-workout snack or have one of their superfood smoothies as a post workout shake. Their Greens' smoothie is definitely a must try and is my ultimate favorite!
Greens Kitchen & Juicery Calcada de Santo Agostinho No. 1A, open daily from 11am to 8pm on Monday to Friday and 11am to 6pm every Saturday and Sunday, +853 6288 0870
The Blissful Carrot
Located alongside Old Taipa Village, chill out in this bohemian style spot with welcoming warm colors and shades of a paradise feel. Enjoy a wide variety of beverages with various health benefits, including cold-pressed juices, health tonics, elixirs, and smoothies. The menu is very large (where you can view from their Facebook page), that serves rice bowls, salads, sandwiches, pasta, wraps, tacos, all day breakfast and an open display of their raw and healthy bakery goodies. Their Blissful Carrot cake will surely tempt you every time you visit. It's even harder to say no because it's guilt free and healthy!
Blissful Carrot No.79 R. Direita Carlos Eugenio, Taipa Village, open daily except Wednesdays  from 10am to 8pm, +853 6298 8433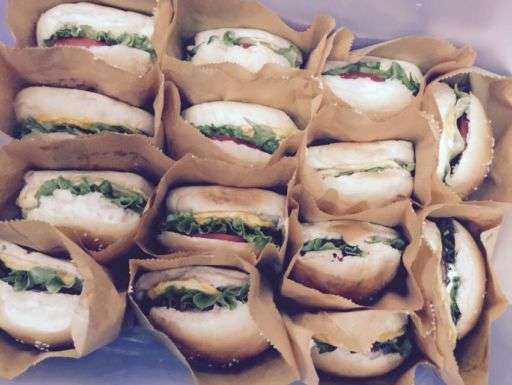 Ting Ting Cafe
Close to the heart of town, a good range of healthy choices for burgers and drinks. Reasonably priced and adequate space for open air lunch and light snacks. The small kiosk is located opposite Old Court Building in a public park where you can easily grab and go or enjoy your meal al fresco in the park. Popular with locals within the area, do expect long queues during lunch hours. Along with fresh juices, Ting Ting's offerings include chestnut sushi and several variations of veggie burgers. All satisfying, all vegetarian and all reasonably priced. You may refer to Annie's article "Ting Ting Cafe: Homemade Vegetarian Burger in Macau" for more insight about this healthy spot.
Ting Ting Café Praca de Jorge Alvares, Macau, open daily from 8:30am to 7pm on Monday to Friday and 9:30am to 7pm every Saturday, +853 6387 7345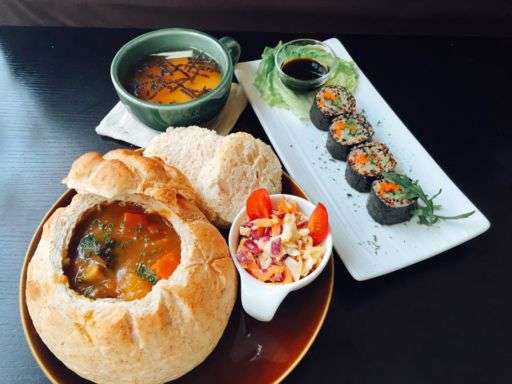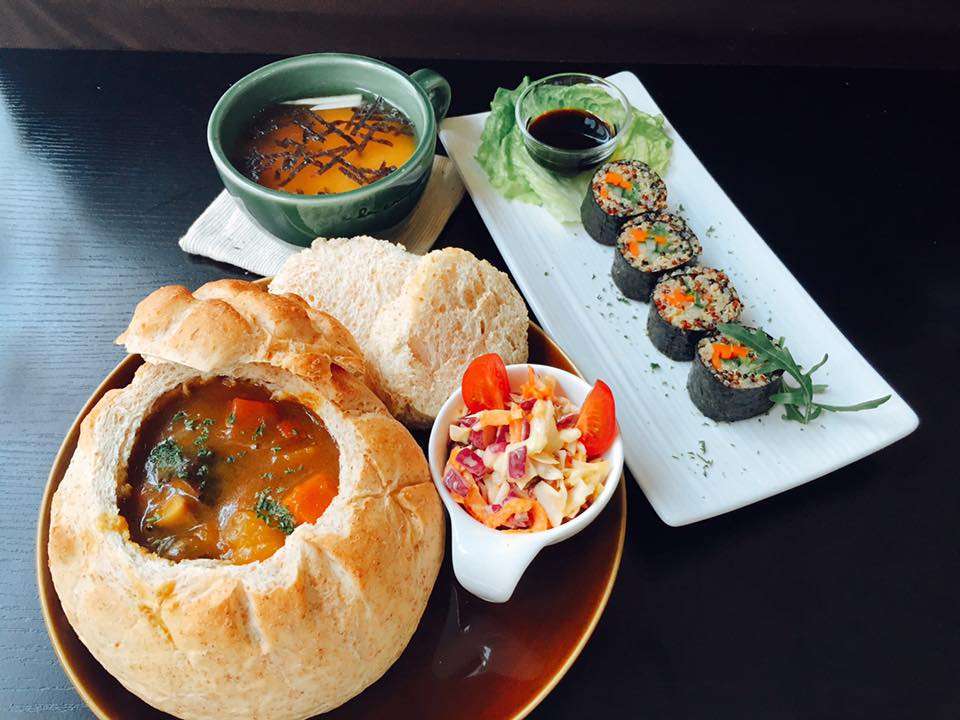 Veggie Macau
Tucked away behind Tap Seac Central Library, if you're looking for something light yet fulfilling, Veggie Macau provides vegetarian, lacto-ovo, vegan choices in their menu. With a thoughtfully put-together menu of healthy kinds of pasta, sandwiches and salads. Cafe owner, Candy, recommends their Pineapple and Veg meat Quesadilla MOP $65 or Veg Bolognese Bottom Mushroom Lasagna MOP $78. The cafe even makes their own soybean cheese and sauces.  Every Monday, they go meat-free with their Green Monday menu that promotes one step to a healthier lifestyle. A must try is their Quinoa Sushi Rolls that is high in protein and fiber.
And if you still have room for desserts, go guilty-free with their Vegan Chocolate Walnut Brownie or Raw Chocolate Cake. If you're dropping by for a healthy afternoon tea, Candy suggests their Caramel Sauce Pancake at MOP $48.
Veggie Macau Rua do Tap Siac no. 1-3, open daily except Tuesday from 12pm to 9pm every Monday, Wednesday and Sunday, +853 2836 6891
Share
Tags
Related Posts