Although breakfast, lunch and dinner are the three main staple meals of the day, there are other also "in-between" slots that are perfect for a short tête-à-tête with friends and family. Besides brunch, another "in-between" meal known as afternoon tea is usually overlooked but it's the best time for a good catch up session! Usually, afternoon tea sets come with both sweet and savory little appetizers, plus a wide selection of teas, juices and even cocktails. For your next awesome catch up, read on to find more about the best afternoon tea sets in Macau.
The Painter's at Vida Rica Bar
(See featured image above)
Inspired by the renowned artist Picasso, this is an afternoon tea to remember! Besides being super creative, Vida Rica Bar's new set is built right in front of you on the table–yes, no dishes required–to foster people to get messy and enjoy great food without all the etiquette rules one usually is obliged to follow at a restaurant. Watch these masterpieces come to life as their in-house chefs assemble the creation in front of you. Amongst macarons with different flavors, handmade lollipops bursting with savory and sweet notes (hazelnut foie gras is one of them) and magic fruity powders, there are brownies with cookies, ice cream and an array of original little cakes and snacks to share with friends! Start as you wish, but the caramel tart followed by the strawberry lollipop and the scones should be a great starting line for what's next: savories include salmon with pomelo praline and king crab with apple roll.
This meal also includes drinks from their selection of coffee, chocolate, milk or tea. The Pink Flamingo (green tea), the White House (white tea) teas and the Egg Tart and City of Dragon milkshakes are must-tries. We won't share any spoilers on preparation or presentation, but we assure you it's the funniest and most enjoyable afternoon tea in Macau right now. There is even the tossing of a dessert involved, and lots of angles to take great photos, boomerangs and loop videos. Available from 3:00pm to 6:00pm for MOP $498 for two people, one can book a table by calling +853 8805 8928 or sending an email to [email protected] See their full menu here.
Vida Rica Bar Mandarin Oriental, Macau, 945 Avenida Dr. Sun Yat Sen, NAPE, Macau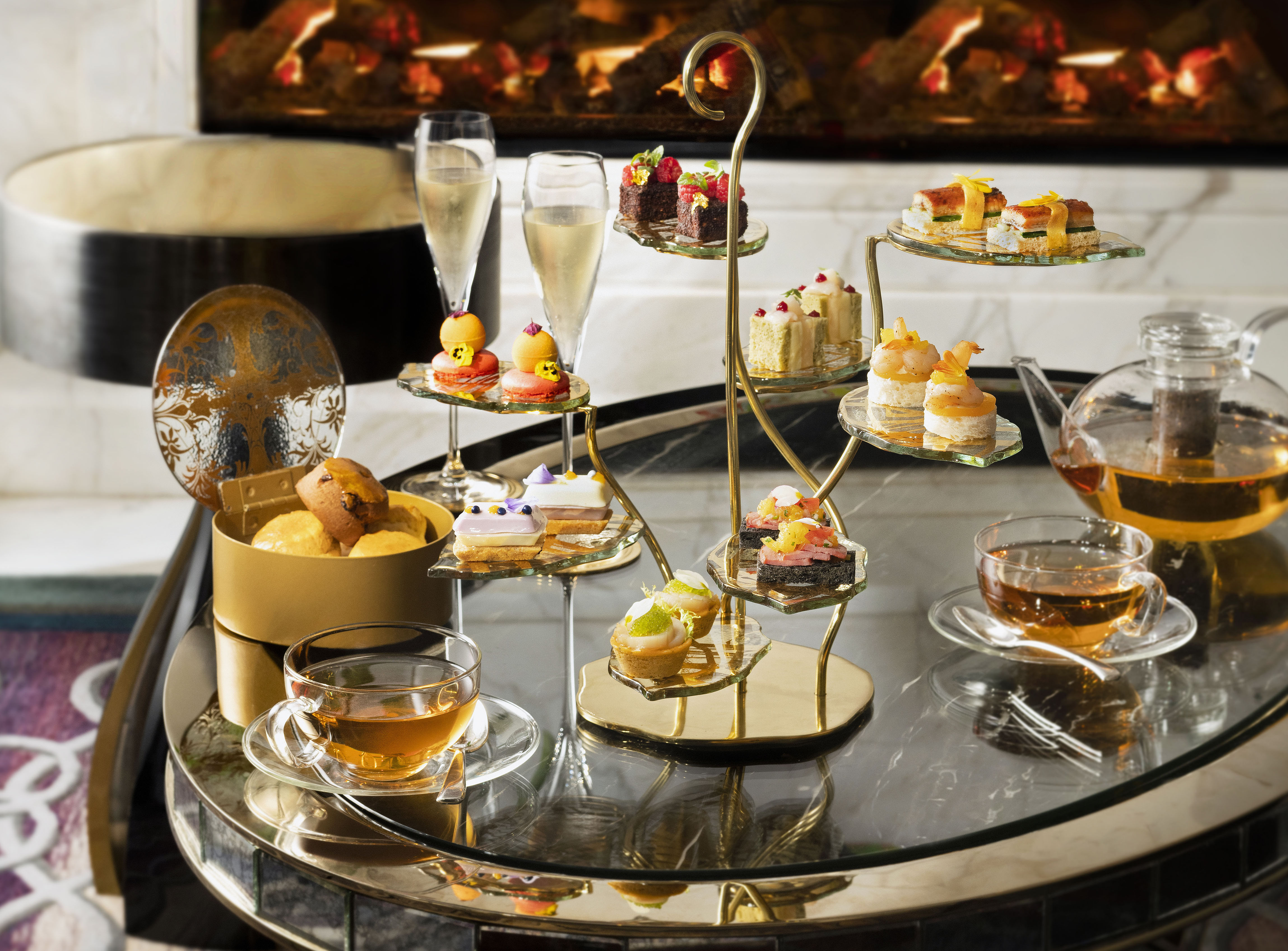 Spring Blossom Afternoon Tea Set at The Ritz-Carlton Bar & Lounge
With four savory and four other sweet delicacies – plus decadent scones–this is a classy and high-end meal for all those looking for some peace and quiet with friends or family. For just MOP $488 for two people, one can have unagi and tamago in lemon bread, scallops with wasabi Tobiko and orange marmalade, and also orange gelee with prawns in white toast. Let's not forget the charcoal toast with duck and orange salad, along with the scones, but also sweets such as rosewater and lychee, bergamot orange blossom and chocolate crumble squares! For drinks, go for one of their teas (nine to select from), or a coffee blended beverage. Besides the exquisite presentation, appreciating the view is also a must here since it's located at one of Cotai's most urban areas. Being up on the 51st floor and looking down at the hustle and bustle while you relax with tasty treats is definitely an experience to savor!
The Ritz-Carlton Bar & Lounge 51/F, The Ritz-Carlton, Galaxy Macau, Estrada da Baía de Nossa Senhora da Esperança, Cotai, www.ritzcarlton.com/en/hotels/china/macau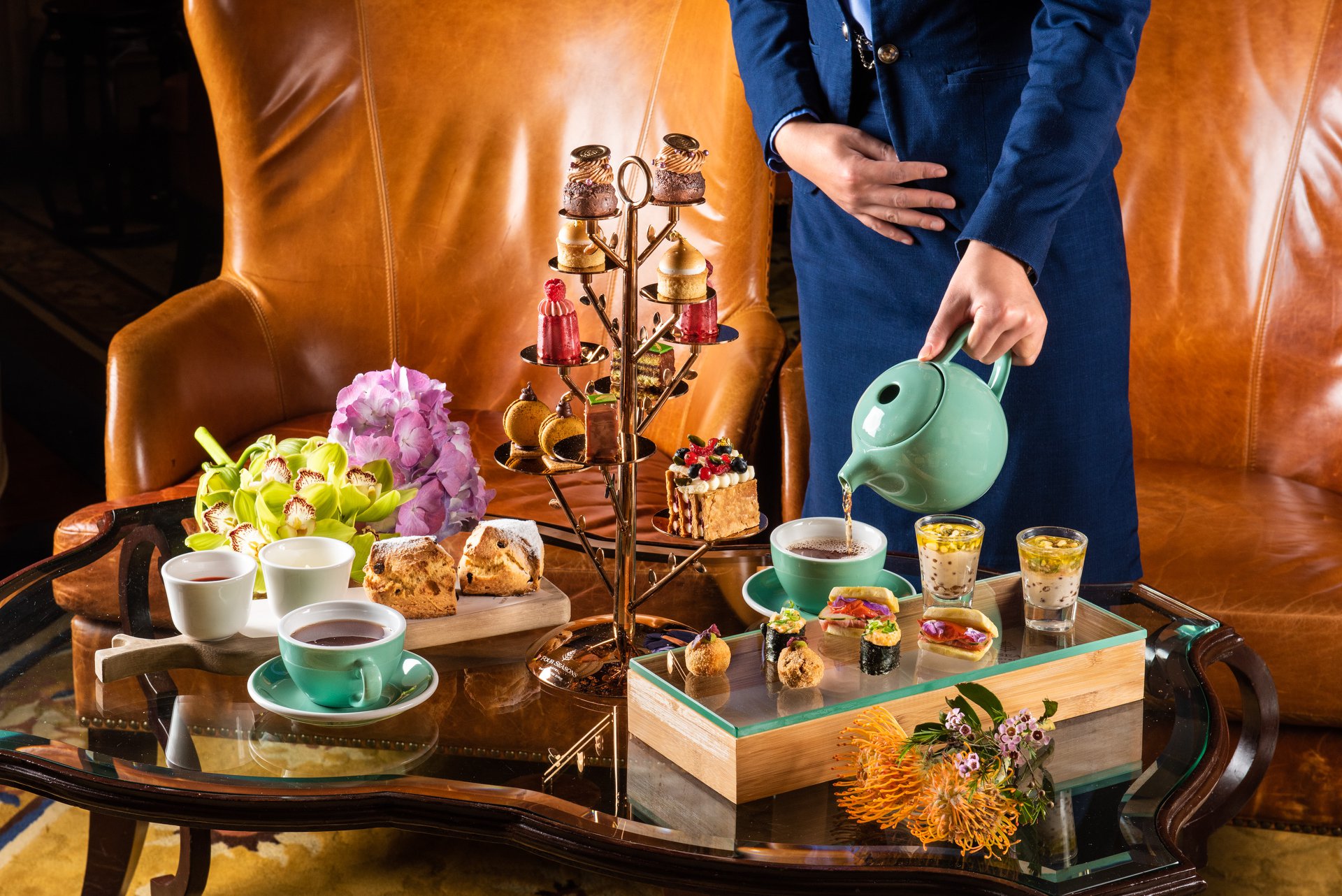 Afternoon Delights at Windows
Here, afternoon tea starts at 2:30pm and goes on until 5:30pm. What's special about this spot? The lighting, for sure! And the food, of course. At Windows, located in Four Seasons Hotel Macao, one is able to enjoy a sumptuous meal in the company of friends and family. Ideal for those staying in the Cotai area, it is close enough to some of the most famous shops and yet pleasantly far from all the rush of the city.
Their afternoon tea includes beverages, some snacks and cakes and an amazing decorated room full of history where one builds memories more than anything else. Windows' afternoon tea includes Pata Negra spam and Sze Chuan spring onion puree, smoked duck with croquette and spring onion horseradish mayo, chili crab ragout and salmon ikura, and also an avocado tea sandwich. Our sweet favourites are the carrot cake, the éclairs and the lychee rose cheesecake. For bookings, call +853 2881 8888. For more info, check here.
Windows Four Seasons Hotel Macao, Estrada da Baía de N. Senhora da Esperança, S/N, Cotai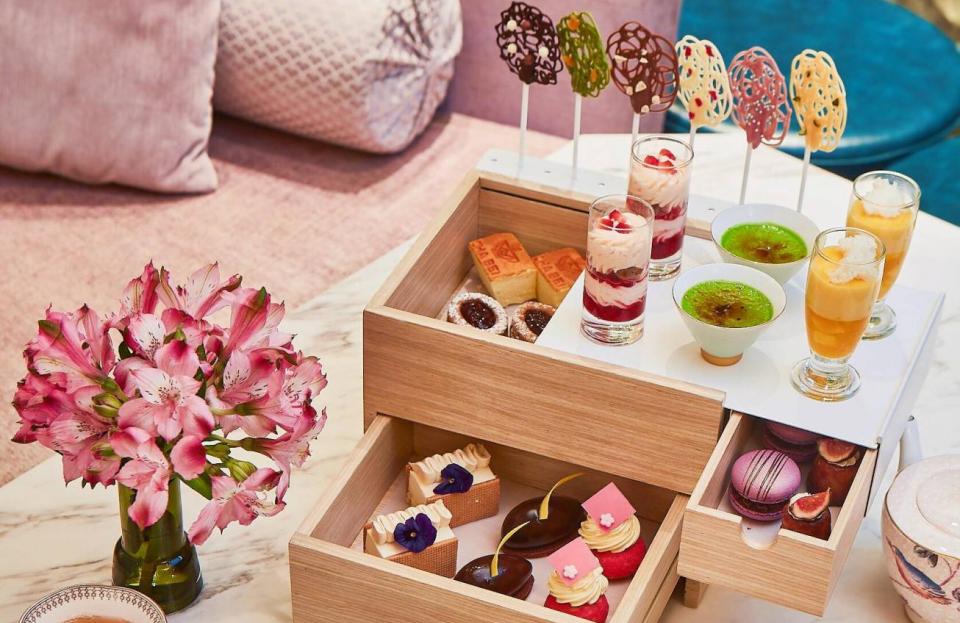 A Par-Tea to Remember at Cha Bei
Available all-year, Cha Bei's afternoon tea menu is here for the delight of everyone! From 2:30pm to 6:00pm, this super Instagrammable spot located at Galaxy Macau offers a fun menu, thoughtfully prepared to be in sync with the atmosphere. Their menus–Indulgence and Spring Extravaganza–include way more sweet snacks than savory ones, but worry not! All of them are exquisitely different from what normal afternoon teas offer.
Indulgence starts off with smoked salmon with cucumber and dill cream, avocado and edamame with feta cheese on toast and assorted mushrooms with truffle are some of our go-choices. Keep going and sample some scones and madeleines with fresh cream and jam, or opt to turn to the sweets altogether! Mango pudding, chocolate lips, their lollies collection and a coconut panna cotta are some great selections when it comes to their sugary items. And then there's the Spring Extravaganza menu! With an array of summery dishes to try this season, Cha Bei prepares rice paper crudité wrap with beetroot hummus, puffed tapioca flaxseed with tuna tartare, mandarin curd, tiramisu and many other delicacies for you to enjoy during a limited time. Try these and you won't regret it! To book a table at this delightful spot, call +853 8883 2221 and to see their full menus, click here.
Cha Bei 1047, 1F, Galaxy Macau, Estrada da Baía de Nossa Senhora da Esperança, Galaxy Macau, Cotai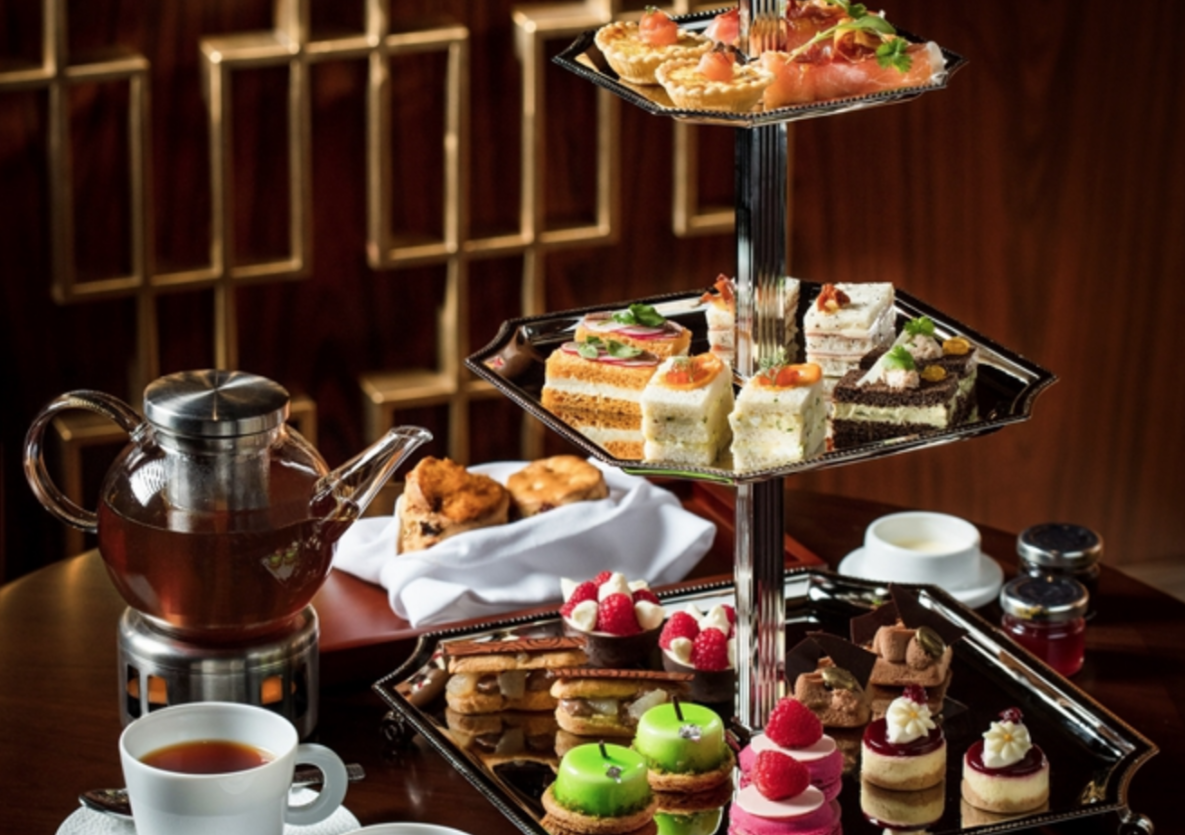 Inviting Tradition at The St. Regis Bar 
When one opts to go to The St. Regis Bar, one knows exactly what it means: a classy and contemporary environment full of beautiful things and a stunning afternoon tea. Aside from being great for a photo session to later remember, their afternoon tea is stuffed with fruit, homemade scones, mini-sandwiches and pies! Contrary to other afternoon teas, this one offers a feast-like portions to enjoy with friends and family. Served daily from 2:00pm to 5:30pm, it's the perfect menu for a date, friends gathering or a relaxing moment after going on a major shopping spree!
Each set is priced at MOP $358, and includes continuous servings of coffee or tea. One can book a table by calling them at +853 2882 8898 or sending an email to [email protected]. Check the menu here.
The St. Regis Bar The St. Regis Macao, Cotai Central, Estrada Do Istmo, S/N, Cotai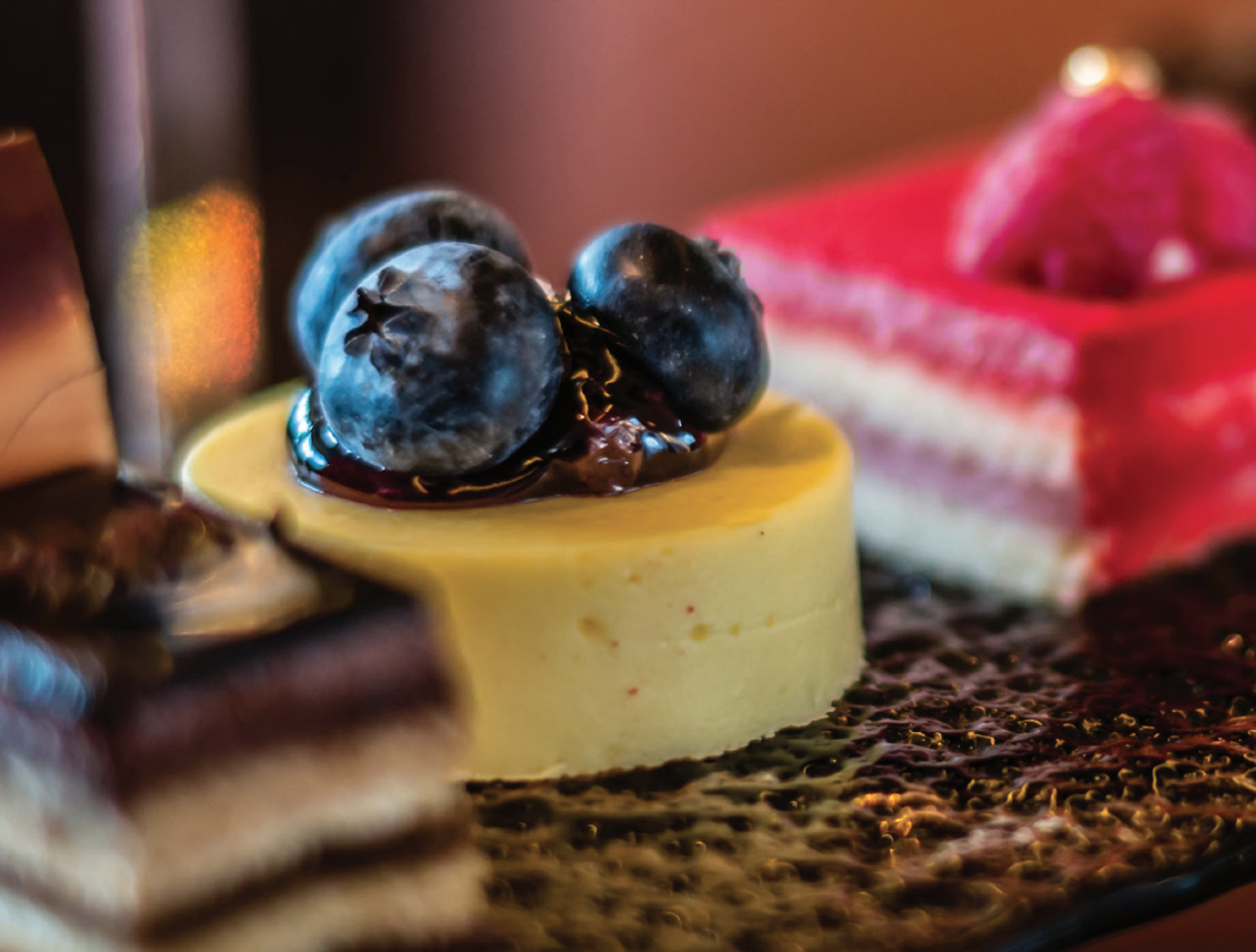 Ms. and Mr. Afternoon Tea Menus at Conrad Macao's Lounge
Did the title catch your attention? Great! This Ms. and Mr. Afternoon Tea is made of two parts, which is ideal for two people to share different things by ordering one for each, or just ask for two of the same so you can have double of your favorites! The "Miss" menu includes smoked salmon with pickled flower, lobster canapé with tomato jelly, serradura with caramel and specoloos, traditional scones and a choice between tea or coffee.
The "Mister" menu has tomato confit with jamon de Jabugo, pinchot of octopus and some other snacks, including mini cheesecake with blueberries. There is also coffee or tea on this one, as well as scones. Each menu is priced at MOP $158 per person and it's served daily, from 3:00pm to 6:00pm. For more info on the menu, check here and call +853 8113 8973 for bookings or browse through their website.
The Lounge, Conrad Macao, Cotai Central, Estrada Do Istmo, S/N, Cotai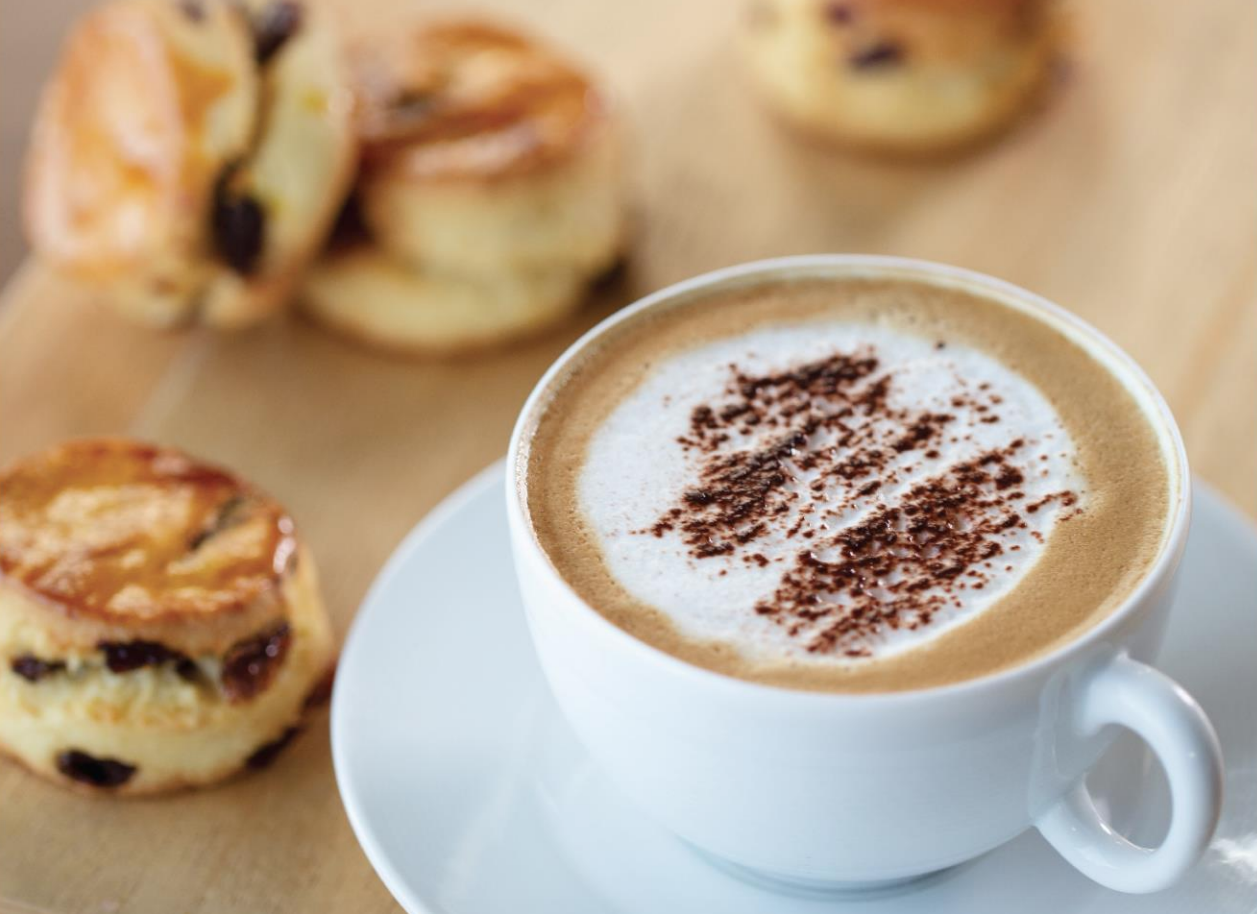 A Combination of Flavors at Grand Hyatt Macau
Can you imagine having the famous Macau egg tarts, combined with lavish sandwiches, raspberry baba verrine, scones and a green tea cake, all in just one meal? Well, that's what on offer at Grand Hyatt Macau's Lobby Lounge! Their afternoon tea runs daily from 2:00pm to 5:00pm with sets made for two people. Besides these there are also simpler options–maybe for those who love afternoon teas but eating less. Their Grand Set is purely English style: two warm scones with jam and coffee or tea. For the ones with a sweet tooth, there are also egg tarts and other pastries available from 10:00am to 5:00pm. Start your cravings by going through their menu here.
Lobby Lounge Grand Hyatt Macau, City of Dreams, Estrada do Istmo, Cotai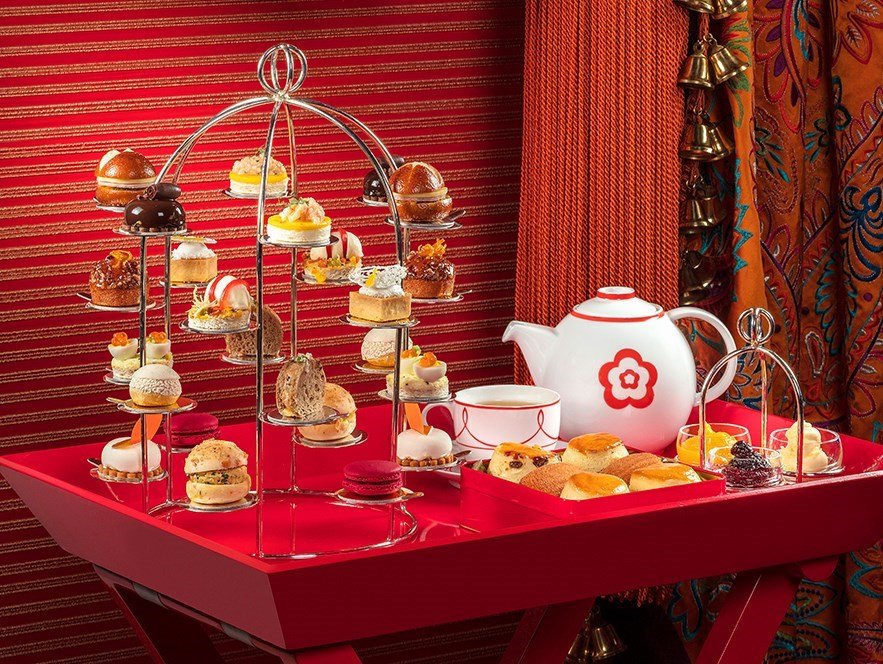 Afternoon Tea Greatness at Fontana Buffet
As if the view from Fontana Buffet wasn't breathtaking enough, they had to go and present a sumptuous afternoon tea that's unforgettable! Make a booking for a table–yes, they're always super full–for afternoon tea and we promise you won't regret it, especially if you are lucky enough to catch the show outside. Wynn Palace is one of the newest and most luxurious hotels in Macau, so everyone is surely in for an evening full of treats.
Besides an extensive menu of desserts (more than 10), there are original savory bites such as beetroot gelee and apricot purée with caramelized pecan nut, bagels, smoked duck with sesame cream and so many other out-of-the-box flavours. This is a returning set, which Fontana stopped having but has now come back with an even better price! For MOP $288 per set for two, one can have more people to join in and it will still be priced the same, although the food will be shared with more guests! Check their full afternoon tea set menu here.
Fontana Buffet Wynn Palace Cotai, Avenida Da Nave Desportiva, Cotai
Tags
Related Posts