Chef Antimo Merone is clearly someone comfortable in his own skin. He moves with grace and greets us with a smile just warm enough to draw us in, but with enough mystery to keep us guessing. While my colleague shoots a quick sound bite for social media, important clues are shared. "I would rather not say that, it sounds a little pretentious" or "actually, I never wear my hat outside the kitchen", he says pleasantly yet firmly. As we finally sit down and drink our exquisite espressos conversation flows naturally, just like it would in any of Italy's many terraces.
I ask about his travels to Asia, how did Macau first appear to him? "I was invited to join to a recently opened Italian restaurant on Queen's Road Central in Hong Kong as the Head Chef. The founder was French but had spent many years in Italy. We managed to get our first Michelin Star in 2013, just a year later and maintained it the 2014 Michelin guide edition", he adds with just a touch of pride. It was in 2014, he tells me, that he crossed paths with Chef Umberto Bombana and the rest—as they say—is history.
After staying with Bombana in Hong Kong, it was time to embrace the Macau project. With its home at Galaxy Macau™, 8½ Otto e Mezzo BOMBANA was an immediate success, being awarded a Michelin Star a few months after opening.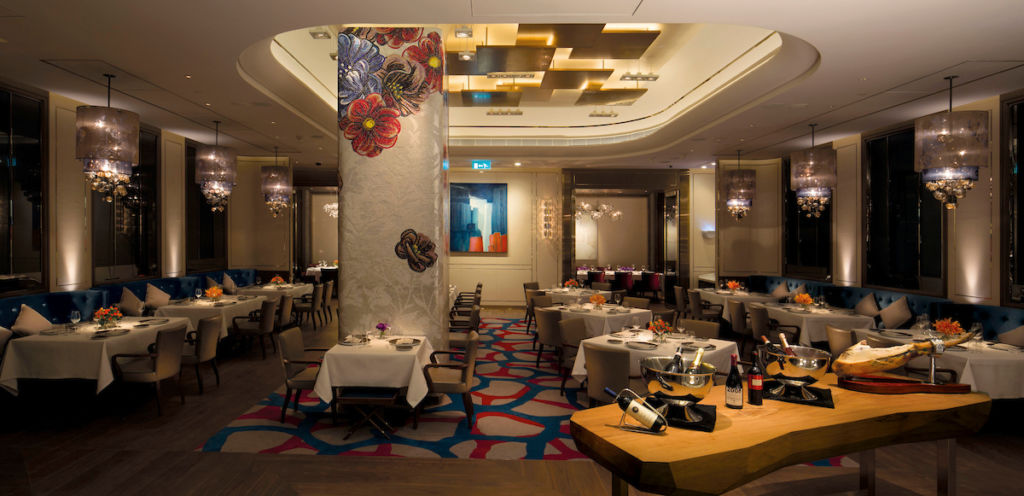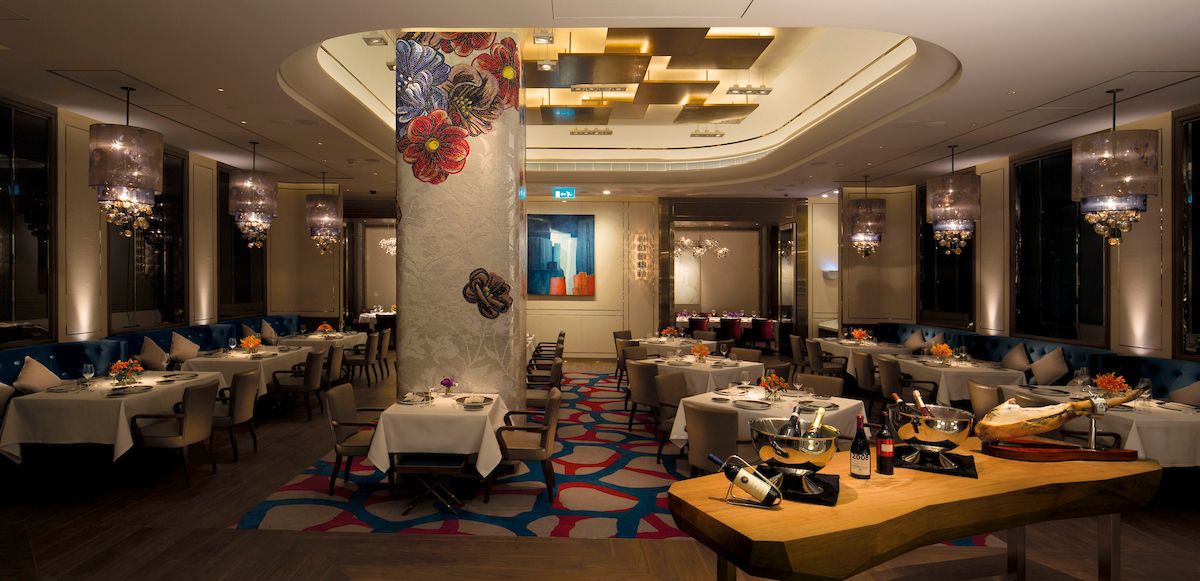 We are sitting in a Michelin restaurant, but I can tell you they have a different approach to fine dining, I feel comfortable here. Is this part of the restaurant's concept?  "Absolutely, there is no stiffness in my service. I honestly want you to feel comfortable with your friends, your partner or your family. The aim is to provide good service regardless of whether someone is buying an expensive bottle of wine or simply enjoying a glass of red. We are one of the experiences Galaxy Macau™ provides to their customers and, in essence, we are part of their promise too—great value, great service, and great quality. We work with extremely high quality products to ensure the most authentic experience." He adds with a smile, "and you know, our guests are paying for our great food and service, not for our fancy glasses or nice silverware."
There are only seven Italian Michelin restaurants in Asia and Bombana has a fair share of these awards with all of their properties having at least one star and their Hong Kong restaurant having three. In fact, Bombana Hong Kong is still the only 3-Michelin star Italian restaurant outside of Italy. When I ask what does being awarded a Michelin star mean, Merone replies with humility and frankness. Being awarded a Michelin star is always important and an honor, as it recognizes the efforts and talent of the team, it is a guide, a recommendation. "At the end of the day, the food and the experience come first. We must not forget stars are awarded because the food and the service are excellent."
When we press him to choose a favorite dish to prepare, Merone shows no hesitation. "Dry pasta". He proceeds to explain that taking 15 minutes to cook a dish that can go wrong in 30 seconds "if you leave it less than that it will be horrible and if you leave it more it will be horrible too", is a challenging task. "Dry pasta is to Italian cooking what eggs are in any other cuisine, if you can master it, you know you are good at what you do".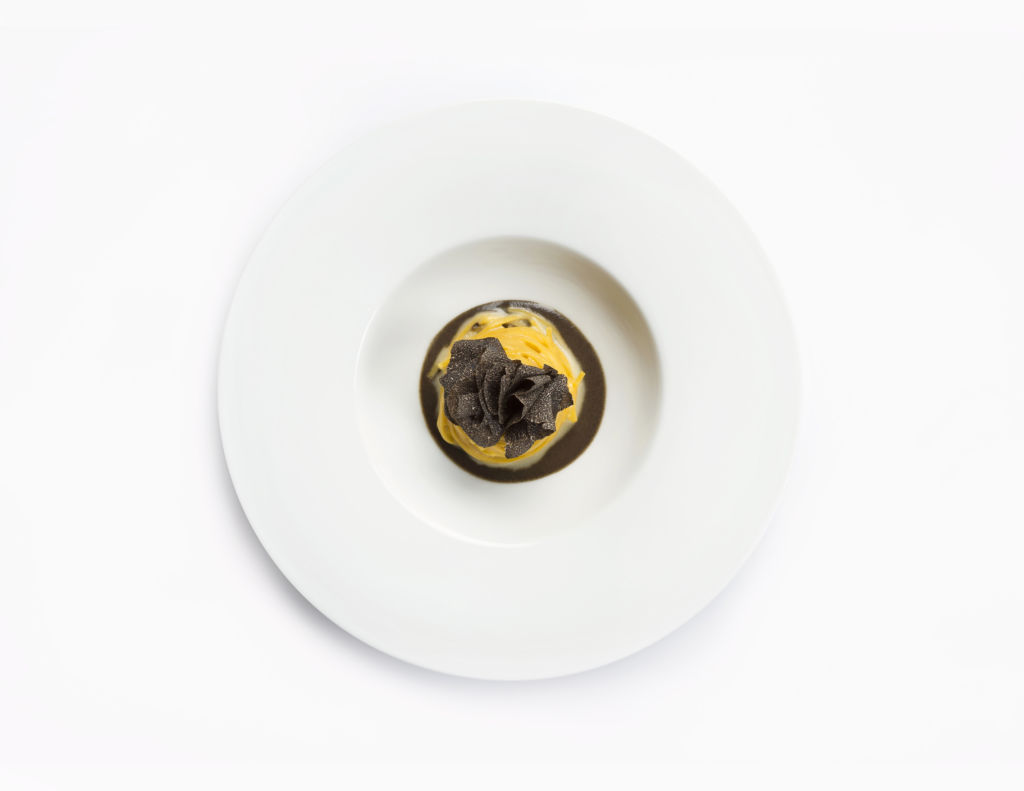 Bombana is known for being the king of white truffles and we could not part without me knowing more. "The key to preparing good truffles is simplicity. When the ingredient is good, we need to let it shine by itself. That is why we add the truffles to a lot of our dishes by the tableside". Truffle fans have a unique opportunity in these next few weeks as the chef explains "this is the only time of the year when you can eat dishes that contain both white and black truffles. As their season is different, they are only available simultaneously between the last weeks of December and the first week of January".
Antimo Merone adds one more thought, "simple food is the hardest to prepare. I want to surprise guests, not with fireworks, but because the taste of what seems to be a simple dish is, in fact, exquisite". That, we believe, sums up the experience at 8½ Otto e Mezzo BOMBANA Macau. What you will find is Italian cuisine that is not just homey, but is, at the same time, far more than fine dining. Food here is full of soul and character, priceless qualities that come hand in hand with something else: dedication.
---
8½ Otto e Mezzo BOMBANA 1031, 1F, Galaxy Macau, Estrada da Baía de Nossa Senhora da Esperança, Cotai, +853 8886 2169, www.galaxymacau.com/otto-e-mezzo-bombana
Tags
Related Posts