When walking between Senado Square and Ruins of St. Paul,  you will most likely see a Durian King mascot dancing around and holding up an arrow directing you to their sweet shop. This is where you can find some of the most exotic ice cream flavors in Macau.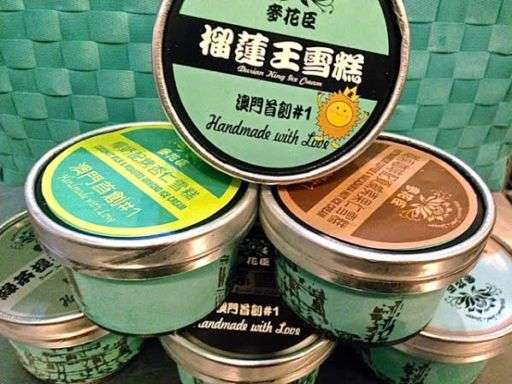 Durian King Ice Cream – According to Sayaka McPherson owner and chef, this is their bestselling ice cream. They've sold about 200,000 pieces in the last three years! It is made of Thai durian in a custard sense. If you've been wanting to try durian ice cream for the first time, this dessert is for you.
Cat King Durian – Their new and latest ice cream flavor is for real durian lovers. If you want to step up your durian game strong from Durian King ice cream, the difference with this one is that it is made from Malay durian, which has a stronger taste. (Fun fact: Malaysian durians are stronger than Thai durians. When buying the fruit, check the color of the flesh. The darker the flesh, the stronger and tastier it is).
Black Garlic Ice Cream – You wouldn't believe that this black garlic makes amazing ice cream and McPherson's Sweet Shoppe is the only one in the world to make it. The garlic is fermented for about three months and, as you may know, black garlic is the new super food because they are anticarcinogenic. Surprisingly, they taste like coffee and chocolate with hints of balsamic vinegar or tamarind, you won't even notice that it's actually black garlic. Truly exotic!
Green Tea Tiramisu Ice Cream – This one was my favorite as I am a green tea/matcha lover. A typical tiramisu is made with mascarpone cheese and espresso. But with this unique combination, espresso is replaced with matcha and azuki red beans. It's the perfect example of Asian and Western fusion!
Black Sesame Ice Cream – If you've read my article "Traditional Macau snacks you didn't know about", you'll find out the health benefits of  black sesame. One of the healthiest and most unique ice creams you can find in town.
They also sell other exotic yet impressive ice cream flavors such as Vietnamese Coffee & Macadamia Nuts, Cheesecake, Roasted Almonds Coconuts and Chocolate ice cream with delicious chunks of homemade chocolate cake.
All of their ice creams cost MOP $35 except their new "Mt. Cat King Durian" which is sold for MOP $80.
Mcpherson's Sweet Shoppe Pat Da Palha 7 A R/C Macau, +853 2835 8003, opening hours: 11:00am-8:00pm, Monday to Sunday
Share
Tags
Related Posts