The vegan revolution is taking the world by storm. More and more people are turning green, whether it be for health reasons, the environment or ethical considerations, a plant-based diet is the healthy, guilt-free and most fashionable way to go, and now it's caught never been easier in Macau! Sands Resorts Macao has launched a green cuisine campaign to introduce healthy vegan dishes across 14 of its restaurants, using the most advanced plant-based products available on the market to provide guests with the best fresh, tasty and quality vegan cuisine in the city.
The campaign is by Sands Resorts Macao and Green Monday – a great social enterprise that tackles the global food crisis and climate change through green and sustainable living initiatives, but is also supported by Macao Government Tourism Office who see them not only as a way of reinforcing the Creative City of Gastronomy in Macau but also to take the first steps towards the United Nations Sustainable Development Goals, making Macau a green, healthy and sustainable place to be.
Now guests can try Sands Resorts tasty vegan dishes at a huge range of participating restaurants, many of which are our staple favorites! The Venetian Macao's Canton, North, traditional Italian eatery Portofino, the tandoori heaven that is Golden Peacock – all are serving up a range of vegan dishes. You will also be able to try them at Sands Cotai Central's Chinese restaurant Dynasty 8 and The Parisian Macao's La Chine, Lotus Palace, and Brasserie and Sands Macao's Chinese restaurant, Golden Court and Copa Steakhouse. Each one of these meals is just as filling, hearty and delicious as a meaty alternative. They use of some of the world's most pioneering food tech and most innovative plant-based alternatives! From fresh vegetable dishes, to plant-based meat alternatives that will have you questioning if it really isn't meat, the dishes are good for you, good for the environment and really good for your taste buds too!

Sands Omnipork Bun
One that you just have to try is the alternative to the classic and traditional Macau pork chop bun. The pork chop bun we all know and love is juicy, tasty, and heartwarming, and it would be difficult for any true Macau fan to live without. But at Sands Resort, being vegan doesn't mean you have to miss out! The Sands Omnipork Pork Chop Bun is just as good – if not better! Looking at it, you wouldn't know the difference – they have mastered the look and texture of this plant-based alternative that will make even the most fervent meat eater lick their lips! Compared to a real pork chop bun, this version also contains a fraction of the calories, less of the pour-clogging grease and a reduced carbon footprint. So you can enjoy it with no guilt – heck, you can even enjoy two and still have your body smile on the inside! Its available from The Venetian Macao's Imperial House, Sands Cotai Central's Tastes, The Parisian Macao's Market Bistro and Sands Macao's 888 Food Court – so no matter where you are in town, you never have to venture too far to fulfill those vegan pork bun cravings!
Imperial House Level 1, The Venetian Macao
Tastes Level 1, Sands Cotai Central
Market Bistro Level 1, The Parisian Macao
888 Food Court 2/F, Sands Macao Hotel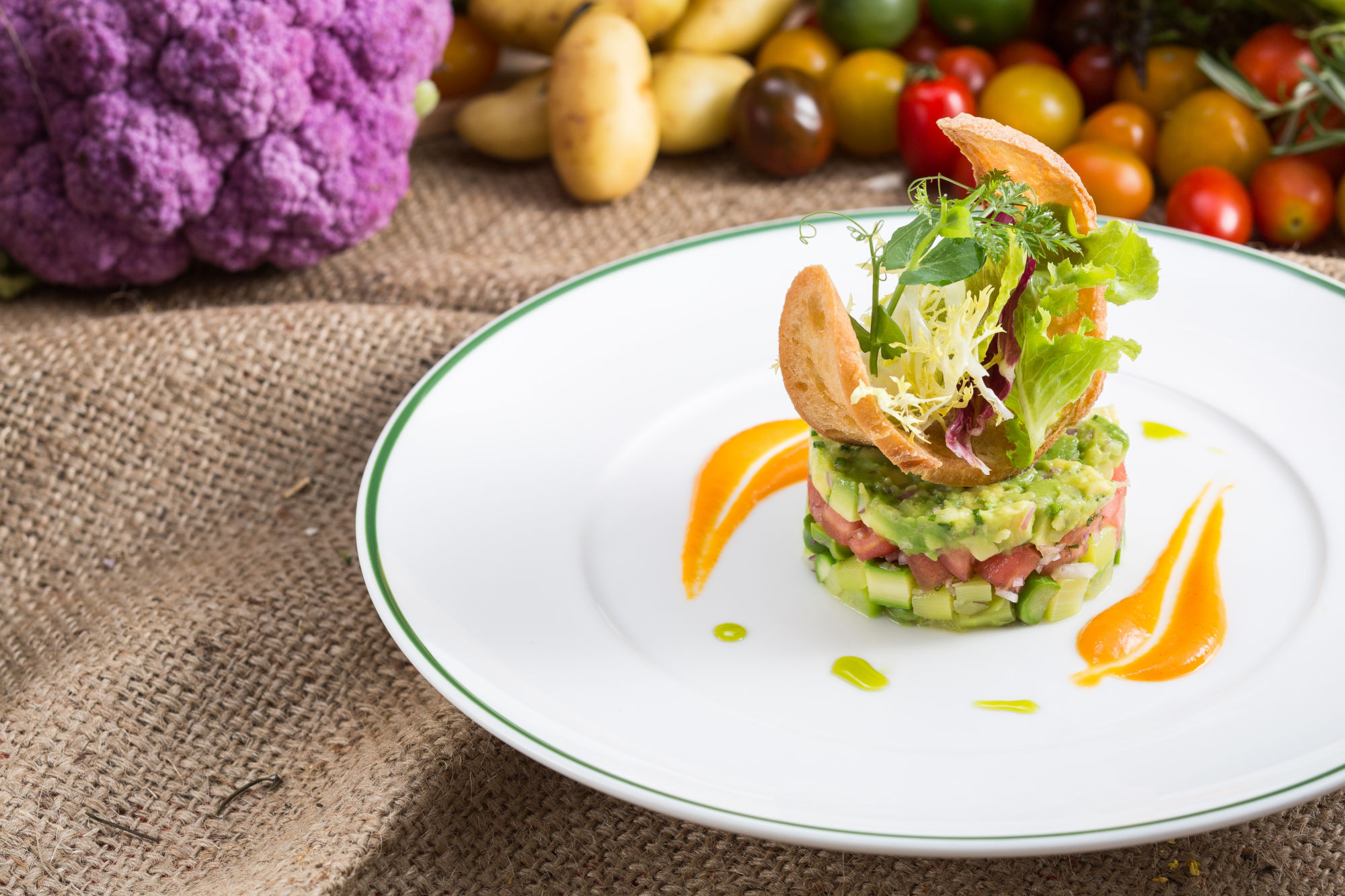 Brasserie Vegan Tartar
For a more upmarket dish, try this exquisite vegan tartar from Brasserie! Some vegans, particularly those who choose to do so because of ethical reasons, don't like to eat anything that touches or looks like meat – meat-free or not! If that is the case with you or one of your friends, or even if you just want to try something a bit different, this classy vegan dish uses only vegetable. It is a fresh and vitalic meat-free meal! It is comprised of asparagus, avocado and tomato tartare, cut to perfection to deliver a delicate texture, alongside a zingy red bell pepper coulis and crispy greens. Health, delicious and gorgeous! 
Brasserie Level 3, The Parisian Macao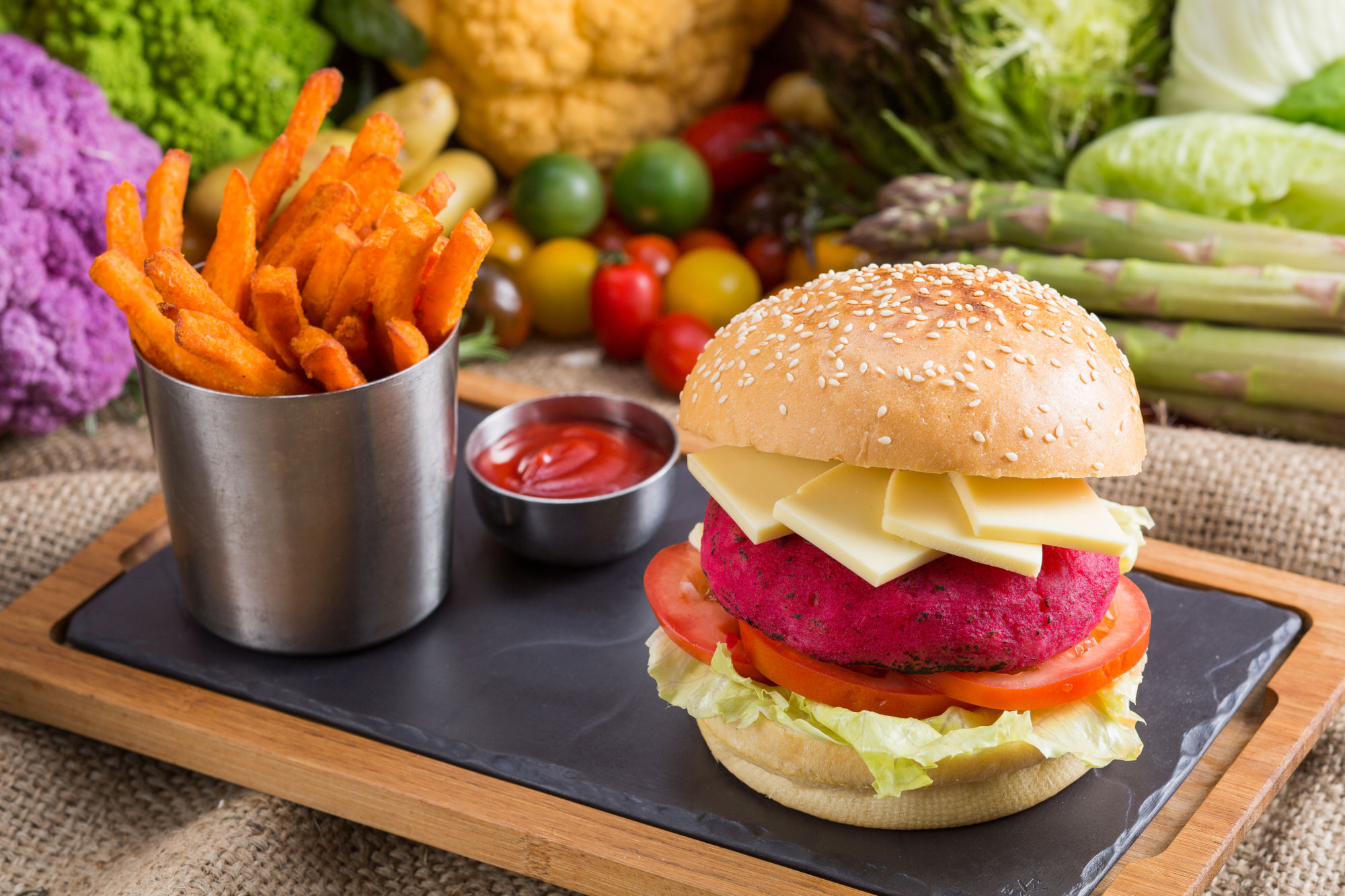 Copa Steak House Vegan Cheese Burger
If there's one thing that we, and many many other people, couldn't live without, its cheese. It's that creamy, guilty pleasure that everyone loves in all its many different forms. But, at Sands Macao Hotel vegans who don't drink milk and avoid cheese don't have to miss out! The Copa Steak House burger contains Daiya, a plant-based cheese alternative that's made with no milk or dairy. So not only is it good for the environment but it is also way better for the skin and waistlines. The creamy Daiya plant-based cheese is placed lovingly on top of their vegan beef-less burger on a bed of tomato, onion and lettuce served with a side sweet potato fries, tomatoes, onions and lettuce. So a dish that is usually associated with being unhealthy, greasy, fatty and high in salt becomes fresh, healthy and delicious! So next time you get a burger craving and want to go for something more guilt-free, try this vegan burger and see how good you feel.
Copa Steak House 3/F, Sands Macao Hotel
Share
Tags
Related Posts