Cha Gordo (Fat Tea in English) is an original Macanese gastronomic tradition. Started in the 20th century, it consists of a feast with different Macanese, Cantonese and Portuguese dishes such as char siu bao (BBQ pork bun), bebinca (milk pudding) or minchi. These delicacies are served with hot tea at celebratory occasions like baby birthdays, baptisms or engagement parties. Cha Gordo used to be mostly associated with the upper-middle-class families, where sometimes even Macanes Patois was spoken at the table. It's usually served from 5:00pm to 7:00pm, lovingly referred to as 'Macau's High Tea' time.
The Manor (in The St. Regis Hotel) is offering everyone a chance to relive the past glory and to taste a good old Cha Gordo starting March 2018. Besides some all-time favorite yum cha– char siu bao and pork and shrimp dumplings – The Manor also presents an interesting combination of Portuguese and oriental flavors and spices and age-old dishes like apabicos– a steam-cooked dumpling made of rice flour pasta stuffed with meat and spices.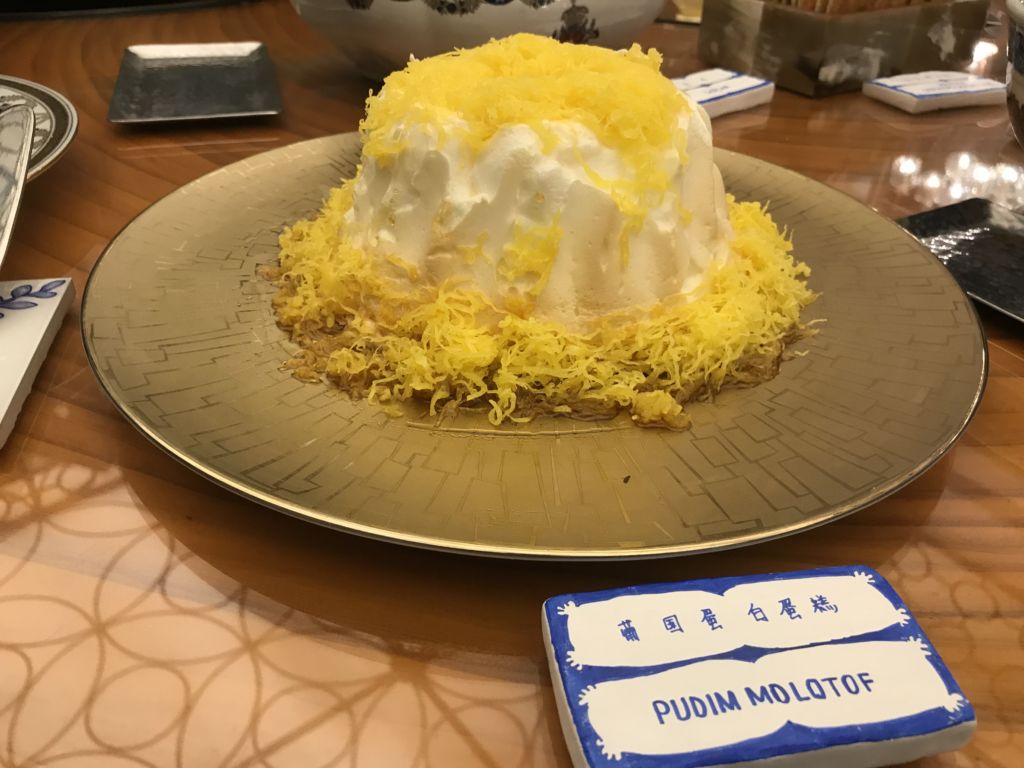 In-house chef Otilia Rodrigues explained that the food displayed at center and side tables were put together with the help of "old Macanese recipes" and, interesting enough, the internet. The team even went to the Macau Museum to collect accurate information and adopt tricks and tips for authentically recreating the buffet setting. "Our restaurant wanted to promote the Portuguese cuisine and that is so unique to Macau, so we decided to bring back this idea back with some fusion", said Rodrigues. If you are wondering if Cha Gordo is still around, the chef says she herself has been to many organized by own grandmother for their family.
The Manor serves Cha Gordo at Veranda every Saturday from 3:00pm to 6:00pm until summer and they may extend it throughout the year. But grab it before it goes, we say.
The restaurant's decor is modern but with Chinese influences, that complements the food served. The price is MOP $148 per adult and MOP $100 per child, including finger food (shrimp and tuna turnovers, assorted pastries, Cantonese turnip cake), two choices of main dishes (rice vermicelli with prawns and ginger or minchi) and an array of desserts such as bebinca, Molotov flan and Sonhos (Portuguese pastries called Dreams in English).

MUST-TRY
Apabicos: Rice flour dumplings filled with meat and spices. It's mouth-watering and we bet one will never be enough.
Lou Ba Kou (Cantonese turnip cake): The Manor's turnip cake is as amazing as the ones cooked at some of the best local yum cha restaurants in town. Don't miss it.
Chilicote: Looking like a typical turnover, this delicacy is not stuffed with shrimp paste, but minced meat instead. The crunchy outside goes very well with the tasty inside, making Chilicote an interesting culinary experience.
Milk Bebinca: The Manor's milk bebinca is a good way to complete this dining experience. It smells and looks like a typical crème brulée, only with a hint of coconut. Surprising, indeed.
The Tea Tray: Yes, the whole tray! The Cha Gordo experience comes with complimentary teas, and one can choose from an assortment ranging from the classics green and black teas to chamomile, strawberry or berry teas.
---
The Manor serves Cha Gordo at Veranda every Saturday from 3:00pm to 6:00pm until summer and they may extend it throughout the year.
The Manor 1st floor, The St. Regis Macao, Cotai Strip, Taipa, Macau +853 8113 2777, www.themanormacao.com
Share
Tags
Related Posts