It's the wellness routine many celebrities and supermodels swear by. From Gisele Bundchen's immaculate body to Kate Hudson's mindful meditation, the benefits of Yoga are immeasurable. From boosting our immune system to stress reduction, it also aids dietary plans and builds a healthy being. Check out our favorite spots to promote this ancient practice of wellness.
Yoga Loft
Located in Senado Square, there is an entirely different energy in Yoga Loft. From appreciating the true beauty of the old city of Macau where you can get an overview of the whole Senado Square (San Malo) and feeling the great connection of students and head teacher and therapist, Rita Gonçalves, who connects yoga to the reality of life. Rita believes that the concept of yoga can reflect and help you with the circumstances of living. She'll teach and inspire you about going through challenges or obstacles in life just like yoga poses in the studio. We have to know how we're going to go through it emotionally being mindful of the body and mind's reaction, and even though we fail with poses at first, we always have to keep trying until we succeed. There is no doubt that you can master any yoga pose if you just believe and never give up. Yoga loft provides great sessions where you learn how to listen to your inner self from body, soul, and mind. They are open from Monday to Friday from 1pm to 2pm and 6pm to 9pm. They start from 11am to 1pm every Saturday.
Yoga Loft Travessa S. Domingos, Edificio Centro Comercial Lek Tang, 2-A, 4/F, Macau, +853 6362 8004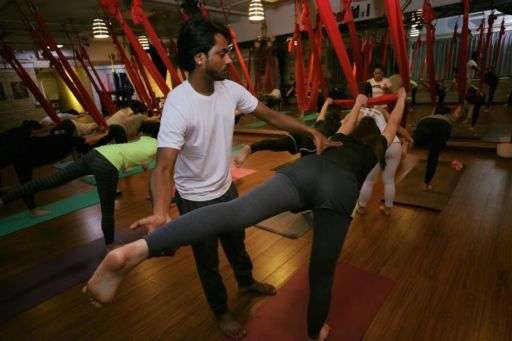 V Studio
At the last stop of Fai Chi Kei (Ilha Verde) terminal, with the help of your GPS, make your way to an industrial building where you'll find this hidden studio on the 13th floor. Victor Kumar, founder of V Studio provides dance and yoga classes such as Bollywood Dance, Indian Fusion Dance, Indian Street Dance, Bhangra, Bollyjam, Power Yoga, Sun Salutation, Hatha Yoga, Flow Yoga, and Gentle Yoga. V Studio initially introduced Bollywood in Macau, and you may have heard about his group called Bollywood Dreams Group and his clothing line Dancersidol that's available online and in his studio.
Being part of the Indian Culture Association Of Macau (ICAM), they also run fun events and shows such as the Holi Festival, Diwali Light Festival and Bollywood showcase. Aerial yoga was one of my favorite class because all you need is trust in your aerial silk cloth and yourself. You'll get to learn fun poses where you'll be hanging upside down on your silk cloth. My ultimate favorite is "The Cocoon", where you get to bundle up into a cocoon and swing and rest as if you were in a hammock. Single classes are also available at MOP $180 for aerial class and MOP $100 for yoga and dance.
V Studio Rua do Patio da Concordia, no. 19, Fabrica Wang Kai, 13/B, Macau, open daily from 9am to 11pm, +853 6393 2002
Vedanta Wellness
Located near Old Court Building in Macau, on the 5th floor of a commercial center, Vedanta Wellness is a holistic wellness provider based on principals of yoga and Ayurveda. Tracing back to 5000 years ago, it has prevailed the test of time and health sciences from India. They offer several customized wellness programs consisting of private and group yoga, kids yoga, prenatal and postnatal yoga, breathing and meditation, Indian dancing, Bollywood dancing, Nutrition and Ayurvedic wellness consultations and more. You can also find yoga, Ayurveda and organic wellness products here too. Their opening hours depend on class schedule and appointments.
Vedanta Wellness Avenida da Praia Grande no. 429, Edificio Centro Comercial da Praia Grande, 5A, +853 6659 8049
Hidden Talent Aerial Dance and Acrobatics
Hidden Talent was founded in 2012 by UK pole and aerial artist Varie Anderson who has consulted for the Franco Dragone Entertainment Group show TABOO, that used to be based at the City of Dreams in Cotai Strip. Nestled in Taipa at Avenida Olimpic near the bus stop opposite La Kaffa, they provide high-quality tuition in the form of weekly classes, private lessons workshops, and courses. Sessions are suitable for all levels of ability from complete beginner to advanced level. The current available experiences and sessions are pole dance, aerial silks, aerial hoop, static trapeze and aerial yoga. A lot of classes can be tailored to suit your needs, from individual private lessons to group sessions.
Hidden Talent Fabrica Va Nam, Avenida Olimpica, open daily from 11am to 9pm, +853 6360 9579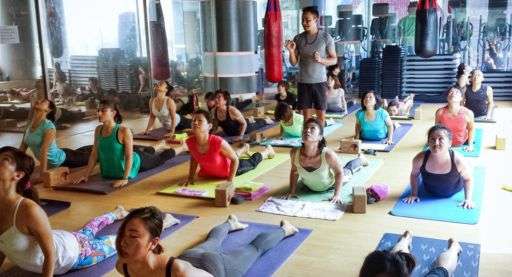 Macao Fitness
Keep calm and carry "ommmm" at Macao Fitness located in the heart of Macau's business district, AIA Tower on the 4th floor. Fully equipped, you could even charge your phone in lockers while you take a device-free moment yoga session. They provide Hot Yoga, Aerial Yoga, and a variety of yoga classes. Try their popular classes that include Body Pump (Aerobics), Zumba Dance, Spinning and their most recent class "ABT" (Abs, Bum, and Thighs). They are open from Monday to Friday starting at 6am to 12nn while they are open from 7am to 11pm every Saturday and 8am to 10pm every Sunday.
Macao Fitness AIA Tower 4/F, Avenida Commercial De Macau No 251A, open daily, +853 2875 1189
Share
Tags
Related Posts