It is a known fact that Macau is bursting with great eateries. From the Macau Peninsula to Taipa and Coloane you can find renowned dining establishments and others that are lesser-known, but equally as great, along with cafes tucked away in the back streets of Macau. Good food can be found all over the region but we want to focus on a somewhat overlooked part of this gastronomic city. So here are some of our favorite eateries near the China border.
Ban Ton Kitchen
(See featured image)
One of the eateries near the China border that's not to be missed is Ban Ton Kitchen which offers Korean food in the form of a la carte dishes, hotpot, and the ubiquitous Korean barbeque! The menu ranges from delicious kimchi pork and Korean chicken to a creamy carbonara style udon noodles with bacon.
If you're feeling especially hungry we recommend you make the most of the MOP $188 for 120 minutes offer which allows you to eat until you burst. Feast on Korean barbeque plus a wide variety of Korean dishes. Although the offer includes a selection of soft drinks such as a thirst-quenching iced passion fruit tea and a fragrant lychee tea, after 3:00pm there is unlimited beer for MOP $48! Alternatively you can go full Korean and pair your meal with some soju.
Ban Ton Kitchen 497-533 Av. do Nordeste, Macau, +853 2876 2880, www.facebook.com/BanTon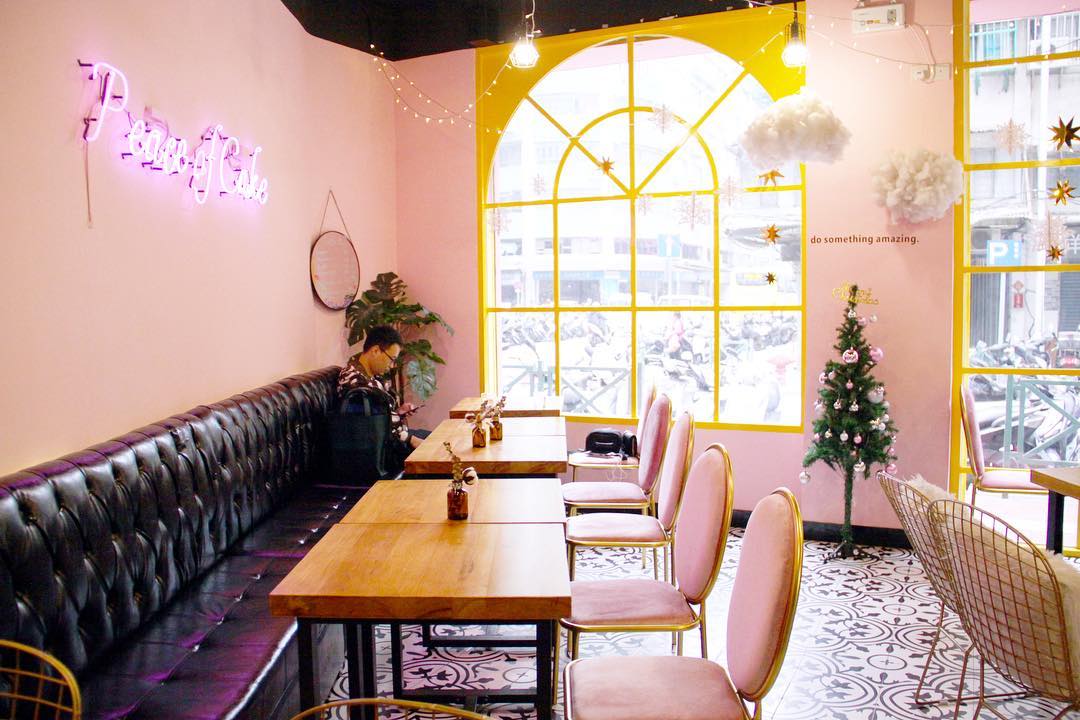 Peace of Cake
From the bright and bold exterior to the whimsical interior design, this pretty in pink cafe certainly knows how to make a statement.  The family-friendly, Western menu offers a tasty selection of pasta, rice, and bread-based dishes and the drinks menu reflects the character of the cafe. Here you can sample beverages such as Tears of Mermaid and Loch Ness. The creativity of the menu appeals to all ages.
Don't forget to leave room for desserts because there's a great selection of waffles, and the marble lemon cheesecake is a firm favorite. However, we really must recommend their souffle pancakes, in particular, the matcha and red bean combination! This airy-fairy dessert is fluffier than the cloud decorations dotted in the cafe. Teamed with a refreshing Walking Galaxy beverage, you will feel like you're walking on air after a visit to Peace of Cake.
Peace of Cake Rua Onze Do Bairro Tamagnini Barbosa, S/N, Jardim Cidade Nova (Bloco 19), R/C G, +853 2823 7137, www.facebook.com/peaceofcakemacau
Shuai Guo (Yi Ren Yi Guo)
There's nothing more satisfying than a simmering pot of fragrant soup to dip fresh meat and vegetables into. For just MOP $138–158  (depending on your time of dining) you'll be delighted with the selection of broths on offer. It's one pot per customer so you can pick your favorite flavor. Our personal favorite has to be the mouth-watering mushroom broth. There is a good variety of meat, fish, and vegetables for dunking in the refrigerated area. Towards the back of the restaurant, you can find soft drinks and beers, all included in the price. The prime cuts and seafood options can be found on a slip of paper at your table.
There is no English menu but the staff is eager to help you with anything you might need. The restaurant is located on the main road towards the Gongbei border and is open from 5:00pm–3:00am. This makes it an easy dining option for your trip to the mainland.
帥鍋 (一人一鍋) Alameda da Tranquilidade, No 219, 225, Edf. Pou Lei Kok, R/C, Macau, +853 2842 1987, www.facebook.com/shuaiguo2018
One & Only Cafe Kitchen
The One & Only Cafe Kitchen offers a sleek dining experience near the border of China. You can dine on Western and Asian fusion cuisine at One & Only which varies from prime cut Wagyu steak to squid ink seafood pasta. This restaurant is a great choice for date nights as there's a fine selection of wines to pair with your meal. Alternatively, why not sample one of their fabulous cocktails to make your evening extra special. One & Only is also great for casual dining. If you're in the mood for American food then opt for one of their creamy milkshakes and a signature burger!
One & Only Cafe Kitchen Edificio Polytec Garden (bloco 5), 63 R. Central da Areia Preta, Macau, +853 6613 3399, www.facebook.com/oneandonlycafekitchen
Caffe Bene
Hailing from South Korea, Caffe Bene is the only one of its kind in Macau and we're loving this chilled out spot. Tucked away in Areia Preta (opposite to the Crowne Plaza), you can find sweet delights in this cozy coffeehouse. The relaxed vibe allows you to enjoy some coffee and cake with a book in tow, or even a catch up with close friends over snacks and ice cream. No matter the reason for your visit, make sure you taste their refreshing bingsu! We recommend their mango bingsu which isn't too sweet and is perfect for adults and kids alike, super cooling on a hot day.
Caffe Bene 211-219 R. da Perola Oriental, Macau, www.facebook.com/caffebenemo
Tags
Related Posts