Macau is a small but fascinating place with plenty of things to explore. Some are a short walk away from each other, and others require a commute. Luckily, with the many modes of transport available, getting around Macau has never been simpler. Whether you want to explore the many UNESCO World Heritage Sites on the Peninsula or spend a day in charming Coloane, we have some tips on how to get from A to B without hustle. Here's our guide on the many ways to get around Macau for you to start planning your itinerary.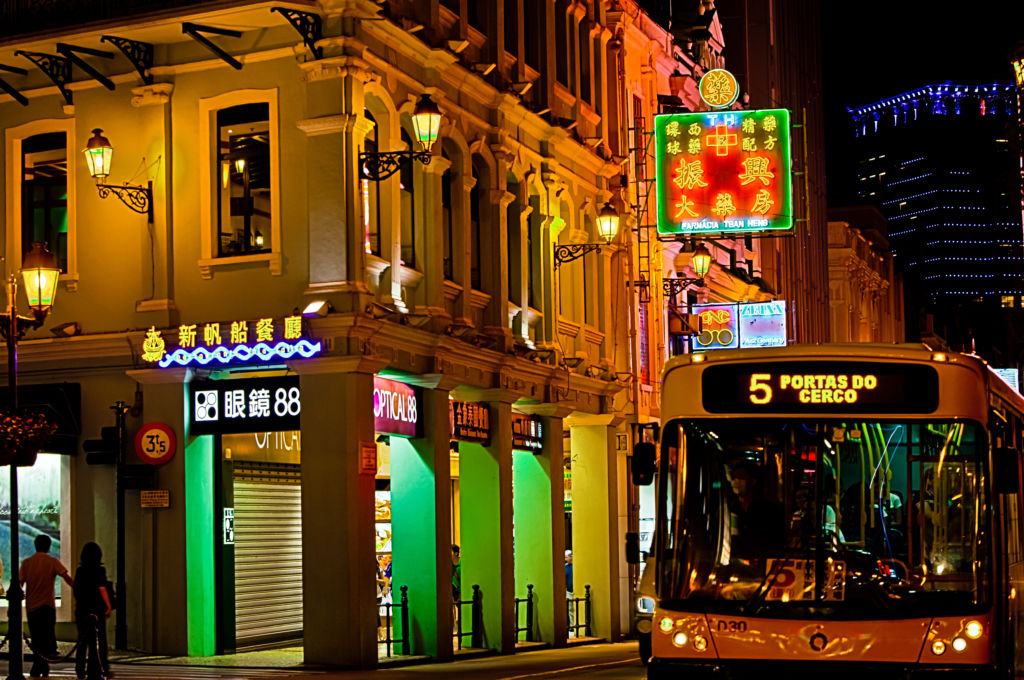 PUBLIC BUS
Macau has a convenient public bus network that covers the Peninsula and the islands of Taipa and Coloane. Even though every bus displays the number and destination, it's best to check the most convenient bus routes via the Transport Bureau website or the Bus Travelling System app (Android/iOS).
The bus fare is MOP $6, which you can drop into the money box next to the driver when entering the bus (no change will be given). Note that Macau buses can be busy during peak times, so remember to enter through the front door and exit through the back door.
Macau Pass
While Macau bus fare is reasonable, getting the Macau Pass is a way to spend even less. It is a contactless card that grants you discounted bus travel. You can also use it to pay for shopping in some supermarkets and convenience stores. Macau Pass is a good option if you are staying in Macau long-term or intend to travel often.
The card costs MOP $130, which includes MOP $100 value and a MOP $30 refundable deposit. Using the card reduces your fare to MOP $3 per journey and MOP $4 for trips on express buses (bus numbers ending with an X). You can purchase and top up a card from a Royal supermarket or 7-Eleven. To reclaim your deposit, head to the Macau Pass Service Center.
For more information, visit the www.macaupass.com website
Macau Pass Service Center Block A, 13th Floor, World Trade Center, 918 Damascus Road, Macau, +853 2875 2132
Also read: Things to Know Before Visiting Macau
Useful apps
The Bus Travelling System is an excellent local transportation application to enhance your journey planning efficiency. This app provides comprehensive details about all available routes while delivering real-time updates on traffic conditions, ultimately saving valuable time.
Available for free on iOS and Android
Moovit is a free real-time journey planner that details the length of your journey and the bus arrival time. The app generates multiple suggested routes to your destination and offers live directions from your location to a recommended bus stop.
Available for free for iOS and Android
Also read: Macau Apps: The Best Apps You'll Need in Macau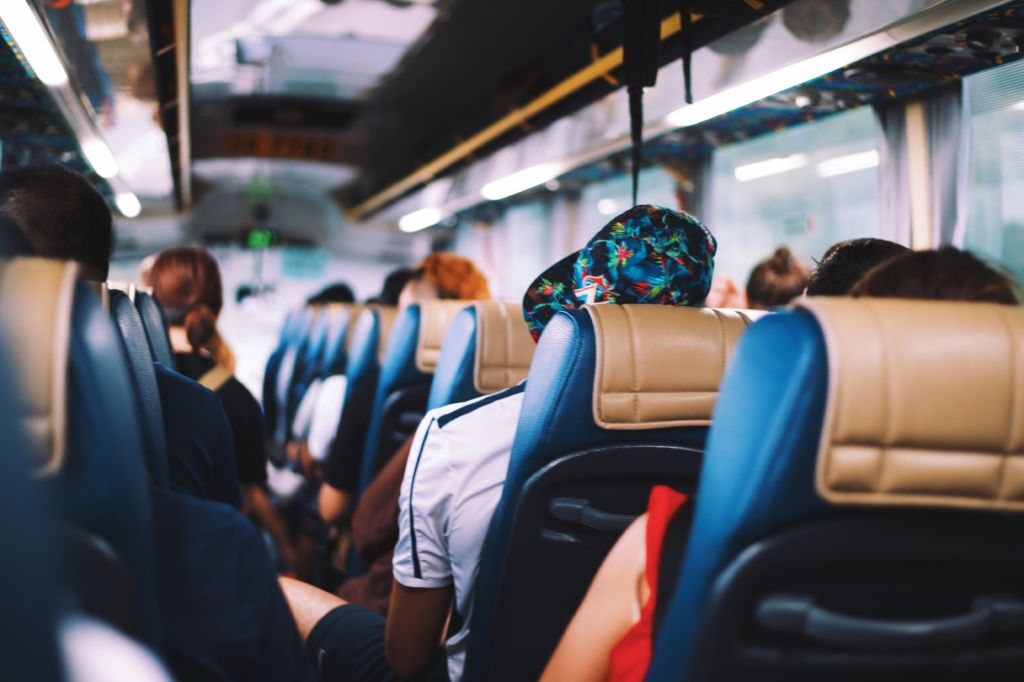 FREE HOTEL SHUTTLE BUS
How about spending zero on transport? If you're traveling through the Macau Peninsula and Cotai, hop aboard a hotel shuttle bus. The major hotels offer a complimentary shuttle service with air-conditioning and luggage space for their customers and the public. You can catch a free bus at hotel entrances, border gate to Zhuhai, Macau Ferry Terminal, Taipa Ferry Terminal, Hong Kong-Zhuhai-Macau Bridge Terminal (HKZMB), and Macau International Airport. To check which shuttle suits you best, visit the resorts' websites. 
Notable pick-up areas
Various shuttle buses are available at all entry points to Macau, including providing free rides to key destinations within the city. These shuttles cover routes to the Macau Peninsula city center, serving locations such as the Grand Emperor Hotel and Wynn Macau. You can also travel to Cotai via shuttles provided by The Venetian Macao, Studio City Macau, and other resorts.
To commute between the city center to Cotai, take a shuttle at Starworld Hotel. This bus route extends to Galaxy Macau, a mere five-minute stroll to Taipa Village.
On the western side of Macau, the Sofitel at Ponte 16 is a starting point for buses bound for the border gate and Macau Ferry Terminal.
Click on the corresponding resorts for bus schedules:
Grand Emperor Hotel, 288 Av. Comercial de Macau, Macau 澳門商業大馬路288號
Wynn Macau, Rua Cidade de Sintra, NAPE, Macau 澳門外港填海區仙德麗街永利永利澳門
The Venetian, Estrada da Baia de Nossa Senhora da Esperanca, Cotai 路氹金光大道澳門望德聖母灣大馬路澳門威尼斯人
Studio City Macau, Estrada do Istmo, Cotai 路氹連貫公路澳門新濠影滙
Sofitel Macau at Ponte 16, Rua das Lorchas e Rua do Visconde Paço de Arcos, Macau 澳門內港巴素打爾古街澳門十六浦索菲特酒店
StarWorld Hotel, Avenida da Amizade, Macau 澳門友誼大馬路星際酒店
Galaxy Macau, Estrada da Baía de Nossa Senhora da Esperança, Cotai 路氹城综合渡假城澳門銀河

BIKE RENTAL
A scenic way to see Taipa and Coloane is to pedal across the islands on a bike. Several bike rental shops in Taipa and Coloane Village will provide this sustainable transport at a reasonable price. While there are some dedicated bike lanes, most of the areas don't have any, so be mindful of the cars. 
Also read: The Best Things to Do in Taipa Village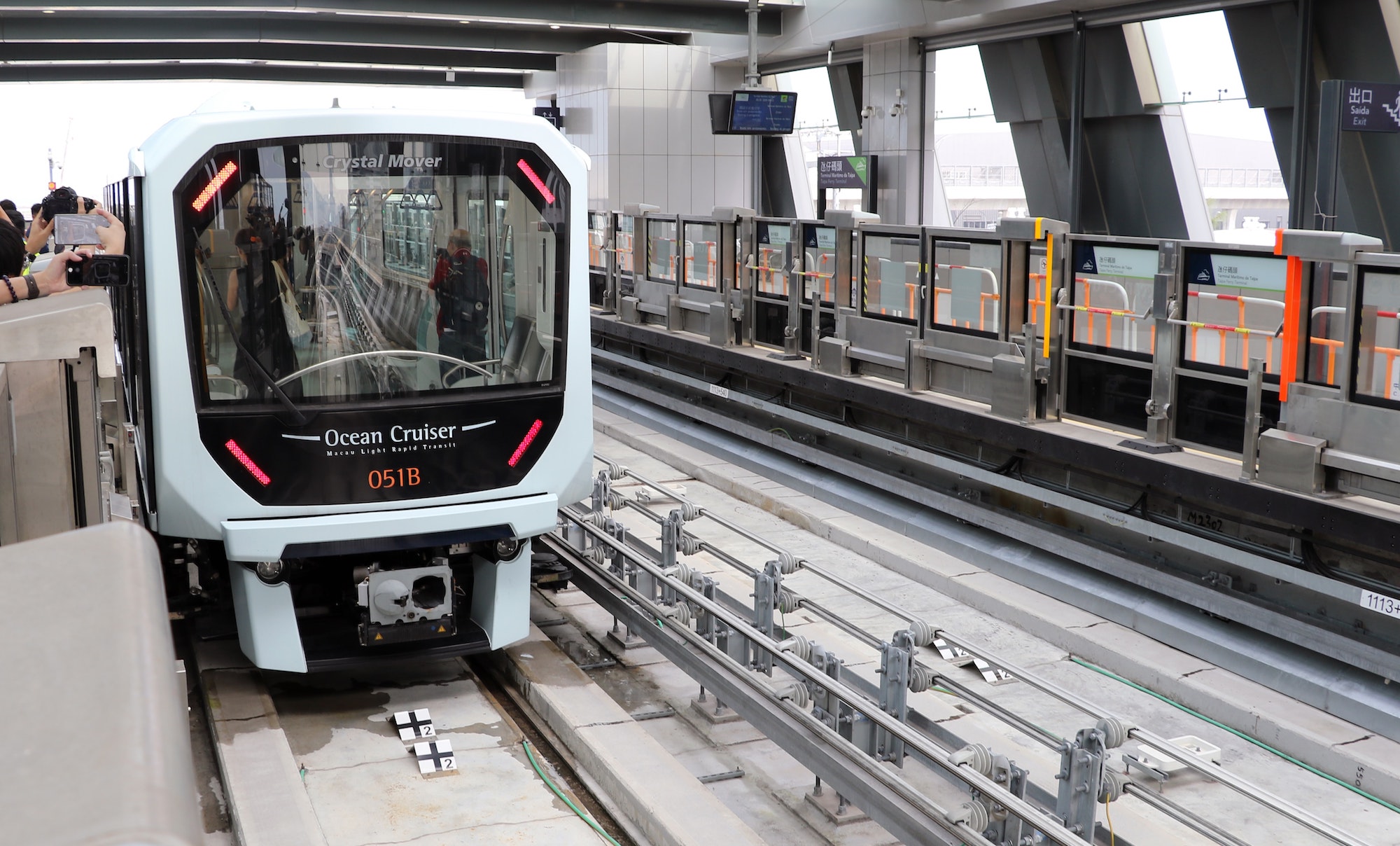 Light Rapid Transit, or Macau Light Rail
If you need to move around Taipa, especially during rush hour, take advantage of Macau's latest addition to the transport system. The eco-friendly Light Rapid Transit, or LRT, covers the area between Ocean Gardens and Taipa Ferry Terminal and gives you a unique viewpoint of the city.
If you arrive in Macau at Lotus Checkpoint (an entry point between Zhuhai and Macau) or Macau International Airport, you can take the LRT to reach many places in Taipa. Get single-ride tickets or an LRT card in a vending machine or cashier.
Also read: Macau Light Rapid Transit: All About Taipa's New Transportation

TAXI
For those strapped for time, taking a taxi is a good option. Taxis in Macau run by meter with the initial rate of MOP $19 for the first 1.6km and an additional MOP $2 for every 240m. Some taxi drivers only speak Cantonese and Mandarin, so if you don't, have an address ready or learn to pronounce it in Chinese. You can catch a taxi on the road, head to one of the stops, or find them lined up near hotels and resorts.  
Surcharges
If your journey is between Macau Peninsula to Coloane, or if you catch a taxi at Taipa Ferry Terminal, Macau International Airport, or the University of Macau, there is a surcharge of MOP $5. A journey from Taipa to Coloane incurs an additional MOP $2. There's also a surcharge of MOP $3 added for every item of luggage kept in the boot.
To reserve a taxi, call +853 8500 0000 or +853 2828 3283
The Macao Taxi app allows you to book a taxi straight from your phone. Enter your location and the destination you want to go to, then press the 'call now' button. You will receive a call to confirm your location if a cab is available in your area. There is a MOP $5 surcharge per journey when booking through this app.
Available for free for Android and iOS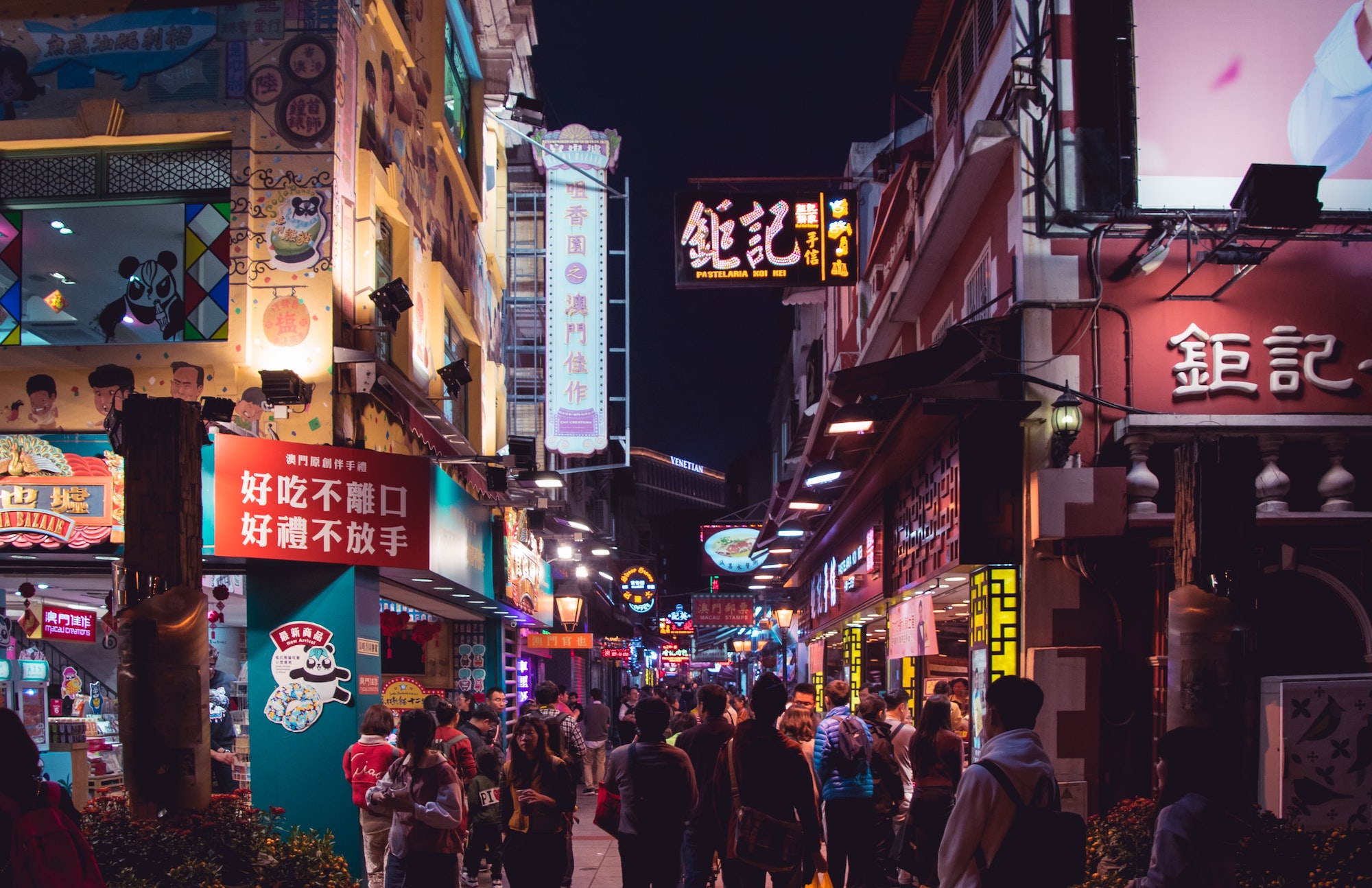 ON FOOT
Finally, the compact size of Macau makes it easy to explore on foot. With so many winding roads and back alleys, you can discover a lot more by walking than taking any transport. Not to mention, some neighborhoods can only be enjoyed on foot. 
Hours can be spent in the Macau Peninsula, ambling around the famous sites and taking in the popular landmarks. Macau Full of Fun routes can give you some ideas of how to take the most out of your pedestrian adventure.
This article was originally written in February 2019 by Julie Tsang and updated by Ksenia Kuzmina in August 2023.
Tags
Related Posts