The moment you become a parent, your life changes drastically. When it comes to deciding on how to spend your free time, the focus isn't so much on what you'd like to do anymore. It's all about what the children would like to do. After all, nothing is as rewarding as seeing them happy. We've put together a list of the top 10 things to do with the kids in Macau, certain to create joyful moments shared as a family, whether you're local or visiting the city. This article rounds-up some of the best things to do with kids in Macau, including budget-friendly options. Read on to find out!
Paddleboat Ride at Hac Sa Reservoir Water Park 
(Featured image above)
Time spent outside surrounded by nature is the absolute best and kids these days aren't having enough of it. The Hac Sa Reservoir Water Park is located in the lush green-filled Hac Sa Natural Park. Families can rent a paddleboat for great value and go for a ride while enjoying the natural and peaceful surroundings. For a full day of fun, consider taking the kids for a hike at the nearby family trail and wrap up the outdoorsy adventure with a delicious barbecue party at the barbecue facilities of the Hac Sa Natural Park.
How much: MOP $40 for a 30-minute paddle boat ride for four
Also read: Best Things to Do around Hac Sa Beach
Hac Sa Reservoir Water Park Estrada de Hac-Sa, Coloane, +853 2833 7676, nature.iam.gov.mo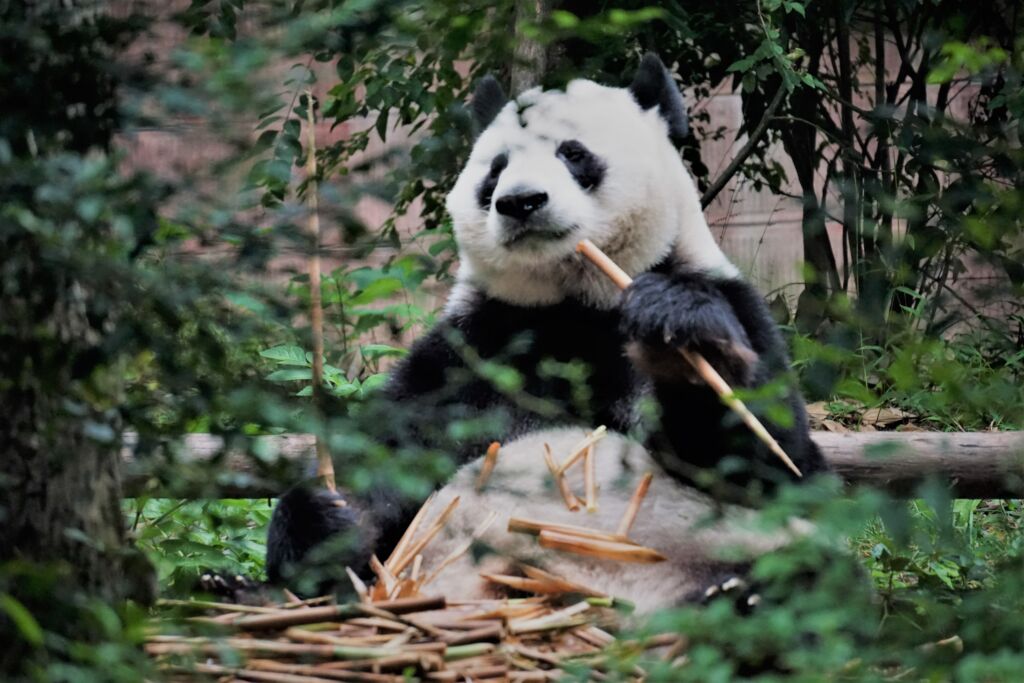 Visit the Macao Giant Panda Pavilion 
Set at Seac Pai Van Park, the Macao Giant Panda Pavilion is home to four lovely pandas everyone seems to fall in love with, especially kids. Two of these pandas were born at the Giant Panda Pavilion itself. You'll find these furry pals happily munching on bamboo or–if you're lucky enough–being playful and "posing" for pictures. After visiting the pandas, save some time to explore the Seac Pai Van Park which is home to some more animals such as red pandas, flamingos, ostriches and primates and a rich variety of flora and fauna. The park features a shaded seating area where you can rest and perhaps have a little picnic! Kids do love a picnic.
How much: MOP $10 for regular admission, children up to 12 years old enjoy free admission.
Also read: 5 Things to Do at Macau Giant Panda Pavilion & Seac Pai Van Park 
Macao Giant Panda Pavillion Seac Pai Van Park, Estrada de Seac Pai Van, Coloane, +853 2888 0087, www.macaupanda.org.mo

Visit the Maritime Museum 
It's up to parents to light in kids the spark for an interest in general knowledge. Visiting museums is a great way to do so. So much of Macau's history is tied to seafaring, so a visit to the Maritime Museum is a must. The museum is set at the same place where the first Portuguese to reach Macau dropped anchor. It's divided into three different areas: maritime ethnology, maritime history and maritime technology.  At the ethnology section, there's even a model of a dragon boat made largely out of whalebone to be found!
How much: Admission for children under 10 is free, free admission for all Macau ID holders, general admission ticket starts at MOP $5
Maritime Museum 1 Largo do Pagode da Barra, Macau, +853 2859 5481

Take a Cultural Tour Around the Old Streets of Macau
One of our favorite things to do with kids in Macau is to tour some of the oldest and most historic areas in the city. Bring the kids along on a walk and learn about the city's history and culture by doing so. Families may tour the Historic Centre of Macao, listed as UNESCO World Heritage, for a day and visit some of the landmarks that make Macau so unique. Walk from Leal Senado Building and Senado Square to St. Dominic's Church, make your way up to the Ruins of St. Paul's, and finally head up the hill to Mount Fortress. To keep kids engaged, the key is to find cool or interesting facts about each place that will speak to them. For example, how a typhoon led to a devastating fire that consumed a church that was, at the time, one of the largest in Asia. Or how Mount Fortress, set 52 meters above sea level, was crucial in fending off the Dutches during the invasion in 1622. Plus, there are real cannons at this fort!
How much: Free!
Leal Senado Building 163 Avenida Almeida Ribeiro, Macau
Senado Square Largo do Senado, Macau
St. Dominic's Church St. Dominic's Square, Macau
Ruins of St. Paul's Company of Jesus Square, Macau
Mount Fortress Rua do Monte, Macau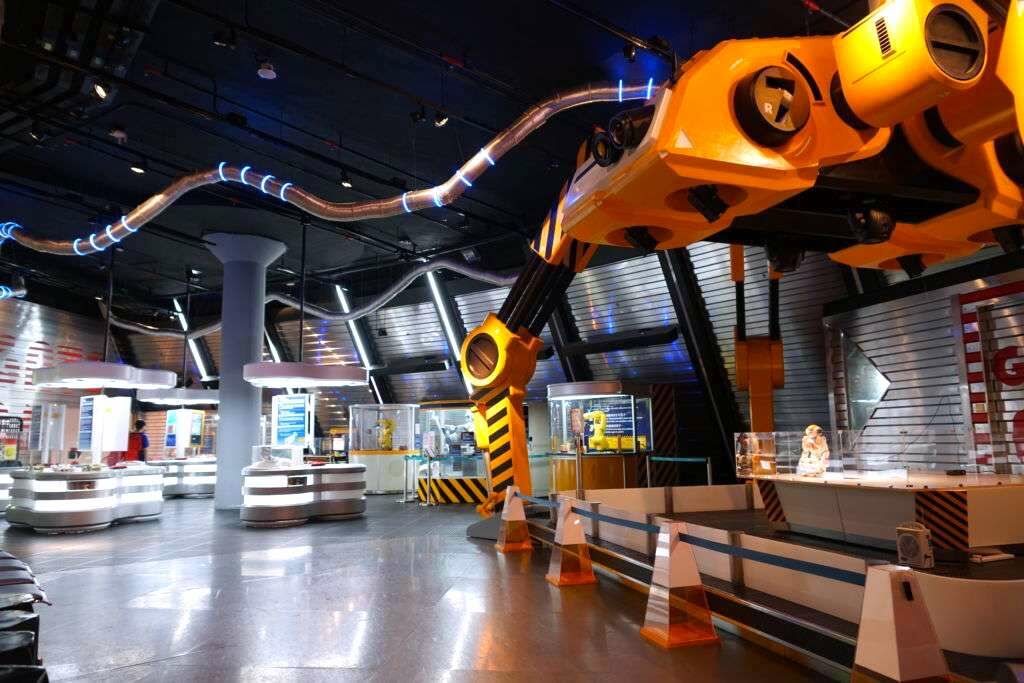 Visit the Macao Science Center 
Visiting the Macao Science Center is a great way to spend time with the kids that is simultaneously fun and educational. The Science Center houses a planetarium, an indoor playground, and 14 different galleries, each covering a subject. Robotics, eco-conservation, food science, genetics, and acoustics are some of the interesting featured subjects. At each gallery, kids are invited to try out the demo material at their disposal and experience the results for themselves, which is the best way to learn. In addition, Macao Science Center promotes a series of special events aimed at kids and families throughout the year such as concerts, 2D and 3D screenings at the planetarium dome, family workshops, and special exhibitions!
How much: Children under two enjoy free admission; MOP $15 for children between two and 11 years old; free admission for Macau ID holders under the age of 18.
Also read: Macao Science Center: Fun For All Ages
Also read: 6 Museums in Macau the Whole Family Can Enjoy
Macao Science Center Avenida Dr. Sun Yat-Sen, Macau, +853 2888 0822, www.msc.org.mo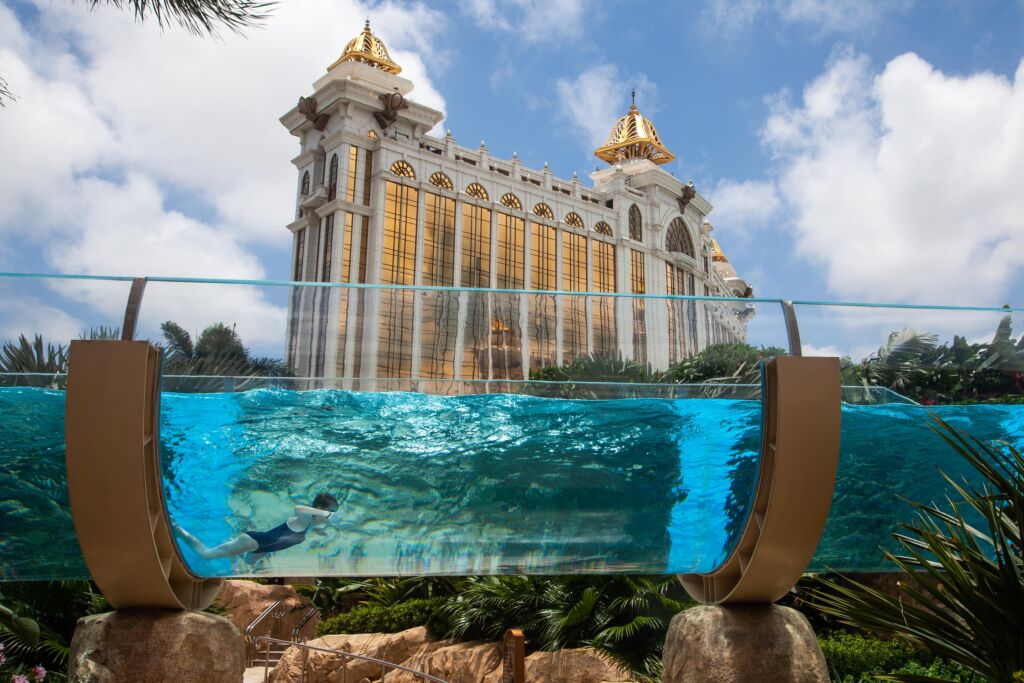 Splash Away at Grand Resort Deck at Galaxy Macau 
Perfect for hot summertime, Galaxy Macau's Grand Resort Deck will make the day for any kid! The 75,000 square meter water park is home to the world's longest skytop river ride and the world's largest skytop wave pool. Grand Resort Deck is fitted with all possible and imaginable attractions: waterslides, waterfalls, a splash tower and splash mountain, spray loops, an aqua dome, foaming geysers, and more!
How much: Hotel guests enjoy free access to the Grand Resort Deck
Galaxy Macau Estrada da Baía da Nossa Senhora da Esperança, s/n, Cotai, +853 2888 0888, www.galaxymacau.com
Also read: Best Kid-Friendly Restaurants in Macau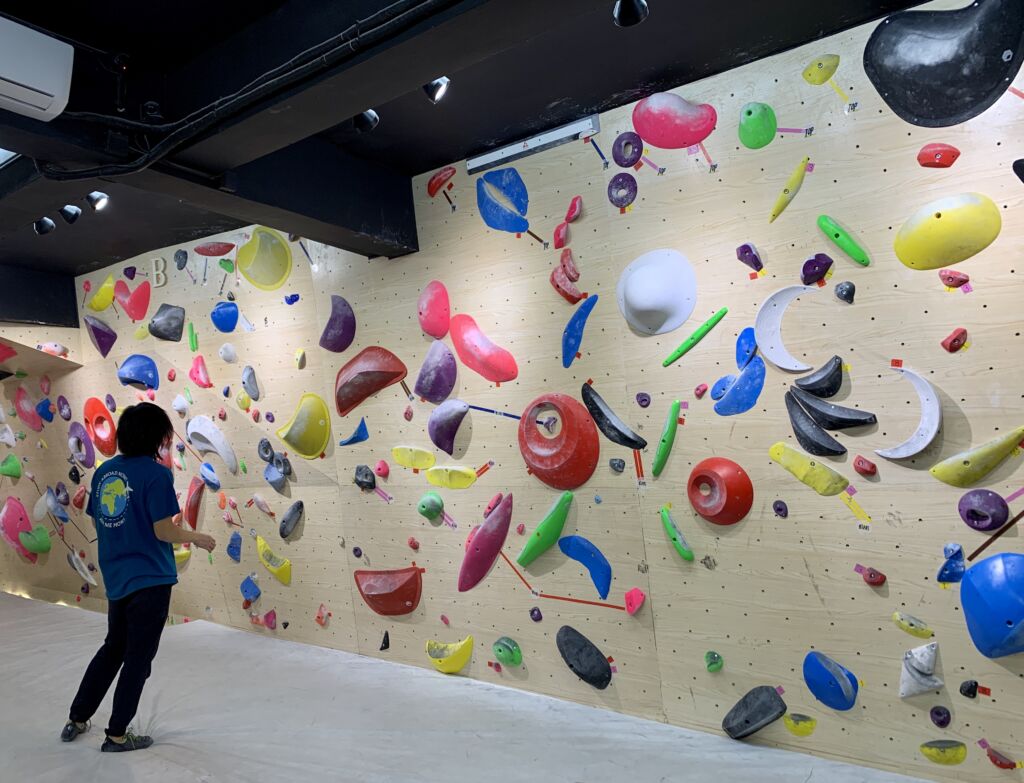 SOLUTION CLIMBING GYM
We've recently discovered Solution Climbing Gym and we recommend it for families who love the great outdoors but want to keep it safe for now. This fantastic location has a compact space and complete equipment for beginners, average-skilled climbers, and experts. It is suitable for everyone of all ages to learn from each other and exchange their experiences through this fun and creative activity. Build your passion for rock climbing and join their numerous activities. You know what they say, "When you fall, the only way to go is up". It's a much-needed encouragement amid the challenges around us.
For more details, visit their website and Instagram page @solution.climbing
How much: MOP $90 for an adult single pass during weekdays, MOP $60 for student
Solution Climbing Gym 14 Tv. das Hortas, Macau, +853 6339 5377, www.facebook.com/solutionclimbinggym
Also read: Fantastic Activities for the Whole Family in Macau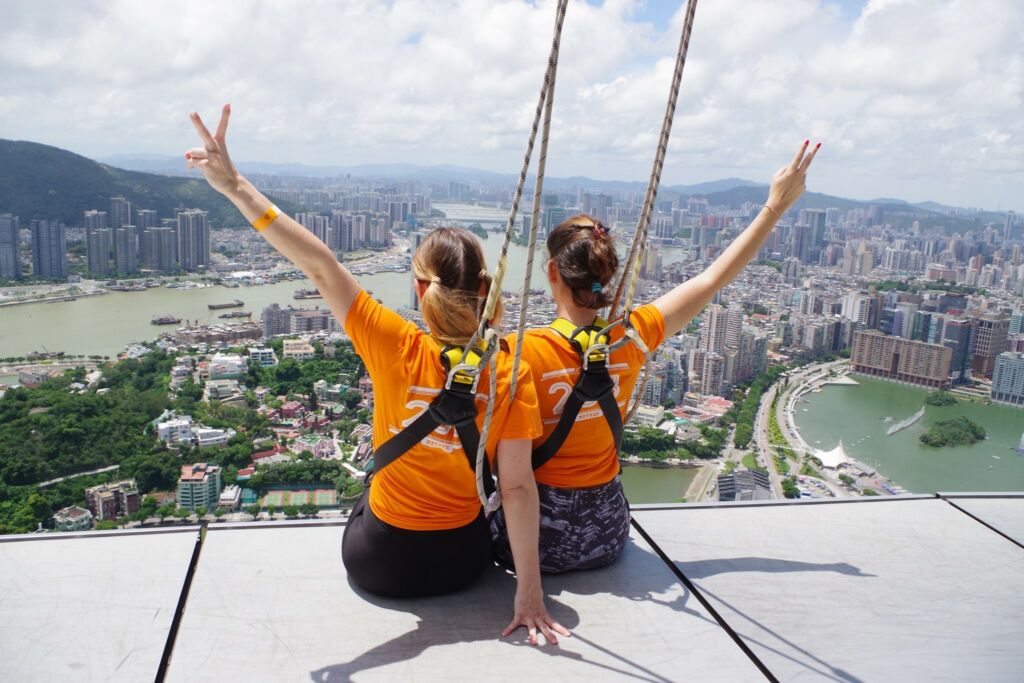 Go for a Skywalk at AJ Hackett Macau Tower  
If the case is that you're a parent to an adventurous little soul, what could be more exciting than a 233-meter high skywalk around Macau Tower? With no handrails! Many do not know that the recommended minimum age to walk is just three years old, as long as the child can fit properly into the security harness. Those under 18 years old need to have written authorization from their parents. Taking place at the 1.8-meter wide outer perimeter surrounding the Macau Tower, the AJ Hackett Skywalk is a thrilling activity to be shared as a family while enjoying the unbeatable birds-eye view over the city. Naturally, the package includes a photo that will surely end up in the family photo album! We have known many families to enjoy this activity and consider it one of the best things to do with kids in Macau.
How much: The AJ Hackett Skywalk around Macau Tower (includes certificate, membership card, video + photos, exclusive t-shirt and tower ticket) is priced at MOP $588 per person
AJ Hackett Skywalk Level T2, Adventure Zone, Macau Tower, Macau, +853 8988 8656
Also read: Your Macau Guide to the Best Indoor Playrooms for Kids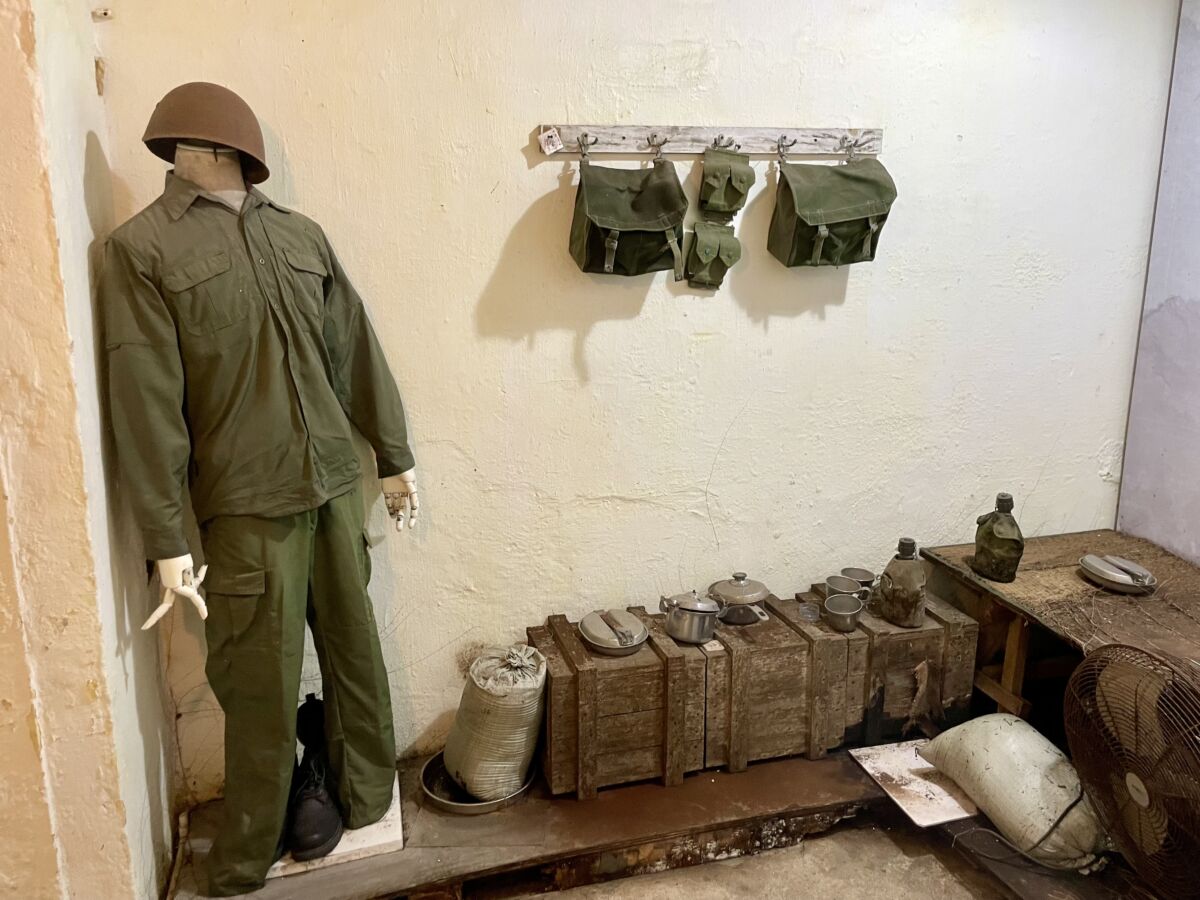 Visit the Guia Hill Military Tunnels 
With its conclusion dating back to the 17th century, the UNESCO-listed Guia Fortress is a place filled with history. Besides a lighthouse believed to be the first modern kind on the Chinese coast, and a chapel with frescoed walls, the fortress hides real war tunnels and a section of them is open to visitors. These war tunnels were built through the fortress to shelter military personnel from air raids. Given its prime location within lucrative trade routes, Macau was a desirable piece of land for those looking to expand their borders. In 1622 the Dutch led a full-scale invasion into the city, and as history goes Guia Fortress and its war tunnels were determinant in defending its sovereignty during what became known as the Battle of Macau.
Back in the day, the Guia Hill military tunnels harbored restrooms, ammunition, and supplies. Today they display pieces of military memorabilia, including an old generator, and an exhibit of black and white pictures. For its valuable insight into Macau's military past, we believe these tunnels are worth a visit. Kids will be psyched and come up with a ton of questions about battles in distant times!
How much: Free
Opening hours: Tuesday to Sunday, 10:00am–5:00pm
Guia Hill Military Tunnels at Guia Fortress Rampa da Guia, Macau, +853 2859 5481
This piece was written by Sara Santos Silva in February 2020 and updated in April 2022.
Tags
Related Posts