Let's forget the obvious activity that Macau is famous for and see what else this multicultural city has to offer for those willing to dive into an adventure with eyes wide open. Whether you are planning a trip to Macau or living here and would like to learn more about this exciting city, this list is for you!
Wander around the UNESCO Historic Centre of Macao
Centuries of Macau's existence shaped it into a unique place with cultural fusion and rich history. Luckily, Macau people managed to preserve a lot of its heritage, not letting it disperse due to rapid development. That said, heading to the Macau peninsula to see the historic center marked as a UNESCO heritage site is a must.
It is safe to assume that you will not struggle to find the well-known Senado Square and the Ruins of St. Paul's. Although both those attractions are worth the visit, there is much more to Macau's historic center than those two. Moreover, the lesser knows UNESCO sites tend to be much less crowded. Start your journey from A-Ma Temple, the oldest temple in the city, and move on to the south, stopping by magnificent Catholic churches, tranquil squares, and magnificent mansions.
Also read: Top Locations to Visit in the UNESCO Designated Historic Centre of Macao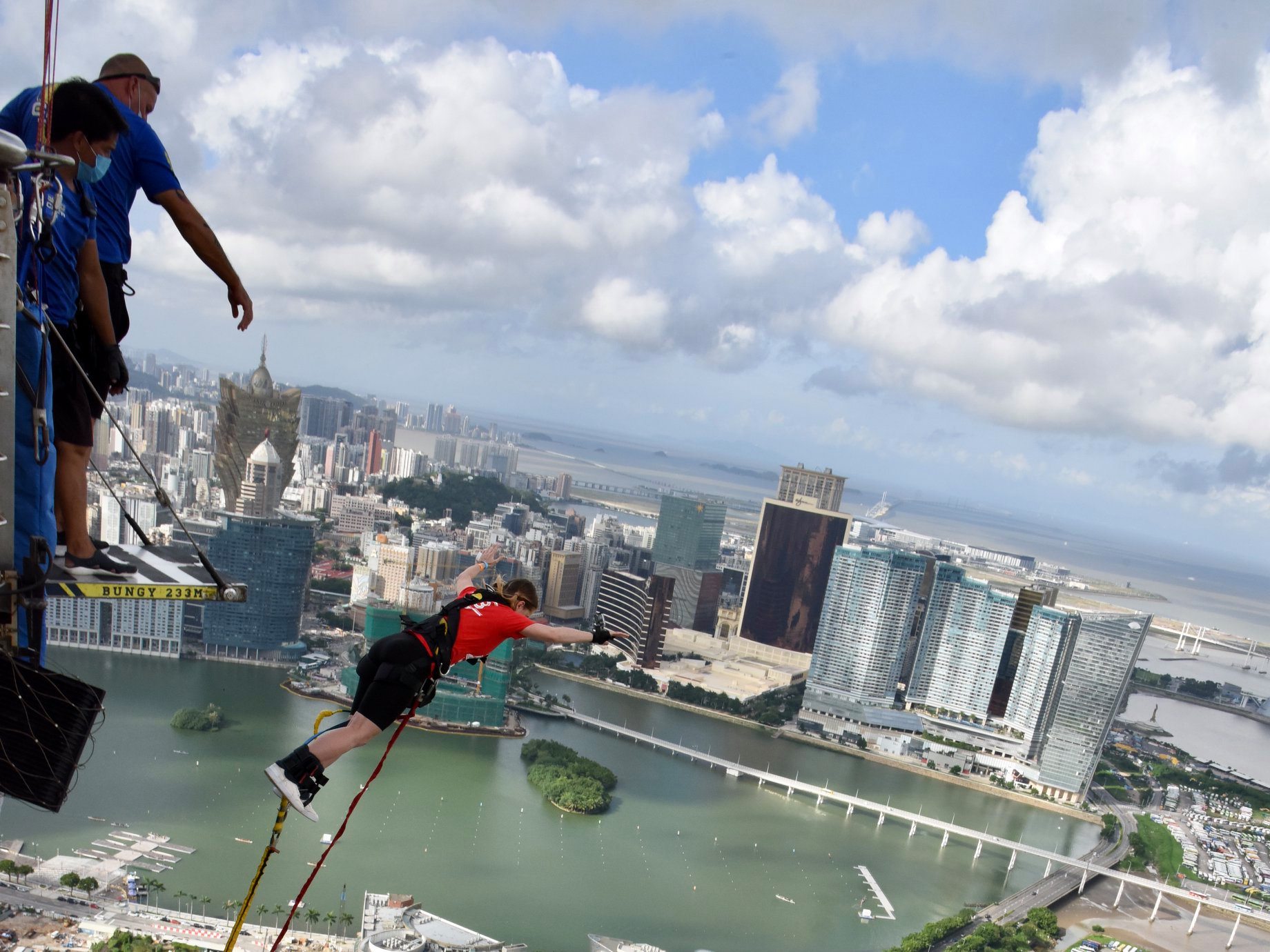 Take a leap from the highest bungy jump in the world 
This attraction is not for the faint of heart, but those who dare will not regret it! Over four million brave individuals have experienced the bungy jump with AJ Hackett at Macau Tower, and many are still coming. A cocktail of adrenaline, fear, and excitement will guarantee that Macau's memories will stay with you forever. Not to mention, a free fall from the 233-meter high platform is something to brag to your mates about!
There are a few more activities to try out at Macau Tower, including Tower Climb and Sky Walk. If you don't feel like pushing your limits, it is still worthy to ride the elevator all the way up Macau Tower and enjoy a breathtaking panoramic view.
AJ Hackett Macau Tower, Limited Level T2, Adventure Zone, Macau Tower, Macau, +853 8988 8656, www.ajhackett.com
Travel to Coloane 
Macau consists of three major areas–the Macau peninsula connected with Taipa and Coloane islands with three bridges. Among them, Coloane is the greenest and the most peaceful. When locals wish to rest from Macau's hustle and bustle, they often go to one of Coloane's sandy beaches, hike up the hills or dine at outdoor terraces. Apart from that relaxing pastime, you can walk through Coloane Village's narrow alleyways full of colorful houses and street art. Don't forget to stop by the picturesque Chapel of St. Francis Xavier and grab a couple of egg tarts at Lord Stow's Cafe. If you are interested in exploring ancient Chinese temples, visit the Tam Kuang Temple. It was constructed in 1862 to honor Tam Kuang, the child God of the Sea.
Chapel of St. Francis Xavier Rua do Caetano/Largo Eduardo Marques, Coloane
Lord Stow's Garden Café G/F C Houston Court 21 Largo do Matadouro, Coloane Village, Macau, +853 2888 1851, www.lordstow.com
Also read: Off the Beaten Path: 10 Things to Do in Coloane
Savor local food
You might have heard that Macau has been proclaimed a creative city of gastronomy by UNESCO, but did you know that local Macanese cuisine is believed to be the first fusion cuisine in the world? If you consider yourself a foodie, it would be a shame to miss out on Macanese specialties. Head to one of the family-style restaurants and savor must-tries such as African chicken, minchi, and bebinca.
Also read: Best Places for Macanese Food in Macau
Would it be a full culinary experience without street food? Asia is known for bustling food markets and stalls where everything is sizzling, steaming, and emitting a tempting aroma. Savory or sweet treats, taking a bite at one of Macau's street food locations is a must. Just mark them on your Google Maps and make sure to stop by when you are exploring the city.
Also read: Macau's Best Street Food
Dress up & book a table at a Michelin restaurant
Besides casual eateries and comfort food, Macau is the perfect destination to indulge in some fine-dining. Humble 115 square kilometers host three three-star, seven two-star, and ten one-star Michelin restaurants. How impressive is that? Some of the restaurants like Robuchon au Dôme have been in Macau for years constantly proving their outstanding quality with the highest award in gastronomy. Others were recognized by the Michelin committee shortly after their grand opening like Alain Ducasse at Morpheus!
Macau is one of the best cities to dive into the diverse world of Chinese cuisine – there are plenty of awarded Chinese restaurants to chose from. Try The Eight at Grand Lisboa, a restaurant with the cutest-ever dim sum, or visit Lai Heen at The Ritz-Carlton for excellent Cantonese food. Choose from Chinese, Japanese, French, Italian cuisines–whatever it is, the experience will not disappoint you. Just don't forget to get your phone ready for those artsy creations.
Robuchon au Dôme Grand Lisboa, Avenida de Lisboa, Macau, +853 2828 3838, www.grandlisboahotel.com
Alain Ducasse at Morpheus Morpheus, City of Dreams Macau, Estrada do Istmo, Cotai, +853 8868 3432, www.cityofdreamsmacau.com
Lai Heen 51F, The Ritz-Carlton, Galaxy Macau, Estrada da Baía de Nossa Senhora da Esperança, Cotai, +853 8886 6868, www.galaxymacau.com/lai-heen
Also read: Michelin Starred Restaurants in Macau to Dine At
Also read: The Most Outstanding Chinese Restaurants in Macau
Go on a bar-hopping adventure  
The cocktail culture has become increasingly popular in the last decades. Like culinary adventures, bar-hopping can become an exciting part of a trip and another way to explore the diverse flavors of a location. If you are among cocktail aficionados, there are plenty of bars in Macau to surprise and impress you. Visit Goa Night at Taipa Village to try their cocktail menu inspired by Goan culture and Macau landmarks. Don't miss out on the signature cocktails at Vida Rica Bar at Mandarin Oriental, Macau. Every once in a while they come up with a new volume of drinks menu that includes original creations inspired by Macau, whether it is art or cinematography. To immerse in the classy vibes of the Prohibition-era New York and indulge in original cocktails with creative presentation spiced up with live jazz performance, stop by The St. Regis Bar Macao.
Not a big fan of fancy bars? Macau has plenty of casual pubs and bars with friendly crowds and live music. Try Old Taipa Tavern in Taipa Village for a refreshing pint of IPA and a chat with local residents. If you can't live without rock'n'roll, then The Roadhouse Macau would make a perfect pit stop for you. They have an in-house band that plays rock and blues six nights a week!
Goa Nights 118 Rua Correia da Silva, Taipa Village, +853 2856 7819, goanights.com
Vida Rica Bar Mandarin Oriental, Macau, 945 Avenida Dr. Sun Yat Sen, NAPE, +853 8805 8928, www.mandarinoriental.com
The St. Regis Bar Macao 2F, The St. Regis Macao, The Londoner Macao, Estrada do Istmo, s/n, Cotai, +853 2882 8898, www.thestregisbarmacao.com
OTT 21 Rua dos Negociantes, Taipa Village, +853 2882 5221, www.facebook.com/pages/Old-Taipa-Tavern
The Roadhouse Macau E-G016-G019 Broadway Food Street, Broadway Macau, Avenida Marginal Flor de Lotus, Cotai, +853 2875 2945, www.facebook.com/theroadhousemacau
Also read: Show Me the Way to: Macau's Best Cocktail Bars
Also read: Shaken or Stirred: Macau's Best Cocktails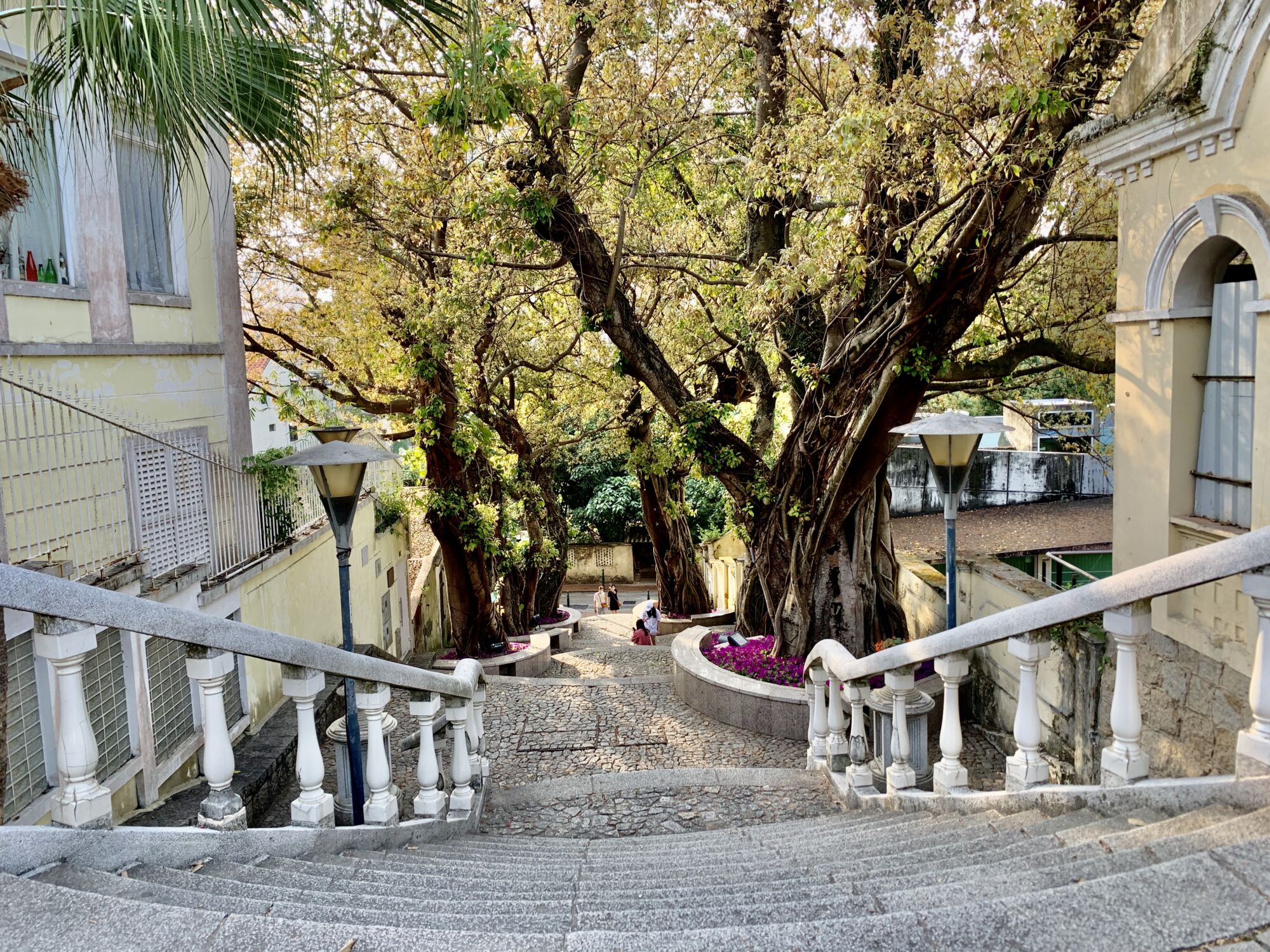 Get lost in Taipa Village 
Tucked between a busy residential area of Taipa and dynamic Cotai, Taipa Village managed to preserve its authenticity and historic charm. You can spend the whole day paving your way from one landmark to another with occasional pitstops at one of the cozy restaurants and vibrant bars.
Start the journey at bustling Rua do Cunha with souvenir and pastries shops and let yourself get lost in the winding alleys. There, you will find some of Taipa Village's hidden attractions–street art hidden in the lanes, and traditional azulejos panel with a landscape drawing in white and blue. 
Also read: The Best Things To Do in Taipa Village
Visit Ancient temples 
Macau represents a blend of different cultures, as well as religions that peacefully coexist, sometimes even under one roof. While many Chinese temples vanished in the Mainland as a result of the Cultural Revolution, Macau was spared this unfortunate fate. From its northern border to Coloane island, the city has many Taoist and Buddhist temples, with the most ancient presumably established in the 15th century, even before the arrival of the Portuguese settlers. Each temple hides a story, legend, or myth behind its walls, which offers visitors another perspective on Macau's past.
Also read: Your Ultimate Guide to Macau's Most Beautiful Temples
Learn more about the city in one of Macau's museums 
A relatively small city, Macau has enough cool museums to keep you occupied for days or even weeks. Most of them are free, but the admission for the rest is cheap anyway. For those who are curious about history, urban development, traditions, and culture, there is the Macao Museum on Mount Fortress. If you love art, don't skip the Macao Museum of Art. To take a glimpse of bolides that participated in The Grand Prix Macau, head to the Grand Prix Museum. There is something for any kind of visitor!
Also read: The 5 Best Free Museums in Macau
Also read: 5 Museums in Macau the Whole Family Can Enjoy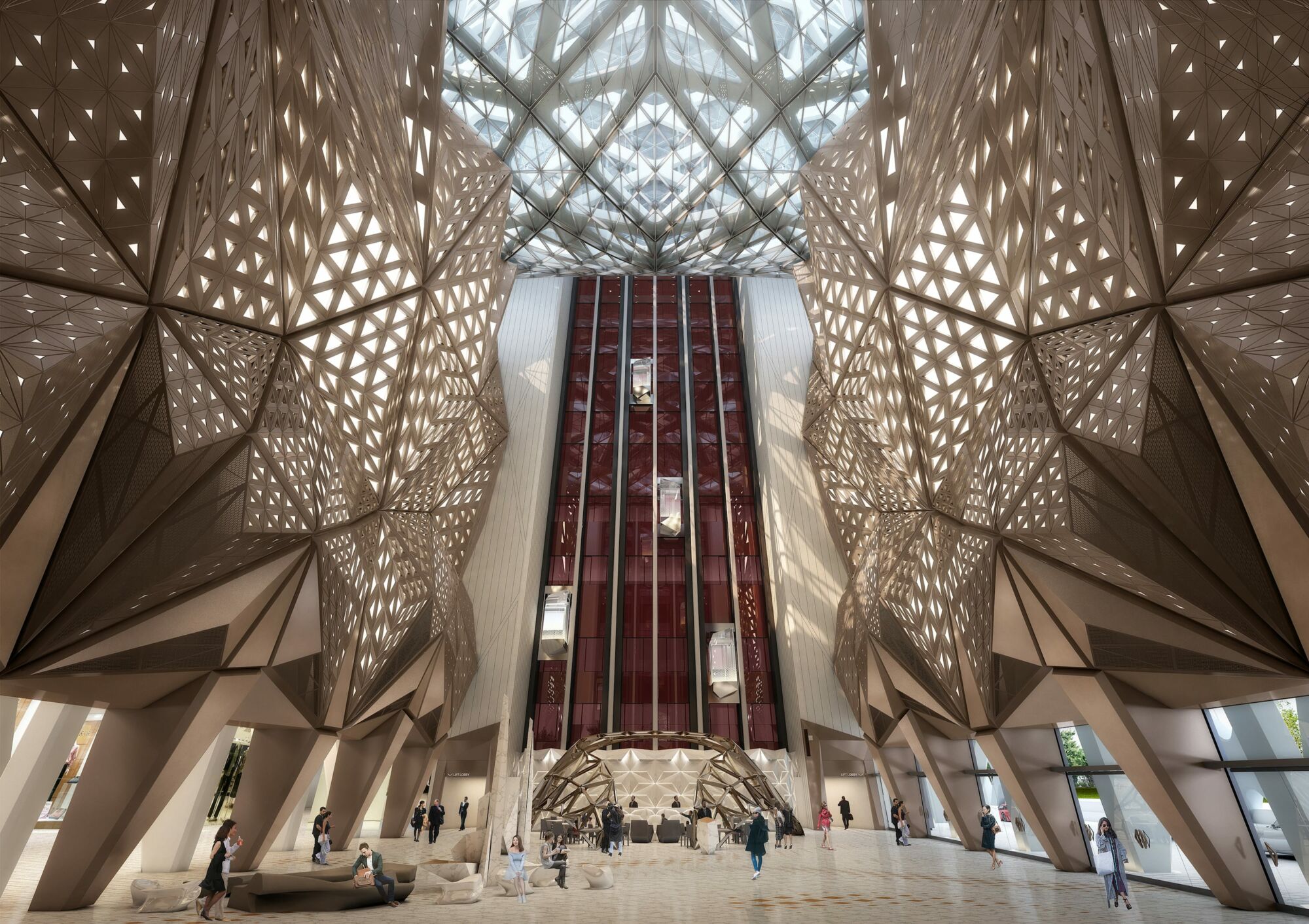 Be amazed by the contemporary architecture & entertainment of Cotai
Other than traditional attractions and historical buildings, Macau has a contemporary side with modern architecture and avant-garde art. Many of them can be found on the Cotai strip. Did you know that the land where Cotai's integrated resorts are standing on didn't even exist before 1999? That's right, Taipa island was separated from Coloane island by water. To connect them, the land in between was reclaimed to host some of the main contributors to Macau's economy.
Among the many examples of notable sites, there is one that stands out. We are talking about Morpheus Hotel designed by Zaha Hadid Architects. Located on Cotai Strip, it has become an essential part of Macau's skyline and one of the city's most outstanding architectural landmarks. Unique on the outside, it is equally stunning on the inside. Moreover, it hosts many contemporary art objects. Created by famous artists such as KAWS and Julio Le Parc, all of them are scattered around Morpheus, admission-free.
Another integrated resort with its extensive collection of art is Wynn Palace. Wander around its stylish interiors to spot large flower installations and ancient Chinese ceramics. Don't forget to take a free ride in the SkyCabin too. To enjoy the fountains show of the Performance Lake from the best viewpoint, try hopping into the cabin right before the show starts. The fountains gracefully dancing to Disney tunes, Frank Sinatra, or classical music will make your jaw drop!
Movie fans would love Studio City, a resort with a Hollywood theme, architecture inspired by Gotham City, art deco design, and the eight-shaped Golden Reel.
The latest addition to Cotai's entertainment variety is teamLab, an immersive exhibition of digital art that both kids and adults would love.
Morpheus City of Dreams, Estrada do Istmo, Cotai, +853 8868 6688, www.cityofdreamsmacau.com
Wynn Palace Cotai Avenida Da Nave Desportiva, Cotai, +853 8889 8889, www.wynnpalace.com/en
TeamLab Cotai Expo, The Venetian Macao, Estrada da Baía de Nossa Senhora da Esperança, Cotai
Also read: Your Ultimate Macau Art Guide
Tags
Related Posts