After all these years of rapid Macau development, luckily for all of us, Coloane remains a calm resort-like area. This is where locals and tourists come to enjoy chill vibes, birds singing and home-style dining. We put together a list of the best places to eat in Coloane to add to your foodie "To Eat" list. 
Lord Stow's Bakery and Lord Stow's Garden Café
Believe it or not, a lot of tourists come to Coloane Village specifically to try these legendary egg tarts. So if you have not had the pleasure, add Lord Stow's Bakery to your "Must Go" list. Egg tarts in Macau has become a well-recognized pastry and a part of Macau's image for its unforgettable taste and photogenic appearance. Besides the renowned dessert, Lord Stow's Bakery offers snacks, sandwiches and drinks too. Grab some and head to a scenic promenade to enjoy your meal on a bench while gazing into nearby Zhuhai. 
Behind the bakery, there is charming Lord Stow's Garden Café that opens as early as 9:00am. Start your day with fresh homemade croissants, bagels or their signature big breakfast. The big breakfast includes two fried eggs with crispy bacon, sausage, grilled tomato and toast. For vegetarians, there is a veggie big breakfast with bacon and sausage substituted with grilled Halloumi cheese and wilted spinach with sautéed mushrooms. Aside from breakfast, they serve Thai, Western food and a great choice of desserts. Don't forget to try their affogato, a shot of espresso with a scoop of vanilla ice cream on top. You can even have a shot of Bailey's on it too!
Lord Stow's 1 Rua do Tassara, Coloane
Lord Stow's Garden Café G/F C Houston Court 21 Largo do Matadouro, Coloane Village

Fernando's Restaurant
There are many reasons to love this popular Portuguese restaurant in Hac-Sa. Among them, are those vacation vibes you instantly feel after entering. Located on Hac-Sa beach, it has been serving delicious food to the public since 1986. Pretty much all of the dishes on the menu are worth ordering. Some of the highlights are clams with tomato, cilantro and garlic sauce, bacalhau à brás and grilled sardines. Portions are big and prices are reasonable! Moreover, Fernando's makes their own bread and grows their own vegetables in a nearby garden. 
They don't take reservations and due to its popularity, it can get pretty busy. So you might need to spend some time waiting for a table. On the bright side, there is a lovely outdoor bar which makes the waiting much more pleasurable. 
Fernando's Restaurant 9 Praia de Hac Sa, Coloane, +853 2888 2264, www.fernando-restaurant.com

Miramar Restaurant
Some of Macau's finest chefs name this restaurant among their favorites in the city. So if you ever find yourself in Hac-Sa beach, take a stroll towards Miramar. Surrounded by lush greenery, this chill oasis of fine gastronomy is an ideal weekend getaway from the craziness of the busy city. Here in Miramar, they cherish Portuguese traditions and serve some of the best classic Portuguese dishes in Macau. In addition to that, renowned Macanese entrees are available.
Miramar Zona Norte Praia de Hác Sá, Coloane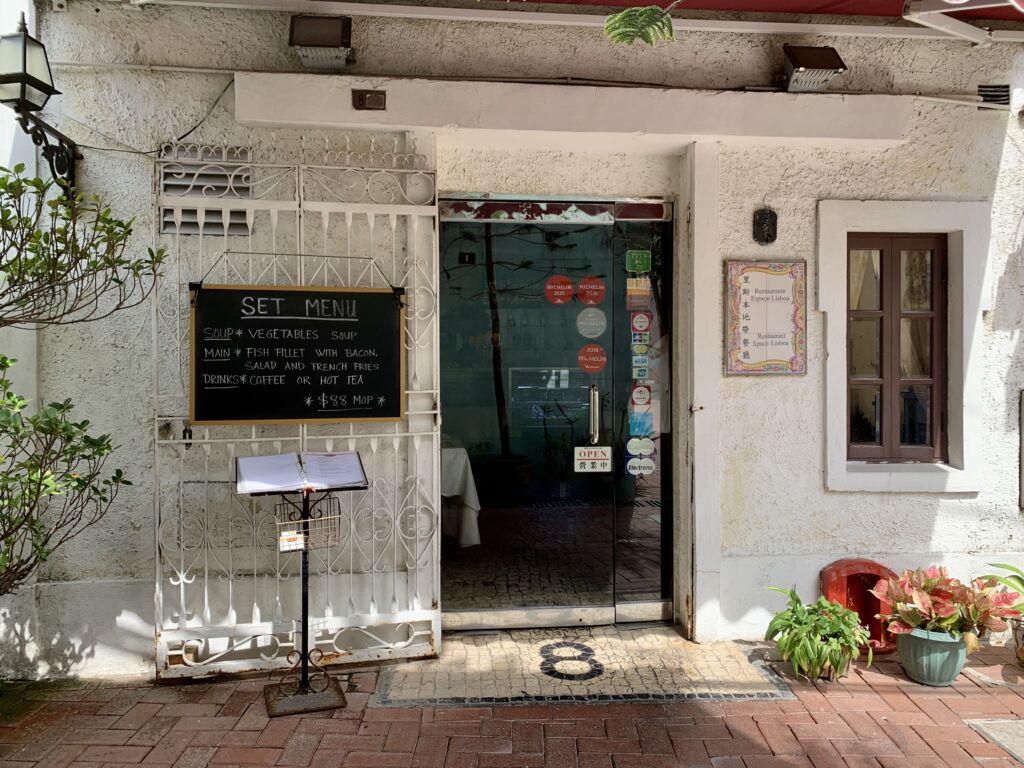 Restaurante Espaço Lisboa
Restaurante Espaço Lisboa is inside a small, old and typical village house that was converted to accommodate this two-story Portuguese restaurant. With its cozy balcony overlooking the alleys of the peaceful village, Espaço Lisboa is a perfect destination for a romantic date. When it comes to authentic Portuguese food, Espaço Lisboa is one of the best places in Coloane village to eat it. Try their goat cheese topped with honey, served on toast bread that's truly mouthwatering. On hot humid days, indulge in a home-made chilled sangria in a cozy and relaxing ambiance.
Restaurante Espaço Lisboa 8 Rua dos Gaivotas, Coloane Village, +853 2888 2226

Jam & Butter
Friendly service, freshly baked bread and pastries, decent coffee… what else is needed to start the day right? Maybe some perfectly cooked Eggs Benedict? Jam & Butter in One Oasis Verandah has all of these features and this is probably why residents of all the nearby apartment complexes keep coming back here for breakfasts. 
Apart from several breakfast options available all day, you can customize a sandwich or pasta to your liking, pairing it with a free hot drink. Their smoothies and fresh juices are great and their whole wheat croissants are one of the best we've eaten in Coloane.
Jam & Butter Shop 12–13 Estrada de Seac Pai Van, One Oasis, Coloane, www.facebook.com/Jam-Butter

JaK's Kitchen
Designed as a fancy living room with library and classy leather chairs, JaK's is a nice little a restaurant at One Oasis' The Verandah. It is the right place for those who want something to whet their appetite, but not ready to travel anywhere far.
The menu has a variety of options with some pretty luxurious examples like a prime steak with foie gras! Beautiful presentation, good service and dimmed lights make Jak's perfect for a date or a special occasion. At times, they introduce limited festive menus and occasionally organize wine tastings. Check their Facebook page for more updates.
JaK's Kitchen 272, 250 Estr. de Seac Pai Van, +853 2825 0148, www.jaks1968.com

La Gondola
When May arrives, public pools turn into centers of gravity. Among them, is Cheoc Van Swimming Pool, quite famous among locals for its price and beach location. Naturally, after spending some time chilling in the sun we all need some refreshment. Here comes La Gondola restaurant, a casual dining spot right on Cheoc Van Beach, beside the pool. Sip on a refreshing beer or sangria while enjoying the cool breeze coming from the ocean, doesn't it make you feel like you're on vacation? La Gondola has a full all-day menu as well, but mind that the service here is pretty relaxed as well.
La Gondola 41 Escadaria da Praia de Cheoc Van, Coloane, +853 2888 0156
This article was originally written by Estera Deunier in October 2016 and updated by Ksenia Kuzmina in May 2019.
Tags
Related Posts