Every tourist coming to Macau can make a fast conclusion that cookies and pastries here are held in high regard. Bakeries surround landmarks; hawkers offer free samples of their sweet product on every corner; wherever you go, pastries and cookies call out to you with their tempting aromas. Where do you start, and what do you eat? To get acquainted with the curious world of local sweets, check out our guide to the Chinese pastries in Macau.
Malay sponge cake (ma lai gou) or steamed bun 
(See featured image above)
When you are looking for a pastry that is not too sweet, a sponge cake comes to the rescue. Cooked on a traditional bamboo steamer, this puffy cake has a simple recipe, basically a piece of cake (pun intended)–butter or lard, eggs, flour, and sugar. Despite its name, the pastry's origin is unclear as food historians debate whether it was brought to Guangdong from Malaysia or the other way around. Nonetheless, today you will find this soft and humble cake all around Guangdong, Hong Kong, and Macau. 
Get a large chunk of ma lai gou at one of Macau's teahouses or head to Chong Shing food stall at the night market to buy it fresh from the steamer.  
Chong Shing 11 Tomé Pires, Macau
Almond biscuit or almond cake
The almighty almond biscuit probably deserves to be placed on a pedestal of Macau's pastry for being the number one edible souvenir brought from the city. Made with mung bean flour and pieces of almonds, this crumbly round cookie is not hard to find. Whether you were looking for it or not, chances that you have tried it are high if you have ever wandered around Macau's tourist areas like Taipa Village and The Ruins of St. Paul's. Those are usually where quick-witted attendants would lure tourists into big-chain bakeries such as Koi Kei with free samples of almond cookies. Should you wish to support a small local bakery, buy some biscuits at Taipa Village's Fong Kei or Pastelaria Chui Heong, where you can even see how the famous cookies are made by hand.  
Fun fact: the traditional recipe did not contain almonds. The name refers to the almond shape of the cookie, the way it used to be baked. Now it's usually made round with molded Chinese characters. 
Fong Kei 14 R. do Cunha, Taipa Village
Chui Heong 12 R. do Gamboa, Macau
Tarts 
Originated in Portugal as pastel de nata and brought to Macau, the famous egg tart has acquired new features and become a recognized sweet symbol of the city. However, the iconic Portuguese egg tart with caramelized golden brown top is not the only tart to eat in Macau, even if it's the most well-known. The Portuguese one is based on the flaky pastry with silky egg custard, while other tarts can be flaky or crumbly, filled with custard, coconut cream, bird's nest, milk, and more.
One of the best spots in town to explore the wide world of Chinese tarts is San Hou Lei in Taipa Village, a traditional local eatery famous for its bird's nest tart. If that's a bit too exotic for your taste, go for a coconut tart that is also delicious!
San Hou Lei 13-14 Rua do Regedor, Taipa, +853 2882 7373
Also read: Where to Find the Best Portuguese Egg Tarts in Macau
BBQ pork pastry (Char siu sou)
For adventurous foodies who are not afraid to get out of the gastronomy comfort zone and treat their palate to something foreign and a little unusual, there is BBQ pork pastry that's filled with savory pork filling. Char siu sou is a Cantonese dim sum classic that features sweet flaky pastry with BBQ pork, chopped meat roasted with honey, five-spice, fermented bean curd, and soy and hoisin sauces. There are a few variations of dough, from flaky cookies to puffy buns. It tastes best when eaten warm, so order it at one of the local yum cha spots. To bring some home, visit Rua do Cunha in Taipa Village to buy a bunch at a local pastelaria.
Pineapple bun 
Let's clarify one crucial detail first: pineapple buns do not contain any pineapple. Instead, the name defines the orange-yellow top that resembles the tropical plant. Especially popular in Hong Kong and Macau, this chubby pastry has been proclaimed a part of Hong Kong's cultural heritage. Pineapple bun's crusty sugary top is made of dough similar to sugar cookies, while the base is a lesser sweet soft bread. If you don't count calories, try a pineapple bun with a generous piece of butter stuffed inside, a sandwich often found in local cha chaan tengs. Pair it with a glass of milk tea for a full afternoon meal or breakfast. 
It's not hard to find this legendary Chinese pastry in Macau's many bakeries and shops. For authentic flavor, head to Ma Hong Kei Pastelaria, a local business with more than 60-year history. 
Ma Hong Kei Pastelaria Edf. Weng Hoi (Torre A), 77 Avenida da Concórdia, Macau, +853 2823 6639, mahongkei.com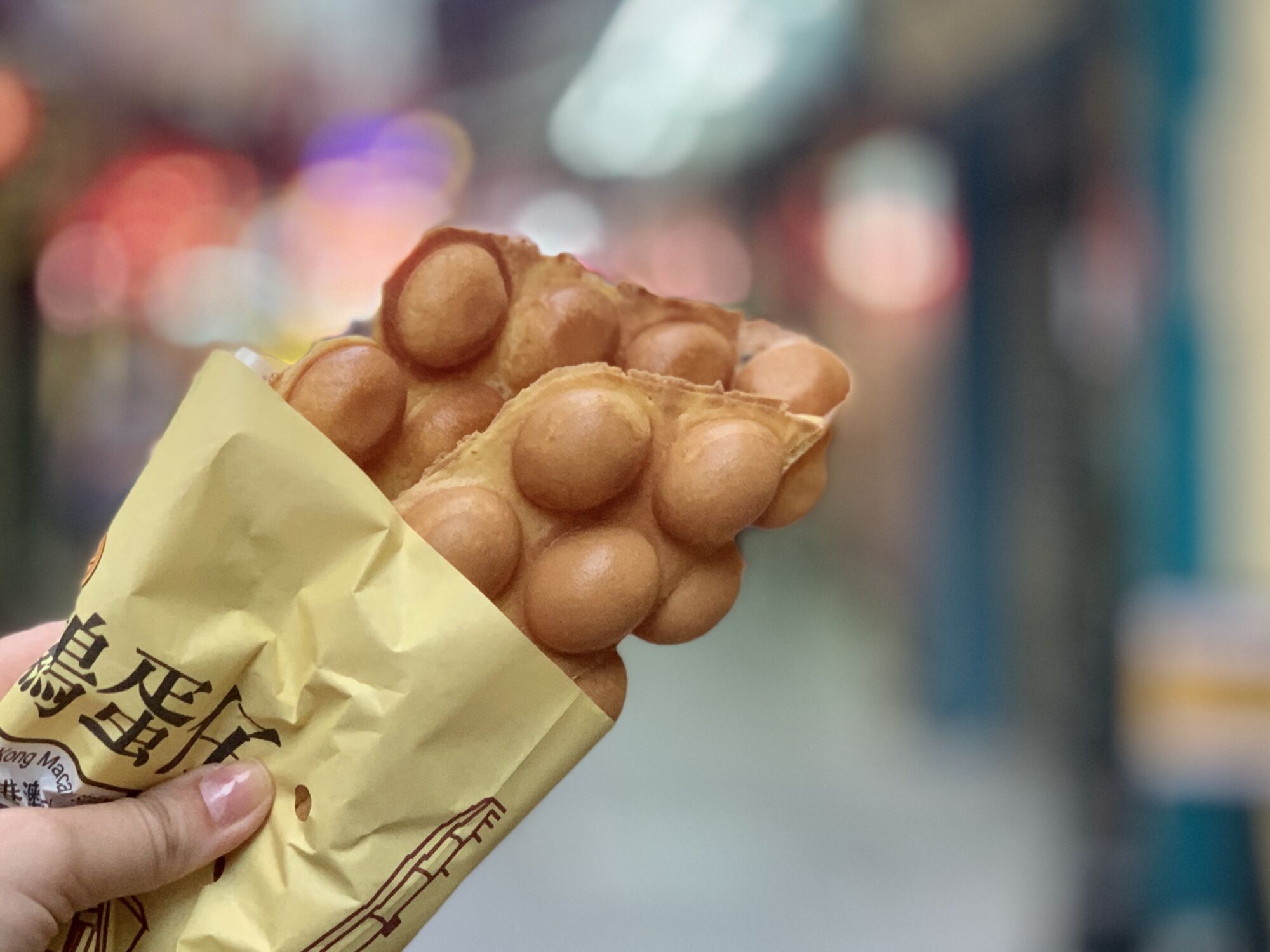 Egg Waffle
When roaming around Senado Square and The Ruins of St. Paul's, keep your eyes open for these cute round waffles sold at one of Macau's oldest food stalls, Hing Yi. A golden round waffle is a perfect snack to munch on while observing the cultural heritage of our city. Not too sweet, fluffy on the inside, and crunchy on the outside, egg waffle has been in the area for so long that no one remembers when the recipe was born. There is a theory that the ball-shaped mold is the Asian interpretation of the checkered European waffle iron.
Whatever the origin is, we love egg puffs, aka egglets, aka puffles, aka bubble waffles for their perfect roundness and sweet flavor. The traditional way to eat them is plain. However, you can also enjoy your waffles with condensed milk, peanut butter, chocolate, ginger, tea added to the batter.
Hing Yi Waffle Stall Pátio das Flores Alley, Macau
Also read: Street Snacks in the Red Market & Horta e Costa Area
Egg roll
With different particularities, egg rolls exist in many countries around the globe. That is not surprising, considering this wafer contains common ingredients such as eggs, flour, sugar, and butter. Crispy eggy biscuit is fried on a cast iron disk or skillet in a thin crepe form and then rolled by hand. For its simple yet tasty characteristics, egg roll in Hong Kong and Macau is a popular holiday gift. Notably, Cantonese wafer's ancestor comes from Spain, where it used to be a festive snack too, sold by street vendors. Due to the unfortunate turn of events, Spanish egg rolls almost disappeared from the street fares. Luckily, in China, they are still alive and well.
You won't need to spend hours searching for egg rolls in Macau as most of the bakeries sell them. Turn to Rua do Cunha in Taipa Village and get them at one of the traditional pastelarias.
Sugar bun
Donut fans, rejoice, Cantonese cuisine is here to save the day! Sugar bun, or saa jung, is a round donut made with deep-fried choux pastry generously sprinkled over with sugar. Sweet and oily, it is not a dessert to savor on a diet, but the rich taste worth it. For a perfect balance, have it with a cup of hot coffee on the side. A winning combination of a decent cuppa and authentic flavor of this puffy Chinese pastry can be found at Nam Ping, an old cha chaan teng where you will likely have some of the cheapest meals in Macau with the most authentic vibes of genuine Macau.
Nam Ping 54 R. de Cinco de Outubro, Macau, +853 2892 2267
Also read: Nam Ping: A Local Foodie Haven Nestled in Old Macau
Tags
Related Posts