What's the best thing to do on a chill sunny afternoon? Well, usually in Macau it's warm and sweltering during the hotter months, so the best way to chill out would be on a nice rooftop with an iced coffee or a cool beverage with friends. Here is a list of some of the hippest trending rooftop cafés, bar,s and lounges in Macau where you can catch a breeze and enjoy the weather. 
Rooftop Macau
(See the featured image above)
If we ever have an hour to spare while in Old Taipa Village, this is where you'll find us. It's a designer gift shop with a fantastic coffee artist inside and a cute little rooftop. Grab a flat white, head up the white stairs and sip on it while the sun comes down over the Carmo area–where the Taipa Houses-Museum are located. It's also a great spot to people-watch while kicking back and relaxing. Rooftop Macau's menu is almost made of drinks, but there are also some snacks to grab, such as avocado or red bean waffles. Their handcrafted lattes are also great!
Opening hours: Monday–Thursday, 11:30am–8:00pm; Friday and Saturday, 1:00pm–10:00pm; Sunday, 11:30am–8:00pm
Rooftop Macau 49 Calçada do Quartel, Taipa Village, +853 6252 6387, [email protected], www.instagram.com/rooftopmacau
Also read: The Ultimate Guide to Macau's Best Coffee Shops
Also read: The Best Things to Do in Taipa Village
Also read: Best Waffle Spots in Macau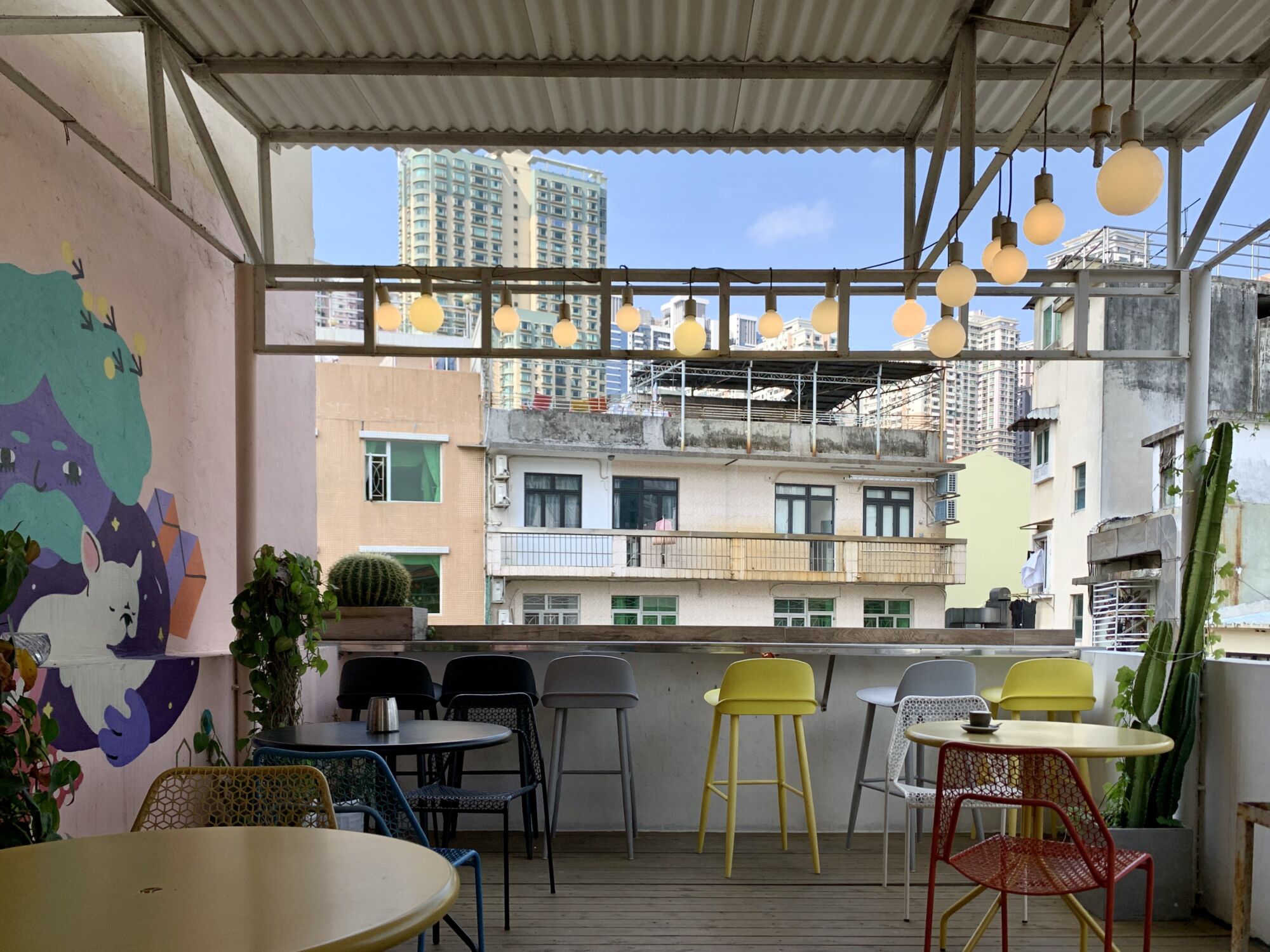 Quarter Square
This place is a showroom, gallery, and coffee bar all-in-one, and it's in a magical building. Simply order a cup of coffee at the bottom floor and make your way up to the hidden rooftop for a quiet break within the busy shopping streets. If you're a dog lover and want to see a cute French bulldog, make sure you visit Copper, their Instagram star who has almost 6,000 followers–@copper.frenchie. Quarter Square offers a cute view of the street and neighboring areas, but what we really love about this place is that it's really quiet and serene up there, although it starts getting busy around late afternoon.
Opening hours: Daily, 11:00am–8:00pm
Quarter Square 89 Largo Maia de Magalhães, Taipa Village, +853 2857 6914 or +853 6290 5138, www.facebook.com/quartersquare, www.instagram.com/quartersquare

Also read: Best Pet Friendly Cafes in Macau
Also read: 5 Great Working Spots for Digital Nomads in Macau

A Porta Da Arte
A Porta Da Arte was a very cool addition to the coffee scene in Macau. It is a multi-function building featuring some of the designer products locally made in Macau. As well as a coffee bar from Triangle Coffee Roaster, there is a reading corner too! There is a different vibe on every floor, but our favorite has to be the rooftop on the top floor. The owner reused old furniture to make unique coffee tables. Be sure to check it out if you are around the area!
Opening hours: Daily, 12:00pm–7:00pm
 A Porta Da Arte 32 R. dos Ervanários, Macau, +853 6345 6588, www.facebook.com/macau.artdoor
Also read: Rua dos Ervanários: Old Macau is Around the Corner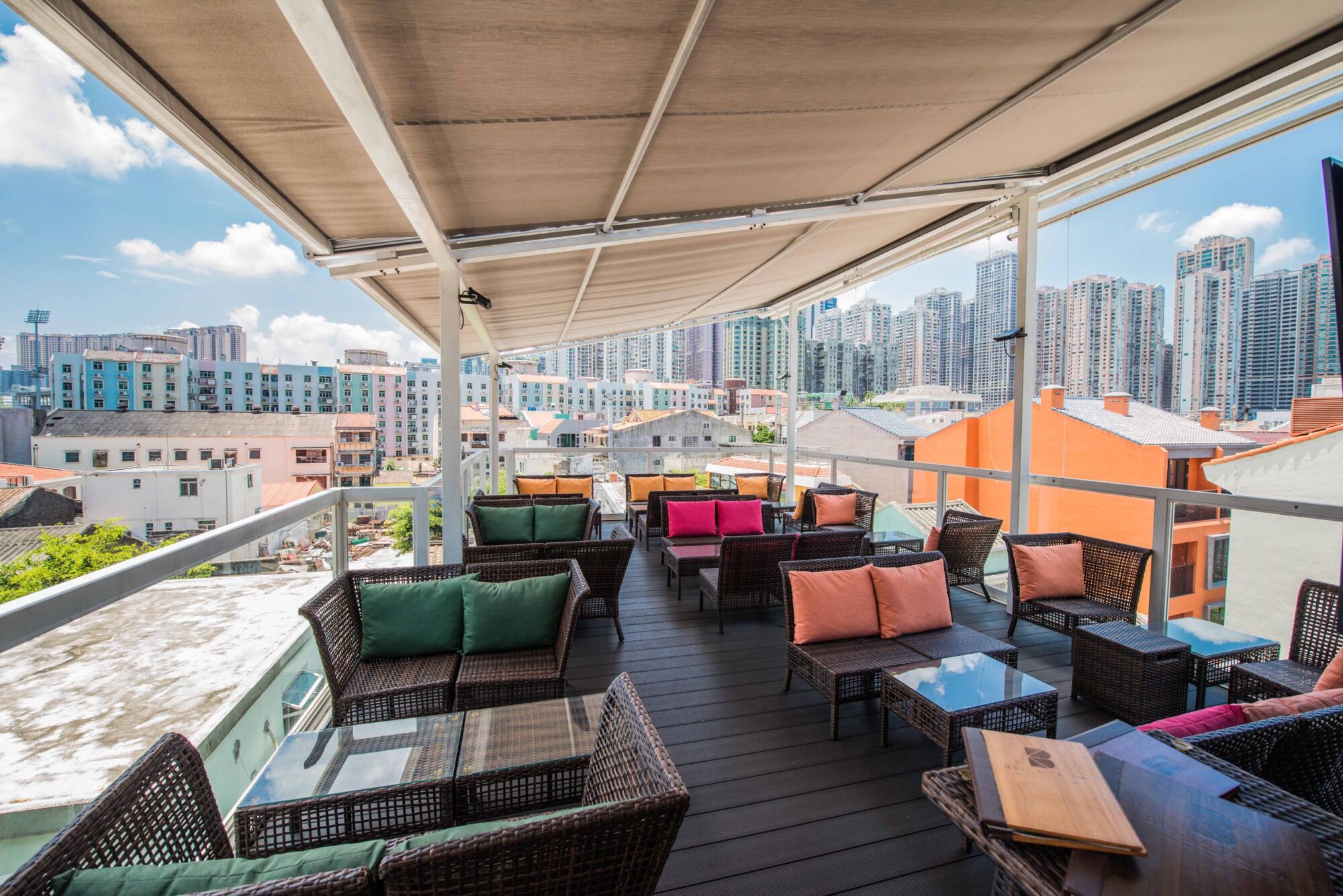 Bella Taipa
You're already picturing yourself holding an Aperol spritz cocktail sitting on one of these cushioned sofas, aren't you? Bella Taipa is a restaurant serving Italian modern food, but its best feature might be the rooftop areas: with one on each side–one facing the back of Taipa Village and the other offering a panoramic view of this area–it's ideal for a hot Macau day with friends and cocktails. Head there and experience the different colors of the sky while it changes from day to night; witness the night come alive in Taipa Village. If the conversation is good and the mood even better, stay a bit longer, order some snacks and pizzas and keep it going.
Opening hours: Sunday–Thursday, 12:00pm–11:00pm; Friday–Saturday, 12:00pm–00:00am
Bella Taipa 1 Rua dos Clérigos, Taipa Village, +853 2857 6621, www.bellataipa.com
Also read: Macau Outdoor Dining Guide
Also read: Great Local Pizza Places in Macau
In Portuguese Food
Also nestled in Taipa Village, one hardly notices this cool outdoor seating area on the top floor of this Portuguese restaurant. Open for lunch and dinner, it's quite busy at night. We recommend heading there for sunset watching. Order a glass of sangria champagne, some snacks, and kick back with your friends. Take the moment to appreciate the different areas and settings of this region and always know there's a place to relax on this rooftop.
Opening hours: Monday–Friday, 11:30am–3:00pm,   6:00pm–11:00pm; Saturdays, Sundays and Public Holidays, 11:30am–11:00pm
IN Portuguese Food 86 GF, Rua Correia da Silva, Taipa Village, +853 2857 6700, facebook.com/inportuguesefood
Also read: IN Portuguese Food: A True Portuguese Gem in Taipa Village
Also read: Best Portuguese Restaurants in Taipa Village
Also read: The Best Places to Eat Real Portuguese Food in Macau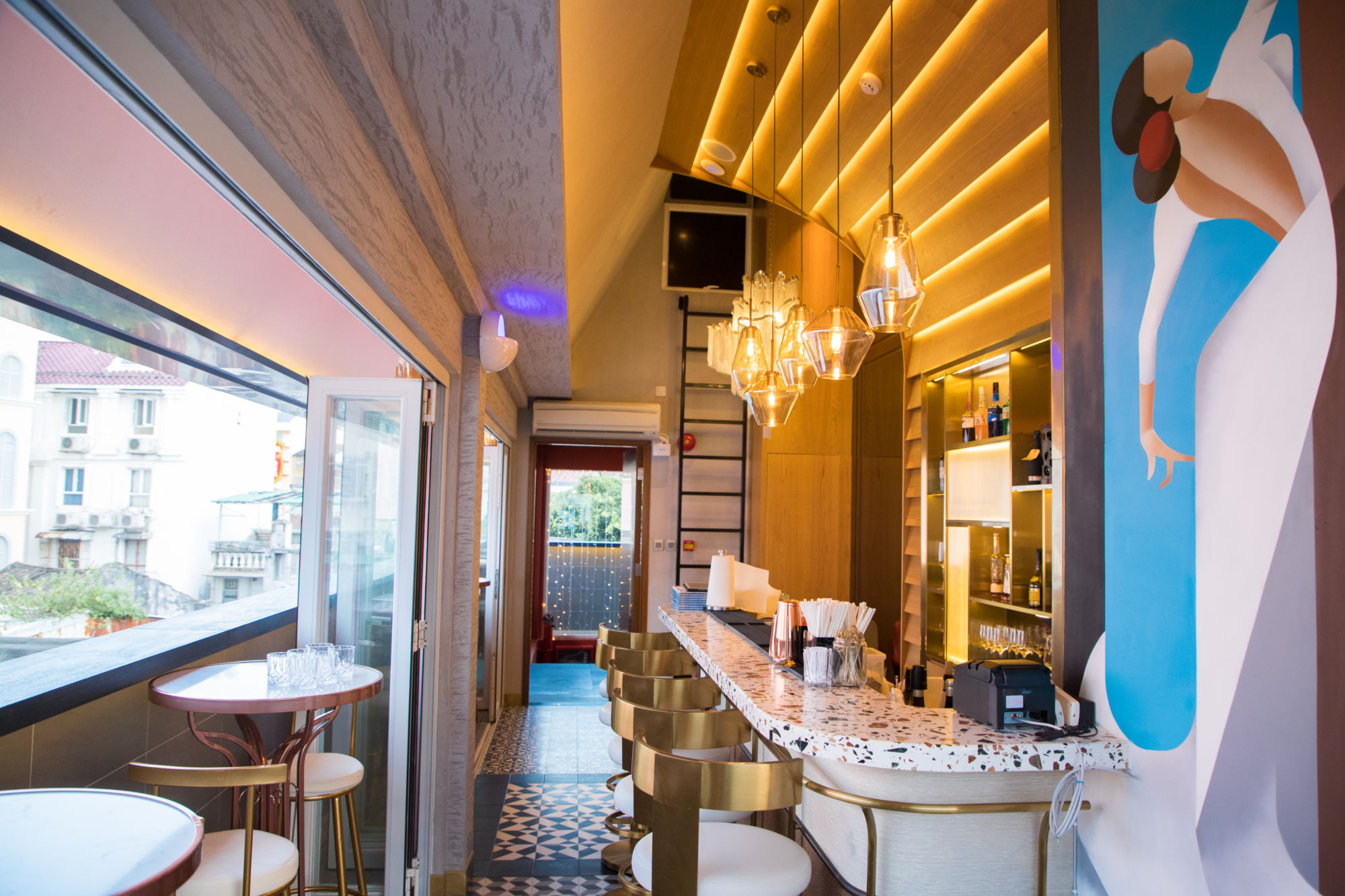 Barcelona
Looking for a spot to hit with your besties over cocktails and some great food? Barcelona should be on your list! With a small and cute rooftop, it overlooks Taipa Village and it's one of the few places in Macau where you can experience a truly Spanish meal. Although prices might be a bit higher than usual, Barcelona offers two in one: high-quality food while enjoying a beautiful sunset, the stars in the sky, or the simple life of people walking by down there.
Opening hours: Daily, 12:00pm–2:00am
Barcelona 47 Rua dos Clérigos, Taipa Village, +853 2845 5168, www.taipavillagemacau.com/directory/barcelonamacau
Also read: Barcelona: True Catalonian Food at the Heart of Taipa Village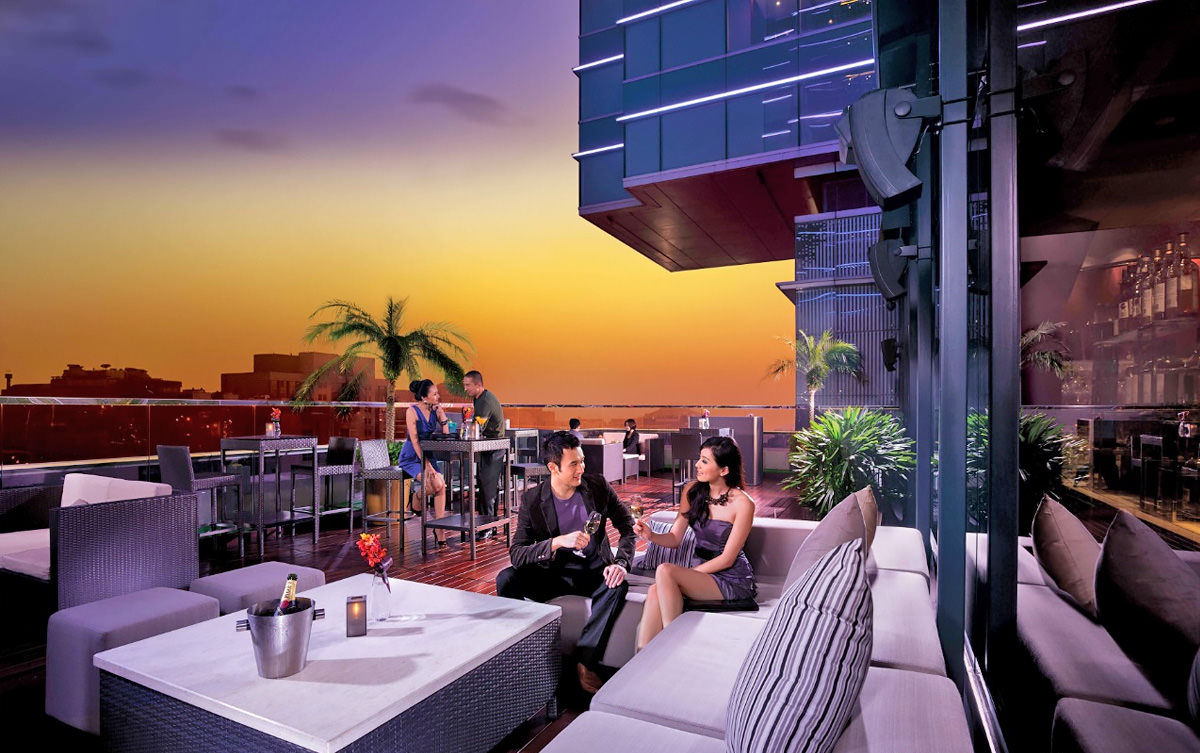 Whisky Bar
A view of Macau side's Avenida de Lisboa is what you'll get at Starworld's rooftop bar, Whisky Bar. Specializing in, well, different qualities and kinds of whisky, this spot is super popular amongst locals and expats, not only because of the outdoor area but its happy hour promo also. With live music, serving food, and all kinds of cocktails (classic and original concoctions), we recommend this one for an after-dinner drink with friends or when on a romantic date.
Opening hours: Sunday–Thursday, 5:00pm–2:00am; Friday–Saturday, 5:00pm–3:00am
Whisky Bar 203, 16F, StarWorld Hotel, Avenida da Amizade, Macau, +853 8290 8698, www.starworldmacau.com
Also read: Best Places for Whiskey Lovers in Macau
Also read: Best Places for Happy Hour in Macau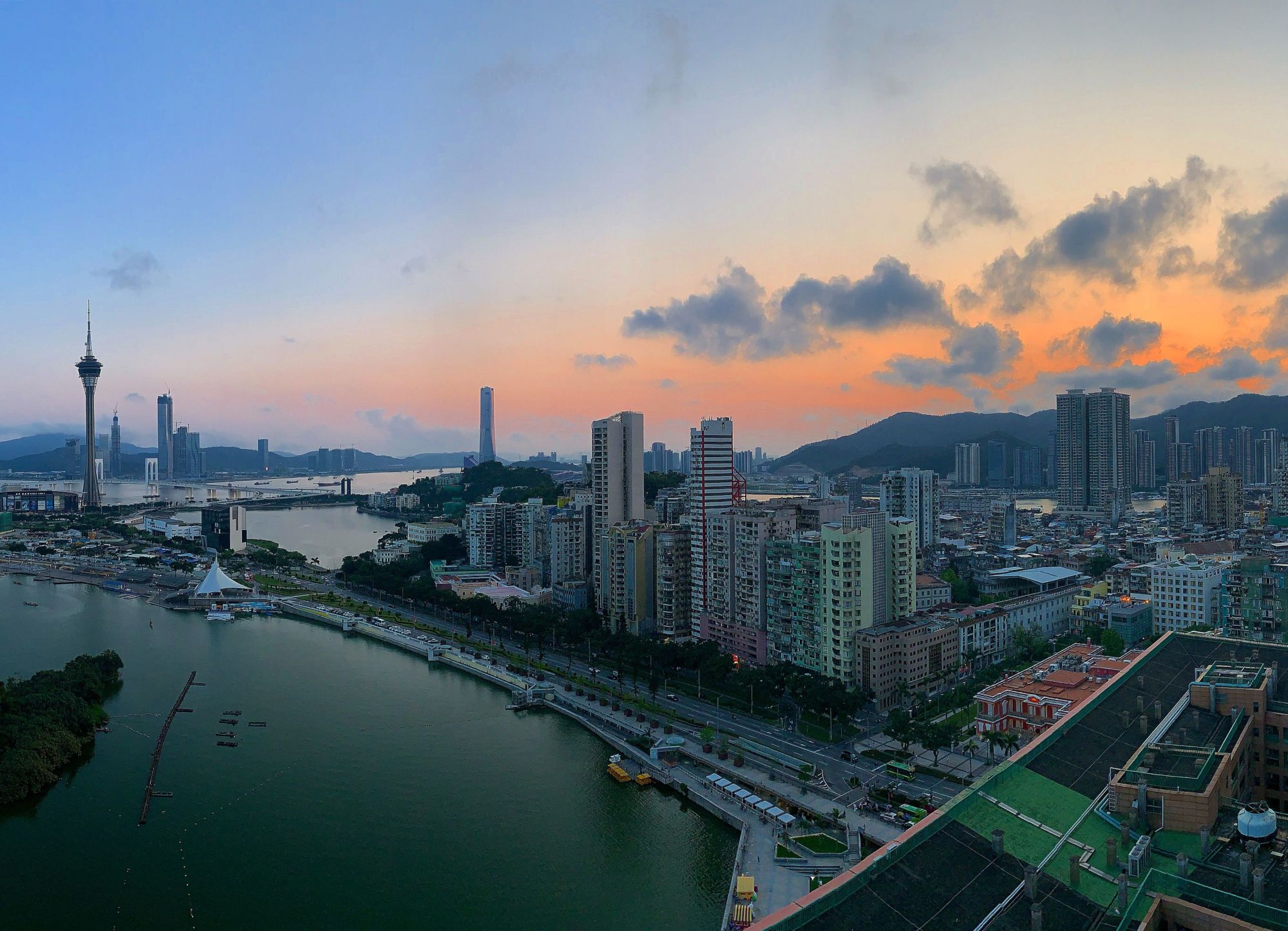 Sky 21
If you've visited Macau with people who know the city, you've certainly been to Sky 21 already. If you haven't, then please go as it's a must for all rooftop connoisseurs. Set on the 21st floor of AIA Tower–opposite New Yaohan shopping mall–Sky 21 boasts an incredible 360º of Macau, truly a sight to behold. From the three bridges to older areas of the peninsula and even the Taipa side, you'll be able to take breathtaking photos from one of the tables outdoors. They also have indoor seating, but the view deserves to be appreciated as a whole. Whether you prefer daytime or a cocktail by night, there's always something happening there: set menus or buffet at lunchtime, or happy hour during sunset. You name it: Sky 21 has it.
Opening hours: Sunday–Thursday, 11:45am–3:00am; Friday–Saturday, 11:45am–4:00am
Sky 21 Bar & Restaurant 21/F AIA Tower, 251A – 301 Avenida Comercial de Macau, Praia Grande, Macau, +853 2822 2122
Also read: Off the Beaten Path: Exploring Sai Van & Nam Van Lake
Also read: Most Instagrammable Restaurants & Bars in Macau
Also read: Macau's Best Restaurants With a View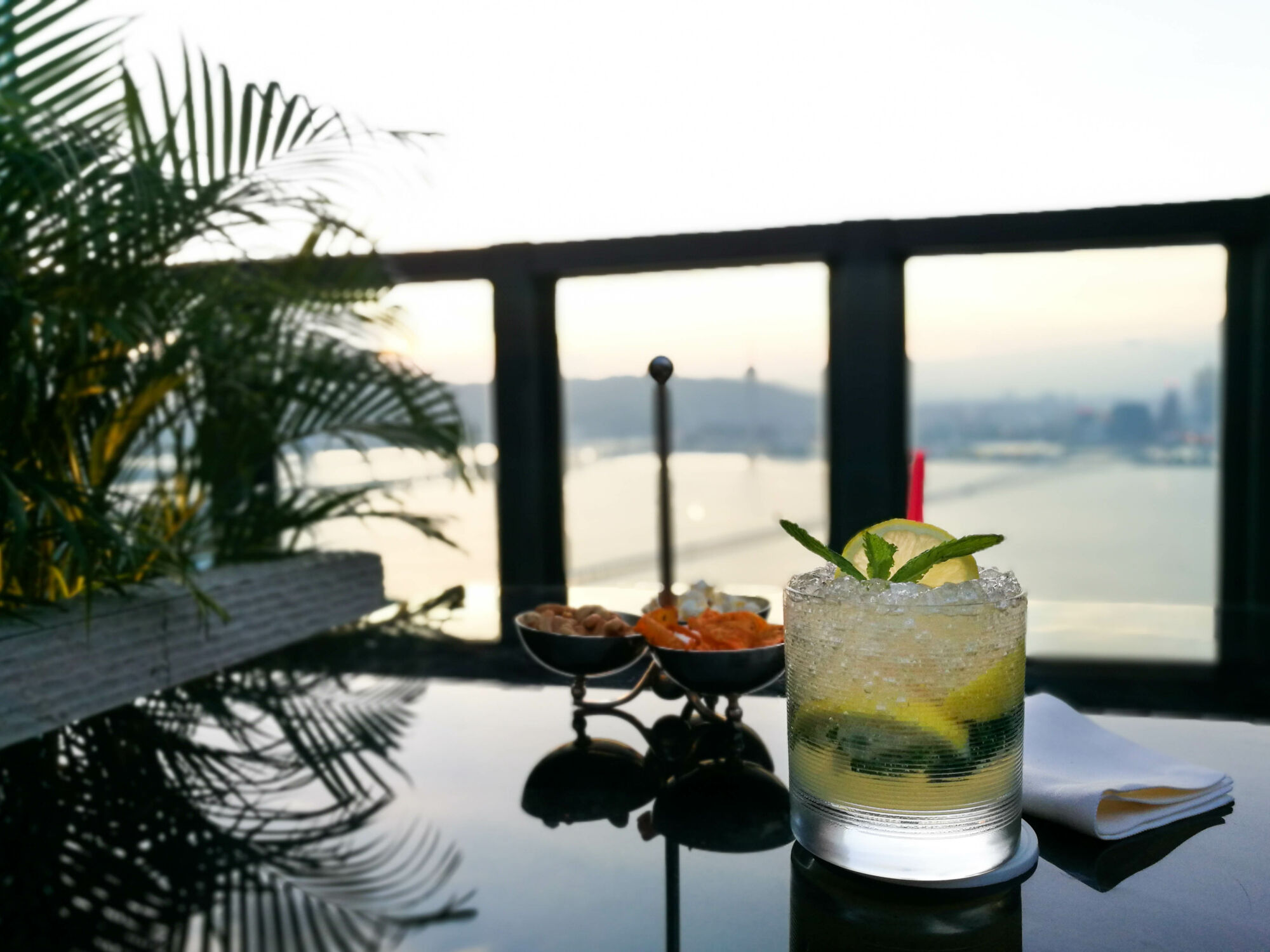 38 Lounge
After you take the dedicated elevator of Altira Macau all the way up to the 38th floor you will be amazed by the dazzling skyline of the Macau peninsula that greets you. There is live music inside the bar for those who enjoy their drinks with amazing music. The outdoor terrace of Lounge 38 can accommodate groups of all sizes so bring a group of friends for a night of fun and remember to take pictures with the glittering skyline! This is the place to be if you are looking for a place to chill with style and class.
Opening hours: Daily, 6:00pm–3:00am
38 Lounge Level 38 Altira Macau, Avenida de Kwong Tung, Taipa,+853 2886 8868, www.altiramacau.com
This article was originally written by Avalyn Acland in 2018 and updated by Leonor Sá Machado in October 2020
Tags
Related Posts