In Macau, it's not difficult to find cha chaan tengs serving good local food. From sandwiches to milkshakes, homemade ice lemon tea or milk tea, and even all sorts of pastries, these are very popular joints amongst locals. Be it early morning, midday, or late night, some of them are always crowded and Nam Ping is one of them. Set in Rua de Cinco de Outubro–one of Macau's oldest and formerly busiest neighborhoods–this eatery welcomes not only regular customers but also tourists eager to try out some well-known dishes. Find out some of the best things to experience at Nam Ping and learn a bit on this joint's history.
From the 1960s with love
Opened in 1967 in the same location where it still stands today, Nam Ping is easily recognizable from its exterior covered in dark green bricks. Inside, it's busy with customers chatting loudly. One can still feel the "old Macau" vibe when you witness the owner shouting something to the back of the shop, where the kitchen–and all the action–is located. Nam Ping was born out of necessity, so to speak.
According to one of the owners, Mr. Leong–who opened the café with his older brother at the time–the space used to house a stationery store, which was virtually out of business after one of Macau's biggest historical events took place. The "1-2-3 incident" is known by older people as a time of struggle in the city, both socially and economically.
Leong felt that something had to be done, so they both decided to "start making breakfast for the locals as a way to make money" even without a space,  as they couldn't even rent a space out. "There were virtually no businesses flourishing then. This was originally a stationery shop but there was no business. The whole city seemed dead", he told us the last time we went there for some of their famous food (we'll get to that later).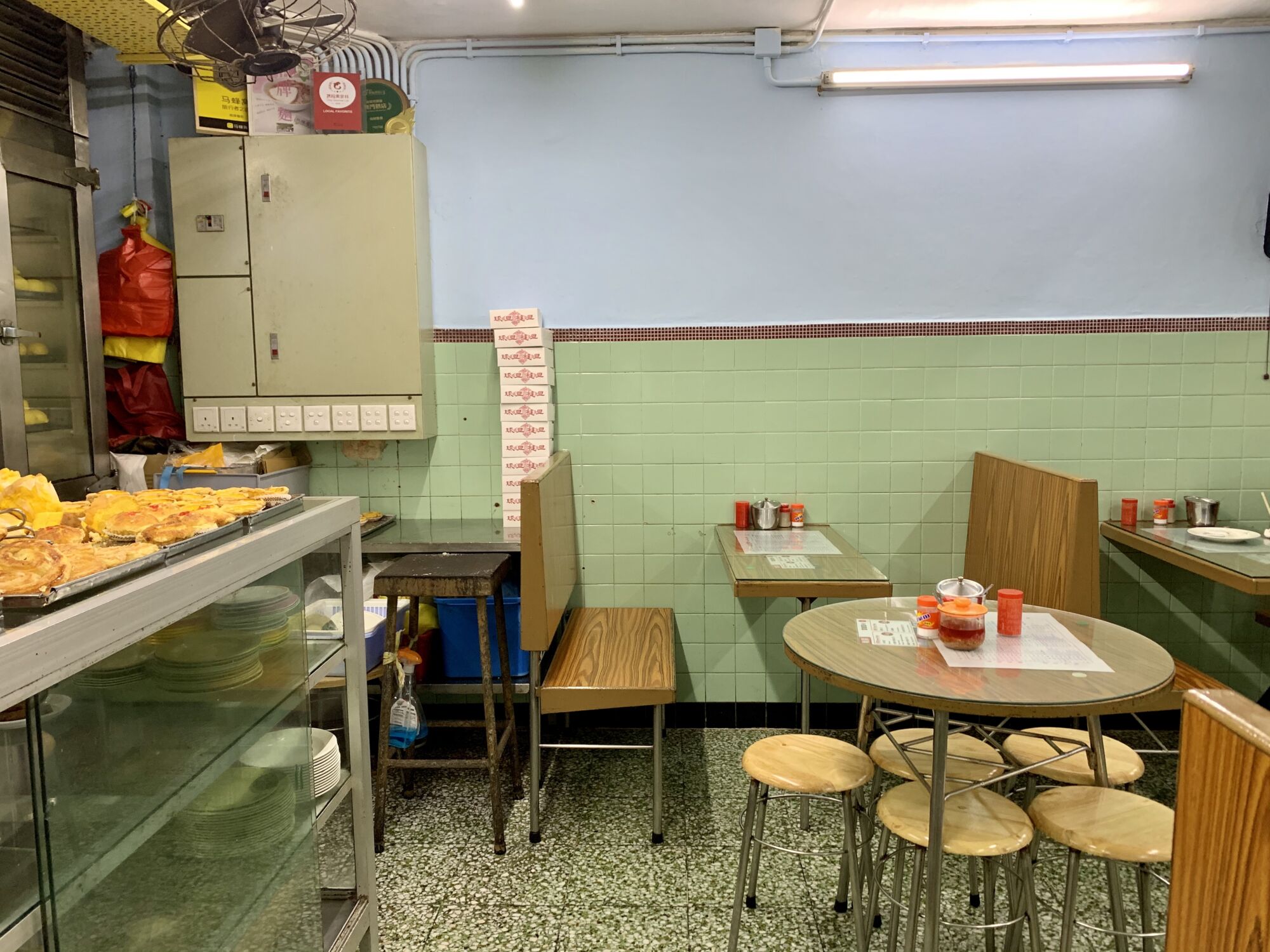 When asked about which are the restaurant's peak hours, he replied there are no "busiest times" anymore. "Back then, it would be busiest in the mornings and noontime".
Now, Nam Ping is usually quite busy the whole day, especially during early mornings–and they open early at 6:00am every day. "Macau citizens are busy people–once they leave home in the morning, they don't have the time to go back home to eat, so they come by to have lunch."
If you sit and eat at this traditional eatery, you'll witness a very local life environment. There are businessmen and corporate workers going there, sure, but it's mostly populated by teens and their friends, and also working class residents that work nearby at the inner harbor piers and so on. "We get fishermen and cinema-goers who come to eat and have a rest. People just come to sit and chat really", the co-owner told us.
In fact, Leong doesn't see a big difference between sitting at Nam Ping for coffee over a hot bowl of noodles, or "going to a Chinese restaurant and ordering siu mai", so this spot might just become your next addiction when in search for local flavors.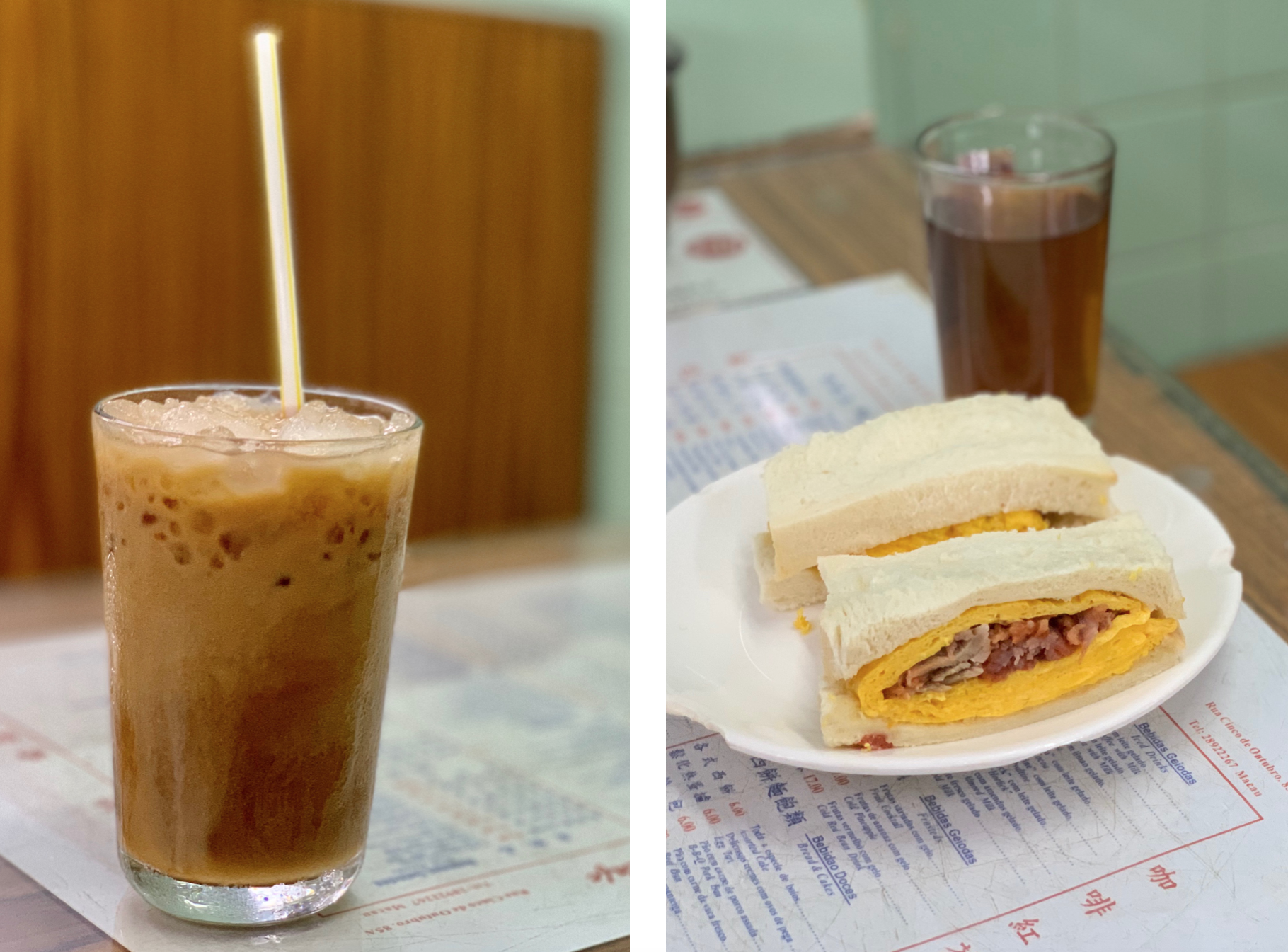 Heavenly combination: Char Siu & egg Sandwich
Nam Ping is just the perfect place to go to when Cantonese isn't your strongest suit but you still crave some local food. The menu is translated into English and Portuguese and there are all sorts of hot dishes to try. There're no rice ones, though. Leong humbly says their dishes are quite common: "We don't have anything special, really (chuckles). Most people order a coffee".
However, we believe this is the to-go spot for some specific dishes. We always go for the mouthwathering and freshly made char siu with scrambled egg sandwich. The eggs are cooked just until they get juicy and soft enough; char siu is put in the middle, giving this consistent bread snack a lightly sweet taste and for MOP $16, it's a  bargain! If you're looking for something with no bread in it, just go for the scrambled eggs or the char siu omelet and pair it with a an instant noodles soup.
Macaroni dishes are also pretty popular here, as you'll witness from the orders on other tables; with sausage, olive oil sardines, fish balls, fried eggs, BBQ pork, chicken wings, beef, luncheon meat or ham, there's an array of things to choose from. On the sandwiches side and besides our all-time favorite, there are also simpler version with cheese and ham, butter or egg.
Other snacks include Macau-style french toast–with condensed milk and peanut butter inside–toast with butter, fried eggs, condensed milk and butter, amongst others. A great thing about this place is their pastries section: unlike other local restaurants that only serve food, Nam Ping also has a bakery side, where you can order common sweet and savory baked snacks that you'd normally only find in local bakeries. These include, of course, homemade Portuguese-style egg tarts. However, these tend to sell out fast so grab them early!
Also read: Best Breakfast Spots in Macau to Eat Like a Local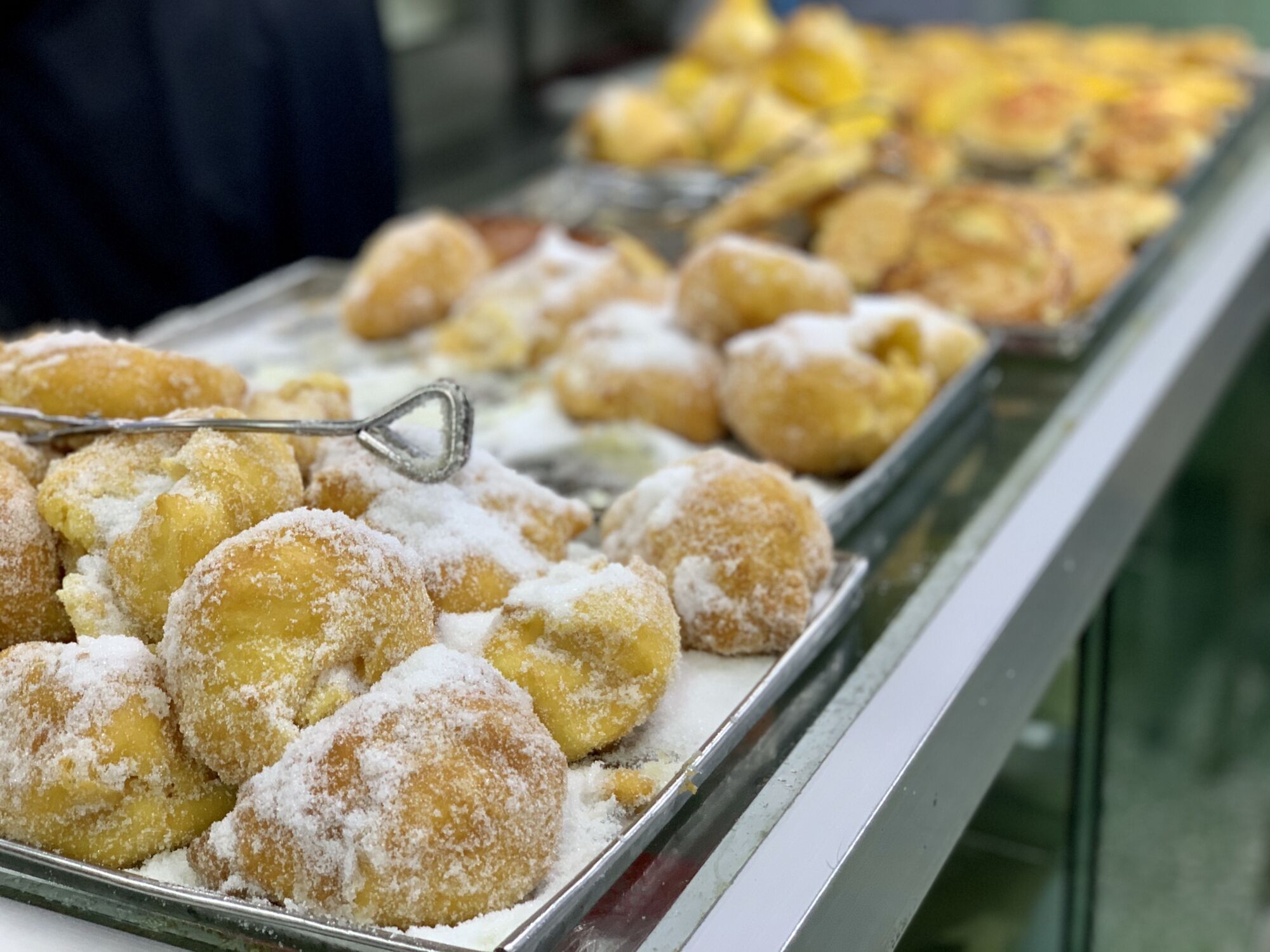 Fragrant Milk Tea & More 
As for drinks, we recommend both the coffee and the milk tea–hot or cold, they're both great, depending on your mood and cravings–which is freshly made and has a strong herbal taste. Some other local drinks available are a pot of coffee, coffee with milk, lemon tea and other variations like boiling water, fresh milk or condensed milk with a poached egg, watercress or chrysanthemum juice and more. If you prefer a non-lactose beverage, there's almond tea available, which you might ask to pair with chocolate, coffee or tea.
The experience of having a meal at Nam Ping is not only simple and comfortable, but also rewarding, as the food is affordable, portions are generous–ideal to share and ask enough to try several delicacies–and quality is as good as always. There are many cha chaan tengs throughout the city, but some are better than others; Nam Ping happens to be one of them.
Also read: Must-try Food at a Cha Chaan Teng
Also read: Best Places to Find Authentic Milk Tea in Macau
Rua de Cinco de Outubro: Old Businesses Still Running
During the 1970s and 1980s, this was one of Macau's busiest and most important streets. Housing what expats called "the Chinese warehouse", it sold several things you could only find there: good quality furniture, some unique food products, among other things.
However, the idea might be strange for someone passing by today: it's still pretty busy with pedestrians and cars heading to Camões Garden and Kiang Wu Hospital, but people don't shop there anymore. If you're looking to feel the "old Macau" vibe, walk by and find out some great shops still open!
These include beautiful teashops like Va Lun Co., a vinyl and old magazines and newspapers store–mostly selling Chinese and other Asian items, but if you look closely, you might be amazed with some old and rare editions of pop and rock vinyls–and two local eateries: Loja de Canja Leong Heng Kei is almost a century old and a Michelin-recommend spot. The other, Chou Kei, is an outdoor eatery serving wholesome Cantonese dishes like stir-fried vegetables and meat, fried fish, seafood, rice and noodles dishes.
Also read: Va Lun Teashop: A Case of Appreciation for Tea
This road leads to Camões Garden, Kiang Wu hospital and some other older areas in Macau. It also connects you to the city center through Rua das Estalagens, a one-way street that intersects with Rua de Cinco de Outubro right after Hong Kung Temple–located on your right side if you're coming from Almeida Ribeiro avenue.
Also read: Where to Get The Best Local-Style Noodles in Macau
Also read: Off the Beaten Path: Chou Kei
---
Opening hours: Daily, 6:00am–6:00pm
Nam Ping 54 R. de Cinco de Outubro, Macau, +853 2892 2267
Tags
Related Posts