Featured image: Alice in Wonderland 
While some artworks are paraded and placed in the most prominent spots or popular art galleries and museums, some are more hidden and trickier to find especially in a small city like Macau. Sometimes, we are too focused on our own lives to notice the beautiful things around us. Not to mention, we probably won't know they were made by world-renowned artists. But don't get upset! Macau Lifestyle has prepared a list of art masterpieces in Macau you did not know existed. So take notes and come out to explore!
Alice in Wonderland and Dalinian Dancer by Salvador Dali 
(See featured image above)
Some masters don't require an introduction. One of the most well-known 20th-century artists, Salvador Dali, uncovered his subconscious mind through art and became a pioneer of surrealism, a mysterious and captivating style.
While many art lovers are familiar with his paintings, not everybody knows that his artistic genius spreads beyond the canvas. Dali also contributed to the film industry, theater, fashion, architecture, and literature. Besides that, he created a vast number of sculptures. Some found their home in private collections, some are displayed in museums worldwide, and several are out there for the public to see.
Among them are two sculptures at MGM Macau. Dalinian Dancer is standing at the hotel lobby in front of the main entrance with her arms spread and skirts twirling in a dance movement. Flamenco, a passionate dance from Dali's motherland, inspired him to create this sculpture.
The second Dali's art masterpiece in Macau, Alice in Wonderland, greets guests outside the hotel. On some level, Alice is the artist's protagonist, a traveler of the dreamland. Notably, there is an easy way to recognize the author. Look at the crutch near Alice–it's a frequent symbol in Dali's work that stands for the need for emotional and physical support.
Where: Hotel Lobby and Main Entrance Exterior, MGM Macau, Vista, Avenida Dr. Sun Yat Sen, NAPE, +853 8802 8888, www.mgm.mo/en
Continuel Lumière au Plafond by Julio Le Parc
Julio Le Parc might be a lesser know artist than Salvador Dali. Yet, he's by no means any less of a significant figure in the art world. Born in Argentina and based in Paris, Julio Le Parc is one of the progenitors of op art, aka kinetic art. The interpretation and effect of kinetic art depend on motion, either caused by the viewer, mechanisms, or virtual movement. Le Parc's works require immense precision and careful calculations, which means being a kinetic artist calls for excellent mathematician skills.
Continuel Lumièr au Plafond located on the first floor of Morpheus Hotel, is one of Le Parc's works from light series. Countless mirror strips hanging beneath the ceiling at the exact distance from each other create a mesmerizing shadow and light play, a vision that makes passers-by stop and engage in a dialogue with art. To fully appreciate the work, try walking back and forth to witness how a slight draft caused by motion transforms it. Basically, a viewer becomes an integral part of the piece. 
Where: Level 1, North side, Morpheus Hotel, City of Dreams Macau, Estrada do Istmo, Cotai, +853 8868 6688, www.cityofdreamsmacau.com/morpheus
The Art of Taichi by Ju Ming 
Born in Taiwan, Ju Ming is a renowned artist who became famous in 1970 and, since then, gained international recognition, a tone of prestigious awards, and the Ju Ming Museum outside Taipei. In his exploration of the human figure, often in motion, he juggles different mediums, from wood to stone, bronze, and stainless steel.
It is safe to say that Taichi Series presented at Grand Lisboa Hotel is the artist's signature work that art connoisseurs know him for. Abstract statues depict people practicing taichi, an ancient martial art, a combination of physical exercise and spiritual practice. Although bulky and geometric, his sculptures are also dynamic and gentle. Abstraction allows Ju Ming to switch the viewer's focus from the physical aspect of taichi to the energy (chi) flow.
Where: Main lobby, Grand Lisboa Hotel, Avenida de Lisboa, Macau, +853 2828 3838, www.grandlisboahotel.com
Also read: Your Ultimate Macau Art Guide
Alchemist and Study for Uffizi: A Bouquet of Flowers No.1 by Cai Guo Qiang
Cai Guo Qiang's explosive artworks are famous and critically acclaimed in China and internationally. Born in Quanzhou, Fujian, to a family of a calligrapher, he absorbed the love for traditional Chinese art forms. Then, he added his unique vision and created a recognizable artistic style. Mainly, he is known for the drawings made with gunpowder and colorful fireworks, using sky and city skylines as his canvas. From Beijing 2008 Olympics to Venice Biennale and solo exhibitions in Uffizi, Florence, Guggenheim Museum in Bilbao, and other famous institutions, Cai's list of accomplishments puts him among the most important contemporary artists.
Luckily for Macau dwellers, there are two artworks by Cai Guo Qiang in the city hidden in plain sight! Both of them are at MGM Cotai's Emerald Lobby. The Florentine gallery collection inspired him to create "Study for Uffizi…", a bouquet of gunpowder blasts and Italian pressed flowers. And the second canvas is the metaphorical and symbolic "Alchemist" that depicts a green lion devouring the sun.
Where: Emerald Lobby, MGM Cotai, Avenida da Nave Desportiva, Cotai, +853 8802 8888, www.mgm.mo/en/cotai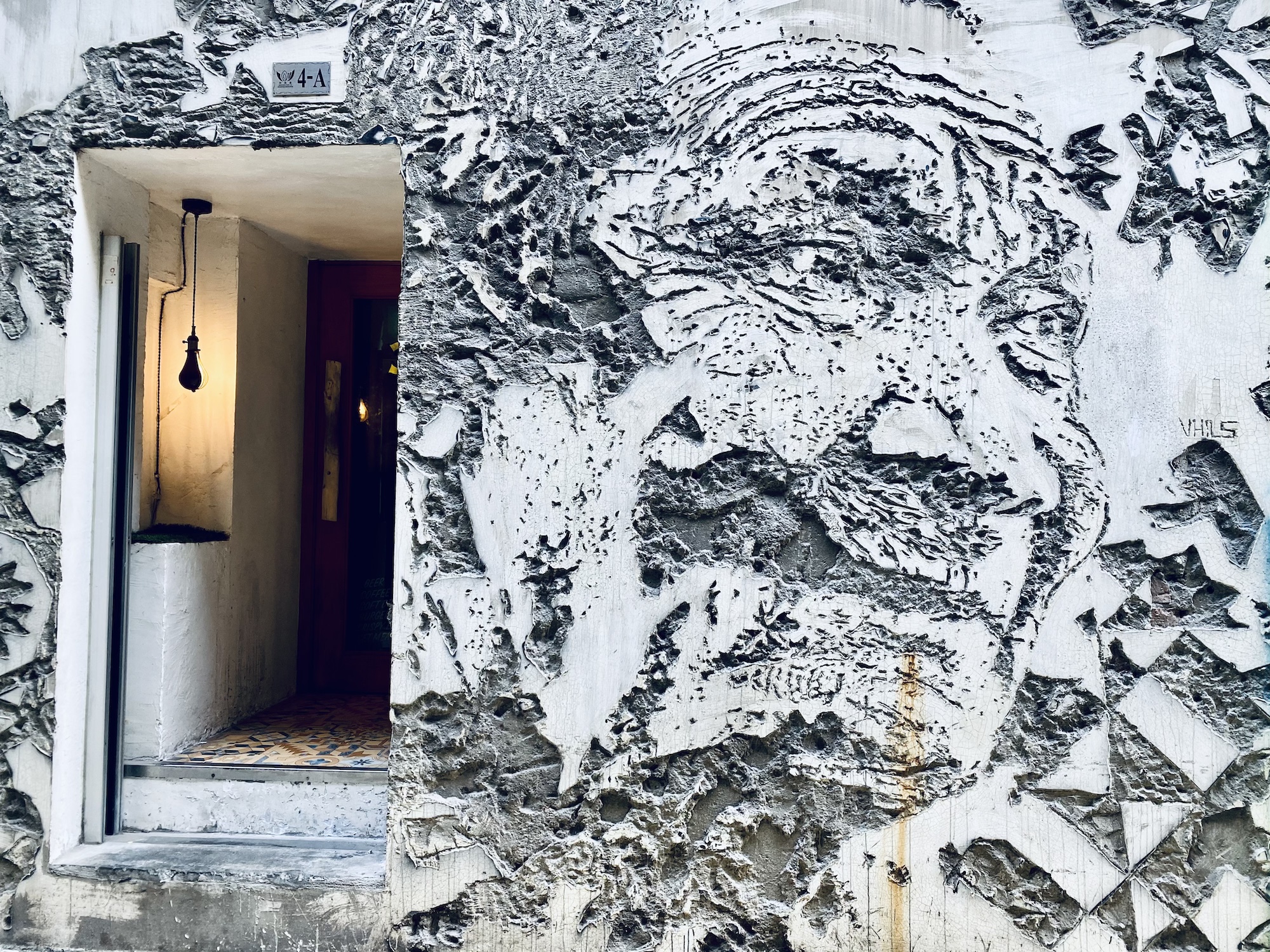 Mural by Vhils 
Interpreted as vandalism by some people, street art is an integral part of contemporary art. Moreover, it is a vital contribution to urban landscapes. One of the most prominent street artists of our time, Vhils, is a Portuguese native known for the portraits carved into walls. It is not a secret for most Macau locals fond of art that there are several murals by Vhils in the city. Some of them are easier to spot–like the portrait of the poet Camilo Pessanha near the Portuguese Consulate. That work from 2016 was his first art masterpiece in Macau. Since then, he came back to leave more of his signature carved murals on Macau walls.
Vhils' more hidden artwork is around the Praça de Ponte e Horta area, the epicenter of Macau street art. This neighborhood was one of the Outloud Street Art Festival locations that brought many talented street artists to town. Between the many pieces of vibrant graffiti, you can find yet another portrait of Vhils too.
Where: Behind Hotel S, 14 Praça de Ponte e Horta
Tags
Related Posts