Flick through any fashion magazine and they'd be certain to inform you of the latest trends or must-have pieces from international brands. That's all well and fantastic, but why not look around Macau to see the ability and creativity of inspiring designers? It's about time we give our local style champions a well-deserved shout out. You can't deny how remarkable this bunch of Macau designers are when it comes to fashion so here're our top picks of the best local fashion brands!
ZICS
(See featured image above)
The exquisite project of local designer San Lee who prefers to live in a world of black, white, and grey. His designs continue to explore and develop experimental clothes. Zics offers a minimalistic approach to fashion, with clean and neutral colors and shapes. The unisex patterns comply with the application of different materials to highlight the asymmetry and aesthetics of his creations.
Zics 137-145 Rua de Francisco Xavier Perreira, Edf. Industrial Pou Fung, 10/F A, Studio A2, Macau, www.facebook.com/ZICS.Design
Nega C. Fashion
Nega C. fashion was founded by Isabella Choi. Inspired by the street culture of London–where the founder lived–intertwined with music, architecture, art, and fashion, Nega C. represents designs in pleasant colors that are chic and classy. The brand specializes in using platform shoes, which are very sought after by its customers, both in Macau and abroad.
Nega C. Fashion 131 Rua de Francisco Xavier Perreira, Edf. Tak Chun R/C Macau, +853 2855 1922, www.facebook.com/NegaCFashionShop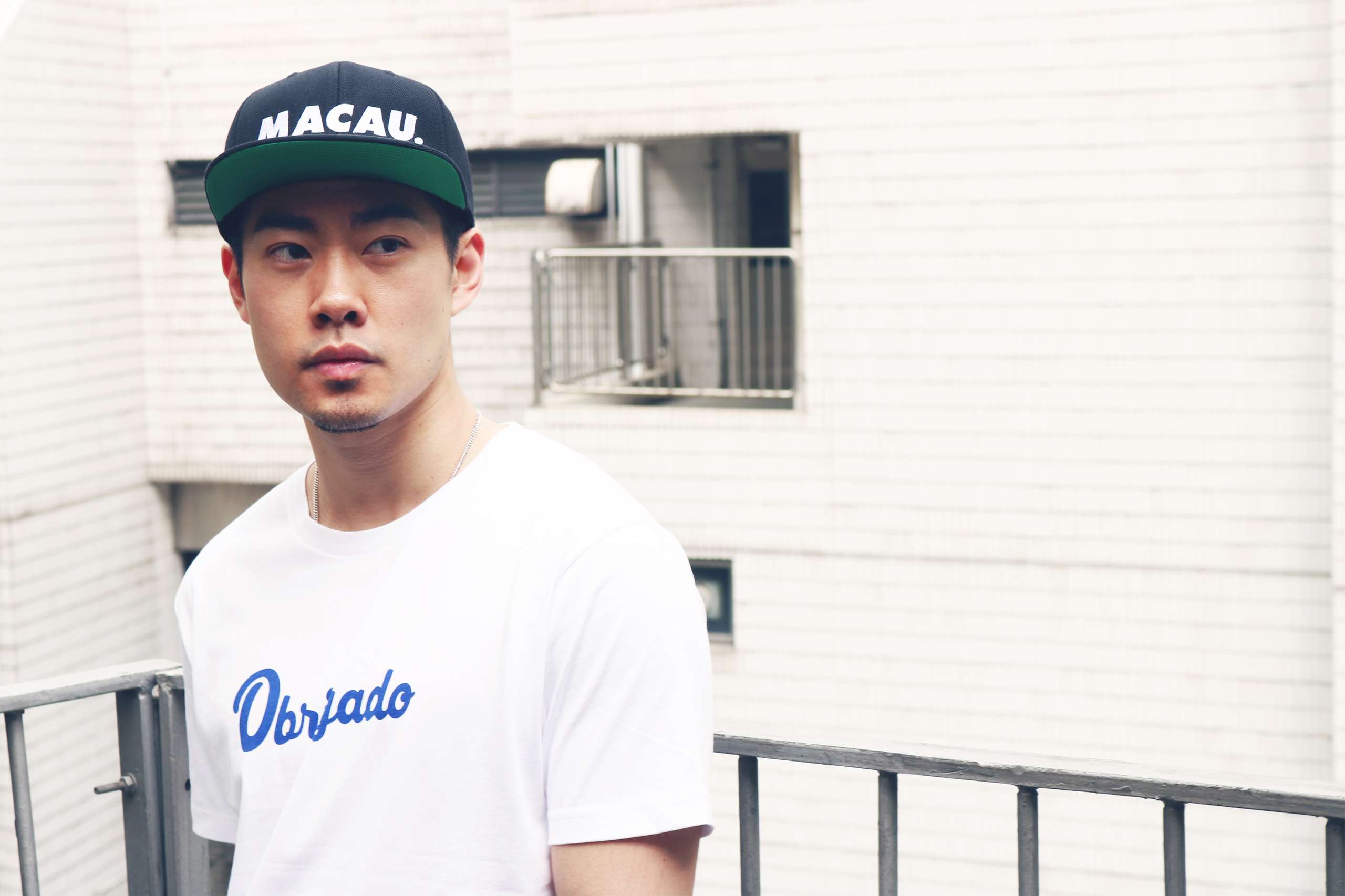 Loving Macau
Known for its souvenirs and lifestyle products, Loving Macau was founded in 2015 and has become very popular, especially amongst locals from the younger demographic. Through a modern and slick approach, this brand creates cool and contemporary items.
Their realm extends to fashion too: from t-shirts to sweats and caps, there's an array of products to flip through! Local designer Josephine Lam is the one responsible for bringing Loving Macau to life. According to the founder, people are proud of "wearing" Macau, going abroad with these creations, and teaching people about the city.
Loving Macau [email protected], www.lovingmacau.com, www.facebook.com/lovingmacaustore
Also read: Best Souvenir Picks from Macau
Also read: Local Design With Josephine Lam of Loving Macau
NO.42
"Freedom from restraints and life with an attitude" is No.42's motto. This brand made in Macau was founded by fashion designers Ophelia Vong and Venus Tou, who graduated from Taiwanese university, Shih Chien. Created in 2019, it was the culmination of many years of experience working at fashion shows in both Macau and Taiwan. After graduating, the pair returned to their homeland and decided to start this business.
No.42 features modern and clean clothing styles, focusing on feminine and comfortable items that range from casual dresses to loungewear. They believe that different moods require different outfits and dressing styles, which is what they try to offer their customers.
No.42 [email protected], www.facebook.com/No.42.Studio
AXOXYXOXS
Comprised of a creative group who refuses to be confined by the conventional, AXOXYXOXS represents uniqueness in Macau. They focus on details and the originality of design with wearability and a mix and match concept. Through minimalist cuttings and a careful selection of color and fabric, the brand represents casual and chic.
AXOXYXOXS 5 Travessa da Fábrica, 1/F, Studio 20, Macau Design Centre, Macau, www.notjustalabel.com/axoxyxoxs, www.facebook.com/AXOXYXOXS
Salut Ça Va?
Macau fashion designer Akina Lei established Salut Ca Va? in Influenced by the exclusive continental European style of Macau, Lei is partial to a vintage vogue design style. She fabricates tender and romantic designs for females through a combination of cloth and lace. Eager to offer something to your loved one? Maybe Salut Ça Va has what you've been looking for!
Salut Ça Va? 137-145 Rua de Francisco Xavier Pereira, 10/F A, Studio A2, Edf. Industrial Pou Fung, Macau, www.facebook.com/SalutCaVa.Design
Lines Lab
With a slick and minimalistic approach to clothing, Lines Lab was founded by Portuguese designers living in Macau, Clara Brito, and Manuel Silva. Besides clothes, they also craft accessories and other pieces like umbrellas or handbags; they even designed a lamp once–inspired by the ones in local markets. The brand works a lot with other Chinese companies and customers as well.
From jackets to skirts and trousers, sweatshirts, and silk scarves, this brand has been paving its way through several fashion shows in and around Macau, with China as a big fan. Pastel colors are highly present too. By combining elements from the Western and Asian world, it becomes something different and out of the ordinary.
Lines Lab www.facebook.com/lineslab8888, [email protected]
Clássico Moderno
One can't remain indifferent to Clássico Moderno's–Portuguese expression for "modern classic"–masculine and powerful designs. With a strong focus on men's suits, related accessories, and products, the brand perspires modern outfits for contemporary men with an attitude. Clássico Moderno also has tailor-made service for those looking for an original design.
Macau-born Fashion designer Victor Lao was responsible for bringing foreign menswear to Macau in 2015, after working with international high-end fashion brands for several years. He founded Clássico Moderno in 2016 to offer people original clothing, designing and styling.
Clássico Moderno UML Showroom 45 Rua Francisco Xavier Pereira, 3/F, Lun Hing Building, Macau, [email protected], +853 6829 8368, www.facebook.com/classicomoderno.macau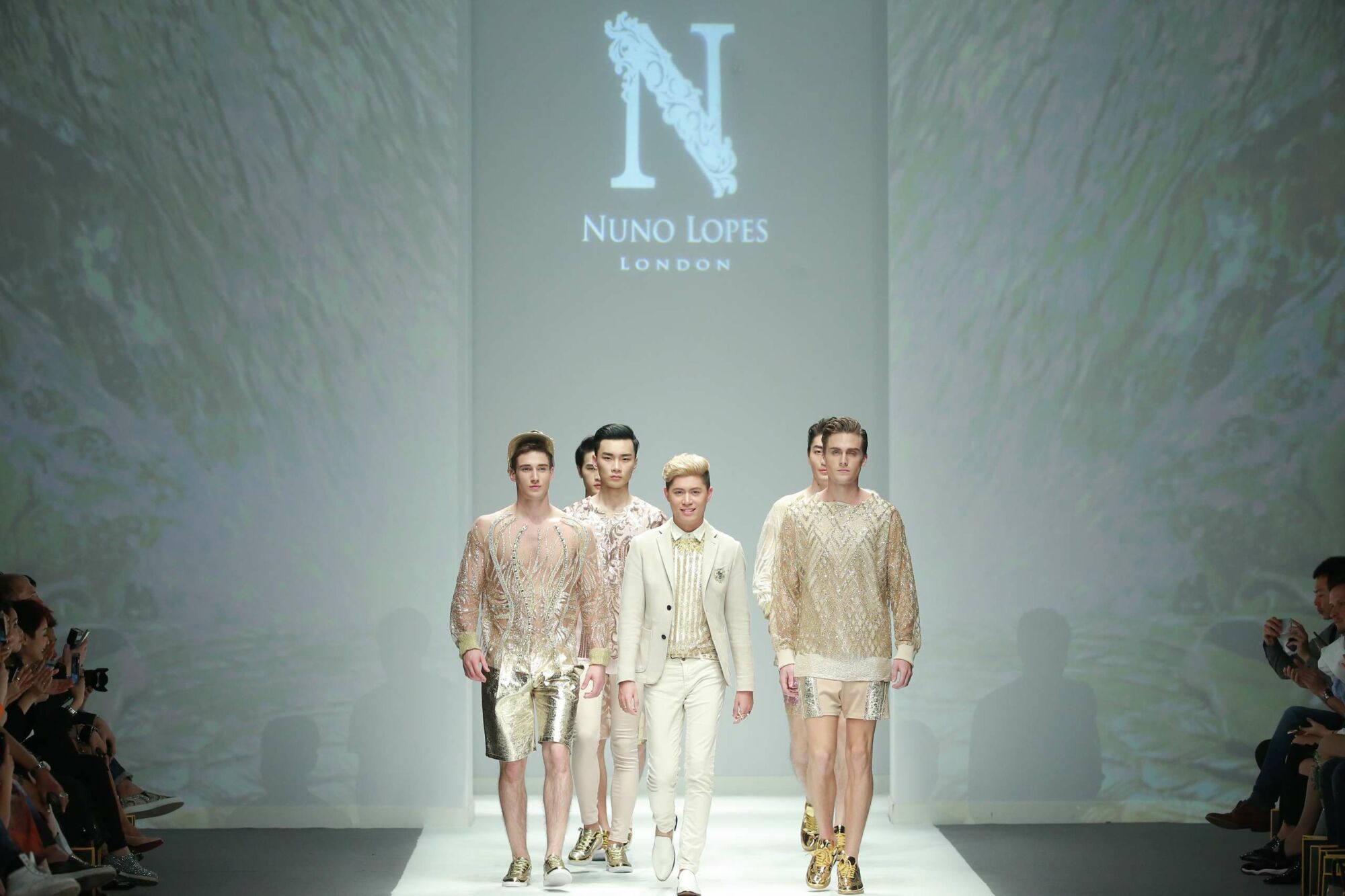 Nuno Lopes
Macanese fashion designer, Nuno Lopes has become internationally acclaimed for his high-quality designs, a nice combination of modernity and chicness. With a flair for glitter, golden, and silver patterns, fashion seems to have always been part of Nuno's life. Two people are said to have influenced the artist: his mother who was the second runner up a Miss Macau competition, and his grandfather was very interested in fashion as well.
Nuno Lopes' name has appeared in international fashion magazines such as Vogue. He's recently been creating make-up items as well, which has become pretty popular amongst locals. Nuno Lopes studied in the UK, and that's where he got his first steps into the fashion world–personalities like Prince and Paris Hilton even wore his designs!
Nuno Lopes [email protected], www.facebook.com/Nunolopesfashion, website
Also read: All Pride, No Prejudice: Nuno Lopes Ventures into Different Colors
Also read: Macau's Fashion Superstar – a Chat With Nuno Lopes
Ella Épeler
With a very feminine and classy approach to fashion, designer Ella Lei was born in Macau and graduated from the Macao Polytechnic Institute's Design department. She worked as an art and animation designer for some years while studying fashion. Her ultimate career goal is to be able to combine both her passions: multimedia and fashion designs into one. Having created her own fashion label, Ella Épeler, the local talent has been part of numerous exhibitions and fashion happenings.
"Épeler"–a French word referring to linking or joining things together–was the perfect name to add to her own when creating the brand. With the concept of "bring your attitude to life", the brand combines different tailoring styles, and the artist includes her own illustrations and drawings into them as well.
Ella Épeler [email protected], +853 6653 3756, www.facebook.com/ellaepeler
Common Comma
As the brand's creative designer David Siu would recall, Common Comma started out as a business idea with his girlfriend with a "less is more" theme in mind. After finishing his degree in Media and Communications at the University of Washington in Seattle, David decided to move back to Macau and started a career in the international men's wear industry as a brand buyer. Fast forward to him taking over Common Comma, he infused his designs with knowledge from his previous job.
Far from the original style idea of "less is more", the brand focuses on layering, billowing and oversized ensembles that are very modern and utilitarian with pockets and bags defining the signature and overall mood of the collection. David points out that more than just a fashion apparel brand, Common Comma represents an urbanized and unique lifestyle with a strong belief that fashion should be wearable while creating a style that is very personal. Although menswear is their current focus, David sees an endless possibility for Common Comma in the future to expand. "We are not storytellers, we just believe that the product will speak for itself," David explained. Overall, his design aesthetics revolve around from the stylistic elements of Japan to the street vibrations of Macau.
Common Comma www.facebook.com/commoncomma, www.instagram.com/commoncommamo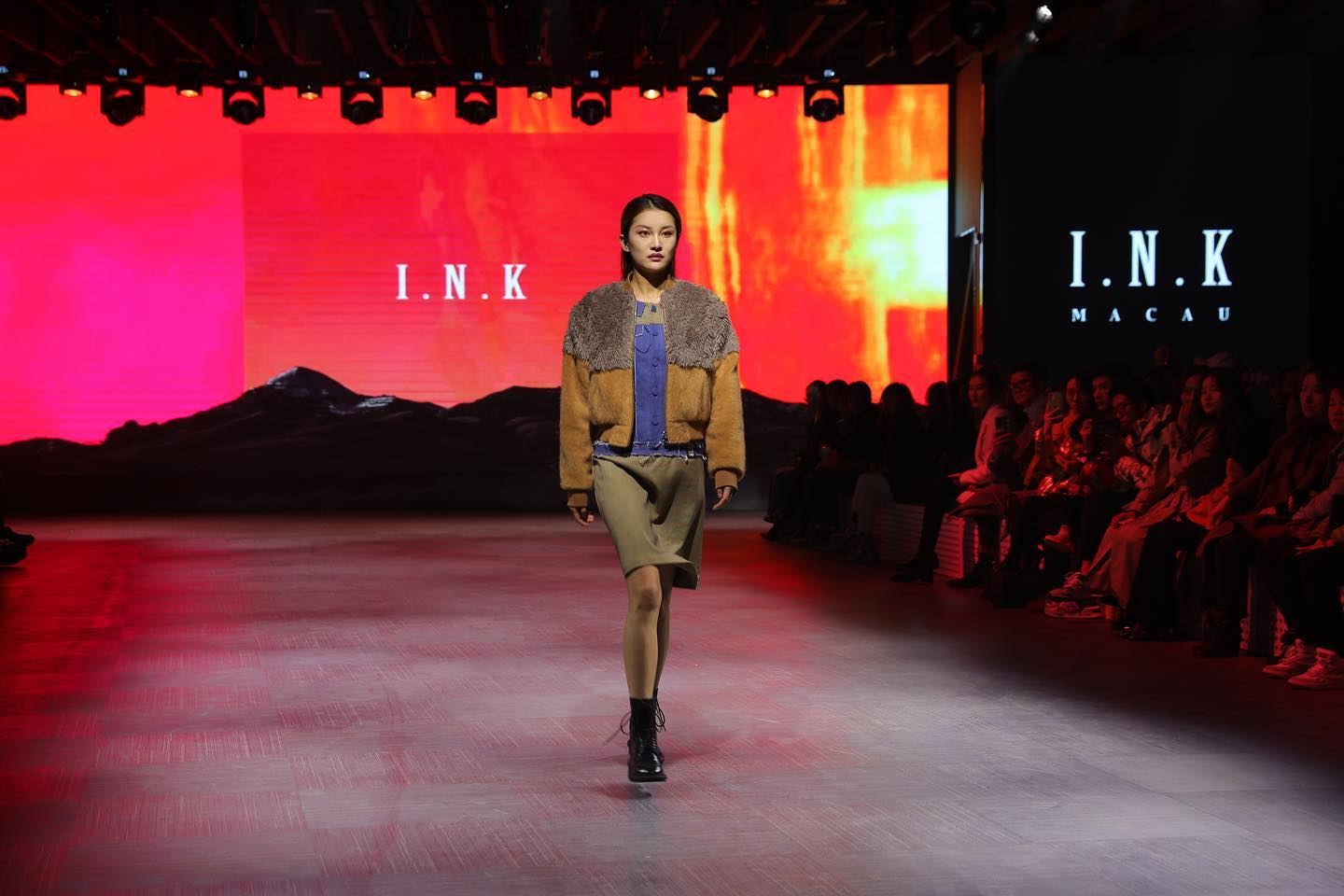 I.N.K Macau
Nothing is more "Macau" than having your logo be a lotus similar to the Macau flag. As the creative duo behind I.N.K. Macau–Inky Leong and Kris Chan–describes it, their brand chooses not to settle with what is already expected in the streetwear industry. Both molded by fashion in their formative years, they view I.N.K. Macau as starting new trends rather than following them. Their careers could easily be reduced into a list of unique garments, runway shows in various fashion weeks and their signature icon, a lotus flower, that is subtly Macau.
"The inspiration behind I.N.K. Macau is literally our initials combined, I and K, but especially the trends we set that would hopefully, like ink, leave a permanent mark, as a result of our creative process," said Inky. True enough, with new technology, materials and 3D draping techniques, it incorporates the diversity and vibrancy of Macau and its culture. Tailored, rebellious, sporty and utilitarian, name it and I.N.K. Macau has it.
I.N.K. Macau 16 Rua do Bispo Medeiros, Edifício Wa Seng Kok, Macau, +853 6203 3376, ink-macau.com, www.facebook.com/inkmacau
Tags
Related Posts