Abundant in local food and culture, Macau has a rich gastronomic vibe but a continental breakfast in Macau may not be super easy to find. Fortunately, there are some hidden gems around town to start the day with a power breakfast of tasty, fresh toast, fresh juice, and, of course, well-brewed coffee. So make the most of the sunshine and head out for a leisurely brunch or breakfast session with your lovelies, at one of our favorite cafes for brekkie in Macau.
Cuppa Coffee
(See featured image above)
As the name indicates, they specialize in good coffee, which is the basis for several hot and cold drinks, from latte to espresso. Although breakfast in this Taipa café can be a bit pricey than the other places around, it is worth it. Their croissants–which come in two different sizes–are probably the freshest in Macau.
Try asking for a heated ham and cheese croissant and pair it with a two-shot café latte. You can also go for a salmon sandwich, fruit juices, or pastries such as Portuguese egg tart, homemade cookies, cupcakes, donuts, and more. They also have an outlet on the Macau side, close to AIA Tower; the ideal breakfast venue to hit if you work on that side and want something hearty.
Opening hours: Daily, 8:00am–8:00pm
Cuppa Coffee 104–106 Rua de Fernão Mendes Pinto, Taipa, +853 28825201, www.facebook.com/cuppacoffee.macau
145 Av. Comercial de Macau, Macau, +853 2838 9916
Also read: Great Places to Eat Around Nam Van Lake
Also read: Best Places for Coffee in Taipa Village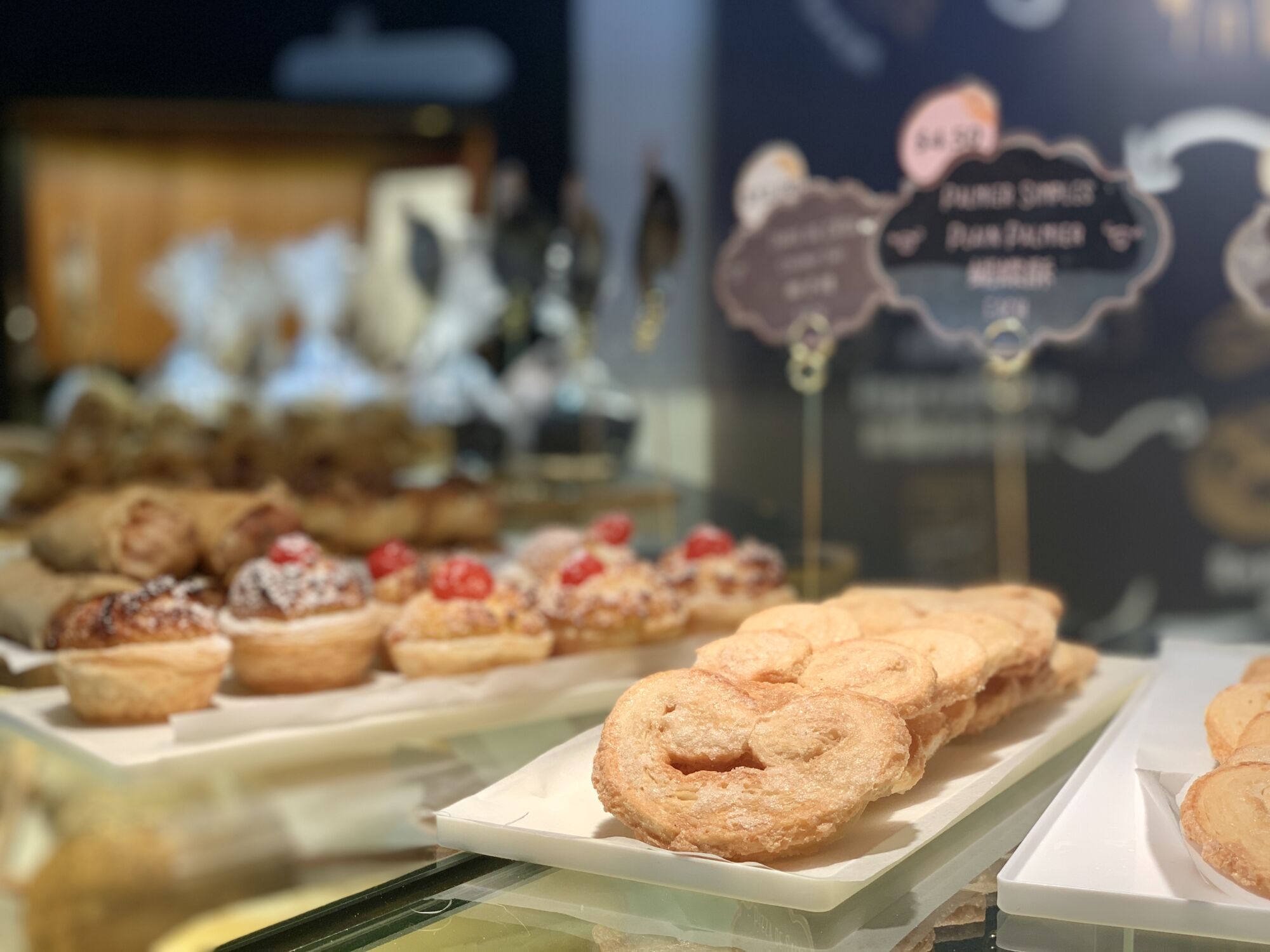 Portuguese Bakery
If you are looking for something less traditional and a bit more continental-like, Portuguese Bakery is the place for you. It started as a small bakery in the Inner Harbour area specializing in bringing the "best Portuguese bread" to the region. It is now a striving business, offering coffee, morning meals, and menus to deliver.
Portuguese Bakery's space is not big, but it serves the purpose. You can choose from an array of juices and coffee to pair with butter toast or a sandwich of freshly, homemade bread. This restaurant also offers a wide choice of traditional pastry: orange roll, apple pastry, yogurt, marble or rice cake, egg tart, egg, and almonds puff pastry, and more. We like their Alentejano (a type named after Portugal's region where it was created) ham and cheese toast with a fresh orange juice and an espresso on the side, the best way to start our day!
Opening hours: Daily, 8:00am–7:00pm
Portuguese Bakery GF 24 Beco do Sal, Macau, +853 6280 8274, www.portuguese-bakery.com
Also read: Off the Beaten Path: Exploring Barra
Also read: Great Places to Grab a Bite in Barra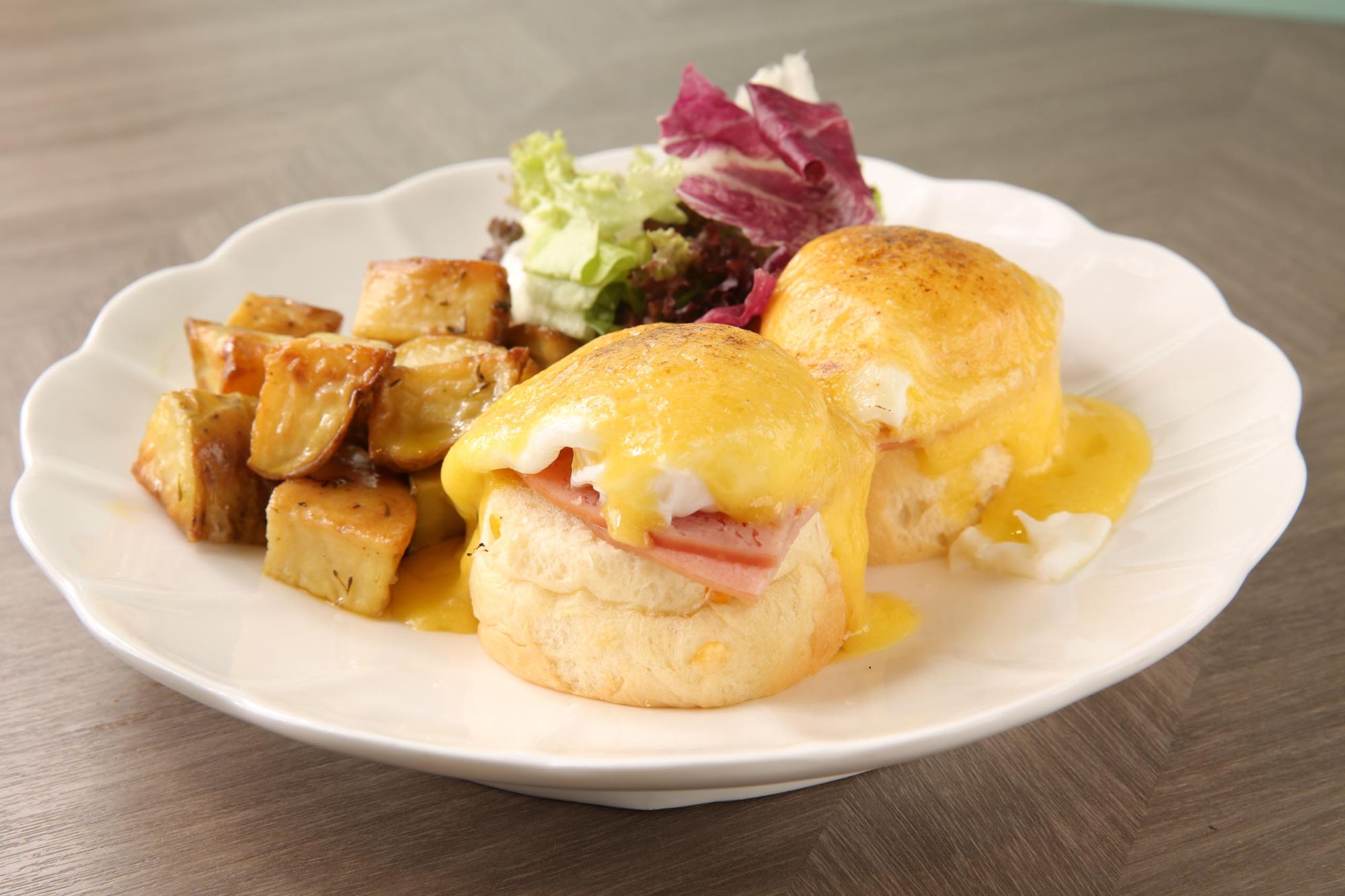 Jam & Butter
Their all-day breakfast includes all things "powerful" indeed! Our favorites include their eggs Benedict: with spinach, smoked salmon, or ham, they're all great! However, Jam & Butter also serves a wonderful American-style breakfast filled with high-energy stuff. Bacon, baked beans, mixed greens, ham, grilled tomato, thyme potatoes are some of the add-ons to choose from, while two eggs–cooked the way you prefer–and toast is always included.
If you're looking for something more consistent, try their macaroni sets: both minestrone or oxtail are available. Sandwiches are also available and you can craft your favorite one stuffing it with several ingredients that go from avocado to tuna, with different bread to choose from as well. This modern and cool eatery in One Oasis residential complex also serves an array of coffee, frappé, tea, and freshly squeezed juices.
Opening hours: Daily, 8:00am–8:00pm
Jam & Butter Estrada de Seac Pai Van, One Oasis, Shop 12–13, Cotai, www.facebook.com/Jam-Butter, +853 2877 2628
Also read: Best Freshly Baked Bread in Macau
Also read: Your Guide to One Oasis
TOFF
With simple yet tasteful choices, TOFF–stands for The Original Fresh Flavor–is an "East meet West" kind of place. Boasting a decor that makes you feel like you're vacationing in a cabin far away in the woods, TOFF serves some of the best waffles in town–instead of crunchy, these are soft and chewy, which is something you'll want when you spread all that butter and condensed milk on top–but also has an all-day breakfast menu.
Here, you can have an energy or a veggie breakfast with choices between croissants or waffles with bacon, beans, mushroom, or chicken sausage, but also avocado, wheat bread, salad, and more items. The three available breakfast menus come with options of drinks that include coffee and tea. Tomato chickpea and scrambled eggs are included in all the options above.
Opening hours: Daily, 11:30am–9:30pm
TOFF 72 Rua da Esperança, GF-D Lótus Vista, Macau, +853 2893 0014, www.facebook.com/toffcafe
Also read: Best Waffle Spots in Macau
Also read: Great Places to Grab a Bite in St. Lazarus District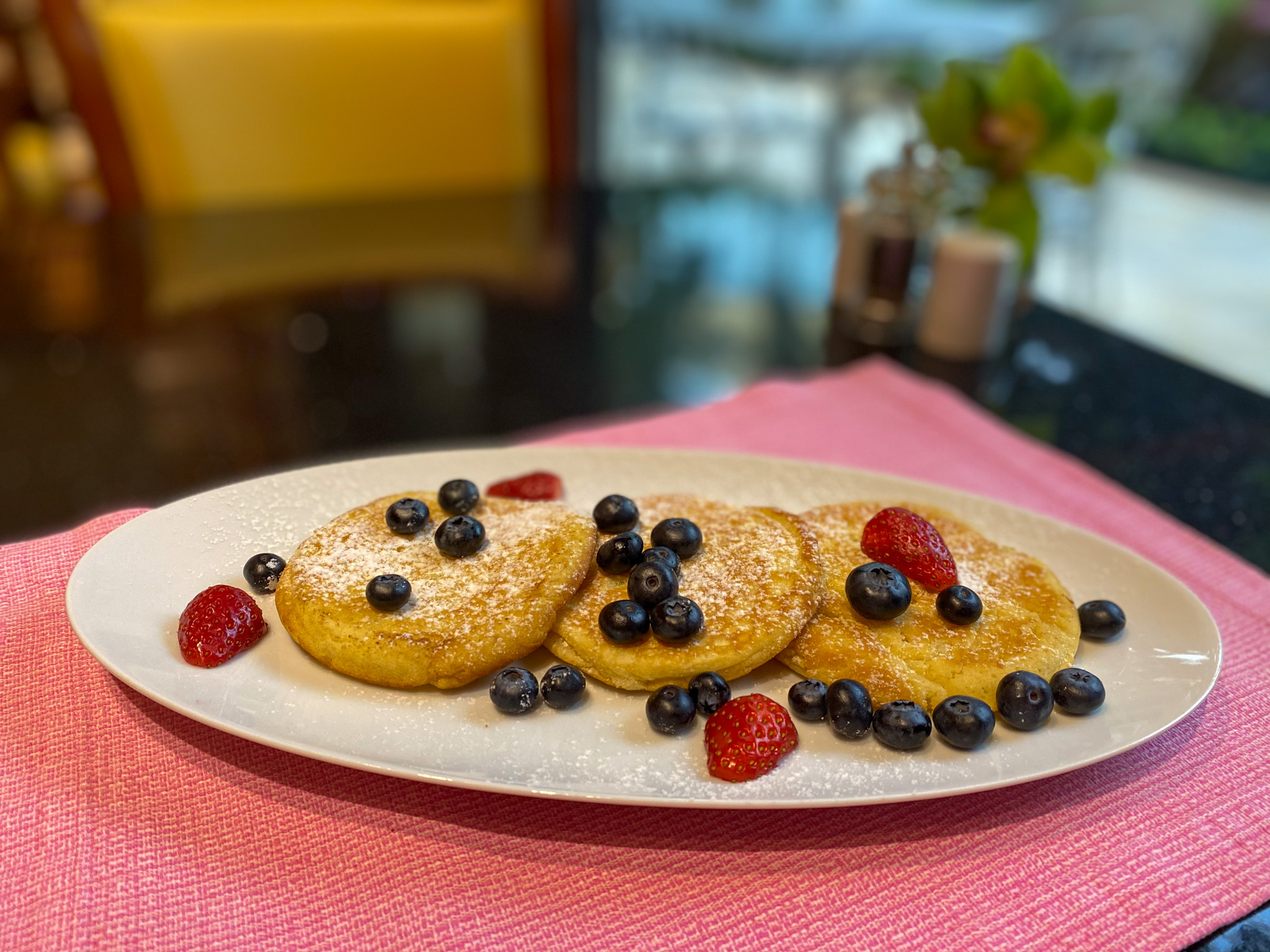 Café Esplanada
This might be a surprise for you–even if it's one of your favorite dining spots–but Wynn Macau's Café Esplanada has a wonderful and super complete all-day breakfast menu! Just request this and you'll enter a universe of pancakes and waffles, sumptuous eggs Benedict and so much more! For less than MOP $250 per person, get a full-on American or continental style brekkie featuring eggs–style on-demand–cereals, yogurt, pastries, freshly baked bread, fruit, amongst other items.
A la carte menu items include cinnamon and nutmeg French toast (with maple syrup and fruit), warm oatmeal porridge, muesli with fruit and yogurt, and several fresh juices to choose from. Sit at a table outside, enjoy the sounds of nature, and have yourself a powerful breakfast at a beautiful venue. Check their breakfast menu here.
Opening hours: Daily, 6:00am–00:00am
Café Esplanada Wynn Macau, Rua Cidade de Sintra, Macau, +853 8986 3663, www.wynnmacau.com/dining/cafe-esplanada
Also read: Great Places for Pancakes in Macau
Terra Drip Bar
One great breakfast place in the Hac Sá Wan area–Areia Preta–is Terra Drip Bar, Terra Coffee House's second branch. Sit down and unwind at this minimalistic and modern coffeehouse that offers some really great breakfast packages! With eggs (poached, scrambled, or fried) as the main character, the rest can be shifted around: from chicken breast to truffles, a very well seasoned green salad, mushrooms, cherry tomatoes, and bacon, start your day strong with a hearty breakfast here!
Opening hours: Monday–Friday, 8:00am–8:00pm, Weekends, 10:00am–8:00pm
Terra Drip Bar 364 Rua 1 de Maio, Macau, +853 2847 3623, www.facebook.com/terra-drip-bar
Also read: Off the Beaten Path: A Guide to Areia Preta
Ora Coffee
Set behind those bright yellow houses in Tap Seac–including the Macao Central Library–is Ora Coffee, a beautiful, all-white decorated venue serving coffee drinks and nice foods such as matcha pound cake, savory hot dishes, and breakfast items. The latter include scrambled eggs with a side salad, mashed avocado on toast with a poached egg on top, toast with scrambled egg whites, and more. As the name indicates, this spot also has a wide variety of coffees on its menu, which include Americano, lattes, and ice coffee, amongst others. A short walk from Tap Seac Square, it's the ideal spot to head to before you start your workday or for a leisurely stroll across this area.
Opening hours: Daily, 11:30am–8:30pm
Ora Coffee 9 R. Filipe O'Costa, Macau, +853 6531 6705, www.facebook.com/oratapseac
Comma Macau
Pretty busy during lunch, Comma Macau is perfect for everyone working in and around the city center. What about heading there for breakfast for an energy kick? Set close to the Macau Cathedral, this cute eatery features two floors with simple and slick decoration and furniture. Besides their unmissable set lunch menus–with a touch of Japanese flavors–they also serve breakfast items such as scrambled eggs and nutritious toasts.
Besides some eggs and salad breakfast dishes, there's also a wholesome and complete Japanese-style they name brunch. However, we love it and have it for breakfast all the time. Their coffee menu is wide, one of the best places–as you can confirm by the number of people grabbing coffee to-go–to taste some good beverages. We recommend the lemon soda, which is unlike any other as it's on the salty side, it's made with fresh ingredients and that's noticeable. Bubbly and fresh, just how we like it.
Opening hours: 11:00am–7:00pm, closed on Sundays
Comma Macau 14A Rua da Sé, Edificio Wing Kei, Bloco I, Macau, +853 2882 1614, www.facebook.com/commamacau
Also read: The Ultimate Guide to Macau's Best Coffee Shops
LAX Cafe
Kickstart the day with a sumptuous toast accompanied by a cappuccino or a good old Americano coffee. LAX Cafe boasts a friendly and welcoming atmosphere, being one of the few spots in town allowing dogs to stay indoors as well. They also have other items on offers, like fluffy pancakes with strawberries, eggs Benedict with ham, and a super breakfast filled with comfy food: baked beans and bacon, a hash brownie, sausage, two fried eggs, mushrooms, and roasted tomato complete this wonderful dish. To drink, go for coffee, tea, a milkshake, or a fruit juice.
If you prefer to stay outside, there are also some high and low seats on the restaurant's exterior. Located in Taipa, it attracts young crowds, couples with kids, people and their pets, including many locals and expats alike. They have themed days from time to time, so check their Facebook to stay tuned.
Opening hours: Daily, 10:00am–9:30pm
LAX Cafe 120 Rua De Bragança, Lai Chun Kok, Supreme Flower City, Taipa, +853 2884 3093, www.facebook.com/LAX.Cafe.Macau
Also read: Best Pet Friendly Cafes in Macau
Also read: Cool Cafes in Taipa
Common Table
Their breakfast items are so popular people have them for lunch and even a late afternoon snack! This beautiful, hip venue in Taipa serves really good eggs benedict with a fresh side salad, but also scrambled eggs with vegetables, a colorful and fulfilling organic muesli bowl–great for foodies wanting to update their Instagram–salmon and avocado toast, waffles with mixed berries coulis and some more items.
Served till 3:45pm, having a meal there is the ideal way to experience different breakfast items amongst friends and family! Soft jazz in the background, great coffee and tea creations, and organic products to roam through… What else?
Opening hours: Daily, 8:00am–11:00pm
Common Table Shop A, Nova City, Avenida de Guimarães, Taipa, +853 2885 6601, www.facebook.com/commontablemacau
Also read: Common Table's Dinner Menu: From Snails to Steaks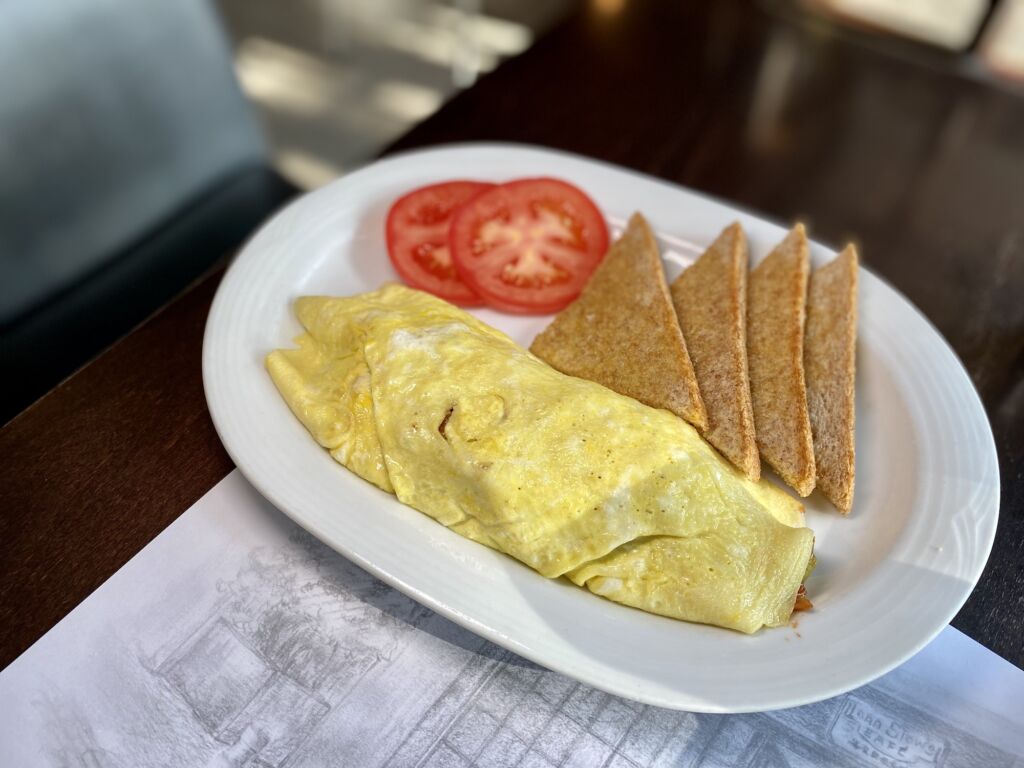 Lord Stow's Garden Café
Fancy a relaxing atmosphere after or before having breakfast with the family? Set in Coloane Village, the beautiful and quirky little blue townhouse set in the village's riverfront might be a great venue. Serving a lavish all-day breakfast, Lord Stow's Garden Café's menu includes fulfilling items such as two fried eggs with bacon, grilled tomato, and toast, a veggie choice of two eggs accompanied with Halloumi cheese, grilled tomato, and spinach, plus mushrooms and toast.
There are also yogurt bowls with honey and fruit, different toast, and more. Their fruit cinnamon toast with butter is also great. We also like their London classic toasts: gammon ham, cheese, and tomato, club sandwich, smoked salmon, bacon with lettuce and tomato are some of the available options. As for beverages, choose from coffee-based–the rose coffee is great–tea, or fresh juices. Some signatures are Thai milk tea, watermelon juice, or the fresh fruit shake: banana and papaya.
Opening hours: Monday–Friday, 10:00am–6:00pm, Weekends and Public Holidays, 9:00am–6:00pm
Lord Stow's Garden Café G/F C Houston Court 21 Largo do Matadouro, Coloane Village, Macau, +853 2888 1851, www.lordstow.com/macau-outlet/lord-stows-garden-cafe
Also read: Breakfast Like a King: Macau's Best Hotel Breakfasts
Also read: Macau Day Trip: What to See, Do & Eat
Also read: Family-Friendly Macau Guide
Tags
Related Posts