Whether it's your first trip or not, Macau is full of things to do! Here's a list of things one has to do in Macau to really be able to say you have been to Macau. Besides a unique historic background, Portuguese influences scattered in the form of monuments, architecture, and food, there are so many interesting things to do in Macau we bet you didn't know about.
From jumping off of one of the highest towers in the world, to luxury dining, trying a Portuguese egg tart, or visiting a fortress from when the Portuguese first arrived in the city back in the 16th century, there is a bunch of fun and cool stuff to do! How many can you tick off this Macau to-do list?
Experience the Highest Bungee Jump in the World
(See featured image above)
Ever wanted to go up as high you can? At an impressive height of 233 meters, AJ Hackett Macau Tower's bungee jump is the highest in the world, hence the most thrilling to experience if you're a fan of this kind of activity! You can book your ticket through their website, but you can also head there and purchase one. Those who did it say the experience is one of a lifetime, so let your fear at home and give it a go! Remember that AJ Hackett is something you'll only be able to experience in this city.
Skypark by AJ Hackett Level T2 – Adventure Zone, Macau Tower, Macau, +853 8988 8656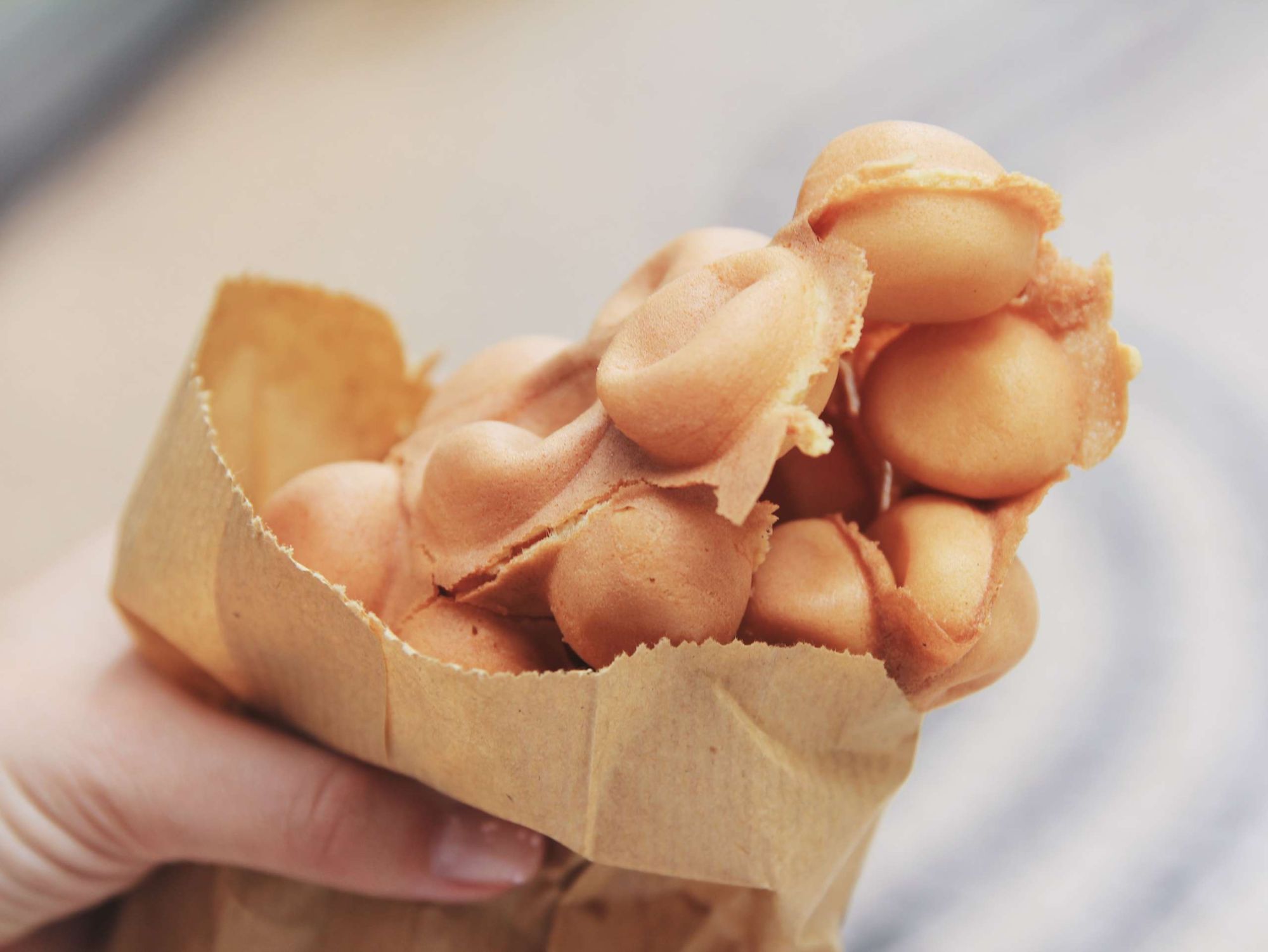 Try Macau's Most Well-Known Street Stall Waffle
Set in a quiet corner leading to Macau's largest church is a stall selling the most amazing and unique waffles. A business that has been passed from generation to generation, it's rarely empty since both locals and tourists love to have them as a snack. Macau kids from the 80s and 90s have clear and fond memories of this, since it was part of their childhood and still tells a lot about the city's history.
One can even say that these are some of Macau's truest treats: oozing with peanut butter and condensed milk, the sweet-toothed will be amazed by this original flavor. If you're not a fan of sugar highs, choose the egg version (round-shaped crispy and fulfilling dough) or banana, which comes shaped like a half-moon and is sauce-free. Fun to photograph, soft, and undeniably good. Head here and savor a waffle while strolling through Senado's historical and quirky little streets and alleys–each cost only MOP $10–14!
Hing Yi Waffle Stall Pátio das Flores Alley, Macau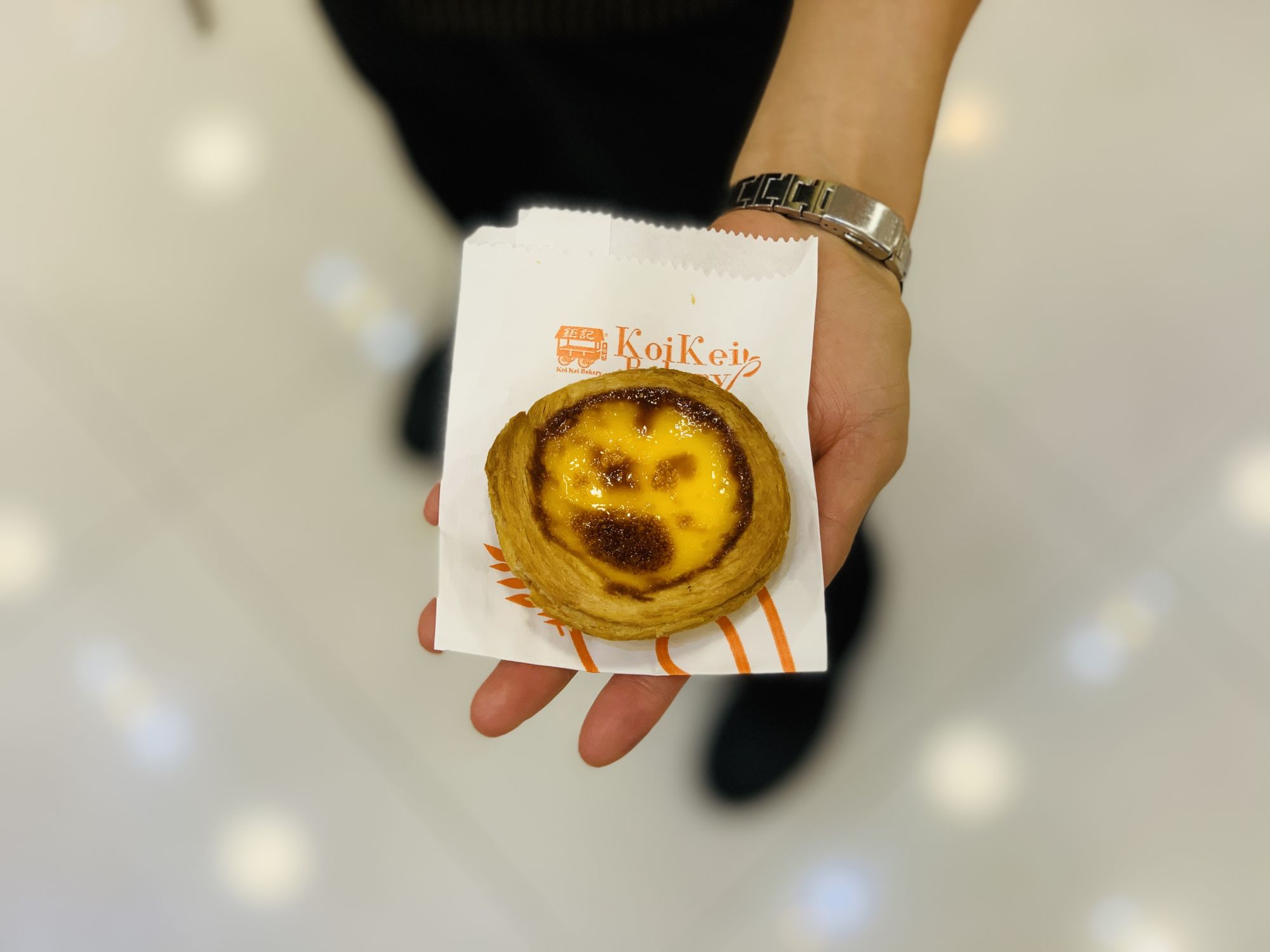 Have a Portuguese Egg Tart
Have one at Cuppa Coffee and then Lord Stow's? The latter is the first bakery in town to ever establish egg tarts as a true Macau snack. Famous all over the world, it's known for its simplicity and authenticity, so don't hesitate to visit them.
A yellowish and warm custard is wrapped in crunchy and flaky pastry, creating a unique contrast that can only mean one thing: one of the world's most popular desserts! Worried you won't find a shop near you? Worry not, because egg tarts can be found all over the city; from the peninsula to Coloane village, there is always one of these flaky treats awaiting you. You usually won't pay more than MOP $20 for one.
Also read: Where to Find the Best Portuguese Egg Tarts in Macau
Also read: Macau's Must-Try Snacks
Also read: Where to Find the Best Portuguese Pastries in Macau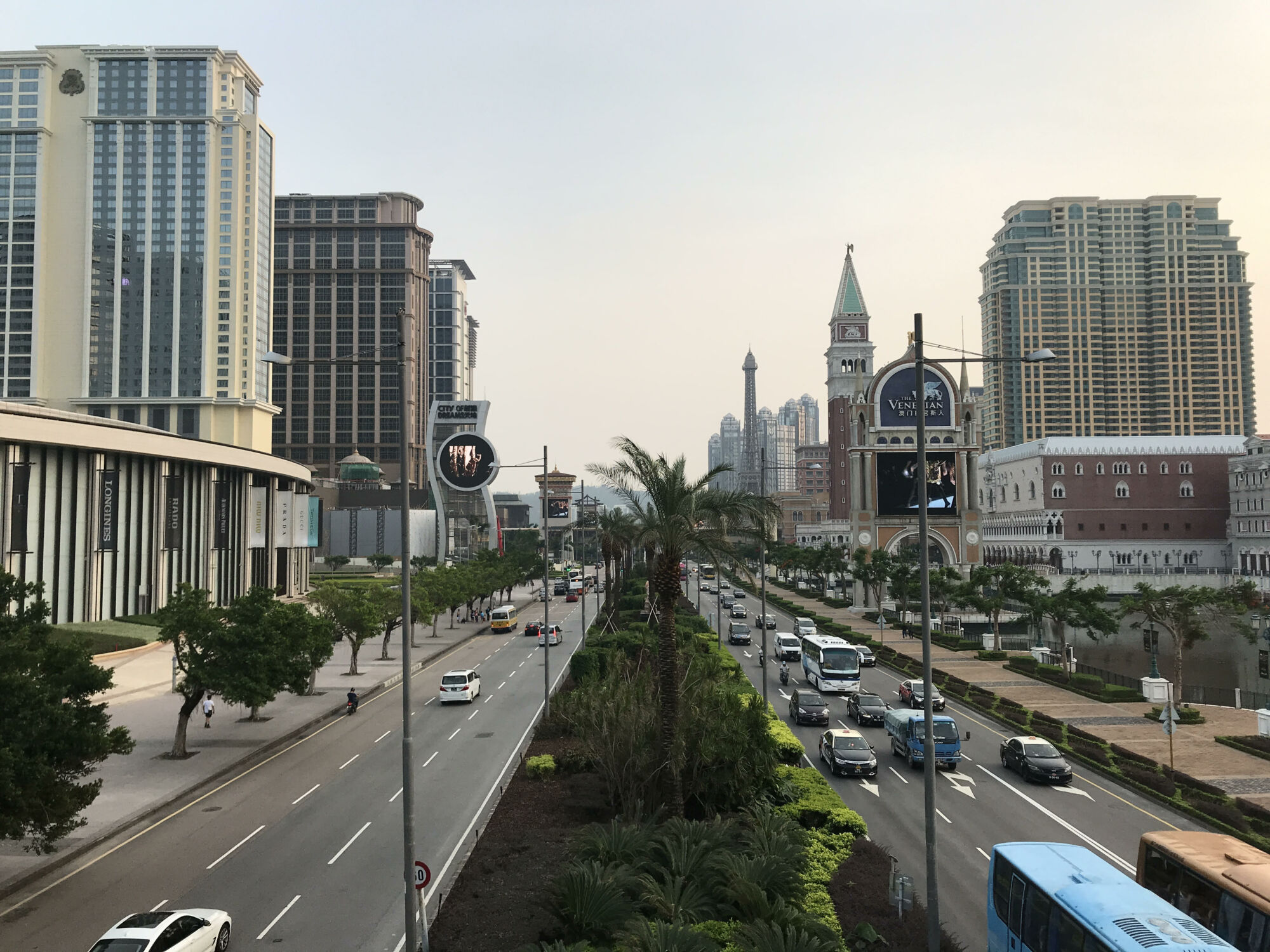 Take a Panoramic Photo of Cotai
No matter your perspective on gambling, the view overlooking the Cotai casinos strip is simply breathtaking. Start gazing at the City of Dreams, keep going with Sands Cotai Central, spot Studio City in the background, then there's The Parisian Macao, The Venetian Macao, and finally, Galaxy Macau. Isn't it amazing? From central Taipa, head towards Cotai through Estrada Governador Nobre de Carvalho until you reach the gas station on your left side. Can you see the superior walkway already? Take the elevator up, walk halfway and we guarantee you'll have one of the best views the city has to offer!
The location allows for a 360º perspective of the whole area. From the extended road to sumptuous properties such as The Venetian Macao, The Parisian Macao, City of Dreams, or Sands Cotai Central, the skyline itself is dazzling! We suggest going there on a late afternoon so you'll be able to overlook this area while the sun sets and the array of beautiful neon lights jazz up the skies of this unique city. Another option is to head to The Parisian Macao's Eiffel Tower: the outdoor area is great for a breath of fresh air, a slow pace without all the shopping and crowds while overlooking all the other hotels and resorts, this time facing the walkway.
Also read: The Heart of Macau Entertainment: A-Z of Cotai Strip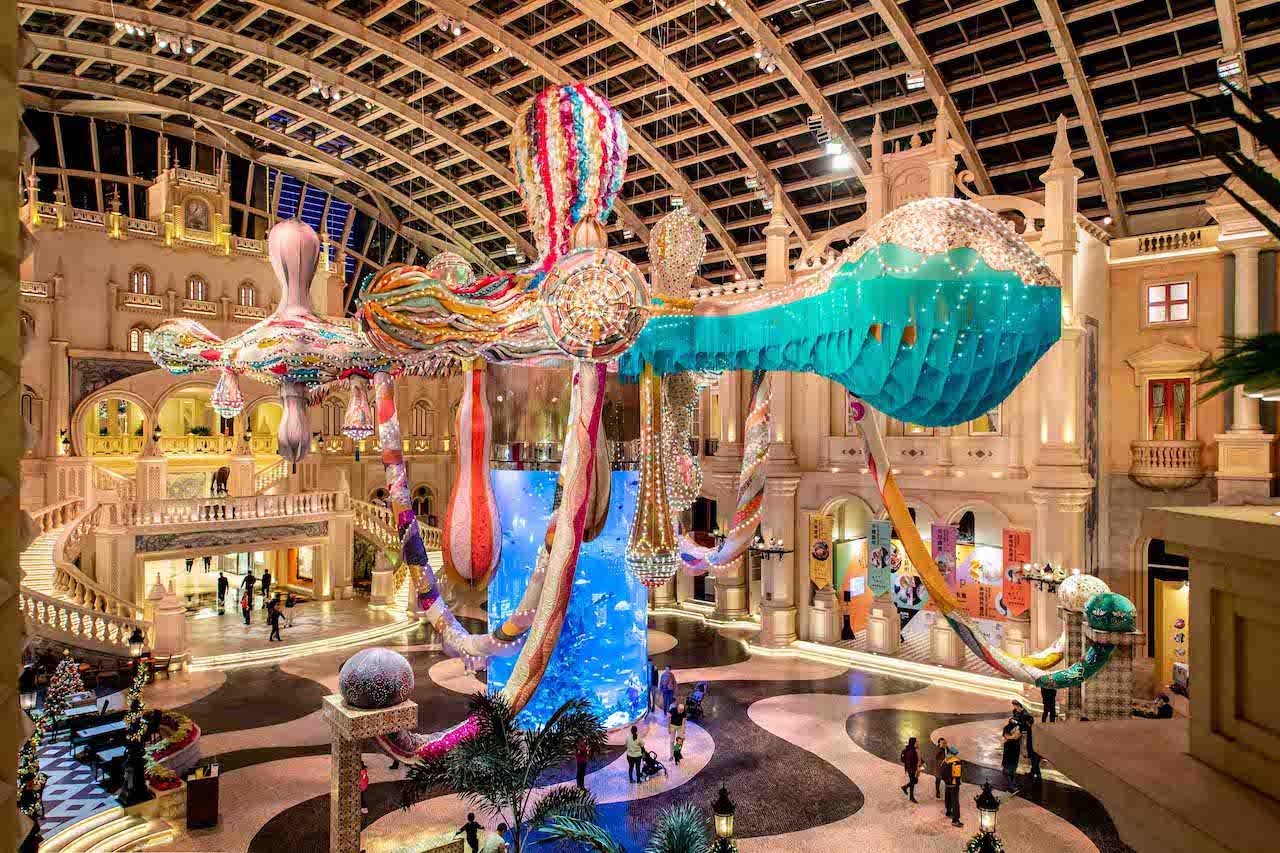 Visit a casino
Well, this one's a no-brainer: Macau is filled with beautiful, luxurious casinos and resembles Las Vegas so much that it's even called "Las Vegas of Asia"! Other than the obvious, Macau's casinos are also great places to visit and see interesting architecture and also art collections! Other than gorgeous art collections and shopping options, there are also amazing Michelin starred restaurants to check out along with a slew of global cuisines to try. If you're feeling lucky, head to the tables and try your hand at baccarat, poker, roulette, and more! For those who are staying awhile at the tables, you'll be served free non-alcoholic and alcoholic drinks too.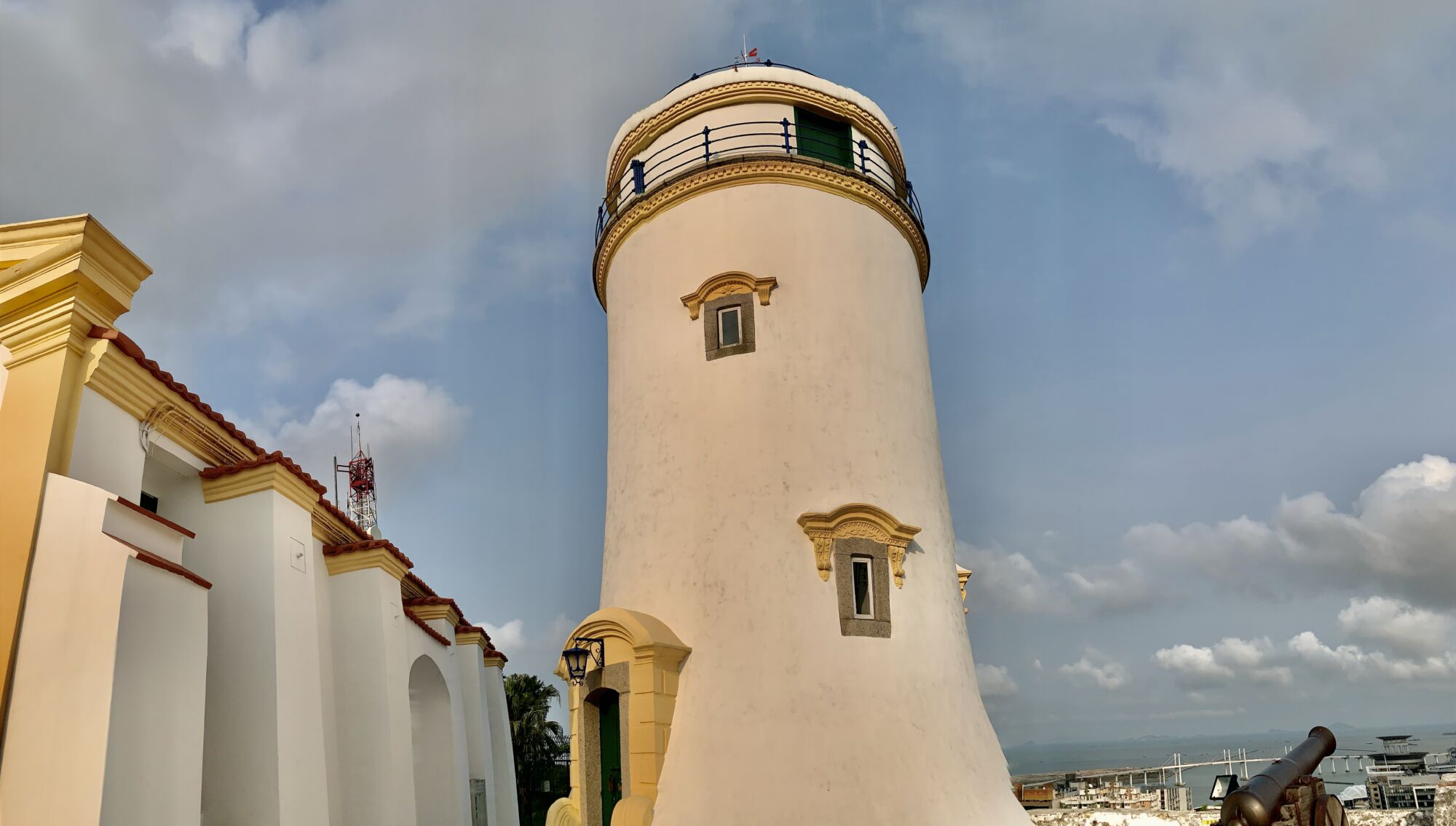 Visit the Guia Lighthouse
Guia Lighthouse is the perfect place to see the whole city: the old and new parts, all the details you won't even notice if you don't go up there. Set on top of Guia Hill, there are two ways of reaching the top: by foot–while enjoying all the gardened areas, locals jogging, a tiny zoo-like zone with a bear, monkeys and more–or by cable car. The latter is cheap, tiny and old, which allows for a certain nostalgia of bygone times.
Up there, you'll be able to spot the Ruins of St. Paul's, old neighborhoods and more. Try heading there during the late afternoon so you can see the city at night as well. All the lights and silence. Isn't it peaceful? The lighthouse itself opens a couple of times a year and well worth a look, so check their website for updates on opening times and days.
Also read: Guia Hill: An Urban UNESCO Heritage Spot & Hiking Haven
Also read: Unmissable Cultural Spots to Visit in Macau
Also read: Peaceful Spots in Macau
Guia Lighthouse Rampa da Guia, Macau
Go for Yum Cha
Yum cha is the act of eating dim sum–Cantonese dishes–and drinking tea. Chinese families usually go for yum cha lunch on Sundays, but nowadays, you can see people doing it on any given day of the week. However, we must warn you, better to head there no later than 1:30pm, or you won't be able to savor a lot of dishes since they are made fresh that day and might already be gone. Yum cha includes several tasteful treats, such as char siu (barbecued pork), har-gow (steamed shrimp dumplings), siumai (steamed pork dumplings), among others.
Pair this with hot tea like Iron Buddha, jasmine or an old-time favorite for locals and real connoisseurs of yum cha, pu-erh. Heading with friends or family is not only cooler but also cheaper. Why? Well, yum cha food is meant to be shared since the bamboo baskets usually come with three or more dumplings in each one. If you want to try more than two or three dishes, it'll be hard to eat everything if there's no one to share it with. In general terms, a lunch with more than five people or more costs no less than MOP $150 per person, tea included.
Also read: Macau Tips: 5 Easy Rules to Remember at Dim Sum
Also read: Great Places in Macau for Yum Cha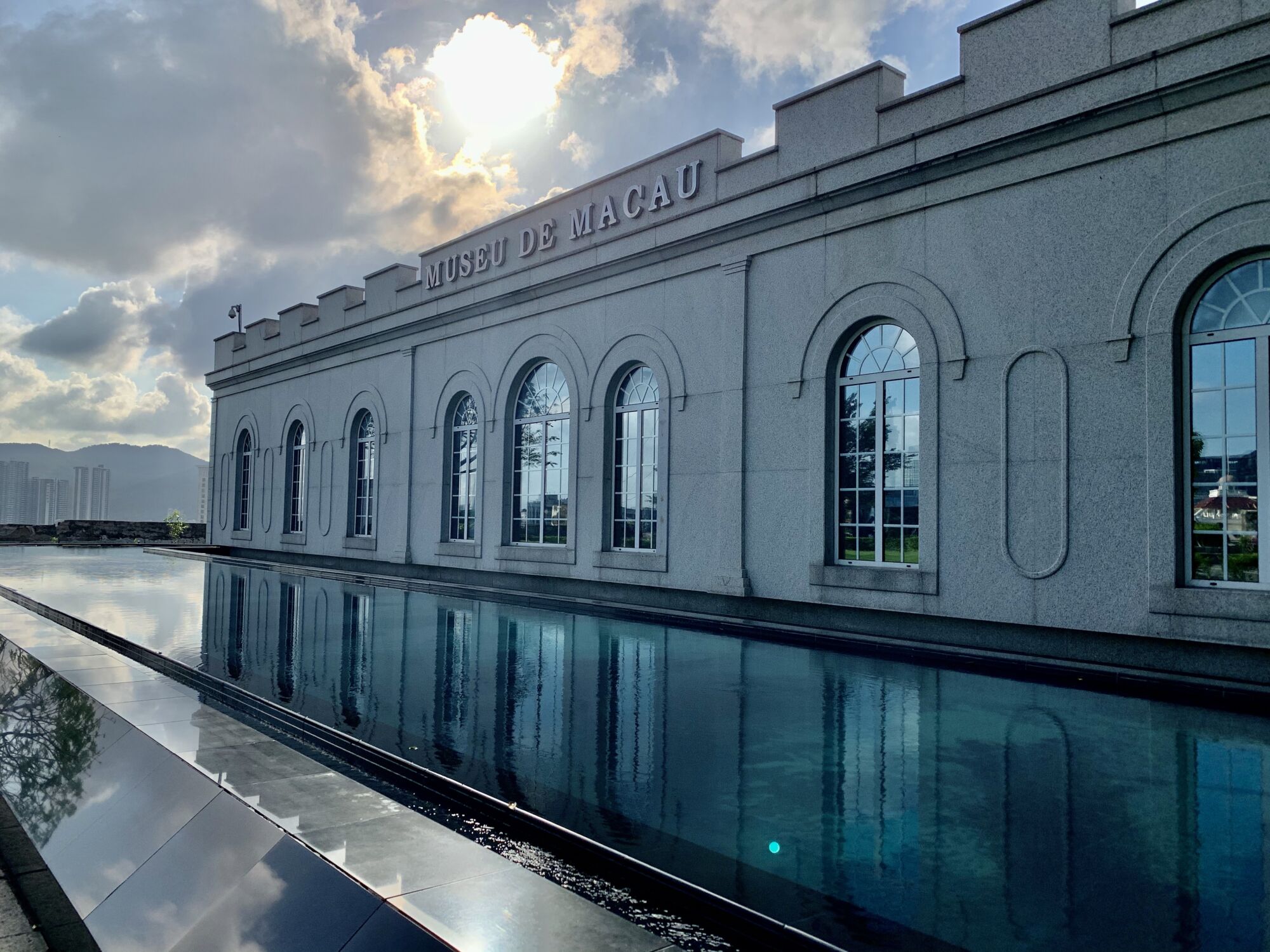 Visit the Macao Museum
If you still have time on that tight calendar of yours, we recommend a visit to the Macao Museum, where you can learn about Macau's history, fun facts, among other curiosities. Do you know what were the city's main crafts and businesses in the 18th century? What about Macau's traditions and costumes? Macanese families, do you know about them? For just MOP $15, have access to a myriad of interesting artifacts, information, and even thematic and interactive exhibitions!
The museum stands on top of Mount Fortress, allowing for absolutely breathtaking views across the city, namely a unique perspective of the Ruins of St. Paul's. Its one of the only places for panoramic views of the city and well worth a trip to have a look. You can enter the viewing grounds without an entry fee in the Macao Museum. 
Macao Museum 112 Praceta do Museu de Macau, Macau
Also read: 5 Original Museums in Macau
Also read: 5 Museums in Macau the Whole Family Can Enjoy
Also read: Fantastic Activities for the Whole Family in Macau
Also read: Macau's Mount Fortress: The Vatican of the East
Also read: Unmissable Cultural Spots to Visit in Macau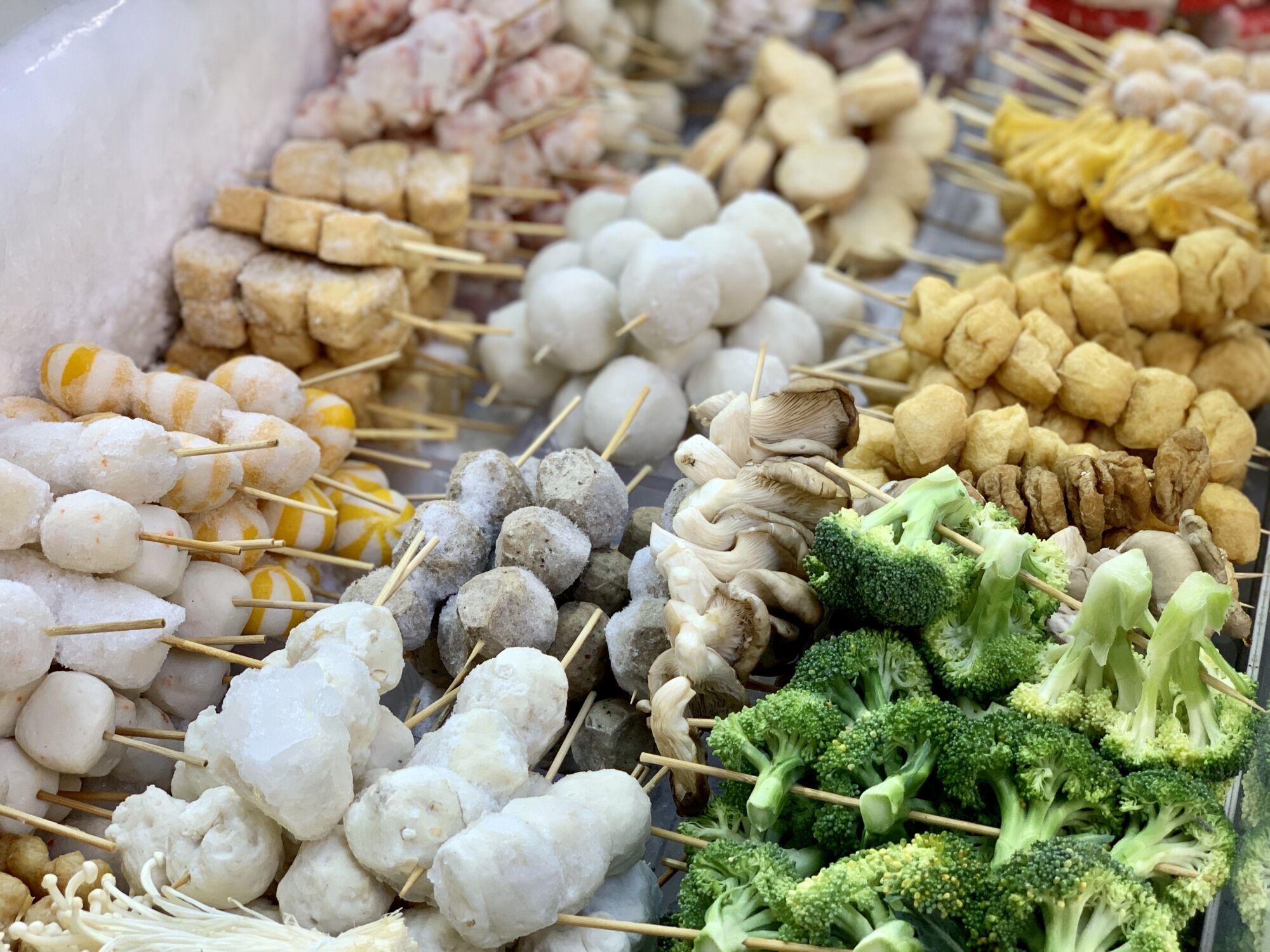 Experience Local Street Snacks
Macau is full of street snacks, all worth it. Freshly-made cookies to warm dumplings, almond treats, meat jerky, and Macau-style egg tarts are all waiting for you at this foodie's paradise. Affordable and tasty: is there a better combination? Stuff your belly with flavorsome treats to enjoy and remember for days on end. Meat jerky might not be for everyone, but it's certainly something you ought to try!
Although its main ingredients are usually pork, there is now a variety of condiments and add-ons that make these treats something very special: from spicy to XO sauce, barbecue and more, there is an array to try out! The best place to experience real meat jerky is while going up towards the Ruins of St. Paul's: the street is filled with different shops offering people bits of these delicacies.
Koi Kei Bakery 70–72 Rua da Felicidade, Macau
Also read: Macau's Best Street Food
Also read: Street Snacks in the Red Market & Horta e Costa Area
Also read: Senado Square's Best Street Food
Also read: Where to Find the Juiciest Pork Chop Bun in Macau
Heong Kei 4–6 Avenida Almeida Ribeiro, Macau
Visit the Ruins of St. Paul's at Night
Visiting the Ruins of St. Paul's with the sun shining in the back is always great, but what if we told you this monument is also breathtaking during nighttime? When the moon is up, crowds are gone and one can finally fully enjoy this monument's beauty. With perfectly positioned lighting, a dark sky and the empty set of stairs leading to the church's façade, this is the perfect visit to end a night in Macau.
Also, pay close attention to the rest of this neighborhood's livelihood when the stars shine bright up there. Everything is not only calmer but more silent. Try enjoying these moments, as they don't come often. The ruins are lighted up, with the fortress shining on the upper right side, and some shops with dim lights also working until late in the area. Walk around and appreciate this other side of Macau.
Ruins of St. Paul's Company of Jesus Square, Macau
Also read: Fascinating Facts About The Ruins Of St Paul's
Also read: Top Locations to Visit in the UNESCO Designated Historic Centre of Macao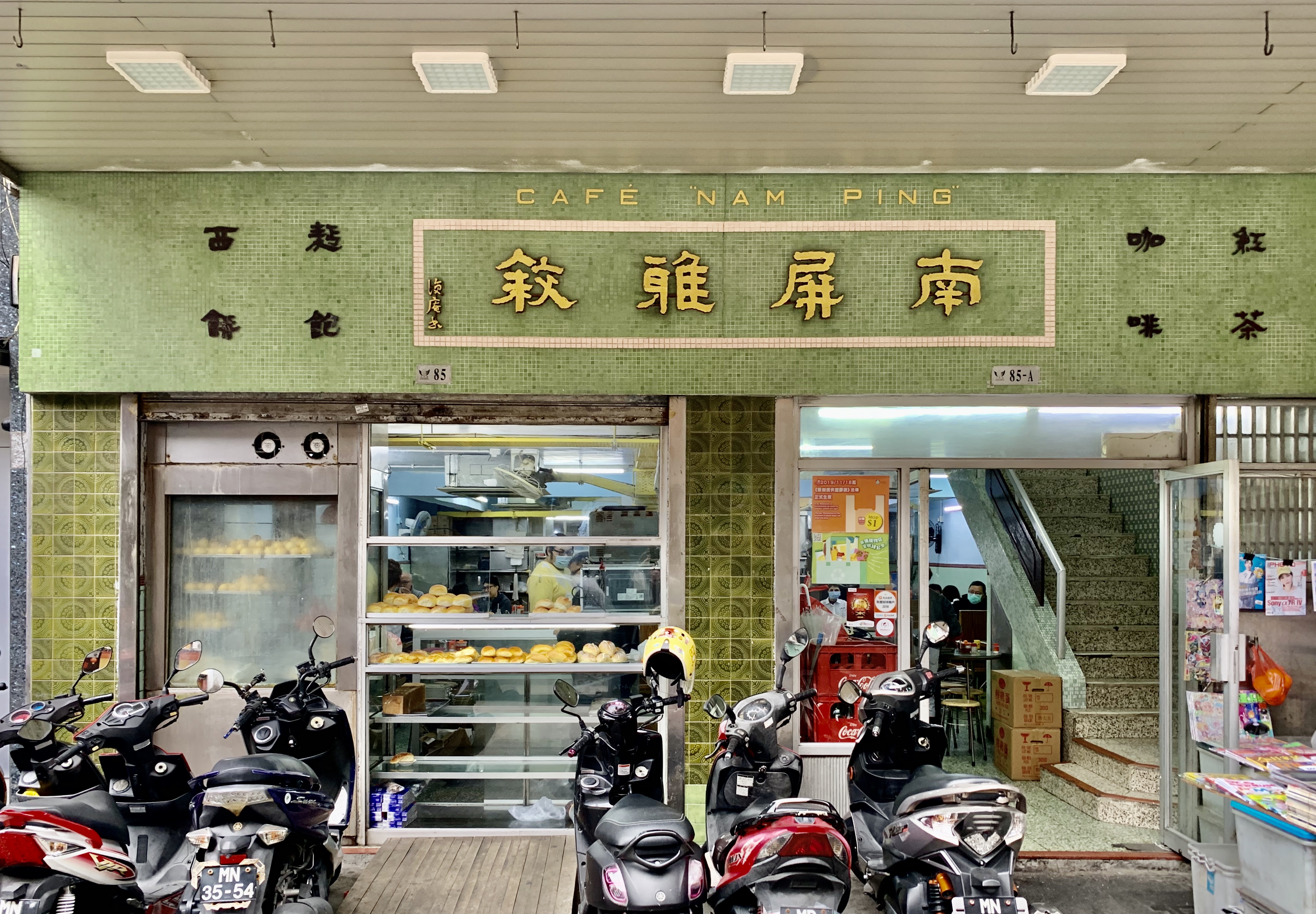 Eat Nam Ping's Char Siu Sandwich
We suggested yum cha and street food, peanut butter waffles and many other delights, but have you ever heard about Nam Ping's char siu and egg sandwich? Well, we have, and most locals as well. This small restaurant rests at Rua de Cinco de Outubro, one of Macau's oldest streets. It used to be one of the most important when it comes to business, with lots of import and export shops and one of the city's oldest and renowned teashop.
Nam Ping is opened from 6:00am until early afternoon, so better to head there during lunchtime. Go back in time at this wonderful old place, have your sandwich with an iced lemon tea or go traditional and try a milk tea. The best part about being here? Seeing how the locals enjoy their breakfast or lunch!
Also read: Nam Ping: A Local Foodie Haven Nestled in Old Macau
Nam Ping 54 R. de Cinco de Outubro, Macau
Tags
Related Posts