Macau is teeming with parks and leisure areas that feature some amazing play areas. Time spent at the playground is time spent surrounded by nature. Plus, they're free of charge and induce happiness! We've gathered a list of the best playgrounds for kids in Macau for your tykes to play at and frankly, tire themselves out. Whether you visit for a quick after-school playground run or as a weekend outing without rush, these are sure to make the day of the real commanders in chief of the family! 
All the listed playgrounds (except the one in Hac Sa Park) have spongy grounds to ensure safety, as well as informative boards with safety measures and recommended ages that you may refer to. Restrooms are available nearby and there are handwash stations in most of these playgrounds. The one at Chunambeiro even has a breastfeeding room at the disposal of nursing mothers who might prefer to feed their babies in privacy. In addition, all of them have park benches and shaded seating areas. Kids definitely won't be sitting but you might get a chance to!
Flora Garden
Most playgrounds are flooded with wriggly kiddos after school, especially those who live nearby. On top of having fun, if your child is into socializing then the playground right next to Flora Garden's gate might be the best choice. This playground features a kid-powered merry-go-round, climbing nets, slides, swings, and spring riders. But there's more to this garden in the middle of the bustling city. 
After hitting the playground, consider taking the kids for a stroll around the garden's small zoo or hop on the cable car at Flora Garden and head up towards the city's highest point: Guia Hill. Kids love a good cable car ride! Plus, this ride's exit point lies next to yet another playground (see featured image above). This one is aimed at kids between five to 12 years old and has sort of a futuristic or spatial look to it. Kids get to play as if they were starring in an obstacle course tv show, making their way through play towers, slides, monkey hops and bars climbing poles, climbing walls, and more; all while enjoying a panoramic view over the city. 
Flora Garden Avenida de Sidónio Pais, Macau
Also read: Top Outdoor Activities to Do With Kids in Macau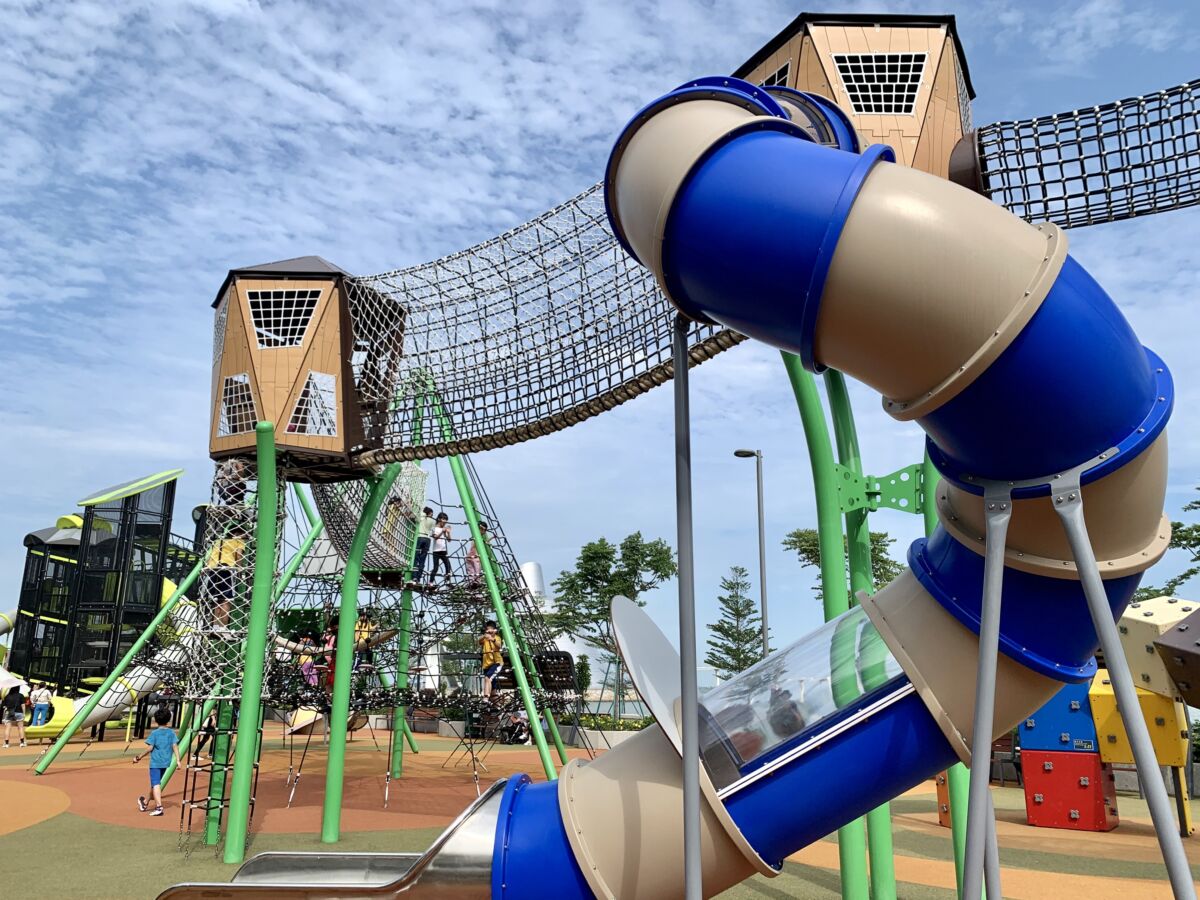 Kun Iam Statue Waterfront Leisure Area
The newest playground in town emerged bigger and better and we wouldn't be surprised if this became your sweetheart's playground of choice at first sight! The playground at Kun Iam Statue Waterfront Leisure Area also happens to fill in a gap in the area where multiple schools, nurseries, businesses, and eateries are located. There are other playgrounds around but they are rather simple or small. 
Spreading over an area of 2,700 square meters, the hefty play zone features amusements aimed at little ones aged two to five and kids aged from five to 12. The repertoire of attractions includes high-rise play towers, walking bridges geared up with hoops and ropes, climbing hills with tunnel passages, winding slides, monkey bars, swings, a trampoline, merry-go-round, and even a Neos 360 interactive game area, designed to combine the thrill of video games with outdoor play. 
The waterfront leisure area spreads from the Kun Iam statue to the Macau Science Centre and offers plenty of fun ways to spend your time. It includes a gateball and multifunctional courts, a roller skating rink, a well-equipped outdoor fitness area, and more. Vending machines, lockers, and handwashing stations are available too. In order to best enjoy the breathtaking location and view, a cafe is set to open later in the year.
Kun Iam Statue Waterfront Leisure Area Avenida Dr. Sun Yat Sen
Camões Garden 
After a recent revamp, the playground at Camões Garden is amongst our favorites in the Macau Peninsula. Before reaching the playground, we suggest you take the time to appreciate the walk through this lively local garden, as it is sure to lift your spirits. Chirping birds, locals playing mahjong, practicing tai chi to the sound of peaceful music and thriving flora make this park a true gem.
Follow the way to the waterfall and a few steps ahead you will find the playground area. There are two distinct areas: one for kids aged five to 12 and one for children between two and five. The latter includes a playhouse perfect for pretend play, swings, a balancing beam, climbing nets and pole, a cool fish eye mirror, a piano for them to play–endless fun! One of the coolest features of this playground is a row of six adjoining slides, inviting kids to hop on for an in-sync glide. Without a doubt, the playground at Camões Garden takes the prize for the best play zone for toddlers. 
Camões Garden Praça de Luís de Camões, Macau
Also read: Must Visit Gardens in Macau 
Chunambeiro Park
Don't you just love the Nam Van and Sai Van Lake area? Our team's a big fan! This part of town offers views of the Pearl River, Macau skyline, Sai Van Bridge, and the Macau Tower. Located in a small street just a few blocks from the Governor's House (also known as the pink house), Chunambeiro playground recently underwent a revamp and it's looking fabulous. The renovated facility features a play tower with a winding slide, an exercise wheel, spring riders, sensorial play panels and a big brightly colored xylophone that tots love to play with! While you keep an eye on the kids, have a seat at the shaded swinging benches and enjoy this peaceful spot. After that, if your offspring is between three and six years old, take your fun-loving child for a ride at the electric car racing track located within the playground. Tickets are priced at MOP $5 for a 15-minute ride.
Feel like elevating family time even further? Cross Avenida Dr. Stanley Ho towards Nam Van Lake and head to your left-hand side. Appreciate the waterfront walk while making your way to the swan-shaped paddle boats' rent point and paddle through the lake. It'll make for a memorable experience! The paddle boats are available from 11:00am to 6:00pm (until 7:00pm from June to September). Keep in mind that kids under the age of five aren't allowed on board. 
Chunambeiro Park Rua do Chunambeiro, Macau
Also read: Off the Beaten Path: Exploring Sai Van & Nam Van Lake
Also read: Great Places to Eat Around Nam Van Lake 
Montanha Russa Garden
Fun fact: a long time ago, Montanha Russa garden used to sit by the city's border. Today, it is a peaceful refuge in the middle of the buzzing town. This garden is 30 meters above sea level and has a screw-shaped viewing platform at the very top, hence it's Portuguese designation (which translates into rollercoaster). Little ones have a blast making their way up and down the spiralling footpath. 
Although the playground at Montanha Russa garden isn't big in size it is certainly worth your while. Besides spring riders, a play tower, climbing nets and a slide, there are also a couple of swings and a sensorial play panel. Like Chunambeiro, there is an electric race car track at the top of Montanha Russa garden too, next to the screw-shaped viewing point. A 15 minute ride will cost MOP $5 and it is suitable for kids aged between three and six. 
Montanha Russa Garden 22-26 Estr. da Bela Vista, Macau
Taipa Central Park 
Where else can you find a giant ship, a train, scalable hills with tunnel passages and a red double-decker bus? Only in the playgrounds at Taipa Central Park! And we're just naming a few of the attractions at one of the most exciting playgrounds in town. This park harbors not one but two playgrounds which, quite frankly, are hard to beat: they are massive, have an utterly appealing design and feature wide-ranging amusements! 
The playground towards IKEA Macau side has a great area for smaller kids. The bright-coloured play area includes tunnels, play towers, slides, a built in-ground trampoline, panels to promote sensory play and a static train for the little ones to pretend-drive their very proud passengers while singing "toot-toot"! But there is an eye-catching attraction for older kids too. A gigantic ship filled with a number of amusements like slides, poles, nets and many more makes the delights of bold adventure-seekers.
The playground located in front of the Nova Park residential compound is awesome too. You'll find lovely large animal installations–like a butterfly or caterpillar–that are super captivating and make for a great spot to snap a picture of your little one living the playground life. A wide climbing wall, static racing bikes with a score display board, colored hills with tunnel passages, this playground will make the delights of any sporty kid and make sure all that energy is channeled into playful fun movements! For all these reasons we think this is definitely one of the best kids' playgrounds in Macau.
Taipa Central Park Rua de Seng Tou, Taipa
Also read: A Breath of Fresh Air at Flower City Garden and Taipa Central Park
Taipa Grande Nature Park 
Set on top of the hill, overlooking the airport and Cotai, Taipa Grande Nature park's playground is super cool and its facilities are in great shape. The park itself offers a number of enjoyable ways to spend your time as a family such as a two barbecue areas, a Chinese ethnics themed sculpture park, a trail around the hill and and a 20-meter grass toboggan to slide down! This grass-skiing field makes for the ultimate upgrade to your child's playground trip.
This lively playground includes spring riders, jumping platforms, swings, slides, a walking bridge, climbing hops and more. Besides, kids get to play with the thunderous sound of airplanes taking off while watching it meet the clouds. The way they're impressed by the spectacle in the sky above is truly endearing.
Taipa Grande Nature Park Rampa do Observatório, Taipa
Hac Sa Park 
Facing Hac Sa Beach and backed by verdant hills, Hac Sa Park sits in sublime harmony with its surroundings. If playing barefoot on the sand is your little one's kick, this playground is definitely a must-visit. That's one of the reasons our team loves it, but there's more. The spacious grassy area next to the playground feels so inviting so why not get the kids a kite at the Hac Sa stalls beforehand and make room for some barefoot free play?
This playground features a small area for toddlers next to the entrance and another for older kids next to the shaded seating area. Play towers, slides, monkey hops, sliding poles, and spring riders are available to be enjoyed for as long as they want. There are a couple of swings with leg holes too, making them safe for infants.
Before leaving, be sure to check out the scooter track at the Hac Sa Park too. Towards the back of the park, past the swimming pool, there's a lovely scooter or bicycle track with some awesome features to make it look like the grownups deal: a zebra cross, traffic lights, parking spaces, and even a few tiered rows of benches where you can sit while cheering them on.
Afterward, head to long-time favorite spot Fernando restaurant and savor some of the best charcoal-grilled fare in town. Keep in mind that the restaurant does not provide high chairs.
Hac Sa Park Estrada Nova de Hac Sa, Coloane
Also read: Best Things to Do Around Hac Sa Beach
Also read: Fernando Restaurant: Macau's All-Time Favorite
Tags
Related Posts