The most secluded and green part of rapidly developing Macau is Coloane which still remains a beautiful getaway from the hustle and bustle of the city. Leafy hills, clear water, the sounds of nature and diverse flora and fauna, it's no wonder Coloane is home to most of the hiking trails in town. We hiked them all and came up with this comprehensive Coloane hiking trails guide, just for you. Round up your friends, put on your hiking shoes, pack some water and get to exploring one of these trails!
Coloane Trail
(Featured image above)
The longest of all Macau tracks, Coloane trail cuts across the hills about 100 metres above sea level showing why Coloane is called the "lungs of Macau". With flat areas, inclined sections and steps, you can plan a route to fit your fitness level or even a cardio training session. Walking this route may need some preparation, what more running along it!
Coloane Trail is a perfect way to explore different parts of the island from above. There are many panoramic viewpoints that are breathtaking and overlook a magnificent statue of A-Ma with the nearby A-Ma cultural village.
Entrance and exit: Near the Arboretum at the middle part of the Estrada do Alto de Coloane
Length: 8,100m
Highlights: A-Ma Cultural Village, A-Ma Statue
Coloane Fitness Walk
A perfect way to combine a cardio routine with strength training is walking the Coloane Fitness Walk. Scenic and mostly easy, the route crosses Alto de Coloane with 19 fitness stations along the way, making it a great alternative to the gym. Best yet, here, you can get lungfuls of fresh air and not have to deal with the sometimes musty smells of community gyms. Jog or walk from one station to another, stop and perform some exercises and repeat for every stop. Each stop has instructions and indicates the muscles targeted by each exercise so if you regularly traverse this trail, you'll be in tip top shape in no time! 
Entrance and exit: Intersection of Estrada do Alto de Coloane and Estrada Militar
Length: 1, 225m
Highlights: Fitness stations  
Ká-Hó Height Family Trail
Ká-Hó might be one of the lesser known Coloane areas but it boasts two picturesque trails. One of them is Ká-Hó Height Family Trail that goes around Hehuan Peak, with a slight incline at the beginning and is quite easygoing the rest of the route. As most of the trail is 100 metres above the sea, the view includes Hac-Sá Beach and reservoir which are spectacular! Finish your walk with a family barbeque in the end of the route. 
Entrance and exit: Ká-Hó Height Barbecue Park, Estrada de Choc Van
Length: 1,490m
Highlight: Ká-Hó reservoir, Hac-Sá Beach view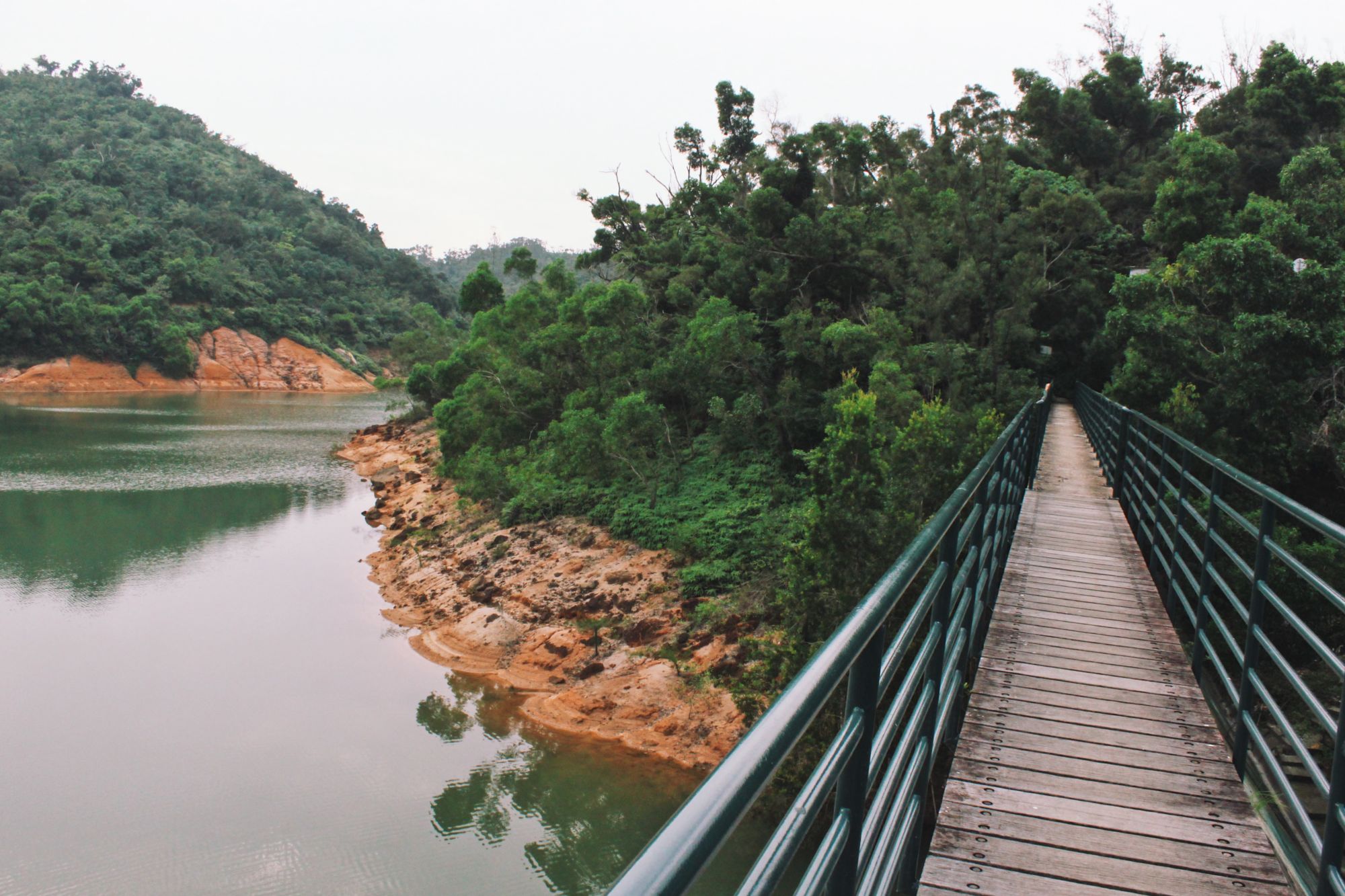 Ká-Hó Reservoir Lakeside Walk
The contrast of turquoise waters of the reservoir, tangerine sand and juicy green trees, this trail is one of the most scenic in Coloane. It starts with a bit of steps followed by a wide track around the Ká-Hó Reservoir. The walk is easy and enjoyable, especially when you're accompanied by huge butterflies and chirping birds. Being relatively short, it has a handful of diverse beautiful spots that includes the reservoir bridge and Freshwater-wetland Ecological Zone.
Entrance and exit: Estrada de Nossa Senhora de Ká-Hó 
Length: 1,550 metres
Highlights: Ká-Hó reservoir, Ká-Hó reservoir bridge, Freshwater-wetland Ecological Zone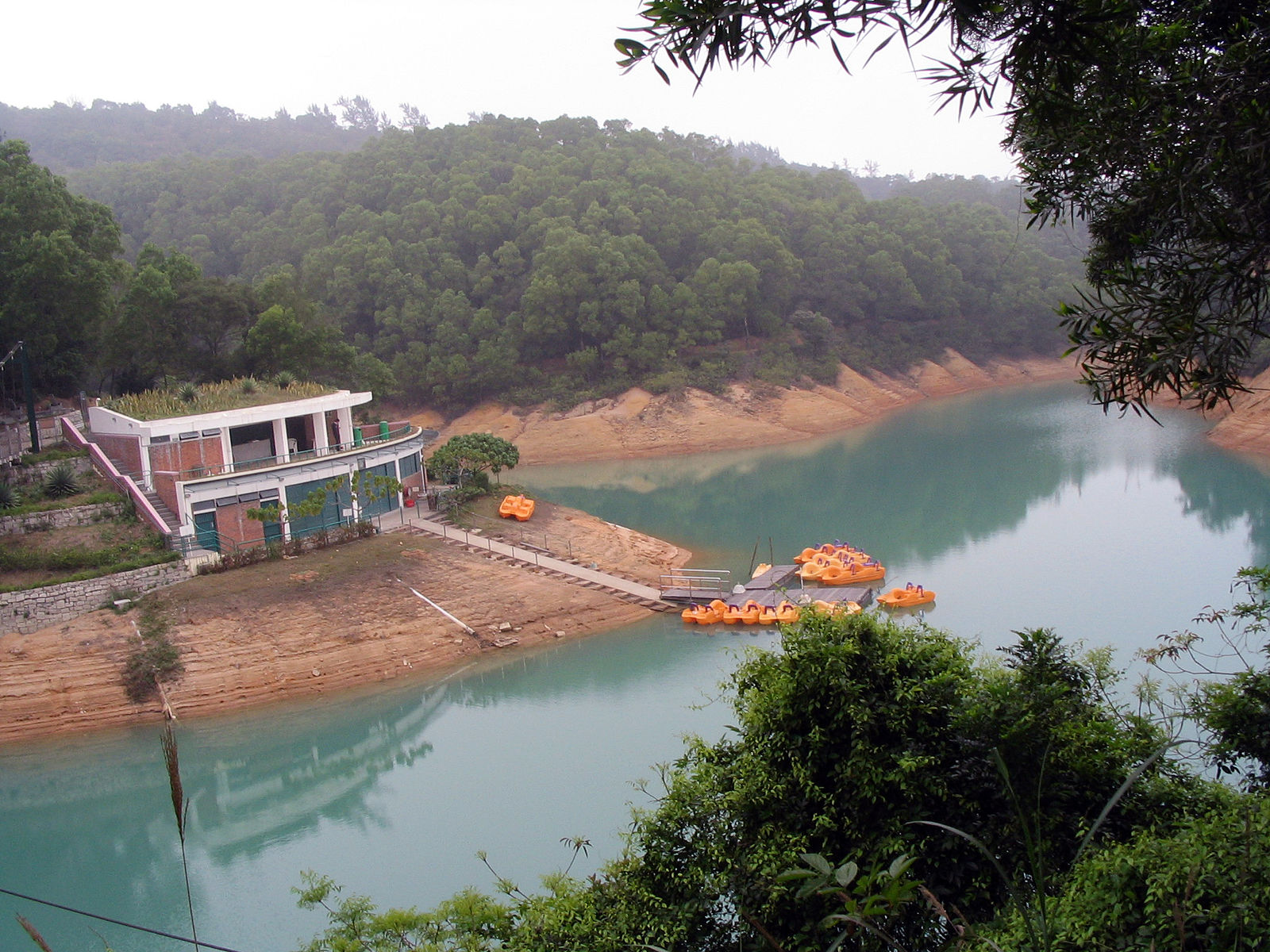 Hác-Sá Reservoir Family Walk
Hác-Sá has been a weekend destination among locals for decades. Besides the black sand beach, barbeque area and fresh air, Hác-Sá Reservoir is an attraction worth checking out. The best way to explore it is by walking along one of the trails. Family Walk is suitable for hikers who are not looking for anything too challenging but are willing to spend some time walking and exploring. The reservoir views and lush greenery make it a truly rewarding hike. Combine your walk with a boat ride in the reservoir and finish your day off with dinner at Fernando's Restaurant.
Entrance and exit: Hác-Sá Reservoir
Length: 2,650m
Highlight: Hác-Sá Reservoir
Hác-Sá Reservoir Fitness Walk
Another great hiking trail with fitness stations, Hác-Sá Reservoir Fitness Walk has nine stops on a 1.5 kilometer path. Just like Hác-Sá Reservoir Family Walk, the walk (or run, it's up to you) encircles the reservoir turning a workout into a satisfying nature experience. Why stare at the wall while running on a treadmill if you can run overlooking beautiful turquoise waters alongside lush greenery?
Entrance: Hac Sa Reservoir
Length: 1,500m
Highlight: Hác-Sá Reservoir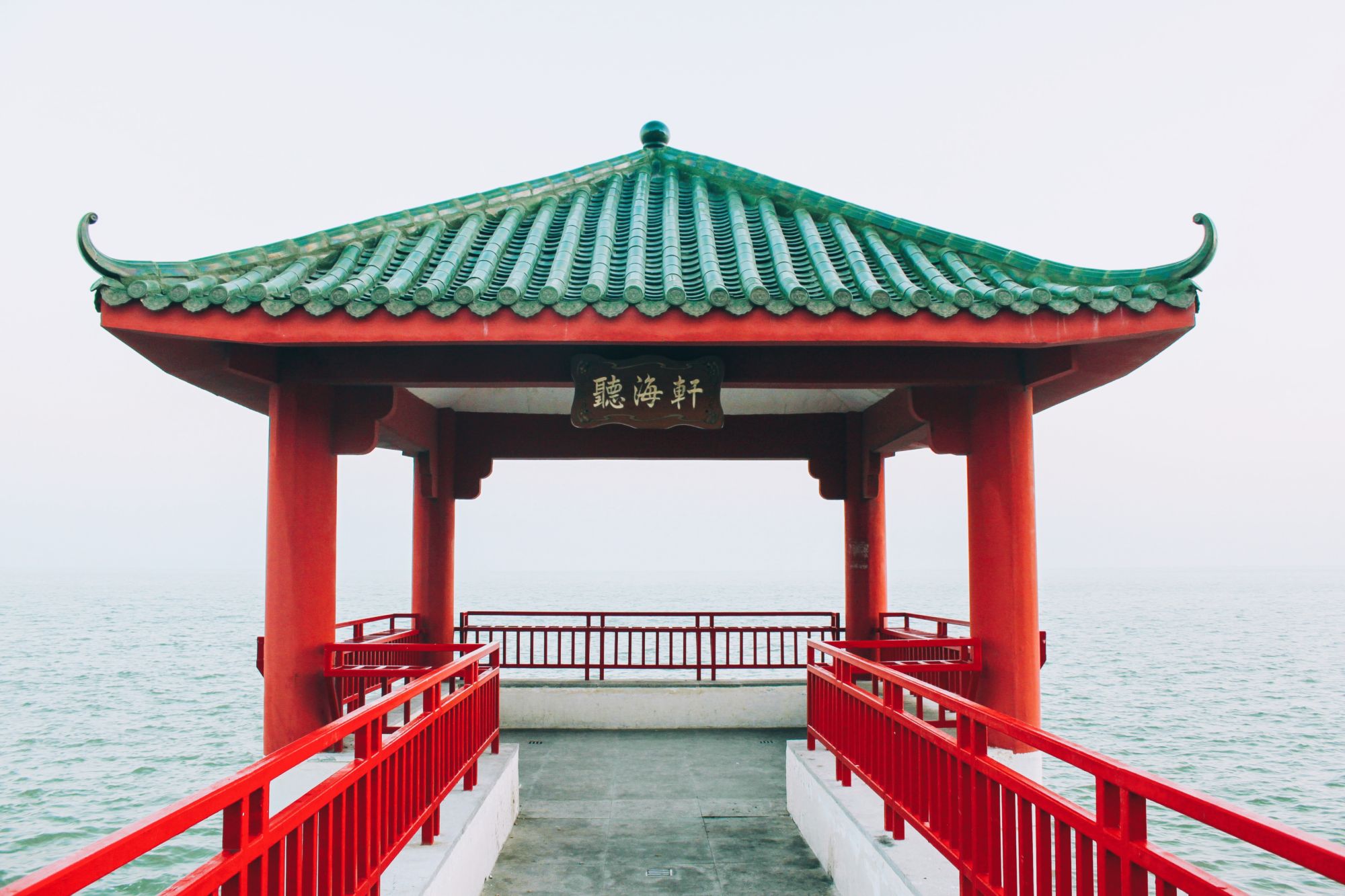 Long Chao Kok Coastal Trail
Long Chao Kok Coastal Trail connects Hác-Sá with Chuk Wan Villas, an apartment complex close to Cheoc Van. There is not as much lush greenery on this trail compared to the other Coloane trails, but the landscape along the way is stunning nonetheless. 
Framed by gigantic saffron rock formations on both sides, this paved walk has a stunning view of the sea with occasional fishermen waiting patiently for a good catch. If that wasn't peaceful and romantic enough, the Long Chao Kok Coastal Trail is also a stunning sunset viewpoint, particularly at the photogenic red and green pagoda. Date goals.
Entrance: Rua de Hac Sá Long Chao Kok
Exit: Next to Chuk Wan Hou Yuen 
Length: 1,200 metres
Highlights: Red pagoda by the sea, stone of a pre-historic man  
Trilho do Morro de Hác-Sá
This hillside loop trail at Hác-Sá is perfectly suitable for a relaxing walk or a less challenging jog. The steady path gradually leads all the way up the hill with a rewarding resting area overlooking the endless sea and Hác-Sá beach.
Entrance: Intersection of Estrada de Choc Van and Estrada Nova de Hac Sá
Exit: Estrada Nova de Hac Sá and the entrance of Rua de Hác Sá Long Chao Kok
Length: 2,150 metres
Highlight: Viewpoint of Hác-Sá Beach
Seac Min Pun Ancient Path
This is the oldest hiking trail in Coloane. There were absolutely no roads before the 1960s which made Seac Min Pun Ancient Path an important business artery between Hác-Sá and Coloane's villages. Of course, this track looked nothing like what it does now after renovation, so the trade trips between the villages were quite rough. Although much smoother now, this path is still somewhat rugged. Walking this path allows its visitors to travel back in time and imagine what some of the islanders' daily commute looked like a hundred years ago. 
Entrance: Estrada de Hác-Sá
Exit: Estrada de Choc Van (near the Macao Prison)
Length: 1,500m
Highlight: "Seac Min Pun"(Stone Basin)
Tags
Related Posts