Macau has more than enough places to offer when you want to meet up with your girlfriends to share some drinks and the latest news. From free-flow champagne hours and free prosecco bottles to cocktails for an attractive price, there is something for every group of friends. All you need is to call up your girls, dress to the nines and check our list of the best ladies' night offers in Macau and off you go!

Anytime
How does getting together with your ladies under the stunning glass dome of MGM Cotai's Spectacle sound? A charming cafe with an eclectic menu, casual atmosphere, and a view of the mesmerizing digital art at the Spectacle, Anytime welcomes has enough offers to inspire even the most introvertive souls to change a night at a sofa to a night out. 
For Ladies' Night, they chose the most convenient time of the week, Friday! So no need to worry about tomorrow when having that second cocktail with your girlfriends. Take advantage of the Friday night offer of buy one get one free on drinks by glass below MOP $120 and selected small cakes. If you are hungry, order a snack and get another free of charge (on snacks below MOP $198). 
Besides Ladies' Night, Anytime also has other promos perfect for a girls' night out in Macau–check the Saturday Night Champagne Fever with a three-hour free-flow of Thienot Brut champagne for MOP $358 per person. Or go all-in with the Ultimate Decadance set that features a bottle of champagne of your choice with oysters or caviar, starting from MOP $930. 
When: Ladies' Night – Friday, 6:00pm–11:00pm 
Saturday Night Champagne Fever – Saturday, 6:00pm–11:00pm 
Ultimate Decadance – Daily 
Anytime Avenida da Nave Desportiva, MGM Cotai, Cotai, +853 8806 2338, www.mgm.mo/cotai/dining/anytime
Also read: Best Places for Happy Hour in Macau

Mesa 
Located at this year's addition to bustling Cotai, the magnificent Grand Lisboa Palace, Mesa is a trendy spot to dine and have a few drinks. If you like contemporary Portuguese food and farm-to-table philosophy sounds appealing, Mesa will be easy to enjoy. 
When wishing to find a nice restaurant for a girls' night out in Macau, Mesa also will undoubtedly accommodate you well. Every Wednesday during their Ladies' Night promotion, Mesa generously offers a welcome drink to all the ladies. If you and your female friends order food and beverages for MOP $800 or more, Mesa will also bring you a complimentary bottle of wine. And while you are there, do take a look at the tempting and affordable sets:
Two cocktails with snacks for MOP $168

Cheese platter and two glasses of wine for MOP $188

Snack platter with various finger food for MOP $298
Notably, Mesa boasts an impressive beverage list of 1,100 labels and the "3 Glass Award" by China's Wine List of the Year 2021. So whether you are a wine connoisseur or a cocktail fan, there is plenty to choose from at Mesa.  
When: Wednesday, 6:00pm–8:00pm 
Mesa Level 3, The Karl Lagerfeld Tower, Grand Lisboa Palace Resort Macau, Rua do Tiro, +853 8881 1800, www.grandlisboapalace.com/mesa

The Macallan Whisky Bar & Lounge
Some say Galaxy Macau's renowned whisky bar reminds them of a traditional gentlemen's club for men to sip on rare whiskies and smoke cigars. But the truth is its hospitable arms are ready to embrace everyone who can appreciate a quality drink, no matter which gender. So if your girlfriends are into fine liquors and wine, Scotland-inspired decor, dimmed lights, and live music, mark The Macallan Whisky Bar & Lounge on your map and plan a visit. 
Moreover, on Wednesday nights between 6:00pm and midnight, you can enjoy a full hour of free-flow G.H. Mumm Champagne Cordon Rouge Brut for as low as MOP $128. Start with a few sparkling aperitifs and move on to the delicious snack selection and signature whisky-based cocktails. 
When: Until February 24, Wednesday, 6:00pm–12:00am
The Macallan Whisky Bar & Lounge 203, 2/F, Galaxy Hotel, Galaxy Macau, Estrada da Baía de Nossa Senhora da Esperança, Cotai, +853 8883 2221, www.galaxymacau.com, www.facebook.com/galaxymacau
Also read: Show Me the Way to: Macau's Best Cocktail Bars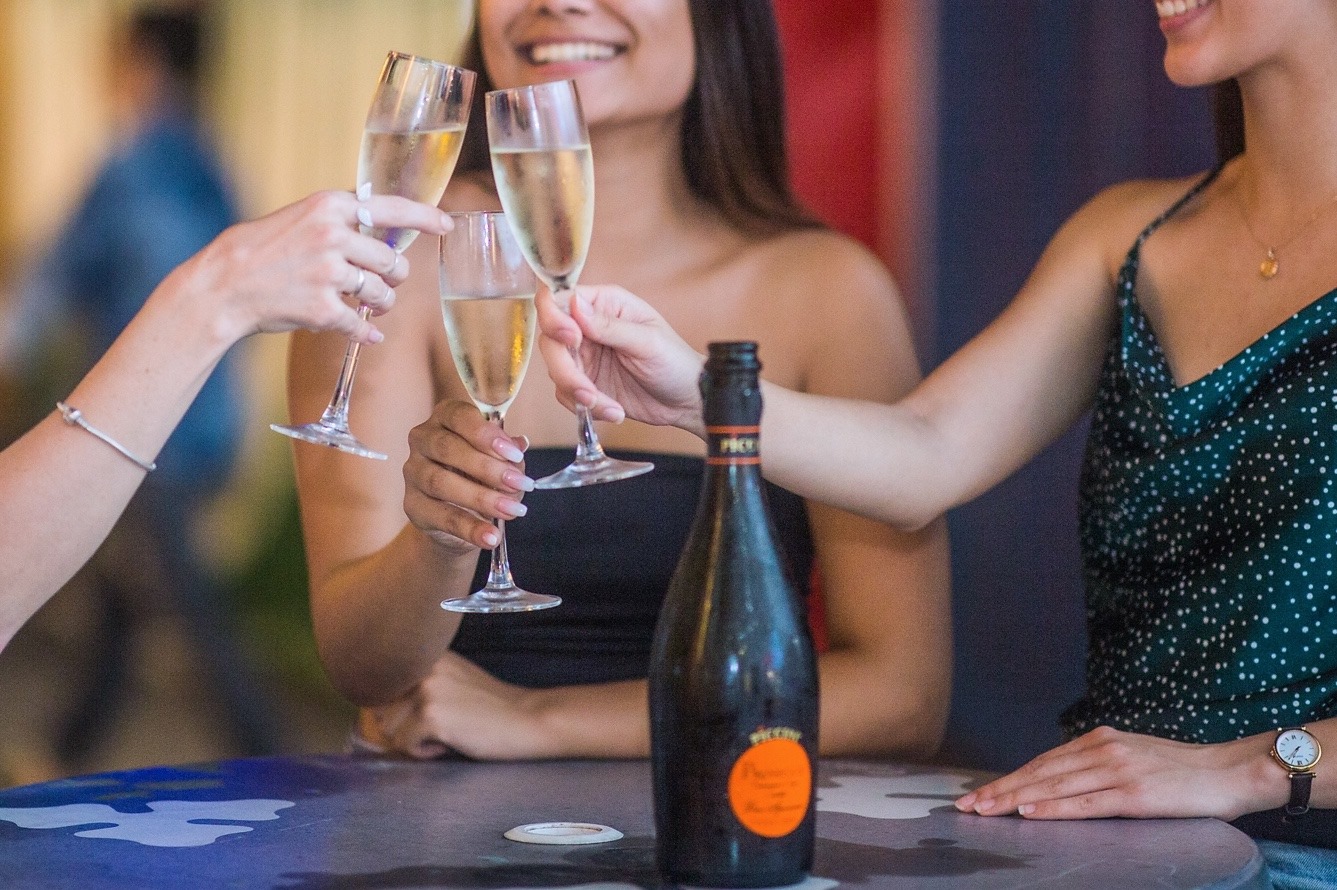 The Roadhouse Macau 
Some girls like lounge music and plush armchairs, and some prefer the sound of the drums and bar stools. If you and your team belong to the second group, head to The Roadhouse Macau for a fun girls' night out. There is a live band playing rock'n'roll and blues hits every night–it is impossible to sit still! And if you are hungry, there are loads of delicious bites to order, from a juicy burger to quesadilla and traditional Filipino food. 
On Wednesday, take at least three of your girlfriends with you and come to Broadway Macau. There, find The Roadhouse Macau, home of live rock, that will present you with a complimentary bottle of prosecco. How generous! 
When: Until December 31, Wednesday night
The Roadhouse Macau E-GO16–GO19 Broadway Food Street, Broadway Macau, Av. Marginal Flor De Lotus, Cotai, +853 2875 2945, www.facebook.com/theroadhousemacau

The Ritz-Carlton Bar & Lounge 
Every night at The Ritz-Carlton Bar & Lounge is a festive night filled with excellent cocktails, music, and inimitable views on the lights of Cotai from the 51st floor, which makes this elegant bar the highest and one of the highest-rated drinking establishments in town. 
Tuesday to Thursday makes it the most fun time to find yourself at The Ritz since this is when the Ritz-Hour is on. Between 6:00pm and 9:00pm you can order a drink plus food from the selected options for as low as MOP $69, a deal that is hard to beat! Tell all your beautiful female friends and savor some cocktails and snacks.
When: Tuesday–Thursday, 6:00pm–9:00pm 
The Ritz-Carlton Bar & Lounge Galaxy Macau, Estrada da Baía de Nossa Senhora da Esperança, Cotai, +853 8886 6712, www.ritzcarlton
Also read: Where to Have Gin & Tonic in Macau

The St. Regis Bar Macao 
When you and your friends need a trendy location that will transport you to New York without having to take a plane, The St. Regis Bar Macao comes to the rescue. Your ladies' night is saved by the sound of jazz, classy vibes, and some of the best cocktails in Macau. 
Every evening, except Tuesday, soothing jazz music fills the sophisticated rooms of The St. Regis Bar. Top Macau musicians hit the art deco stage for live performances to entertain the patrons. If you arrive as early as 6:30pm, you can catch the Astor Hour when signature punches, selected cocktails, and drinks are served for a special price, some of them for only MOP $68! How's that for a fun ladies' night?
When: Live Jazz Performance – Every night except Tuesday, check the line-up here
Astor hour – Daily, 6:30pm–8:30pm
The St. Regis Bar Macao 2F, The St. Regis Macao, The Londoner Macao, Estrada do Istmo, s/n, Cotai, +853 2882 8898, www.thestregisbarmacao.com
Tags
Related Posts