If you've been living in Macau for some time now, instant noodles might have become a (very) frequent word in your vocabulary! Of course, they're sold all over the world, but certainly not made with the same love and craft as they are in Macau. Boiled with a rich meat and vegetable broth, we love a specific kind: served with a fried egg and slices of luncheon meat on top. Although it may sound less than ideal for a healthy diet, it's surely one of our comfort foods for sure! Check out the best places to have instant noodles with egg and luncheon meat in the city.
The concept started out in Japan (where else, right?) and was invented in 1958 by Nissin Foods, brought to the market by Taiwanese-Japan creator, Momofuku Ando. These became very popular and are now a world phenomenon, mostly amongst teens, college students, and people who aren't keen or don't have time to cook, in the UK, USA, and Europe.
Chou Kei
(See featured image above)
With a hidden little outdoor seating area, this restaurant in Taipa Village is a local landmark. Having been recently revamped, its outer walls are painted bright blue, while the inside is decorated with photos of its heydays and Macau old times, giving it a vintage vibe. Take a seat–if you're lucky enough to get one–and order a bowl of these slurpilicious noodles! Made with homemade noodles, their version still includes our dearest luncheon meat, plus a side of lettuce and, of course, a fried egg. We paired it with an ice lemon tea and found it quite quenching, balancing the warmth of the noodles. You can have this for less than MOP $50 too!
Opening hours: Daily, 7:00am–7:00pm
Chou Kei 18 R. Gov. Tamagnini Barbosa, G/F, Taipa Village, +853 2838 1316, +853 2895 2014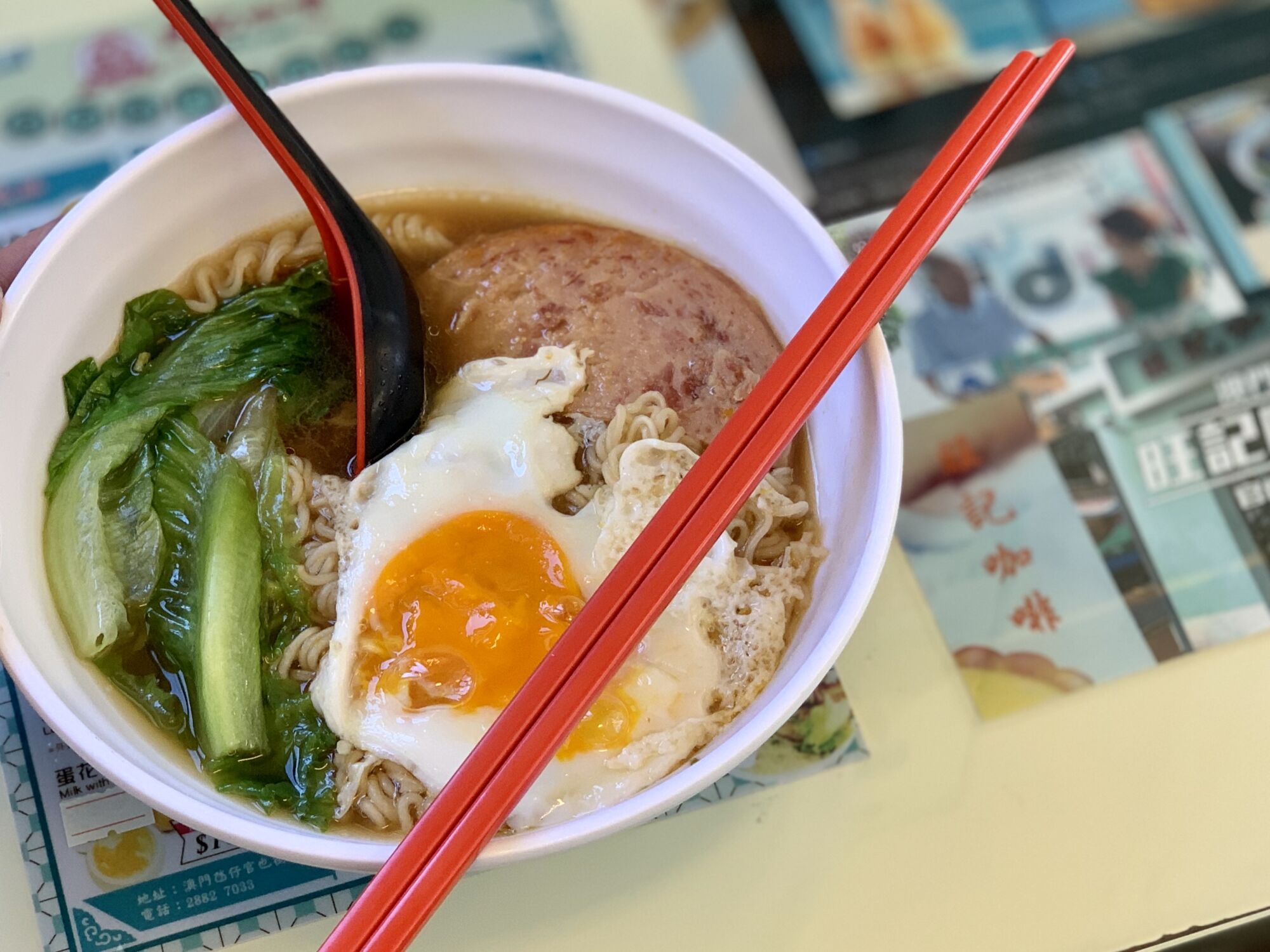 Café Vong Kei
Warm, with a rich sauce and wholesome noodles, this is a dish one can't miss when in town. Considered a "guilty pleasure" for some–because of its instant nature–this is a very popular dish in both Macau and Hong Kong. In Macau, one of the best places to have it is Café Vong Kei. Located in Taipa Village, it's also on the top best spots to have pork chop bun and homemade milk tea (hot and cold). With a trendy painted exterior wall–great photos ahead!–this place has lots of vintage items upstairs making diners feel like they just went back in time. Amazing, right? Try it and we promise you won't regret it.
Café Vong Kei 60 Rua Correia da Silva, Taipa Village, +853 2882 7033
Also read: Most Instagrammable Buildings in Macau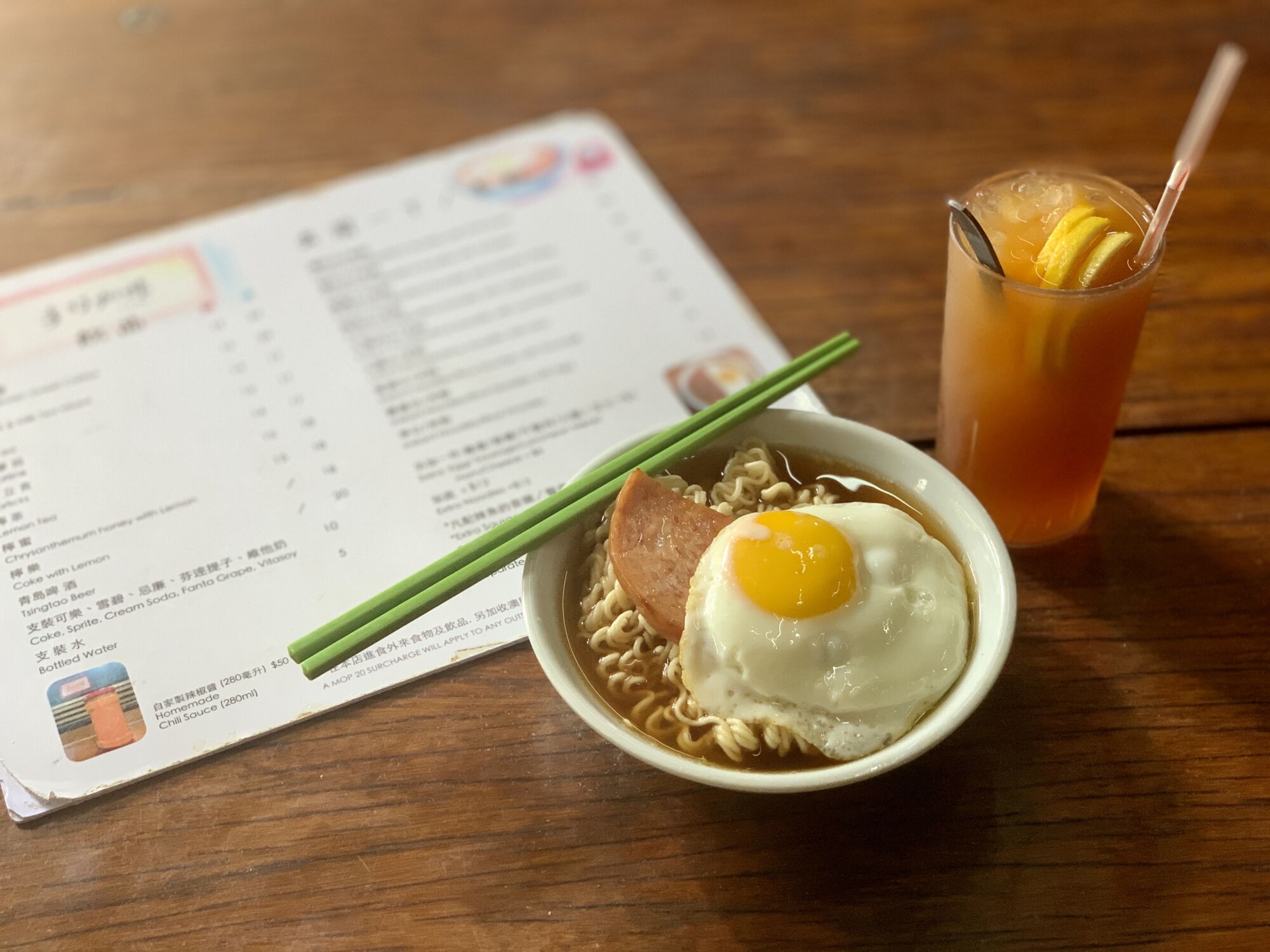 Hon Kee Cafe
Besides absolutely loving this off the beaten path eatery set in Lai Chi Vun Village–away from all the crowds and noise–their dishes are uncomplicated, yet very comforting. From pork chop buns to simpler sandwiches–scrambled eggs and ham is our favorite–they have a great menu to choose from if you're into lighter meals. Their bowl of instant noodles costs less than MOP $40, so be sure to add an ice lemon tea or a coffee-based drink to your lunch. It's still super affordable!
Opening hours: Thursday–Tuesday, 8:00am–6:00pm
Hon Kee Cafe 26 Lai Chi Vun Village, Coloane, +853 2888 2310
Also read: Hon Kee Café: A Taste of True Coffee in Coloane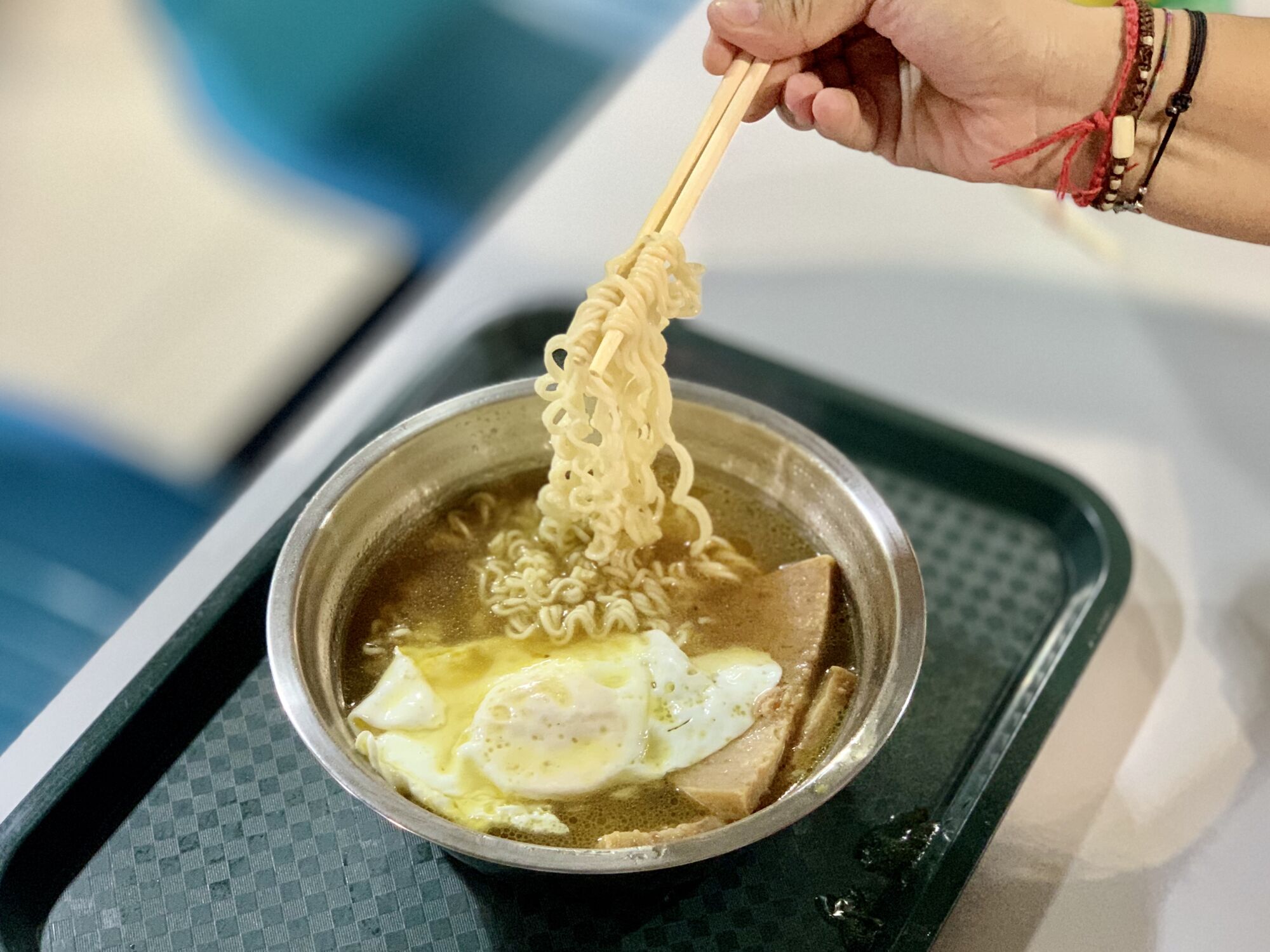 Iao Hon Market Food Court
Experience a truly local meal by having lunch at this market! Set in the Iao Hon neighborhood–northern Macau area–its food court features lots of tasteful dishes, such as Korean-style noodles, noodle soups of all sorts, grilled pork chops, and other dishes like stir-fried veggies or fish. We love their noodle soup with egg and preserved meat very much! Made with dedication, this comforting food dish is ideal for people looking for a fulfilling snack or lunch. Have it with cream soda, a sweet soda drink that helps to balance this dish's strong flavors!
Opening hours: Daily, 7:00am–8:00pm
Iao Hon Market Food Court 2/F Iao Hon Market, Intersection of Avenida da Longevidade with Rua do Mercado de Iao Hon, Macau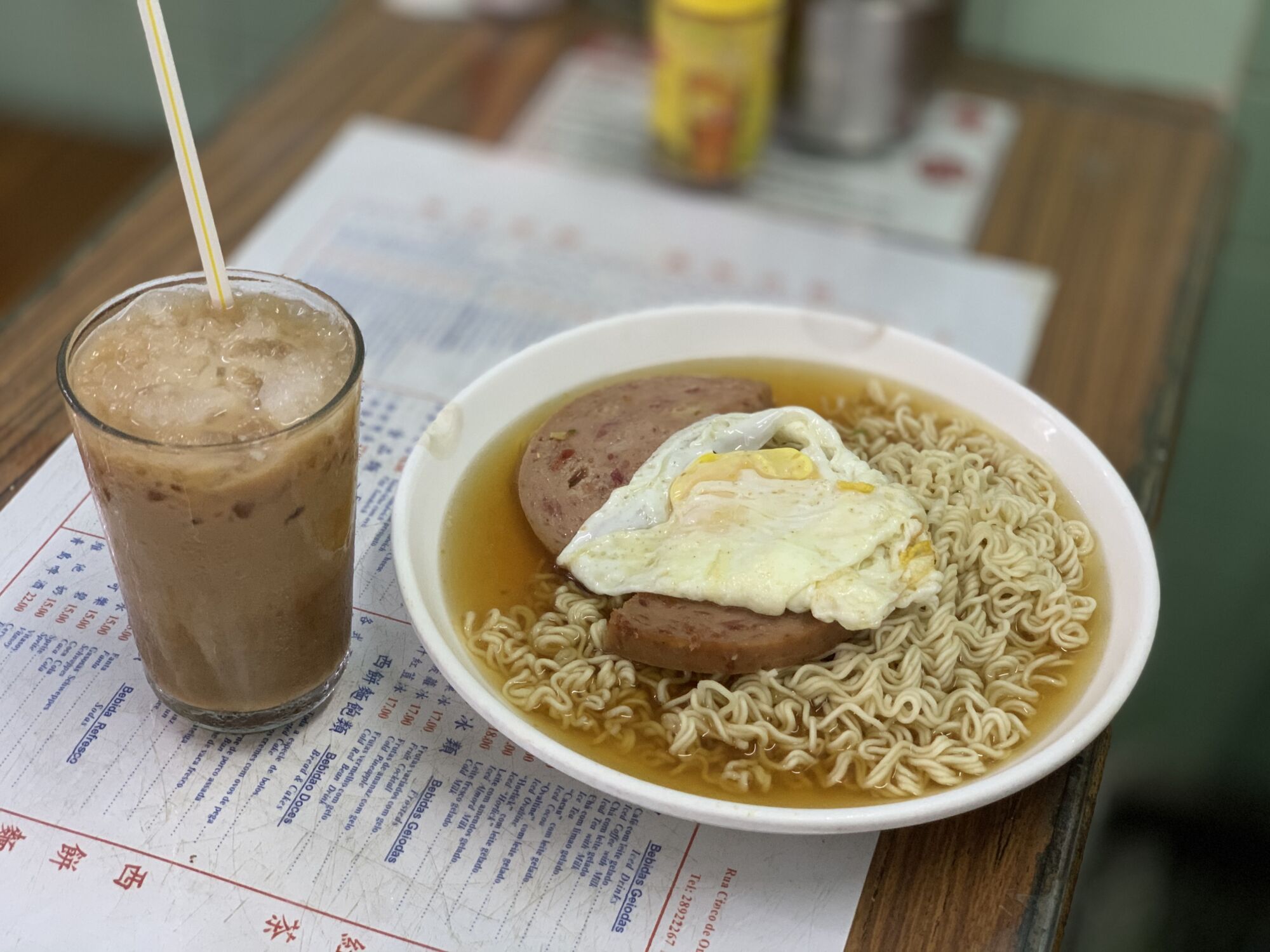 Nam Ping 
Nam Ping's noodles are simple and easy: what else do we want for a quick lunch? With a rich and clear brown broth, this soup goes with spam and egg on top. Have it with a homemade milk tea and you'll have yourself a great snack time. Nam Ping is one of Macau's truest and most traditional cha chaan tengs; with the owner yelling the table orders from the counter at the entrance into the kitchen, you'll definitely feel the local vibe; and these instant noodles are just one more sign of that.
Opening hours: Daily, 6:00am–6:00pm
Nam Ping 54 R. de Cinco de Outubro, Macau, +853 2892 2267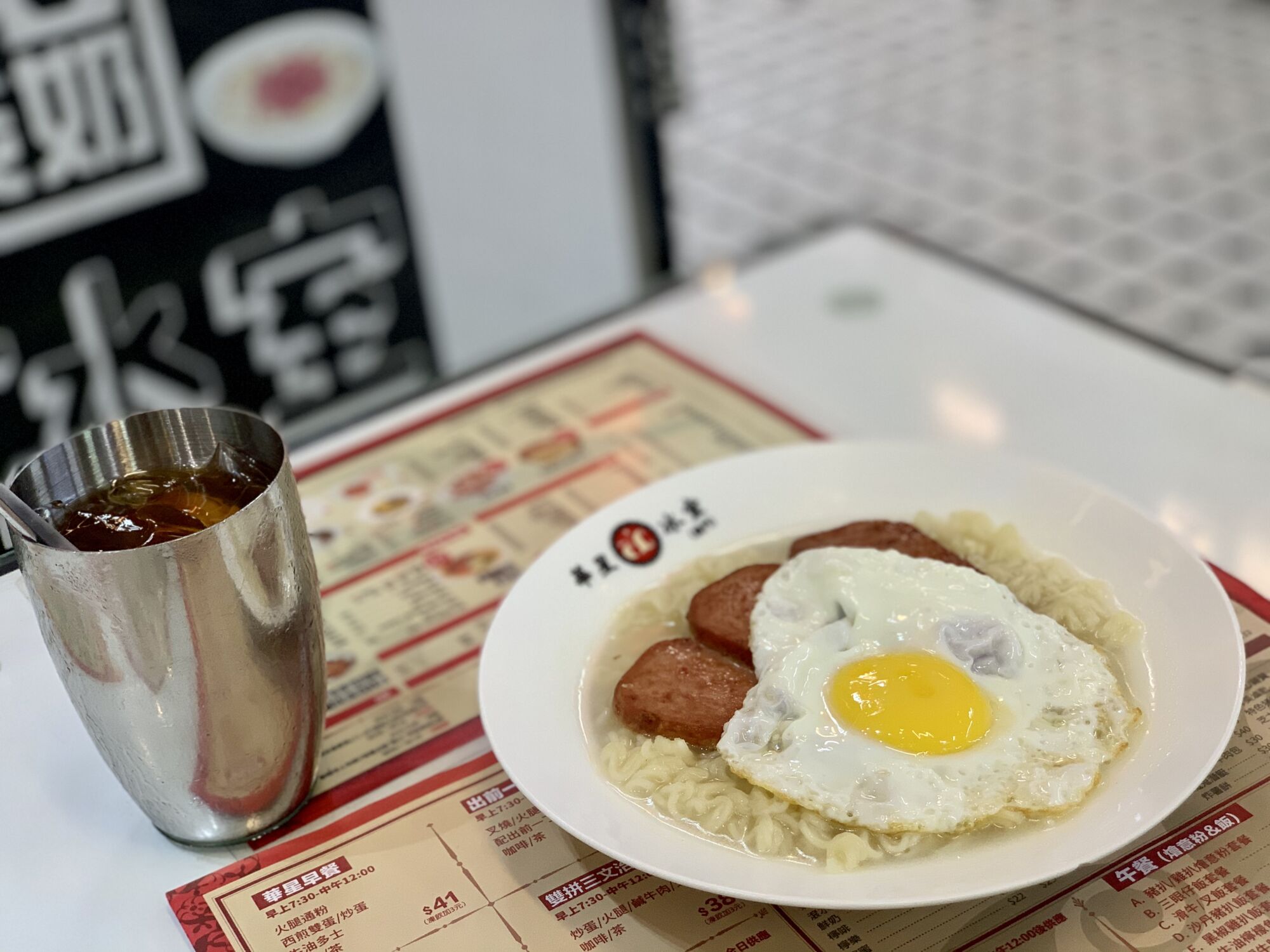 Chrisly Café
With two branches–Macau side and Taipa–this is a Hong Kong-style inspired café serving all kinds of delicious snacks and meals! Their instant noodles with preserved meat also come with a fried egg, but no sauces with preservatives: you can add these at the table if you want though. The noodles are soft, well-cooked and the meat has a strong flavor. This is one of the healthiest we've had and it gets even better with an iced lemon tea. Chrisly Café also serves an incredible scrambled eggs sandwich to which they add truffle oil, allowing for an upstanding flavor, very different for a regular sandwich.
Opening hours: Daily, 7:30am–8:00pm
107 Avenida de Guimarães, Nova Taipa Block 20, Taipa, +853 2885 6626
Opening hours: Daily, 7:30am–6:00pm
Chrisly Café 37 Rua de Madrid, Wan Yu Villas, Macau, +853 2875 5727, www.facebook.com/chrislycafemacau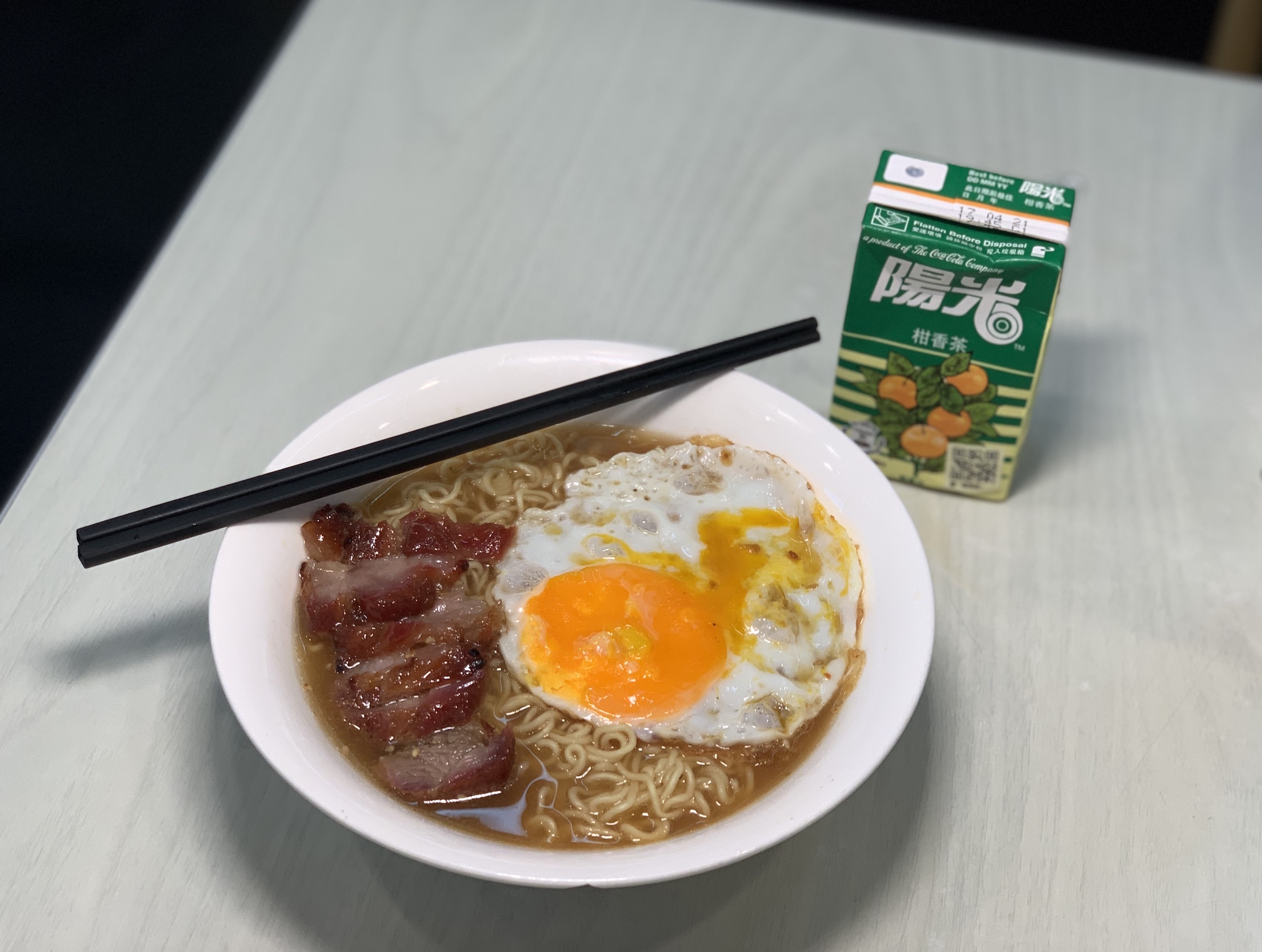 Meidu Café
Set a few minutes away from Camões Garden, this small but welcoming joint has some real delicacies! The menu isn't extensive, but good enough for us to head there several more times for sure. Mostly serving dishes with char siu (Cantonese-style barbecued pork meat), it also has this fantastic mouthwatering instant noodles-based dish, with char siu and a fried egg on top. Wonderful choice indeed! The flavorsome–and oh so comforting–taste of the sauce base mixed in with the bbq meat is something to keep you craving for more. Noodles are cooked on point and the egg gives a soft texture to the soup.
Opening hours: Saturday–Thursday, 10:30am–8:30pm
Meidu Café 2 Rua do Coelho do Amaral, Macau, +853 2886 5233
Tags
Related Posts