Running is the best way to start your exercise journey and all it takes is a pair of good running shoes and determination! Too often we give ourselves excuses that exercising takes too much time, but there might be short running paths just around the corner. Make the effort to get up 30 minutes earlier from tomorrow onwards and check out one of these stunning running routes in Macau.

Sai Van Lake
The locals call this route the "Half-Orange" due to its shape. An all-time favorite with many runners goes along the picturesque Sai Van Lake and under the Macau Tower. A particular pleasure is to run at dawn to see the golden sunshine brighten up Macau's sky.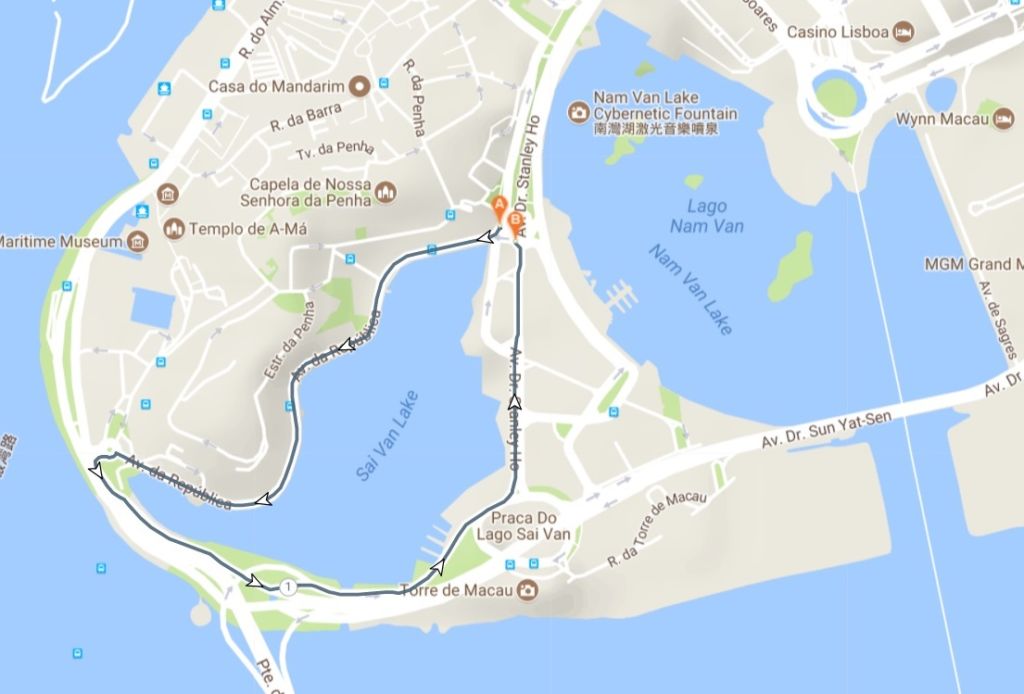 How to get there: Street parking is available at point A and along the first kilometer. Bus 6B, 9, 16, 28B to Av. Republica or bus 9A, 18, 23, 32, N2 to Edf. dos Juizos Criminals do Tribunal Judicial de Base
Distance: 2.5 km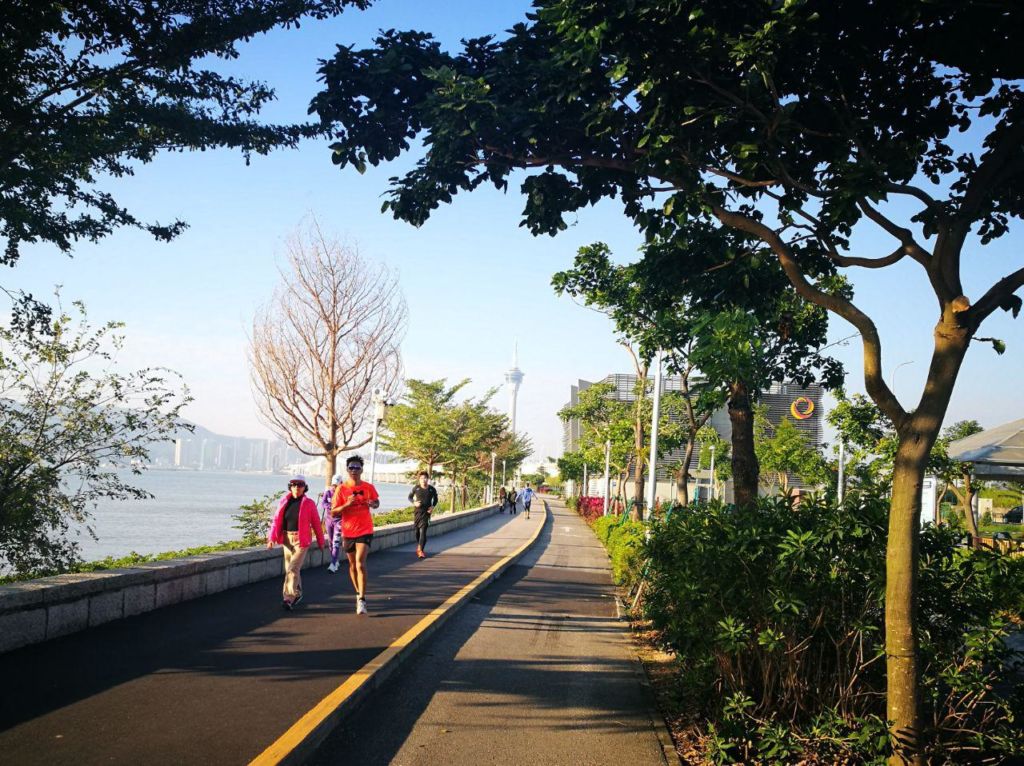 Leisure Area of Taipa Waterfront
One of Macau's most well-equipped running paths also boasts a beautiful view overlooking the peninsula coast. Besides, it's easily extendable if you keep on running to the nearby Ponte Governador Nobre de Carvalho. During weekends, families with children often come here for the playground and bike lane.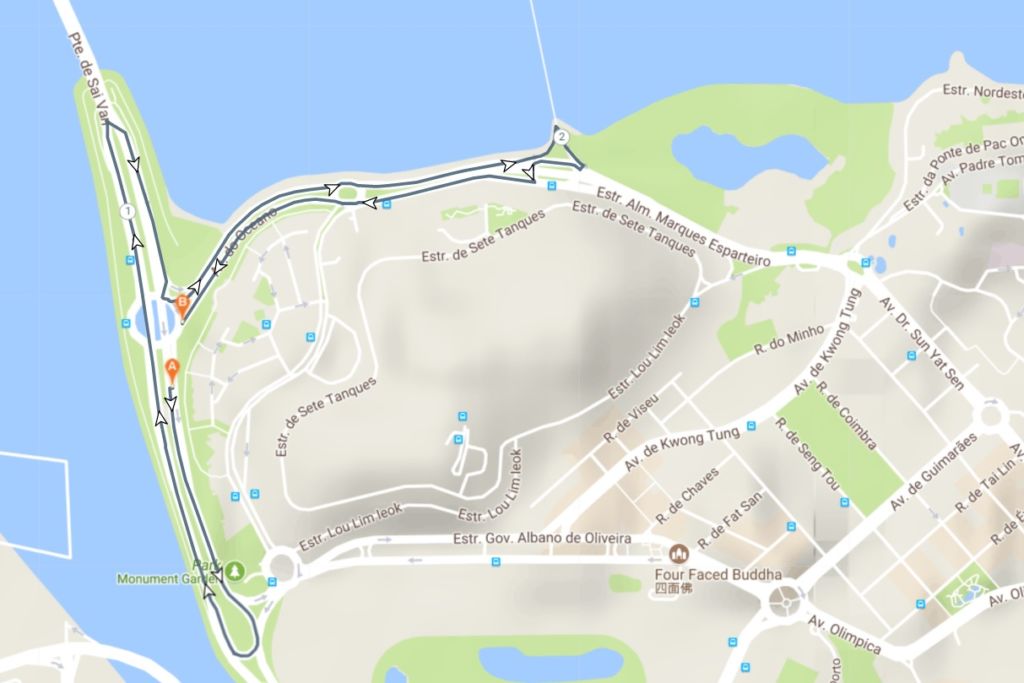 How to get there: Street parking available at point A. Bus 26, 52, MT4, N2 to Jardins do Oceano/ Rose Court or Ponte de Sai Van/ Av.do Oceano
Distance: 4.3 km

The Reservoir
Due to its convenient location, The Reservoir trail is one of the most popular tracks in Macau. Come here at dinner time, and you may see all kinds of people walking or running in this closed circuit. The track is suitable for people of all ages and at all levels of fitness. If you wish to avoid the crowds, be sure to come early.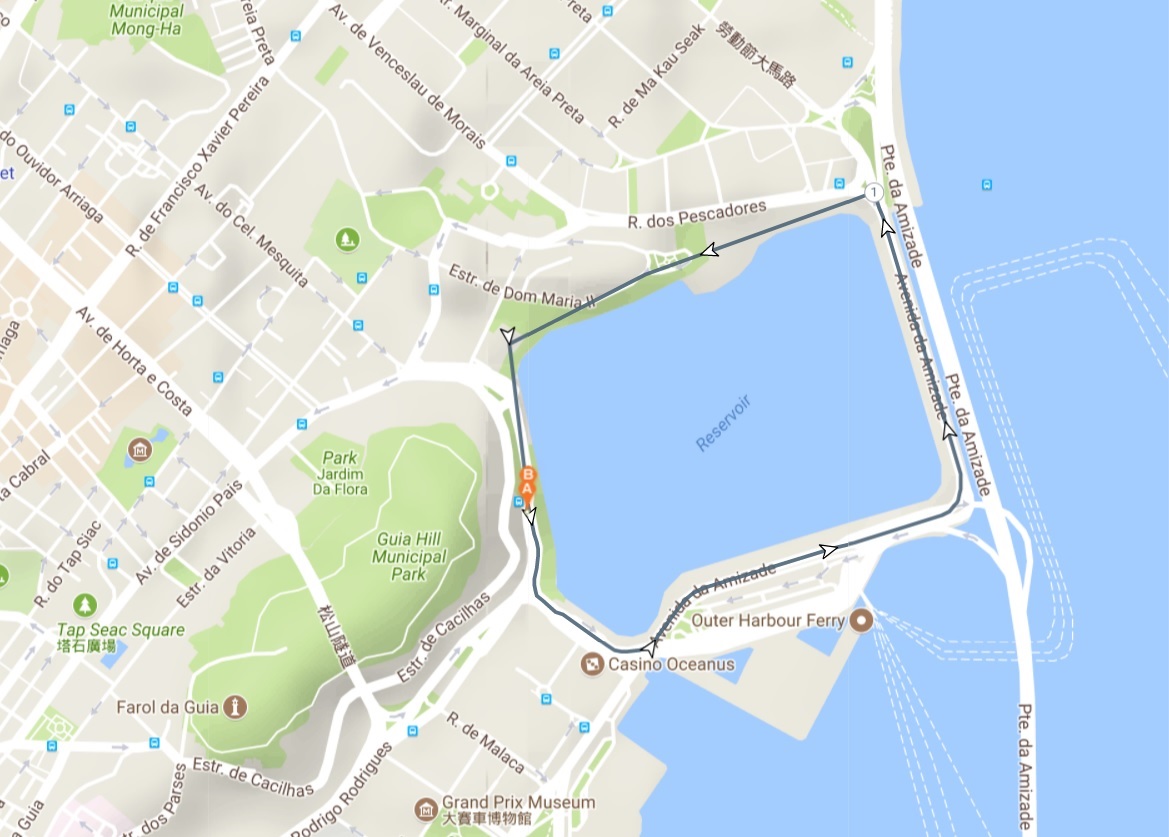 How to get there: Street parking available at point A. Bus 32 to Est. Do Reservatorio
Distance: 2.5 km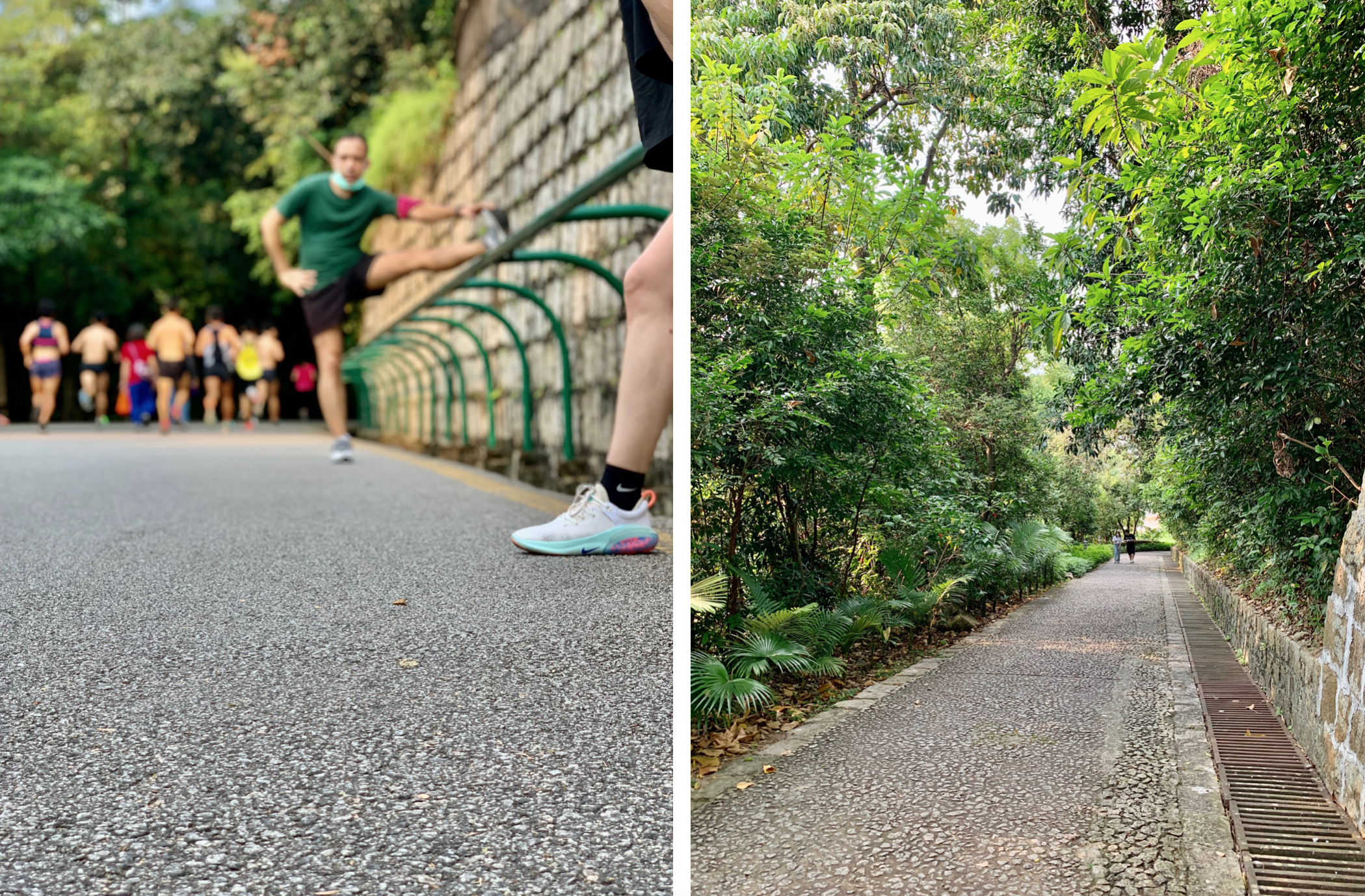 Guia Hill
As the highest peak on the peninsula, Guia Hill holds a special place within any local's heart, both for the Guia Fortress, protected by UNESCO and breathtaking views from the top. If you enjoy running uphill, this route is for you. 
There are several ways to begin your run. Usually, joggers start from Flora Garden, where they work their way up the steps and jog along until getting to the cable car station. There, you can enjoy a relaxing but quick journey downhill in a cable car.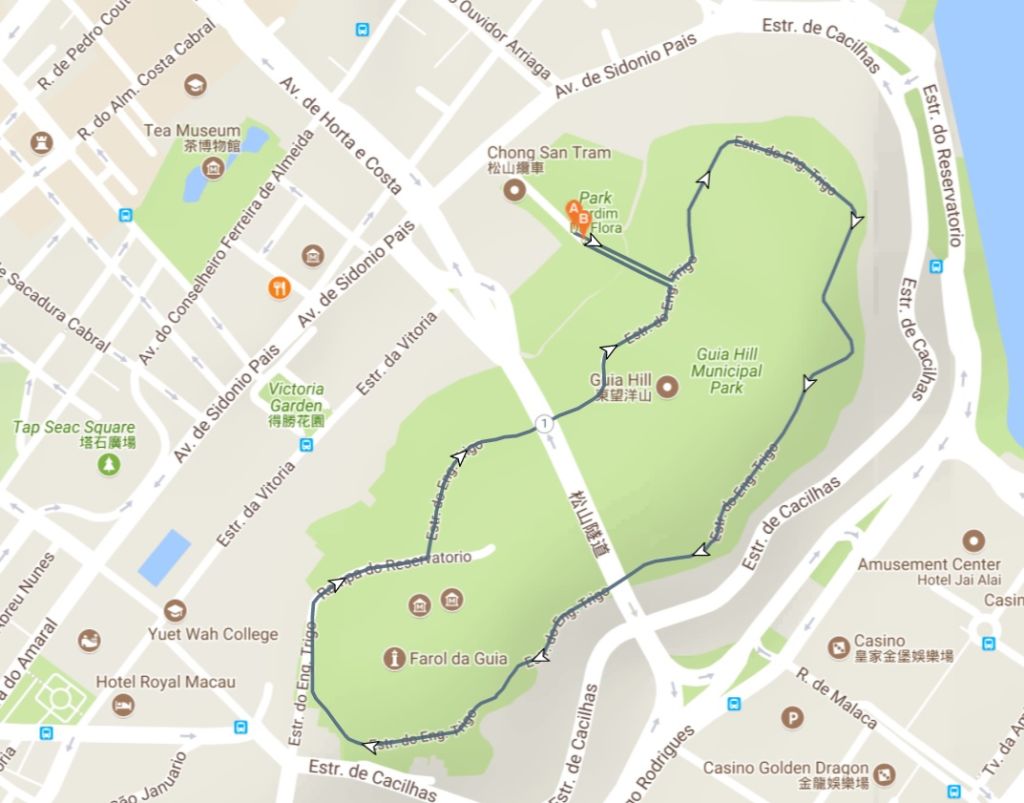 How to get there: Bus 18, 18B, 19, 22, 23, 25, 25X, 32, 56 to Jardim da Flora
Distance: 1.8 km

The Old Bridge (Ponte Governador Nobre de Carvalho)
This route is very straightforward, 100% flat and even, and perfect for a short evening or morning run. Begin your run from either side of the bridge against the flow of traffic. You may get to experience the feeling of running on the sea! However, before you set off, remember to make sure that you are fully hydrated and have enough energy to come back to the starting point, as it's a one-way track.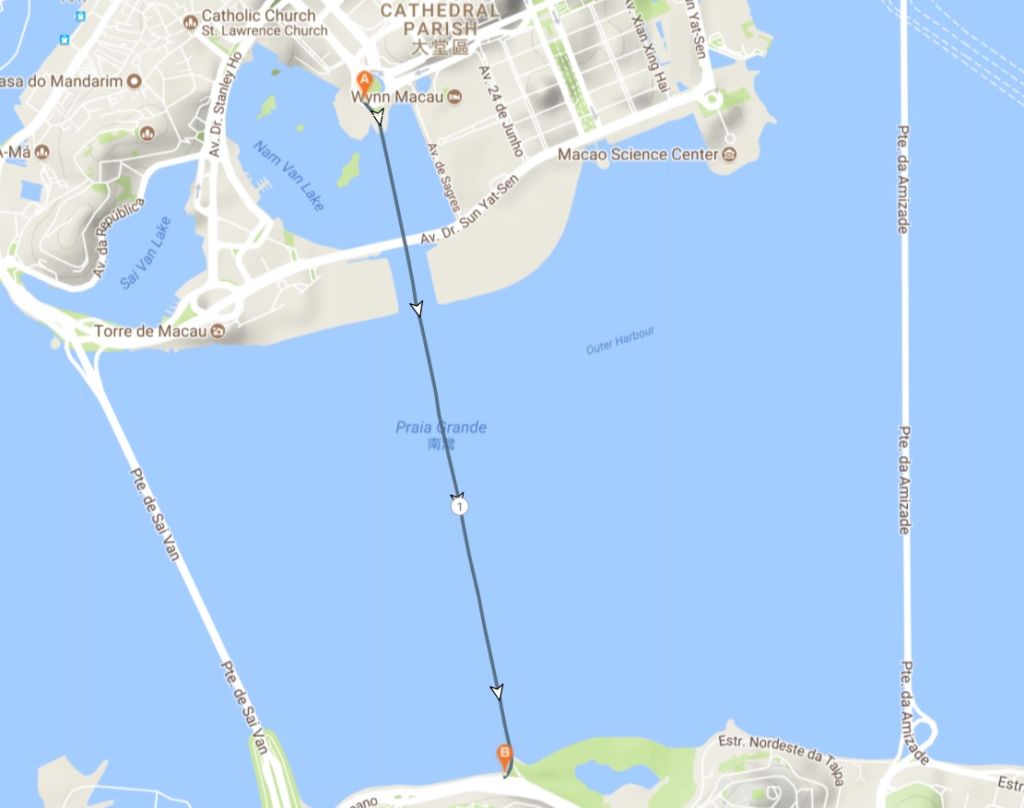 How to get there: No parking available. Any bus to Praça de Ferreira do Amaral.
Distance: 2.5 km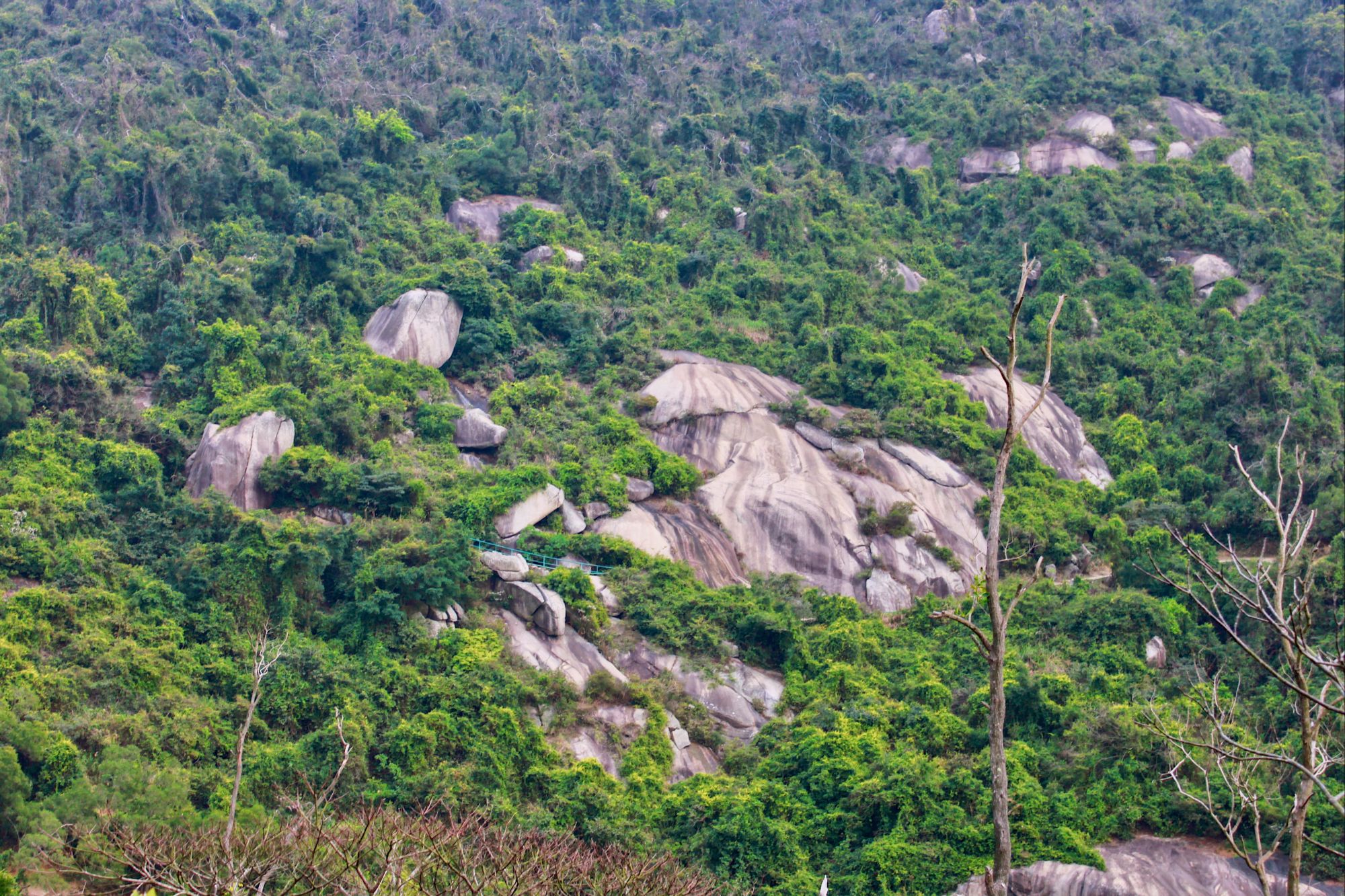 Coloane Trail 
For runners that are into a challenge, trail runners, and seekers of something less urban, it is hardly a better route in Macau than the Coloane trail. First of all, it's the longest circuit route. It's surrounded by greenery; birds are singing; insects are buzzing–nature is all around. Moreover, you won't need to run on concrete. So your feet will thank you for that. You can start off at the foot of the hill, the elevation is pretty steep. Or walk up instead and run at the start of the trail.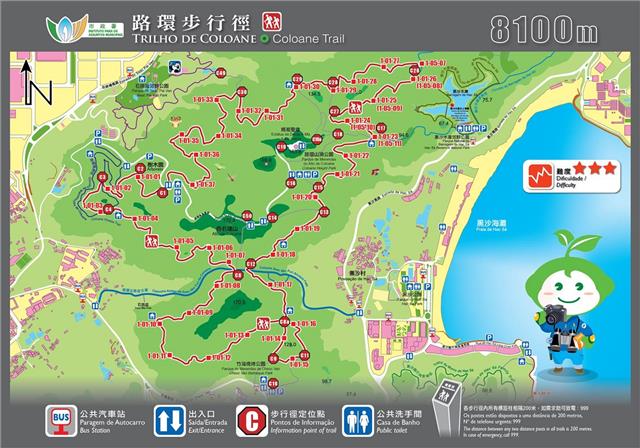 How to get there: Parking available near Estrade Alto de Coloane. Buses 15, 21A, 25, 26, 26A, 50 to Seak Pai Van Park
Distance: 8.1 km
Coloane Fitness Trail 
A part of the Coloane trail network, the Coloane Fitness Trail is ideal for athletes who need to combine cardio and strength training. Jog along making short stops to do sit-ups, push-ups, and pull-ups. Enjoy the scenery, stop by at the viewpoints to observe the panoramic view of the Coloane hills around and the village and Hac Sa beach down below.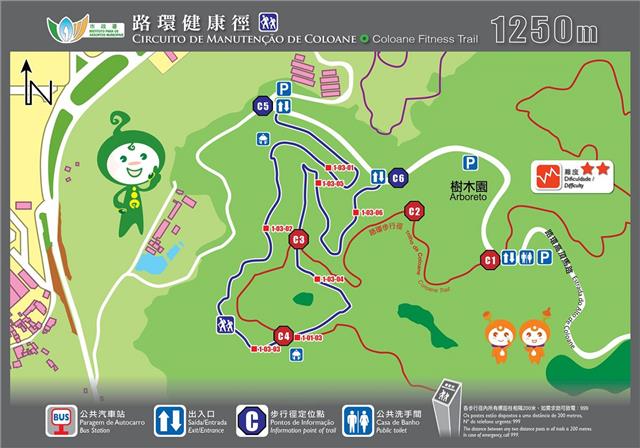 How to get there: Parking available near Estrade Alto de Coloane. Buses 15, 21A, 25, 26, 26A, 50 to Seak Pai Van Park
Distance: 1.3 km

Long Chao Kok Coastal Trail
Runners that leave around Hac Sá or those who don't mind taking a ride to start training would enjoy a tranquil Long Chao Kok Coastal Trail. The paved road along the coastline is short and rather easy, and the views are more than rewarding. Start at Hac Sa and finish at Cheoc Van or the other way around.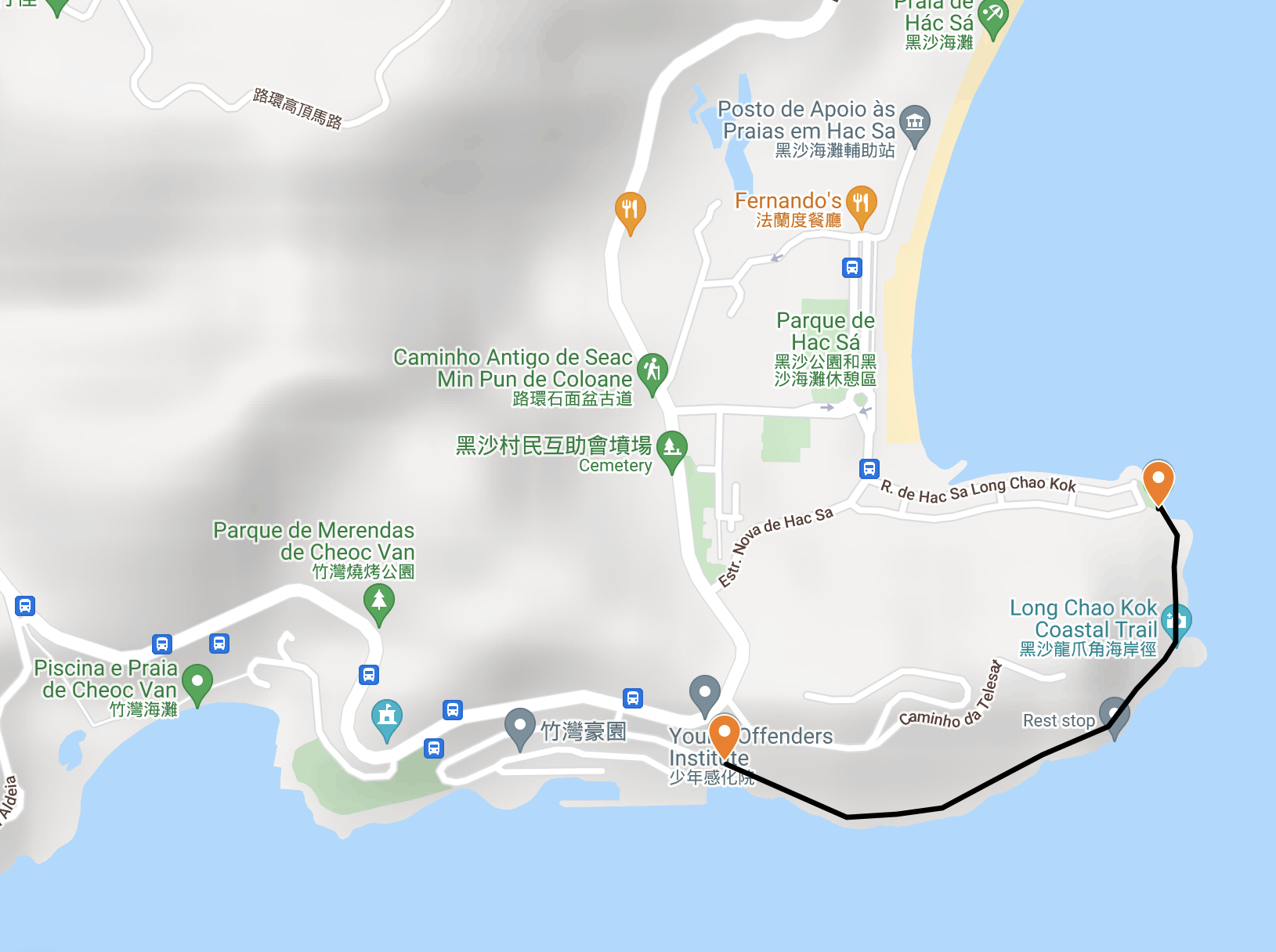 How to get there: Buses 26A, 21A to Hac Sá Beach
Distance: 1.2 km

Lotus Trail
Similar to the Taipa Waterfront Trail, the Lotus Trail is a one-way equipped route for jogging and cycling. It stretches from Broadway Macau to Concordia Industrial Zone and goes along the Pearl River. Lotus is an easy run, especially great for runners who live in One Oasis and don't feel like challenging themselves to a significant Coloane trail's elevation.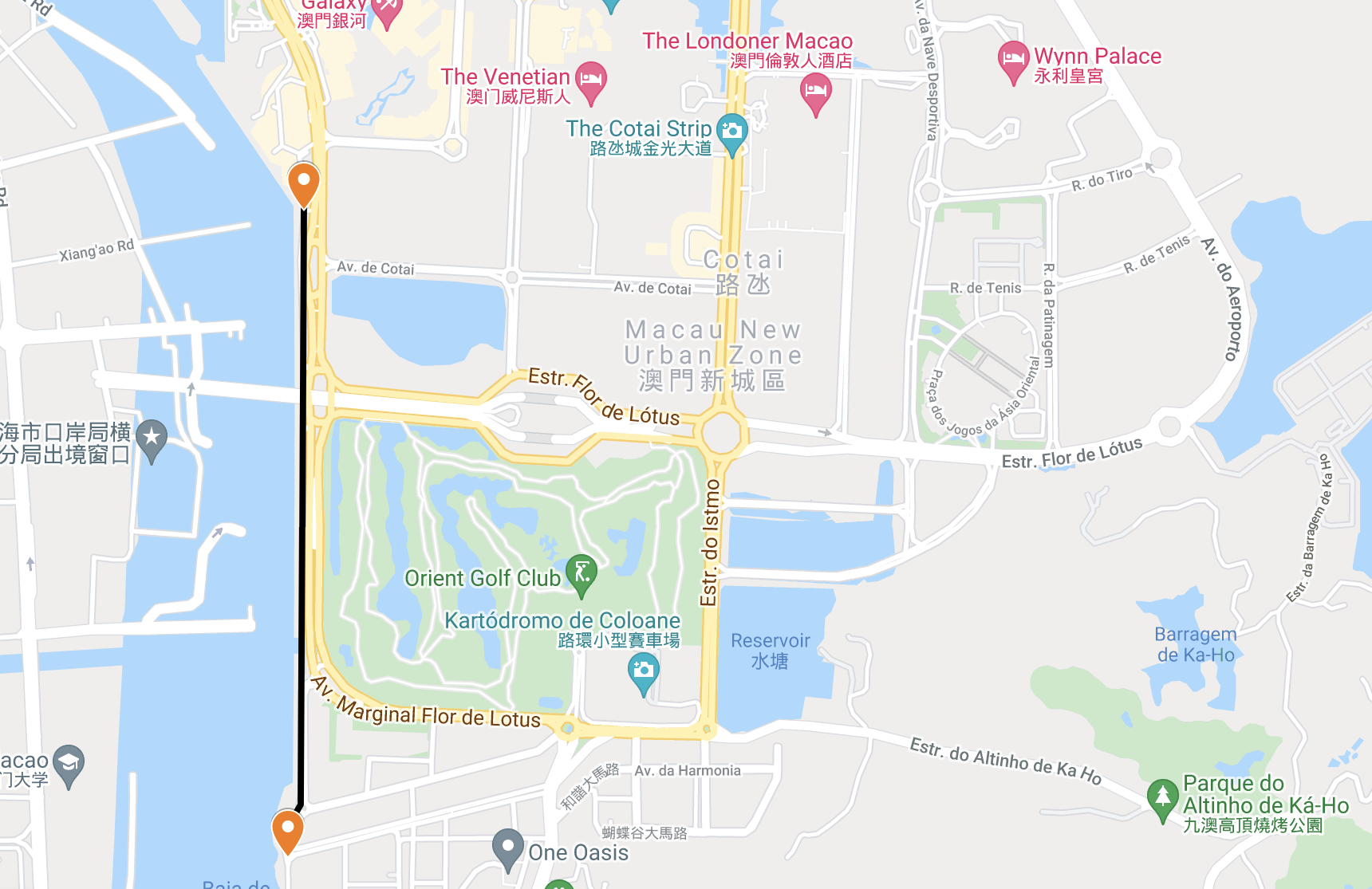 You can also add some strength training to your run by stopping by at the fitness machines ground.
How to get there: Parking available at Broadway Macau.
Distance: 1.3 km
Also read: Guide to Coloane's Hiking Trails
Happy running! Remember to stay hydrated and wear sunscreen before setting off on your run. Share your running pics with us and don't forget to hashtag #Macaulifestyle
This article was originally written in January 2018 by Avalyn Acland and updated by Ksenia Kuzmina in August 2021.
Tags
Related Posts