Love is in the air! February is the most romantic month of the year, and Grand Hyatt Macau puts us in the mood to celebrate. From a range of scrumptious cuisines to limited-time spa treatments, Grand Hyatt Macau invites you and your Valentine to embark on a romantic journey of indulgence.
Tantalizing Dinner of Romance 
(See featured image above)
mezza9 Macau features a dining-from-the-kitchen experience with a series of love-inspired delicacies, highlight dishes include homemade cured salmon, honey dill dressing; pan-fried Japanese scallop, pineapple and dill salsa; grilled Australian ribeye, béarnaise sauce, as well as irresistible sweets such as croquembouche and strawberry tower.
Beijing Kitchen serves Valentine's Day set dinner on February 14 only! The refined dishes include seared sea scallops, bay clam, golden garlic, scented oil, live Atlantic Boston lobster, chicken carrot foam, and more, not to mention our signature dish traditional Beijing style duck.
Traditional Beijing style duck roasts in the oven with jujube wood which can enhance the aroma of the duck. With its delicate taste and tempting appearance, the traditional Beijing style duck leaves a lasting impression. Enjoy double delights with every Chinese dish paired with Veuve Clicquot Yellow Label champagne.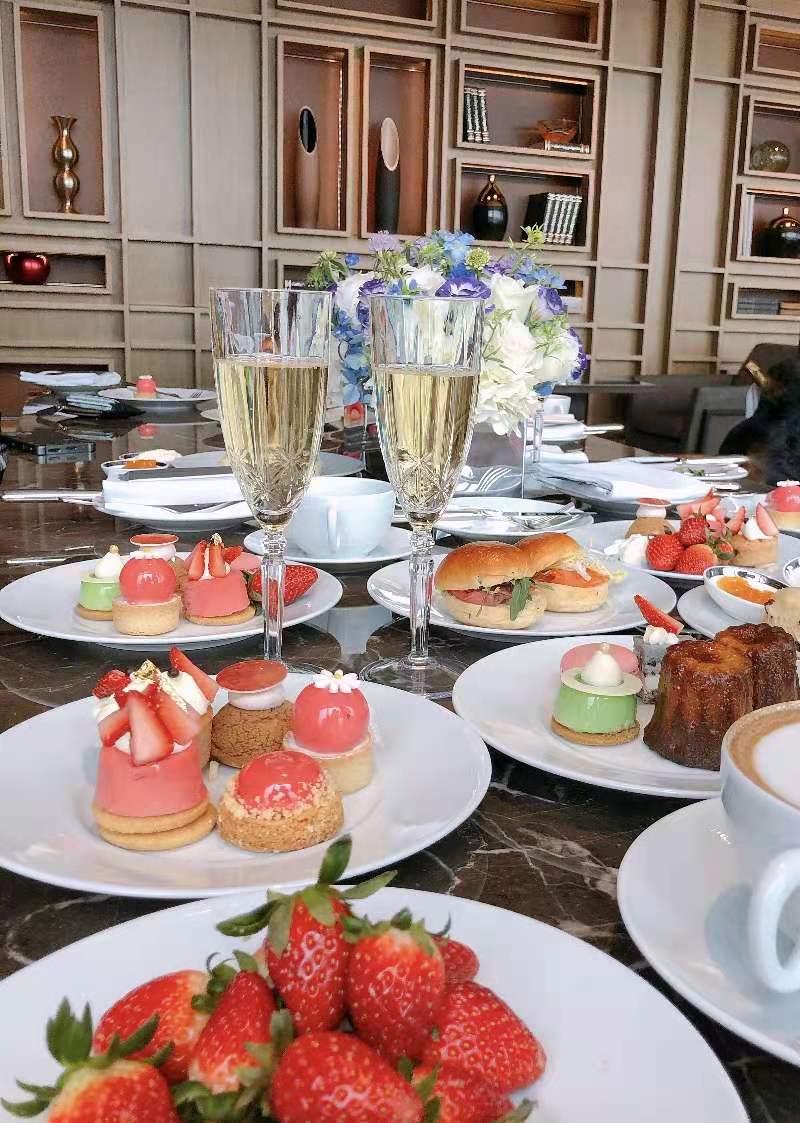 Exquisite Sweet Delights 
Marvel at the absorbing views on 37th floor Grand Club and satisfy your sweet tooth with their Strawberry High Tea. The exquisite afternoon tea presents all-you-can-eat strawberry desserts, savory nibbles, and raisin scones, paired with a glass of Veuve Clicquot Yellow Label champagne and a selection of Nespresso coffee or TWG tea.
A delightful "Valentine's Grand Set" will be served at the Lobby Lounge where you can spend the afternoon with your sweetheart. Each set includes one exquisite pastry and a selection of Nespresso coffee or TWG tea. Available on February 14, guests can also enjoy a black tea cosmopolitan cocktail for the special price of MOP $38**.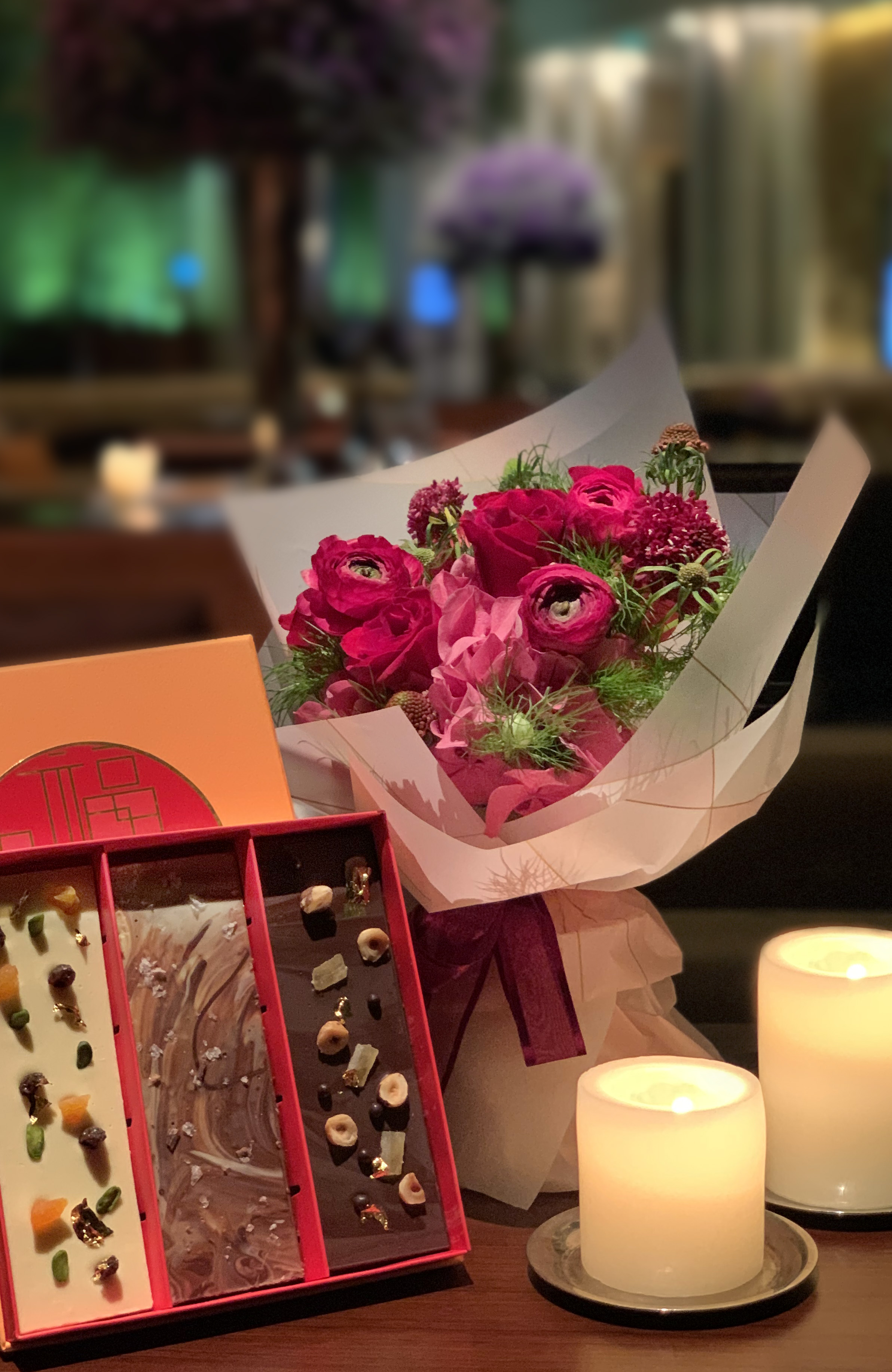 Gifting Love at Grand Hyatt Macau
Add a sweet spark to your Valentine's Day with their Valentine's gift set (chocolate and flower package). The gift set features half a dozen red roses bouquet and assorted chocolate gift box with three flavors of chocolate. Delight your loved one with pistachio apricot ivory chocolate, mixing the crunchy pistachio and smooth white chocolate to make a texture combination that's sure to be absolutely delectable.
Sea salt marble chocolate elevates the chocolate aroma with a light salty flavor of sea salt. Hazelnut, orange peels, and dark chocolate are a perfect combination as the sweet and sour taste of orange peels blends with the bitter taste of dark chocolate.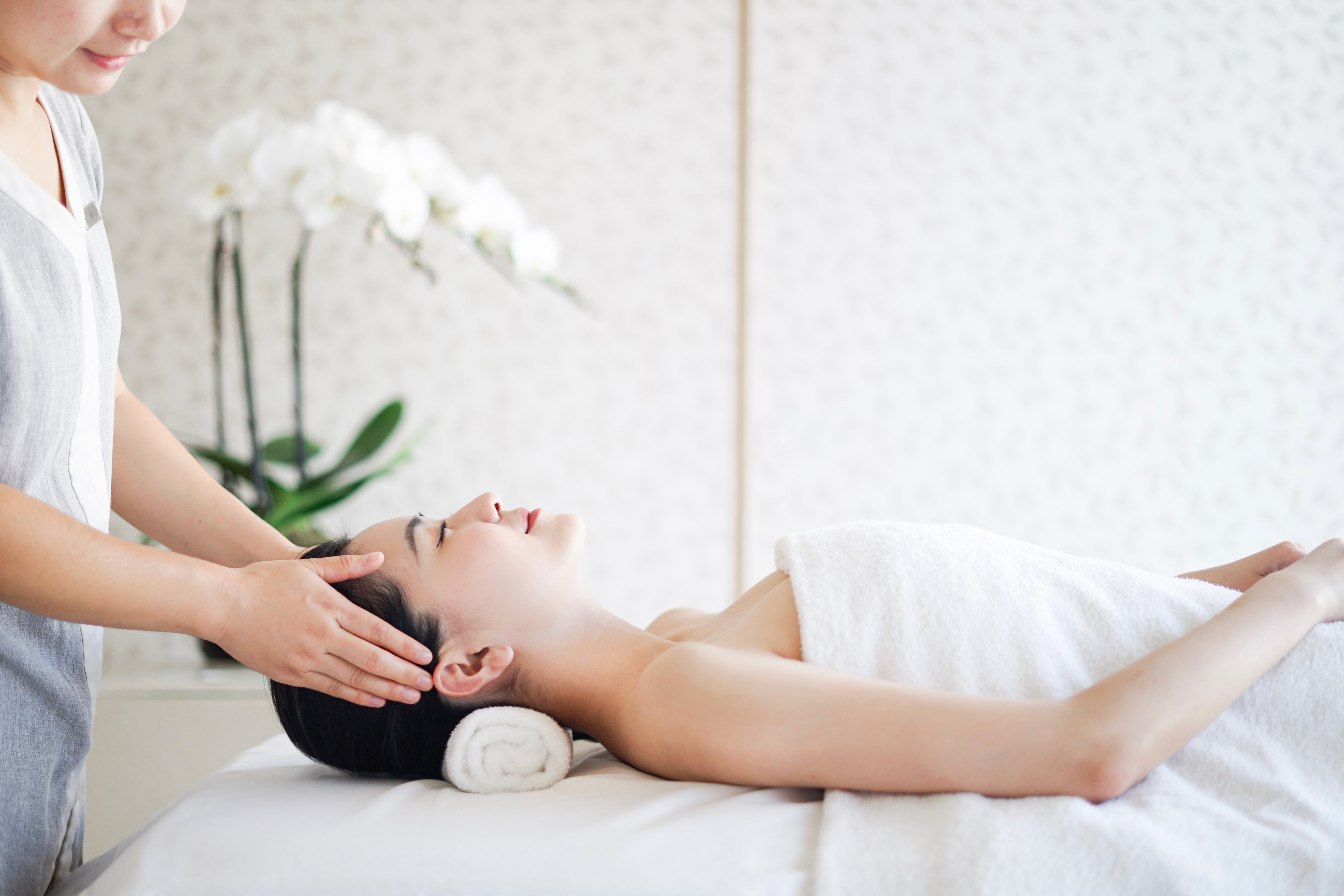 Discover a Sense of Tranquility 
Couples can pamper themselves with a special spa experience at Isala Spa and enjoy an intimate treatment with each other. Isala Spa offers an exclusive Valentine's Day spa promotion from February 1 to 14 for guests to unwind and relax during this love season. Guests can pamper themselves in a fountain-view treatment room with extra 90-minute privileges upon purchase of a 60-minute massage for two persons.
When: Dining offers – February 14, 2021
All dining offers are available on February 14, 2021 except the Strawberry high tea (in Grand Club), available on both February 13 and 14, 2021
Spa offer – February 1–14, 2021
Gift set – From now until February 8, 2021 (order), February 11–14, 2021 (pick-up)
Where: Grand Hyatt Macau, City of Dreams, Estrada do Istmo, Cotai
How much: Valentine's day set dinner – MOP $1,888* per couple (includes two glasses of Veuve Clicquot Yellow Label champagne), MOP $2,088* per couple (includes a bottle of Veuve Clicquot Yellow Label Champagne), MOP $2,288* per couple  (includes a bottle of Veuve Clicquot Rosé Champagne)
Valentine's day dining from The Kitchen – MOP $899* per person
Strawberry high tea – MOP $488* per couple
Valentine's grand set – MOP$118** per person
Valentine's gift set – MOP $888^ per set
Valentine's day spa promotion – MOP $1,799** (includes one dessert set with two drinks, a romantic bouquet of one rose, or a pair of bear dolls), MOP $1,999** (one dessert set with two drinks and a romantic  bouquet of six roses
*Above prices are subject to 10% service change 
**Above prices are subject to 10% service charge and 5% government tax 
^Above price is subject to 5% government tax
Brought to you in partnership with Grand Hyatt Macau
Tags
Related Posts