The next TEDxTinHuaWomen has a diverse speaker lineup with a mix of speakers, performers and two networking sessions in the community fair for the December 6 event, themed "Bold & Brilliant *Without Apologies". These annual talks are designed to showcase women and girls as change-makers and innovators in Hong Kong, as well as to provide a platform for sharing ideas important to the community.
This year's speaker lineup includes: Brenda Scofield, with "Old & Bold – An Alternative Journey Through Life"; Chi Chi Cheng talking on "How I Found The Meaning of Fortune Through Art" (she is a multi-disiplinary artist who experiments with mixing different mediums such as food, participatory art, performance, sound, installations, paintings and videos), but also Angélica Anglés, Gigi Chao,  Jesamine Dyu, among others.
Together, the seven speakers with diverse backgrounds explore the idea of how different people with varying perspectives and views can be Bold and Brilliant in their own ways. Being Bold takes individual courage, and being Brilliant rallies others to make change collectively. Audience members – both men and women alike – will be inspired to be Bold and Brilliant without having to apologise for it.
The Friday afternoon event also features four experiential zones by JPM, Allen and Overy, BAML and the TEDxTinHuaWomen committee. The experiential zones aim to help build local communities that create exponential impact, while providing attendees exposure to local sustainable brands including Glowgear Pro, Cosmo Crew, Retykle, Redress and more.
The December 6 event coincides with the global TEDWomen event to be hosted in Palm Springs, California. Held over a half-day, the program includes exclusive streaming of talks from the global TEDWomen event in Palm Springs, a line-up of local speakers with "ideas worth sharing", networking and community activities. The Hong Kong "Bold & Brilliant" event is one of many TEDx events happening around the globe between December 4 and 6, 2019 that will expand on the ideas brought up at TEDWomen.
When: Friday, December 6, 2019
Where: ICC, Sky 100, Kowloon, Hong Kong
How much: Advance tickets (until November 1, 2019) – HKD $500 per person
Normal tickets (after November 1, 2019) – HKD $600 per person
For more information and ticketing, click here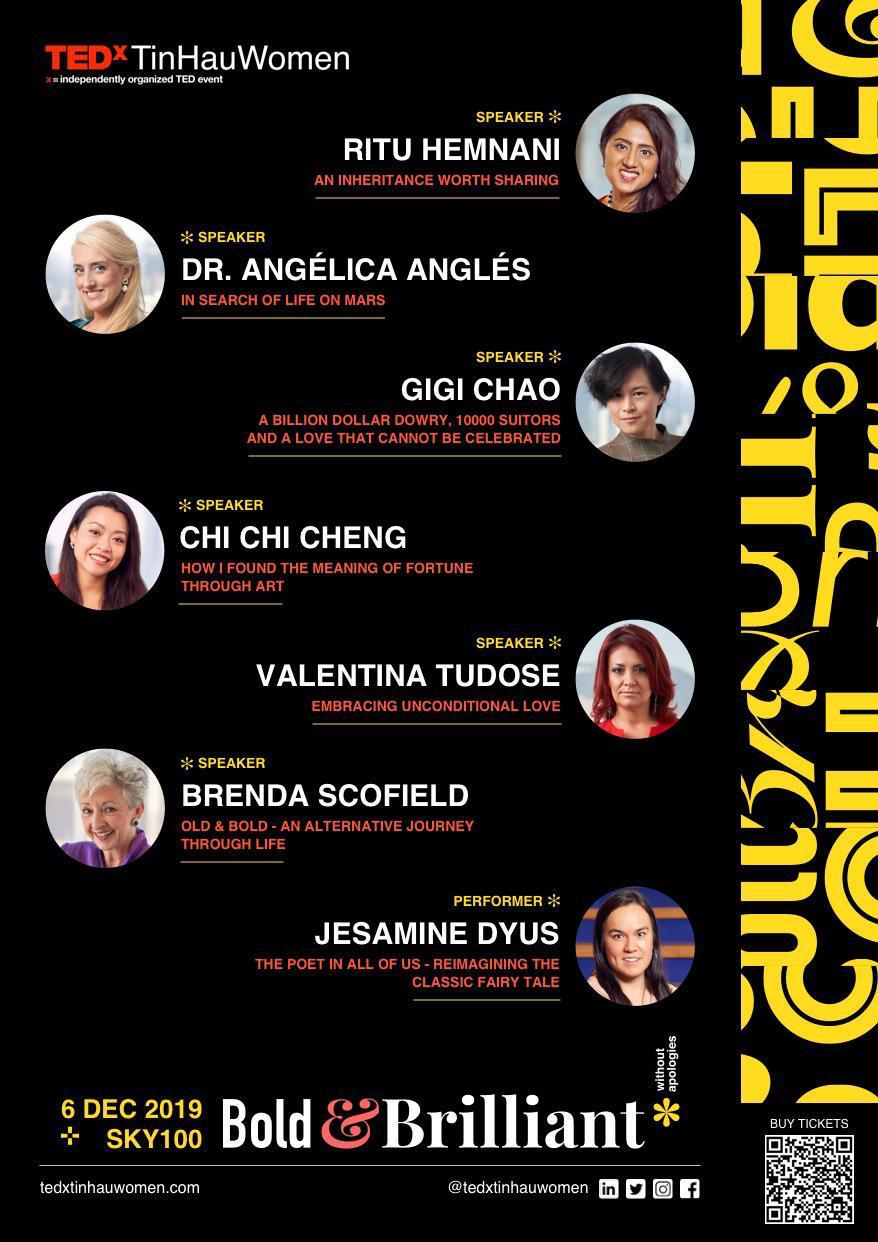 Tags
Related Posts