Before 2007, Christina Dean was a dentist and a journalist back in London. Public health and environmental pollution were issues always close to her heart, even when her career had nothing to do with them. Upon arriving in Hong Kong, in 2005, Dean started aiming for this area of expertise, by writing journalistic content related to health and pollution. Two years went by and that's when she founded Redress, an environmental charity. Its main mission? To reduce fashion waste.
She is the founder and chair of Redress, but also the founder and CEO of The R Collective. Want to know more? Read on and find out the work Christina Dean has been doing in Hong Kong. By bringing together international brands, organizing activities and workshops and other events, reducing waste is becoming possible.
You were a dentist and a journalist before starting Redress. Can you tell us what prompted you to explore other areas?
My journey into sustainable fashion hasn't been typical. I used to be a dentist with a profound interest in public health issues. However, I didn't enjoy drilling and filling teeth and so I retrained as a journalist in London. Upon moving to Hong Kong in 2005, I wrote for various publications, mainly on environmental pollution, which also has negative health impacts. After deep-diving into China's pollution landscape, I discovered how polluting the fashion industry is and when I discovered how little was being done to address this, I felt deeply moved to raise awareness about fashion's environmental impacts. And that is why I started the environmental charity Redress in 2007, with its mission to reduce fashion's waste. Had my journey not taken me from a dental chair to pen, I don't think I would ever have become a sustainable fashion activist!
What is Redress, exactly?
Redress is a Hong Kong-based environmental charity with a mission to prevent and transform textile waste in the fashion industry. We want to stop the worsening flow of textile waste which continues to increase due to overconsumption and population growth. Ultimately we are protecting the environment by redressing the fashion industry, one of the world's biggest polluters. By reducing textile and clothing waste, we are also reducing the fashion industry's water, chemical and carbon footprints.
What are Redress' main goals and actions?
Although Hong Kong-based, we have a global reach through our programs, which fall under two pillars. Under pillar one: we prevent waste from being created by educating designers through the world's largest sustainable fashion design competition, the Redress Design Award, which educates designers and educators globally–and consumers–through our digital and TV docu-series, Frontline Fashion, and through our Dress (with) Sense consumer guide, available in multiple languages globally. Under pillar two: we transform textile or clothing waste that is already created by enabling the circular fashion economy through our Circular Fashion Programme, which includes collecting and redistributing unwanted textile goods, such as unwanted post-consumer clothing, through our takeback program with retailers such as GAP and through our annual "Get Redressed Month"–a city-wide consumer campaign to turn October into the official month to take action against textile waste and keep our clothes in use for longer.
You mention that Redress is the future of fashion and also a way of living. Can you tell us more about that?
"Redress"–to remedy, set right or rectify–is the future. Reducing our planetary impact through how we make and wear clothes, and our choices with all consumer goods is an urgent environmental, economic–and I would add–ethical urgency. Obama said it so well when he said, "We are the first generation to feel the effect of climate change and the last generation who can do something about it." We are at a point in history, I think, where we need to dig deep into what it, surely, truly means to be human. We are ingenious and we can do incredible things, from engineering to aerodynamic feats, and we need the industry to reinvent itself. Closer to home, in ourselves, we need to become active fashion citizens who shop with our minds and hearts turned on.
You also developed an award, the Redress Design Award. What does this mean and how does it help the industry of fashion design?
It's thought that around 80% of the environmental impact of a product is laid down at the design stage. What we've witnessed for 13 years since starting Redress is that designers are not equipped with the know-how to reduce their products' impacts. We have an exploding fashion industry, a savaged environment and designers lacking sustainable design education to cope with, and change this. The Redress Design Award is the world's largest educational sustainable fashion design competition, which attracts designers from 50 countries worldwide, and which has 140+ fashion institution partners globally. We educate designers–through in-person lectures, a prolific online LEARN platform, and also fashion educators–by providing our sought-after teaching materials so that we can "train the trainers".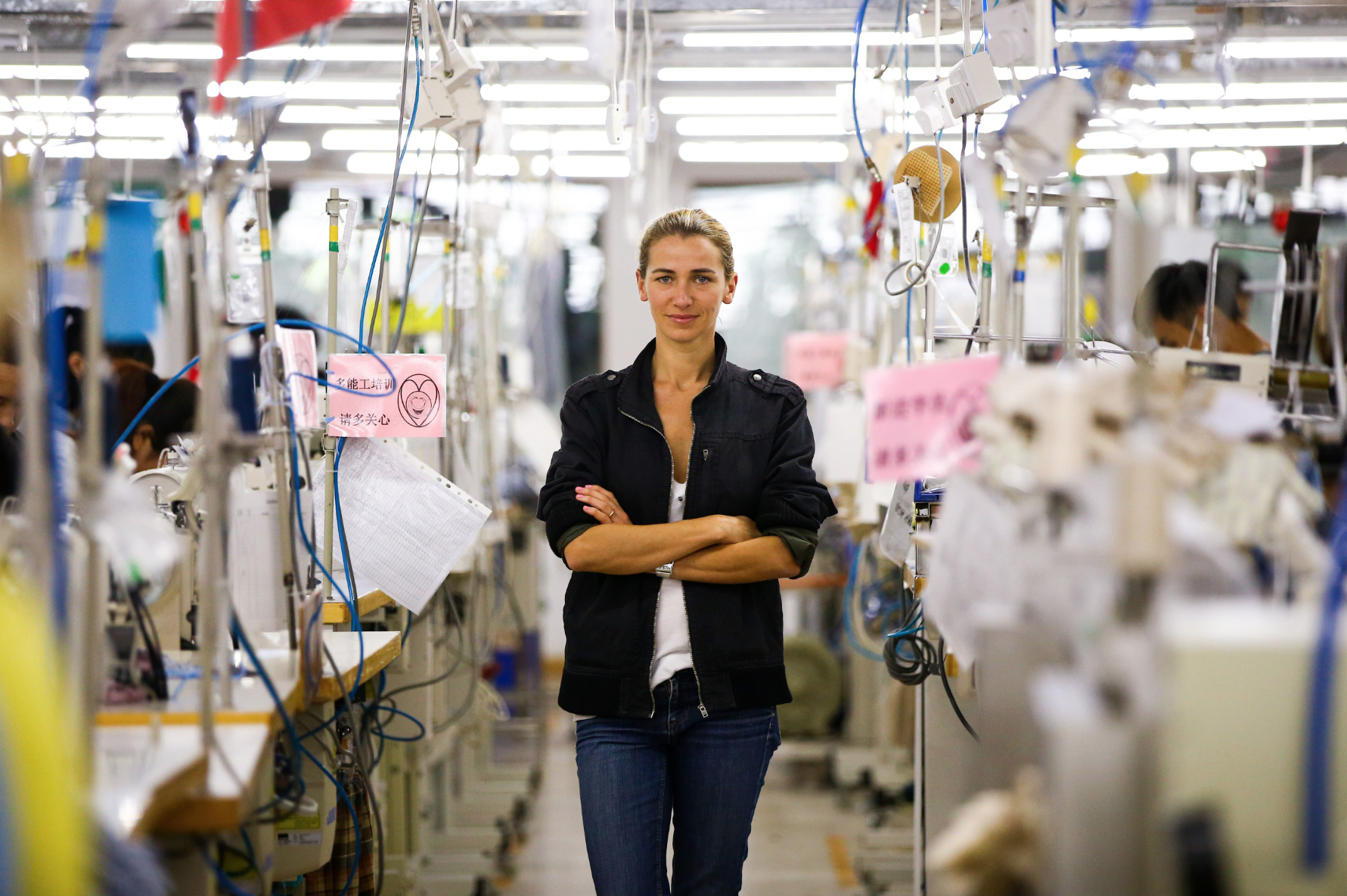 In your perspective, how are pollution and fashion connected?
The fashion and textiles industry is one of the world's most polluting industries. From fiber and fabric production through to use and disposal, the industry leaves a negative streak. This is not my perspective, these are from the most rigorously-challenged available reports. When it comes to waste, the number of garments produced annually has doubled since 2000 and exceeded 100 billion for the first time in 2014 [1] and an estimated 92 million tons of textile waste is created annually from the fashion industry [2]. Shockingly, every second, the equivalent of one garbage truck of textiles is landfilled or burned globally [3]. If that wasn't an insult–textile waste is set to worsen by about 60% between 2015 and 2030, with an additional new 57 million tonnes of waste being generated annually, reaching an annual total of 148 million tonnes [4]. This is all a huge smack in the face when you consider that textiles are almost 100% recyclable. When it comes to water, 20% of all industrial water pollution is reported to be caused by textile dyeing and finishing alone [World Bank]. When it comes to carbon, The fashion industry, including the production of all clothes which people wear, contributes to around 10% of global greenhouse gas emissions due to its long supply chains and energy-intensive production [UNFCCC]. The sad truth is that although we know these awful numbers when it comes to sustainability, about one-third of the fashion industry has yet to take action at all [5].
The Chinese economy and society are, by nature, capital-driven. A consequence of this is people buying new clothes and accessories from luxury brands. Do you feel there is still a stigma (in these local markets such as Hong Kong and Macau) about second-hand clothing?
Yes, China and the pursuit of luxury shopping, from Macau, Milan, London and Paris, do go hand in hand. However, the emergence of reputable sales outlets, but online and physical, are making pre-owned luxury consumption both more accessible and also more authenticated–and with this more trust-worthy. This is seeing an increase in pre-loved, or secondhand, luxury clothes and accessories, across Hong Kong, Macau, and Mainland China, and indeed the rest of the world. Notable examples include Hula and Vestiaire Collective, alongside Redress' very own biannual Hong Kong pop-up shops of pre-loved fashion and accessories, which welcome very well-heeled Chinese fashion consumers as shoppers, whilst Luxarity is also very popular at promoting pre-loved fashion consumption. There remains some small hang-ups from the old superstitions around secondhand clothes; mainly with more mature consumers. But I personally don't believe that these superstitions are as entrenched as they appear. I think Chinese consumers, particularly younger consumers, are ready to adopt a much more sustainable wardrobe through buying secondhand, with the main drivers being able to buy designer clothes at decent prices.
How can we help change this mindset?
Mindsets about wearing secondhand clothes, renting or wearing up-cycled and recycled clothing are rapidly changing, largely driven by celebrities who are stepping out on red carpets and on the street wearing sustainable fashion. The media is picking up on this, and this is collectively cultivating a new appetite for being proud of being more ethically clothing-conscious. New business platforms and better technology are making access to pre-loved and rented clothing better and AI technology is helping to authenticate products. This is all improving trust and experience, which in itself changes mindsets. And then, there is what is happening all around us. Fires, droughts, floods–and the accompanying marches and protests–which should open our eyes to the urgency of the situation.
How can we stay trendy and fashionable yet remain sustainable at the same time?
Wanting to be "trendy and fashionable" does not mean we leave our values at the door when we enter a shop. It is possible to love fashion–and enjoy changing our styles–with a much lighter load. When buying clothes, we must always buy the most durable, quality clothes, and wear them for as long as possible. Buy from sustainable brands, of which there are so many, and support big businesses who launch sustainable collections, and of course, pre-loved, vintage and secondhand are a perfect go-to. But there are many ways to be an ethical fashion "consumer" without actually buying–try online clothing rental companies, online clothing libraries, and try swapping clothes with friends.
In your opinion, what are the key ingredients for the success of an NGO in this ever-changing world?
NGOs must look for the biggest gaps in the provision of solutions to various problems–and then jump into these gaps to make changes. These gaps can be educational gaps in certain communities, gaps in access to healthcare for certain ages or ethnic backgrounds, or gaps in access to sports. The list of "gaps" out there is, sadly, pretty endless. Once you know your gap–Redress' was gaps in sustainable practices around clothing production and use–you have to bring solutions. Stay focused in your area of expertise, and also be prepared to move within the gap. Build an incredible team, as nothing lasting or scalable can be achieved without a team. The ideal situation is that an NGO works in a specific problem area and then closes this gap. But this is wishful thinking.
Are there plans to expand Redress to other regions and countries?
Whilst based in Hong Kong, we do already have a global footprint and much of our work is as suitable for China as Chile. We must remain as focused on achieving our mission–and currently, we can achieve this with our head office in Hong Kong. In my wildest dreams, I would love to see Redress offices in other countries, but the reality is that we run a lean ship and we have to keep our management very tight. One interesting development is that I started The R Collective, an up-cycled fashion brand and social impact business that was inspired by the work of Redress, which debuted in 2017 with up-cycled collections in Lane Crawford and Barney's New York. The R Collective, which collaborates with star designers from the Redress Design Award, is now available on Net-A-Porter, with an incredible up-cycled collection designed by two Chinese sustainable designers, Wen Pan and Weiyu Hung.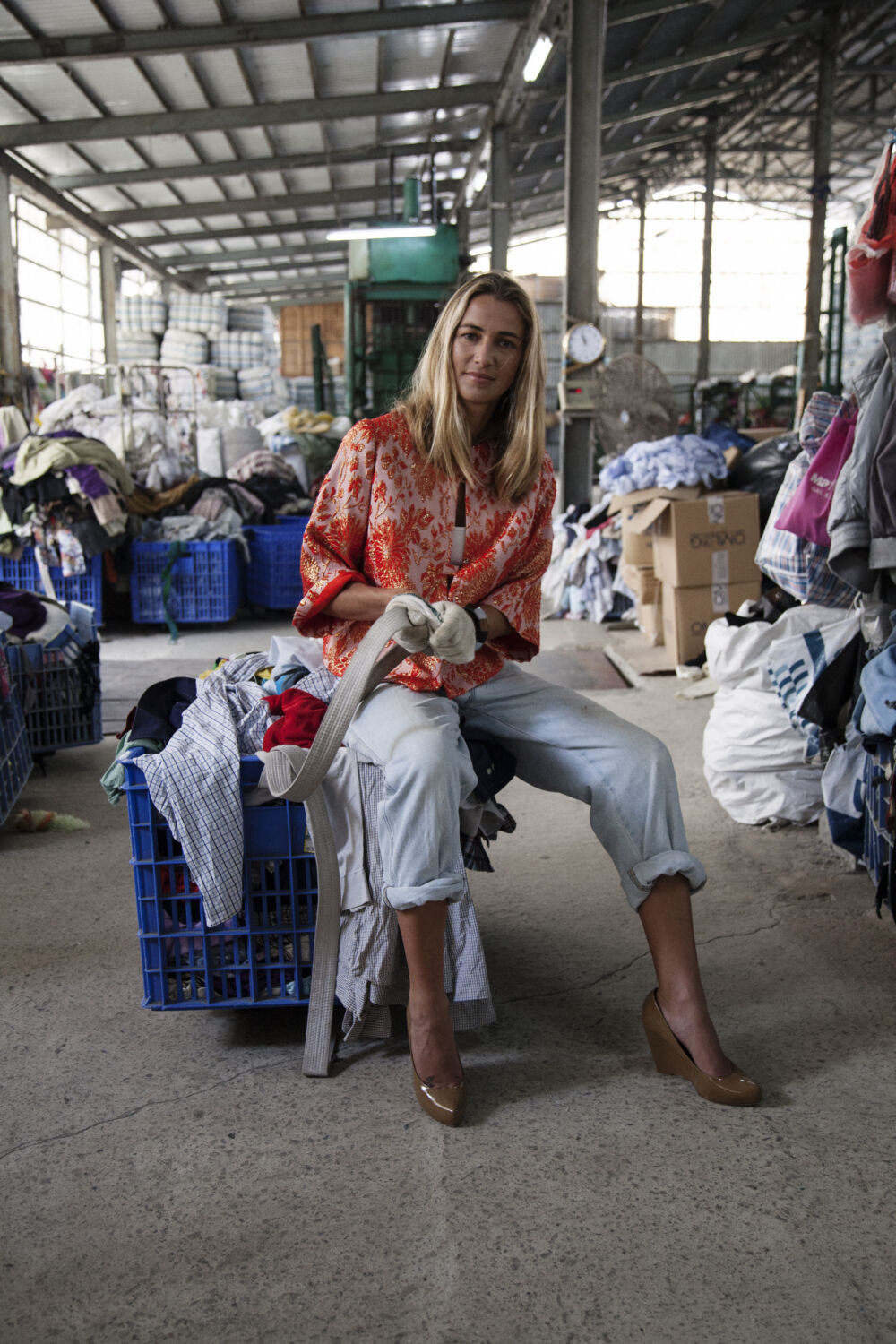 The NGO's team is mostly comprised of women. Is there a reason for that? 
Our team is largely formed of women and we endeavor to have more gender-balance in our team. We are aware of gender diversity and we hire based on talent. The fact that our team is mainly women reflects the types of candidates who come to us. Looking beyond Redress' own team, it's interesting that around 70% of all sustainable designer applicants for the Redress Design Award are female, so this would appear to suggest a gender-slant from our applicants. In our competitions, we remove the applicant's name, photo, gender, ethnicity, and age from the judging process, so that the judging process is based purely on design integrity and intent.
Every March, the world celebrates International Women's Day. The 2020 global campaign theme is #EachforEqual, what does it mean to you?
#Eachforequal says what it is. We should, although many people do not, see each other as equals, regardless of gender. We know that gender equality is important for business success; it's not just trying to do the "right thing" for women, it's about driving successful enterprises and economies. I feel very fortunate that, as far as I have ever been aware, my gender has not been a hindrance or helped in anything that I have done. But I know that millions of women are not as lucky as myself.
---
Redress 2405, Nine Queen's Road Central, Hong Kong, +852 2861 0360, www.redress.com.hk
[1]  Source: McKinsey & Company (2016), Style that's sustainable: A new fast-fashion formula
[2]  Global Fashion Agenda and The Boston Consulting Group, Inc. (2017), Pulse of the Fashion Industry)
[3]  Ellen Macarthur Foundation (2017), A New Textiles Economy: Redesigning Fashion's Future)
[4] Source: Global Fashion Agenda and The Boston Consulting Group, Inc. (2017), Pulse of the Fashion Industry
[5] BCG Sustainability Is Good Business for Fashion
Tags
Related Posts