One of the most popular festivals in town is finally here again and we went to check out what all the fuss was about! The 19th Macau Food Festival has so much to eat and drink along with entertainment to enjoy that one might feel a little overwhelmed. Happening daily from November 8 to 24, there are more than 100 food stalls available for all to experience food from all across the world!
This is the only time of the year so many local restaurants join forces to bring an immense variety of culinary delicacies and unique beverages to visitors, making the Macau Food Festival an internationally renowned event for foodies looking to experience true traits of the local culture. "Is it just made of Macau food?" you might wonder. The answer is "no." It's made of precisely what the city is–multicultural flavors and chefs from all over the world. From Portuguese to Korean, Chinese to Vietnamese, Indian and Japanese, there's an array of food to try out at this edition of the Macau Food Festival. Want to know more about what's there to see, taste and smell? Read on and experience it with us!
BBQ & More
It can be difficult to select a favorite food at the festival, but highlights surely include barbecued seafood, meat and fish cooked in all ways imaginable! We went for the BBQ squid with an amazing Asian sauce. Besides being perfectly grilled, it was tender, juicy and flavorsome, covered in dripping sauce with pepper and soy sauce, so be sure to try it as well. Most of the BBQ stalls serve this kind of food, so check them out, right in the middle of the compound. As the locals say, "Just follow the incredible smell!"
However, don't stuff yourself with barbecued squid just yet, because there is a whole world of savory offerings to try. From Portuguese grilled pork steak from Casa do Porco Preto to hot stone cooked scallops with garlic and rice noodles, this festival is an amazing cocktail of scents. Italy is also very well represented, with Gôndola presenting grilled seafood, pizza-bread dishes and much more.
The great thing about this event is that you're able to try dishes you will never experience again since some are made exclusively for the food festival. A good example is Goa Nights, which besides serving some of the all-time favorites, are also serving new dishes with the same exquisite flair. There are even amazing offers such as freshly shucked oysters from Tian Haohu restaurant.
Desserts are also a must-try, but be on the lookout for them because the dedicated booths are scattered all around the premises. Walk a second round through the food fair to be sure you don't miss the chance to try everything. From unique mango or bubble tea-flavored fluffy soufflé pancakes to Japanese traditional sweets, mango pudding and jelly, there are so many fabulous sugary desserts you won't be able to resist.
Hokkaido Avenue: A Playful Corner
Tired of roaming through a sea of people, unable to find a spot to sit, relax and enjoy your gastronomic trophies? Well, then it might be time to head down to Hokkaido Avenue, at the compound's lowest level. There, Japanese food is king, as well as entertaining games with prizes! From fried octopus balls with Japanese mayonnaise, the freshest sushi and sashimi, traditional ramen, homemade cookies and pancakes, there is an entire country to travel to and get to know through your palate. Restaurants such as Sushimitei and Samurai Fish are also there.
Be sure to save some money to have fun with your family and friends. Gather the ones with the best aim and sports skills and have them win a stuffed animal, vegetable or french fry shaped plushie. The game booths don't cost a lot and are sure to provide some entertainment to the public.
Where It Is
The festival opens every day and weekdays are way less crowded, which is great for those looking for a more relaxing atmosphere, where food and a calmer environment are key. From Friday to Sunday, the Macau Food Festival can get a bit busy, but it also brings more fun and music to the venue. Singers and celebrities were invited to perform on the on-site stage, bringing a musical vibe to it. There are also other performers walking around the premises, like clowns handing out free animal-shaped balloons to children.
How to Get There
As for transportation, the best way to get there from Macau side would be hopping on any bus going to Macau Tower or the free shuttle buses the festival has also made available, to and from Taipa. Public buses 5, 5AX, 9A, 18, 18B, 23 and 32 all go and depart from Macau Tower towards the peninsula, while number 26 goes to and from Taipa. Each trip costs MOP $6 or MOP $3 with Macau Pass.
How to Pay
In the past years, visitors would buy a card with a top-up value option, which you'd use to pay at each stall. Now, there is an array of available payment options, which is great for locals and tourists alike. Besides cash, Ali Pay, Macau Pass, MPay and other methods, you can also pay with a debit or credit card at each stall! Isn't this amazing?
---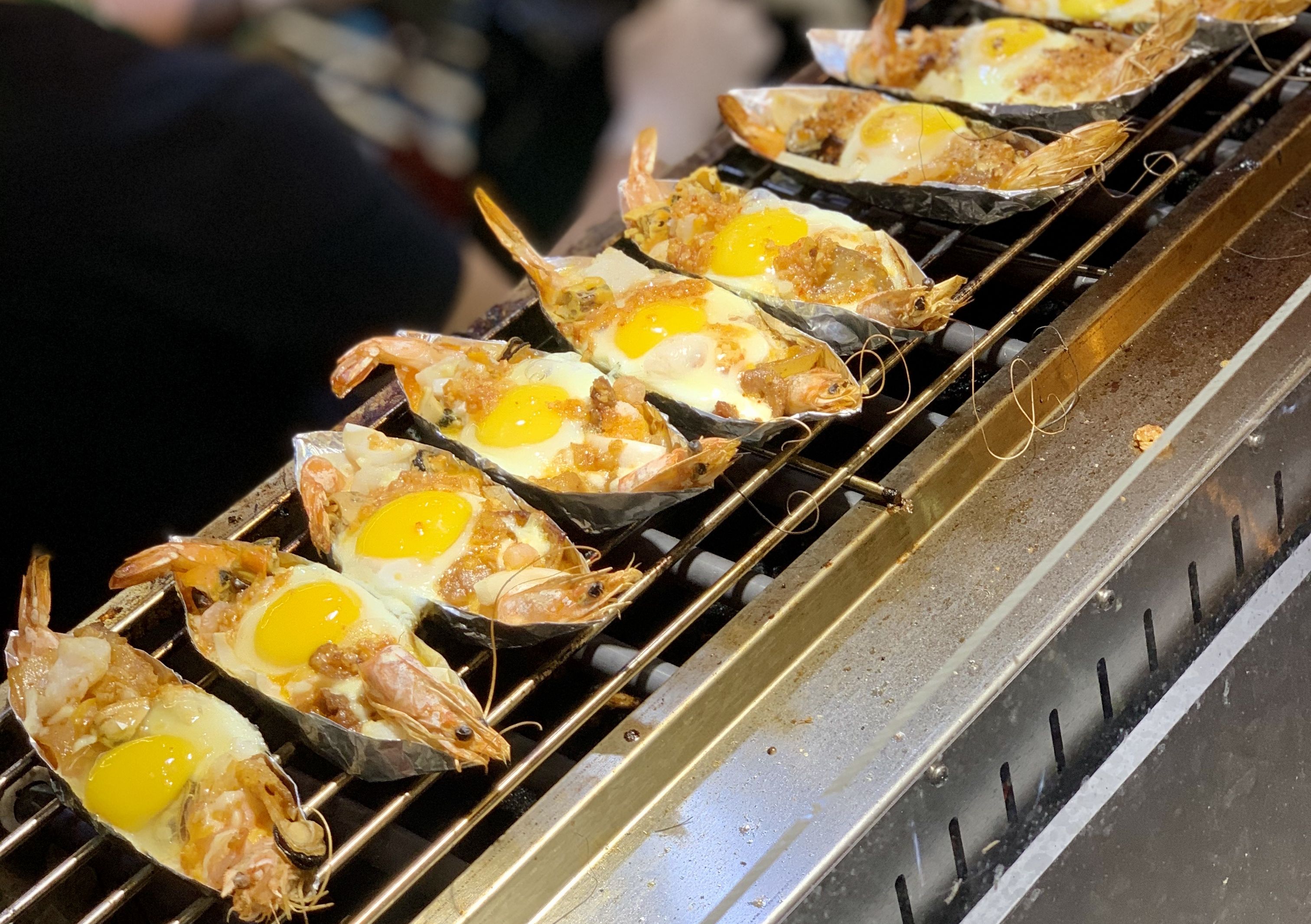 Every year around November, the Macau Food Festival–located in the rotunda opposite the Macau Tower–attracts local residents and visitors tempted by delicious Asian, European, Mainland Chinese, and local delicacies. Liberally salted with exciting live entertainment, games and beer competitions, this food fest has become a firm favorite for its uninhibited, relaxed and welcoming atmosphere of street stalls, booths, and tents. The event is organized by the United Association of Food and Beverage Merchants of Macau.
When: November 8–24, 2019
Monday–Thursday – 5:00pm–11:00pm, Friday–Sunday – 3:00pm–00:00am
Where: Sai Van Lake Square, Largo da Torre de Macau, Macau
How much: Free admission (each dish has its own pricing)
For more information, call +853 2857 5765 or check here
Tags