The beginning of the year is a good time to set new goals whether if it's professional, personal or fitness. One of the best ways to motivate yourself and stay on the right track is to participate in a sports event and steadily prepare for it. We rounded up a list of sports competitions in Macau and Hong Kong to sign up for in 2020. So pick any you'd like to join, perhaps even two or three, grab your fitness attire and start training tomorrow!
-Macau-
Macao International Marathon
If you are fond of running and wish to challenge yourself, the Macao International Marathon is the best option. Professional athletes from around the world and amateur runners have been participating in this major sport event since 1981. There are three distances to choose from. The full marathon distance is 42.195km, a half marathon is 21.0975km and the mini-marathon is 5–7km. All the participants start from the same point, Olympic Sports Centre Stadium in Taipa. Then, the track differs depending on the distance. Those who commit to the full marathon distance run two laps through Taipa, Coloane, and Macau. The annual event takes part in December when the temperature is mild and the humidity level is low.
When: December 6
Macao International Marathon www.macaomarathon.com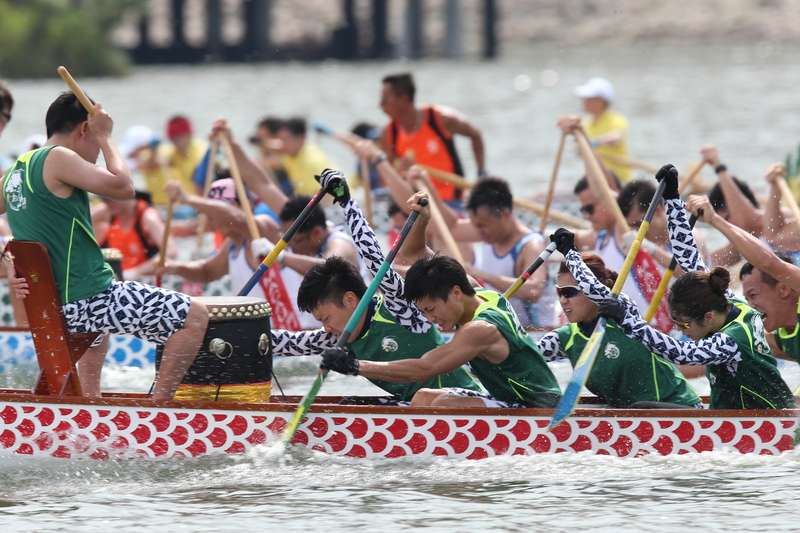 Macao International Dragon Boat Races
One of Macau's most vibrant and fun events, Dragon Boat Races at Nam Van Lake attracts dedicated locals, foreign teams and expats who wish to experience the city's traditional outdoor activity. The races celebrate the Dragon Boat Festival that is organized to commemorate the death of the poet and minister Qu Yuan who lived during the Zhou Dynasty.
Colorful long boats decorated with dragon heads fit up to 22 people, including a steersperson and a drummer. Competition between local teams takes place on the first day. On the second day, the teams race to qualify for the finals that happen on the third day. Even if you don't wish to row, it is worthy to join the audience and cheer for dedicated teams, while enjoying the festive atmosphere.
When: June 20, 21, 25
Macao International Dragon Boat Races www.sport.gov.mo
-Hong Kong-

Spartan Race
Not afraid of mud and want to feel like a military recruit? Check out Spartan Race. The most well-known obstacle race that takes place in locations all around the world, Spartan Race sounds and looks intimidating with obstacles like tire drag, rope climb, and traverse wall. However, it is surprisingly suitable for different fitness levels. There are three race types: Sprint 5K with 20 obstacles, Super 10K with 25 obstacles and the most difficult Beast Half Marathon with 30 obstacles on the way. If that sounds easy, there are even harder endurance races for advanced athletes. Sign up on your own or build a team. To prepare, you can also hire one of the personal trainers certified specifically to get you ready for the challenging competition.
When: April 18
Spartan Race www.spartanrace.hk

Hong Kong Cyclothon
A relatively new annual sports event, Hong Kong Cyclothon attracts both professional and amateur participants. Taking riders through bridges and tunnels, from Tsim Sha Tsui up into Kowloon and back to Tsim Sha Tsui, the 50km race is the longest one. However, you can also consider an easier 30km ride, Family Fun Ride and Fancy Dress Bike Party.
To join the race, you would need to complete a U-turn test and a physical fitness test.
When: October 11
Hong Kong Cyclothon www.discoverhongkong.com
HK 100 Ultra Trail Race
HK 100 Ultra Trail Race is a scenic and challenging 103-km trail run on the Sai Kung Peninsula, 56 km of which the participants enjoy some of the city's most spectacular views. Picturesque old villages, beaches, reservoirs, and lush greenery will be a reward for the hard work.
It is an ultra-endurance race where the runners have to go up and downhill. Take the full 103 trail or commit to half of the race. Both of them require you to be in excellent physical shape which means you need to be seriously prepared to participate. The race happens at the beginning of the calendar year, so if you wish to take part, wait until this December to sign up. In the meantime, it would be a good idea to start training for it now!
When: January 2021 (sign up in December 2020)
HK 100 Ultra Trail Race www.hk100-ultra.com

Hong Kong International Dragon Boat Races
An alternative to the Dragon Boat Races in Macau, the Dragon Boat Carnival in Hong Kong is one of the prestigious competitions of its kind. Held in Victoria Harbour with a view of the spectacular Hong Kong skyline, this tournament is fun to participate in and to watch from the shore too. Besides, there are food trucks, musicians, games and more exciting activities to celebrate the Dragon Boat Festival. Traditionally, after the winners are announced, everyone is welcomed for a festive dinner.
When: June 19–21
Hong Kong International Dragon Boat Races www.discoverhongkong.com

Standard Chartered Hong Kong Marathon
Sponsored by Standard Chartered Bank, the Hong Kong Marathon is the city's largest participatory annual sporting event. Apart from classic full and half-marathon, there is a 10km distance, 10km and 3km distances for wheelchair athletes, Young Dash (2.2km) for 10-15-year-olds and Kickoff Family Run that occurs a day before the main event. This year, the Hong Kong Marathon is introducing a quota of 500 places reserved for people with disabilities, making the tournament more accessible for all kinds of athletes. The full marathon trail starts at Tsim Sha Tsui and finishes at Victoria Park in Causeway Bay.
When: February 9 (the registration is now closed, so watch out for next year's marathon)
Update: Standard Chartered Hong Kong Marathon 2020 has been canceled
Standard Chartered Hong Kong Marathon www.hkmarathon.com

Harbour Race
If the water is your element, Harbour Race is for you. The first race happened in the far 1906 but got suspended after 73 years. Luckily, it was resumed in 2011 with over a thousand enthusiastic participants willing to dive into turquoise waters of Victoria Harbour. Not every day you are allowed to swim in the iconic harbor! Both professional and amateur swimmers can participate. The 5km distance is reserved for the professionals and the other participants over 12 years old, and those wishing to compete can challenge themselves to an open or leisure race of 1km. You would need to complete a swim test to be accepted for the competition first. Check the rules on the official website.
When: date TBA
Harbour Race www.hkharbourrace.com
Hong Kong Disneyland 10k Weekend
Dress up as your favorite Disney character and join thousands of runners in the land of Mickey Mouse and Cinderella. Hong Kong Disneyland 10k Weekend might be one of the most colorful, fun and family-oriented sports events in Macau and Hong Kong. Because what can be more enjoyable than running alongside Woody and Dory with other Disney and Pixar characters cheering you on the way? Choose from 10km, 5km, and 3km races or get your little ones to compete in the kids' races.
When: date TBA
Hong Kong Disneyland 10k Weekend www.hongkongdisneyland.com
Tags
Related Posts