Macau is steadily moving towards its goal of becoming a cultural center of the region, introducing new large-scale events like Art Macao. With Art Macao wrapping up this fall, there are still exciting art affairs happening around town, not least through the engagement of integrated resorts such as MGM Macau. They call themselves pioneers and trendsetters on the Macau art scene and, with numerous events that they organize and support, it's hard to argue with this claim. This fall, MGM Cotai brings several impressive cultural events worth mentioning that's not to be missed, one of them being explosive and another, intimate. 
New art in the permanent collection
MGM Cotai boasts a spectacular art collection, from tapestry to contemporary sculptures and digital art in The Spectacle. Luckily for all the art lovers out there, they don't stop at that, occasionally replenishing the collection with new pieces. When MGM Cotai announced two new additions to the collection, we could not wait to see them and meet the artist, Cai Guo-Qiang, who came to present "Study for Uffizi: A Bouquet of Flowers No.1", "Alchemist" and a documentary about his art "Sky Ladder ". 
The world acclaimed artist from Quanzhou, Cai Guo-Qiang is famous for his gunpowder art–paintings, explosions, and fireworks. However, he also works with other mediums such as installations and performance. You can measure the magnitude of his talent and the level of recognition by the map of his personal exhibitions that includes the Prado Museum in Madrid, The Uffizi Galleries in Florence, Solomon R. Guggenheim Museum in New York and many more great museums around the globe. To have two of his paintings on display at MGM Cotai is a privilege for all the art fans in Macau! 
You can see both of them in the Emerald Lobby, among the splendid tapestries. Cai created "Study for Uffizi: A Bouquet of Flowers No.1" for his solo exhibition at Uffizi Galleries. The gallery's collection of drawings was the inspiration for this vibrant painting made with an incense stick painting technique. That is basically a series of color gunpowder blasts with Italian pressed flowers on a blank canvas, a collaboration of Western and Eastern traditions. 
The second piece is "Alchemist", a painting that depicts a green lion devouring the sun, a popular alchemical symbol. It is a metaphor that has several meanings on different levels–chemical (liquid sulfate, or vitriol purifies matter and leaves the gold within the matter), biological (the process of photosynthesis) and philosophical (a person allows negative desires to "eat him" in order to be purified and grow spiritually). 

Sky Ladder
To celebrate the artist and his art, MGM organized a one-time screening of "Sky Ladder", a documentary film by Netflix, followed by a public talk with Cai Guo-Qiang. The talk was about the artist's creative path, connection to his homeland, but mainly about his work "Sky Ladder", a project that Cai has been working on for decades. The artist unsuccessfully attempted to realize the idea in various locations around the globe only to finally make it happen in his hometown, Quanzhou. The 505 meter "Sky Ladder" was an ephemeral structure made with explosives and suspended by a hot air balloon. Cai dedicated this important work to his grandmother. Unfortunately, she couldn't be present to see that moment of glory. However, his wife and kids, as well as his team and friends, shared this beautiful milestone with the artist. If you missed the screening, the film is available on Netflix. 

Rooster, Tiger, Sheep by Snake
Another talented member of Cai family is Wen-You Cai, a young photographer and the older daughter of Cai Guo-Qiang. MGM Cotai became the first platform for her personal photo exhibition, called "Rooster, Tiger, Sheep by Snake". 176 film photographs from 2008 through 2018  are grouped by four categories: "During High School and University", "Post-University Since 2012", "Family Trips and Work Scenes", and "Growth and Life." A significant part of the exhibition documents the making of the "Sky Ladder" documentary. 
Most of the photos depict the family on various trips or at their home in New York City, yet the name shows the family's deep connection to their Chinese cultural roots. The photographer affectionately gives the subjects of her photos the names based on their Chinese zodiac signs. Cai Guo-Qiang (father) is the rooster, Hong Hong Wu (mother) is the tiger, Lu Yang (younger sister) is the sheep. The snake is Wen-You Cai who only appears on her works once, in a mirror of a hotel room taking a picture of her family enjoying room service. Wen-You Cai becomes a reporter of her own family life, showing intimate moments of their life. While most photographers of this kind are outsiders, Wen-You Cai is a part of the family and a direct participant of all the events.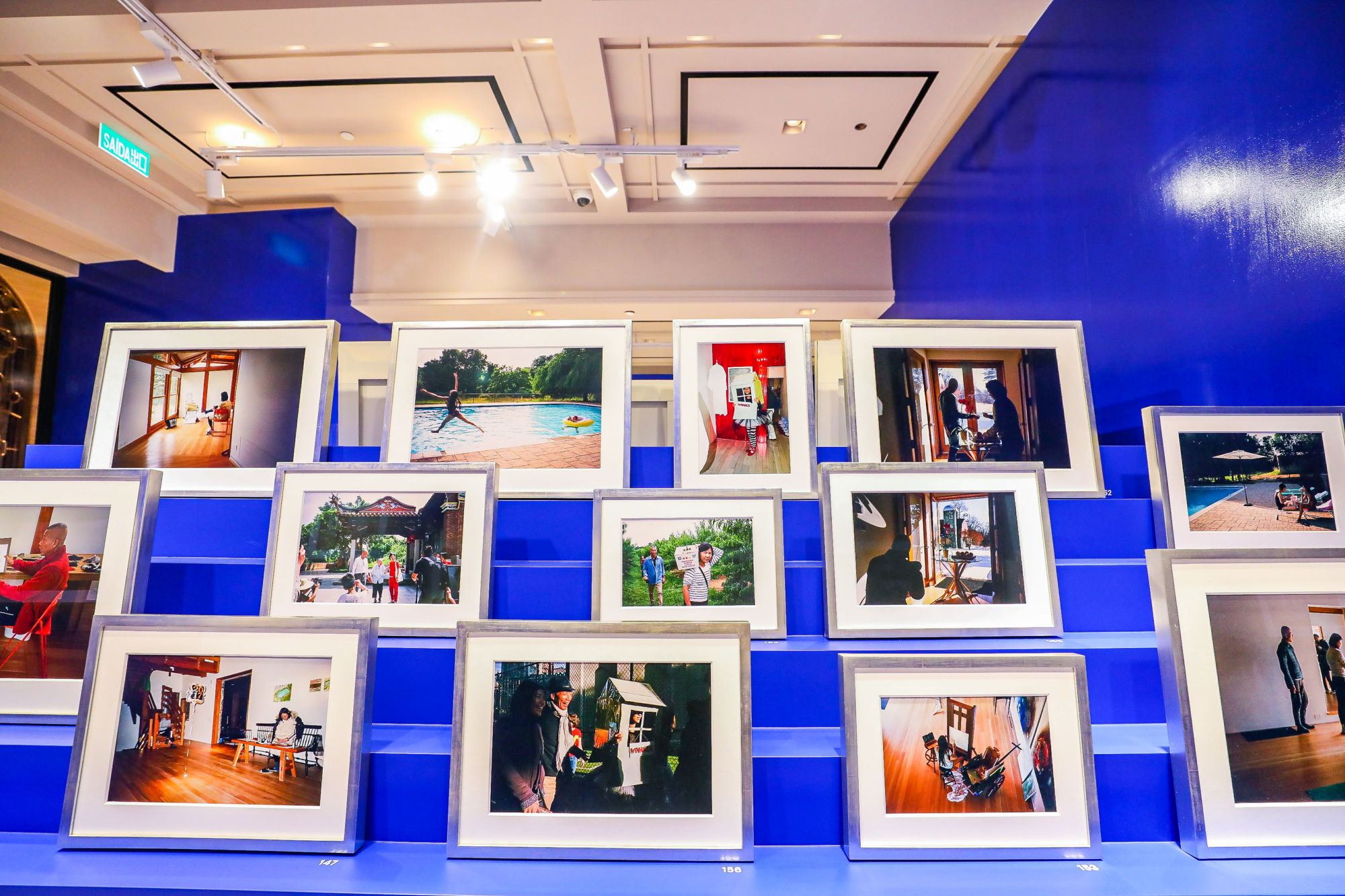 Even though Wen-You is not in the photos, you can trace her emotions and feelings about her loved ones as she gives her unique, subjective angle on them. Also, the photos are accompanied by witty comments and descriptions that give context: "Sheep and a flock of sheep", "Crouching Tiger, Hidden Rooster", "Rooster, who refuses to believe that the sofa is a practical piece of furniture, naps with Tiger". At the exhibition, you can observe a myriad of "rooster's" selfies, a catalog of "sheep's" facial expressions, "tiger's" laughs at "rooster's" jokes, family celebrations and, of course, naps caused by jet-lag in all kinds of places around the world–museums, hotel sofas, trains. There are important occasions, as well as casual, but memorable moments. What is especially valuable is the opportunity to see genuine emotions and reactions.   
Special Special
Besides her debut exhibition, Wen-You Cai brought one more project–a pop-up store called Special Special, temporarily hosted in one of MGM Cotai galleries. The flagship store is located in East Village, New York. Special Special is not just a shop to buy peculiar art and design objects, but an art space to stay, create and enjoy the interaction with other creative individuals.
When: 11:00am–8:00pm, October 5, 2019–February 9, 2020
Where: Emerald Lobby, MGM Cotai, Avenida da Nave Desportiva, Cotai
How much: Free admission
For more information, check their website
Related Posts