Set in the (still) quiet area of Barra–a minute away from A-Má Temple and the Macao Maritime Museum–is A Lorcha, a local restaurant serving real Portuguese food for all to appreciate, cherish and share. With a homey feeling to it, this place opened way back in 1989 and, due to its locations–close to the waterfront–has been through a lot, including typhoons and flooding. However, owner Adriano Neves playfully says "A Lorcha is the name of a boat, and boats are meant to be in the water". His father loved cooking Portuguese food and that's where some of Adriano's passion and inspiration comes from.
We sat down with Adriano over some Portuguese delicacies and got to know how it all started, why the restaurant was named like that, and which are the most sought dishes at A Lorcha. Read on and find out more about this cute little place set in the Barra area, away from all the hustle and bustle of this busy city.
A Lorcha is a well-known restaurant in Macau. Can you tell us a bit about how it started?
A Lorcha will be 31 years old this August, 2020 and it all started with a laid-back, fun chat between a group of friends who loved eating and drinking. Every weekend, we'd gather at someone's house and just talk all night long. Not sure if drinking played a central role (laughs) but one of those days, we started talking about opening a restaurant. The idea then made sense, but we had to think about its location: outside the city center–which was Leal Senado, around that area.
Coloane 30 years ago, didn't make sense because not many would go there to have lunch; we then remembered Barra, an area kind of on the outskirts but still accessible. We looked around to check if there was something and we found out the owner of a former restaurant called Estrela do Mar was reconstructing the ground floor to reopen his place. However, he didn't go through with this because he was tired and felt too old to stay in this business. The restaurant's site was left half-built in fact.
We went to check it out and thought, "It's cute, fits 10 to 12 tables" and liked it so we decided to open here. We did some construction works and decided to solely serve Portuguese food as our target was basically the Portuguese expats living in Macau at that time. Our chefs were the wives of the founders and that's how it started. Feedback was great from then on. In 1991 or 1992, we got the chance to revamp the building, bought the floor below, and expanded the site to what you see today.
Why the name "A Lorcha"?
There was a lot of brainstorming at first; way before when the sea was much closer and Macau hadn't expanded so much. We (the three partners) were sitting at the waterfront facing the restaurant and we hear a loud noise from a boat passing behind us: it was Lorcha–a traditional Macau boat built for showcasing and commemorative purposes that sailed from Macau to several Japanese cities, then being exhibited in EXPO'98, in Lisbon. "This is it!", we thought. Also, the construction and interior decoration works were already consistent with maritime and ocean motifs, so it made total sense. There was no discussion, we have found a name.
How did you decide on the menu items?
The idea was always to establish a Portuguese restaurant, with homey and comfortable food. We weren't thinking of a fancy, gourmet menu. People in the kitchen were the wives–and sometimes the mothers–of the business partners, so the idea was a family restaurant, the food you'd have at your parents' or friends' house. Portions were always big so people could share and stay at the table for long hours. We dedicated ourselves to establishing that goal.
Why did you decide to go for big portions?
It's how people usually like it: a table full of different dishes so they can share between friends and family.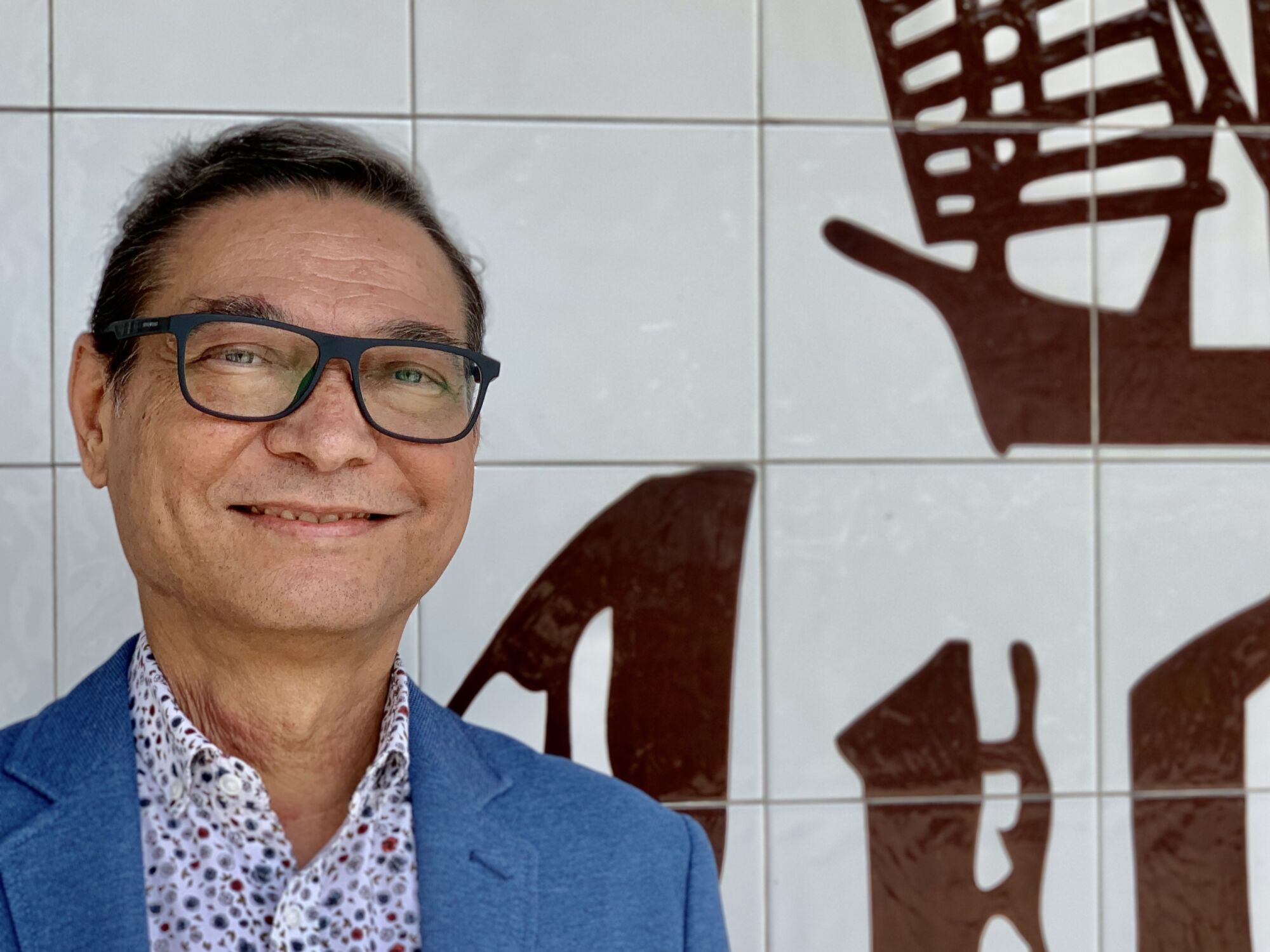 It was targeted, as you said, for the Portuguese living in Macau. However, nowadays you're also very popular amongst both other locals and tourists as well.
Yes, we had to do what we needed to survive and that meant opening up to everyone and making everyone feel welcome. We had to work according to the population we had. After the handover, around 2000, 2003 and 2005, there was a shift in our clientele: we started having lots and lots of Chinese tourists who saw us online and wanted to try Portuguese food. From my experience, Chinese customers love Portuguese food because it's also strongly flavored. They love seafood rice, for instance, and also the chicken curry and all the charcoal-grilled meats. They also like everything roasted in the over. However, we had to adapt the palate a bit, without changing the taste, of course.
The first ten years were also full of Hong Kong tourists who came to Macau on weekends; they'd bring the whole family and some even reserved the entire restaurant. Things kept changing, and the restaurant now has some competition, with all the other Portuguese restaurants that have opened up in Macau. So we rely a lot on tourists: Koreans, Japanese, many Chinese from the mainland and also Hong Kong.
What're people's reactions when they have Portuguese food for the first time?
They're usually well informed about Portuguese cuisine; they know it's good, homemade-like food. What we sometimes have to do is recommend this or that dish. Some love seafood, so we'd suggest they'd go for some charcoal-grilled shrimps, clams, or crab. Some like meat dishes and we're very lucky to be running on an old license that allows us to have a charcoal grill that makes all of the grilled dishes such as chicken, other meats, and seafood.
You describe A Lorcha's food as being homemade-style. So what are the signature dishes?
The seafood rice and bulhão pato style clams. We also used to serve special dishes which nowadays we can't do anymore because there's no live poultry: pipis (made with the insides of chicken) and cabidela rice (made with chicken's blood and seasoned with vinegar). They were both very popular, people would even come to pick up pipis for take-away. The grilled chicken and the shrimps are also great. Codfish pataniscas (fried codfish pastries) and the roasted creamy codfish, which the Chinese tourists usually love.
What're some dishes that make you proud?
The cabidela rice, because it's a special dish and not many people did it in Macau. It's not very popular amongst the mainland tourists, but lots of Portuguese and Hong Kong residents came here just for this dish. It's a dish people struggle with when they look at it at first, but they love the flavor.
Also our tapas or petiscos, in Portuguese. At the start, the restaurant was mostly known for them: especially the Portuguese–working as officials in the Marines and so on–would get off early, like 5:30pm, and come straight here for petiscos, beer, and wine then they'd stay until closing time. Orelhada, pipis, dobradinha, a charcoal grilled chorizo from time to time–the works!
Which do you believe are the most difficult to make?
This machine (referring to the kitchen personnel) has been working here for more than 30 years, I don't think there's anything difficult for them to do (laughs). Perhaps the suckling pig, but not because it's hard to make; it's a dish I only have upon request, not on the daily menu. Why? Because no one is going to eat a whole suckling pig and I don't like cooking it to then cut it, have it in the fridge, and reheat the next day. It's not part of our motto of serving homemade, familiar freshly cooked food. There are two or three dishes that we only make upon request.
The restaurant is located somewhat on the outskirts of the city center. However, it's also a very touristy area nowadays. Does this play an important role in the restaurant's popularity?
Before it did, when people could park their cars anywhere, which now has become very hard. It's become expensive to dine at A Lorcha because there's an additional of MOP $600 if you park at the front door which is the price of the fine (laughs). There's a great lack of parking spots and I don't really know why: there's A-Má Temple here, which is one of the most famous landmarks in town. If a tourist wants to visit it, there's not even a place for the taxi driver to park. And where will he get a taxi back from the temple? There's nothing here in regards to that. We struggle with the lack of parking spaces, especially when it comes to Portuguese and locals, who commute in the city by car.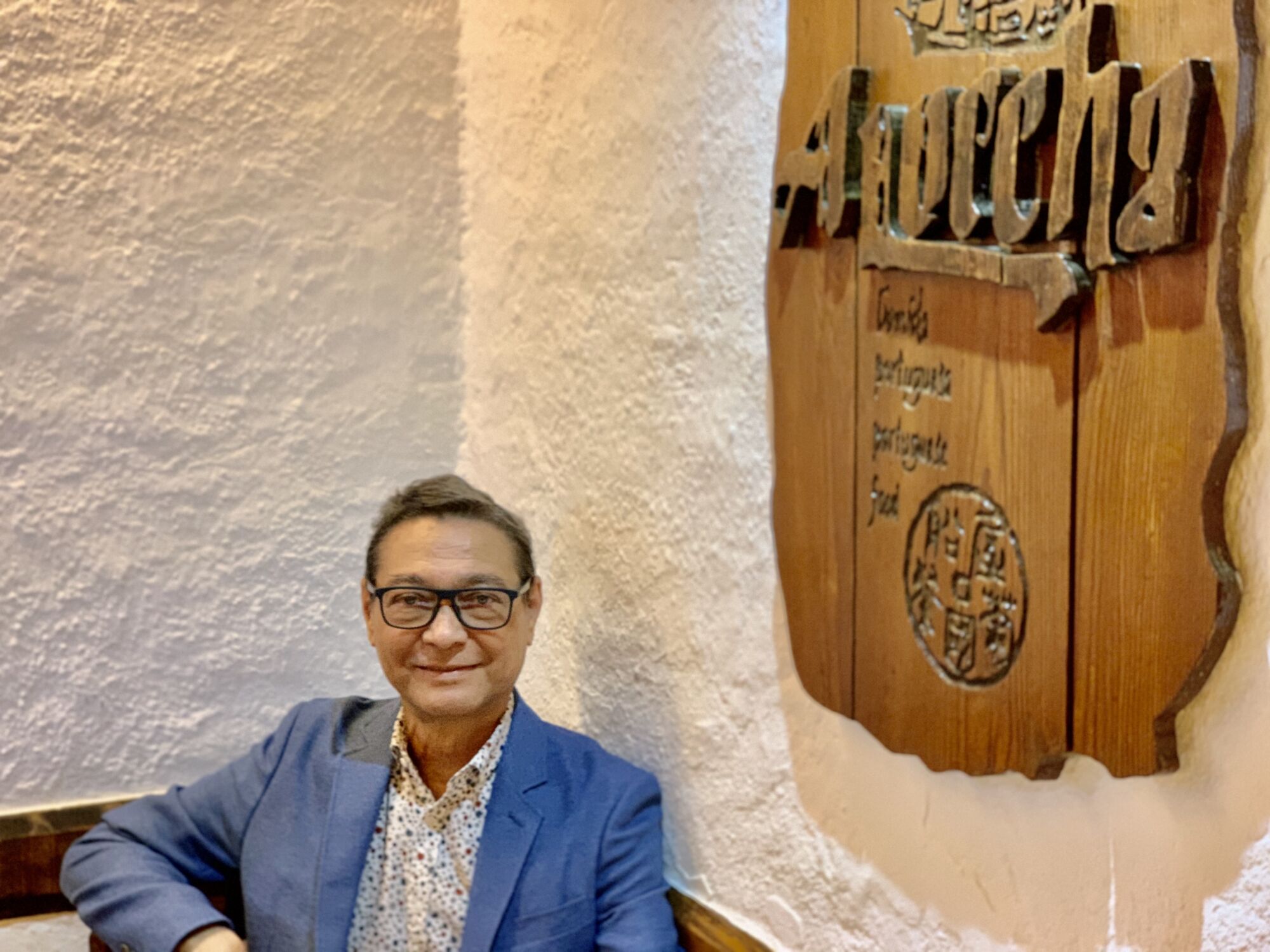 You are Macanese, born, and raised here. Tell us a bit about your background before A Lorcha.
My father was Portuguese and came to Macau for military reasons, like so many other Portuguese then. He fell in love with a Chinese woman from Macau–like so many others did as well (laughs)–and stayed. I was born and raised in Macau, went to Portugal with my family for a few years, then we returned. I studied at Dom Bosco school.
We lived in Taipa and there were no bridges connecting the islands (Taipa and Coloane) to the Macau peninsula. I had to ride a boat every day to get to school, then a bus, and more. We lived close to the Taipa Houses-Museum. After a month of commuting and because it was so expensive, my father decided that I'd attend Dom Bosco's boarding school. Then, as everyone at that time–people would either go to Portugal or find a job in Macau–got a job at Leal Senado (the municipal chamber at the time), which I kept doing until 1996. It was then that I dedicated myself 100% to the restaurant.
What are your fondest memories of the city?
There are lots of them. Typhoon Hato's flooding, perhaps. There's a brown line on that map on the wall: that's where the water reached. I used to say "A Lorcha is a boat, so it has to sail, it has to have water to do so" (laughs), so it's something I'm very used to dealing with, all the typhoons and the consequences. Tables are usually kept floating, we move all the electronics to a higher level and wait for it to pass so we can come back and put everything back again.
I also have great memories of regular customers, people who came to visit us every year. There was a group from Harvard: a teacher who brings his senior year students to this area (Asia) for a trip, every year. They go to Hong Kong, then visit Macau and always come to the restaurant.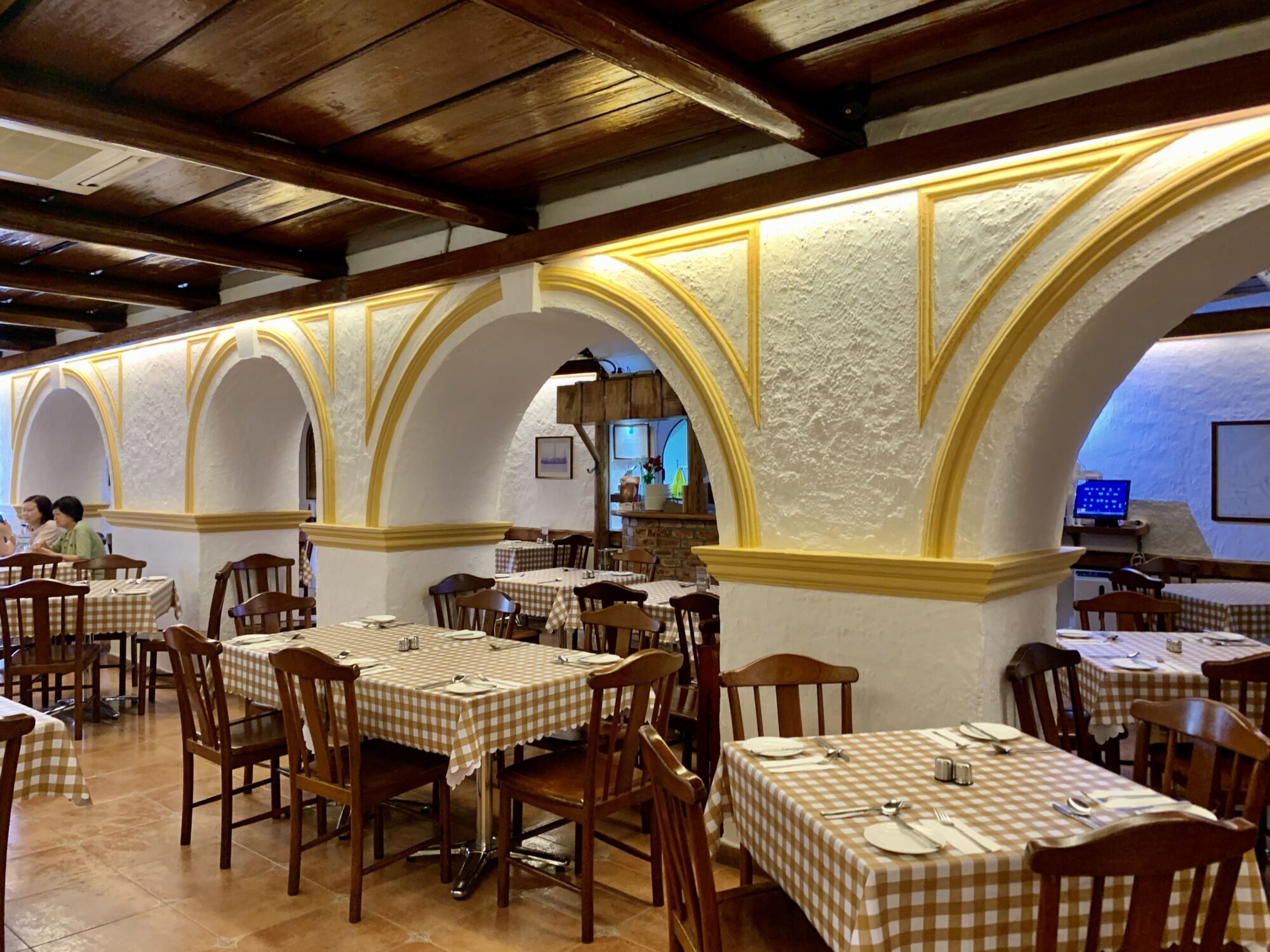 What about growing up here? How do you feel about it?
It's my hometown, I liked it, yes. However, I'm sorry about one thing: Macau has changed a lot throughout the years, its context of "peaceful" and calm has disappeared. The thing that pains me the most is the landfills that they've been building. Once one is away from Macau for three months, when you come back, everything's different. Of course, I know this is a sign of progress and development, but it's still somewhat difficult to see it happening.
So you're a Macau born and raised…
Yes, with a Portuguese soul. I was born here, lived in Portugal–in Mealhada–for four years, and came back. I'm from Dom Bosco area, that's where I lived after.
Do you also cook?
On the boat, when I go fishing (laughs).
When you don't dine at the restaurant, where do you like eating?
At home. I love homemade food and sometimes my wife does Chinese-inspired food which I absolutely love. I also create some stuff in the kitchen as well, and I love it too (laughs).
What do you do when you're not working?
I love to go fishing in China. On weekends and holidays, we (12 to 15 friends) used to meet up at the Gongbei border, head somewhere on the coastline of China and stay for three or four days fishing, sleeping on the boat. This was our life (laughs).
Do you still do it?
Yes, but now with a car. We take a car and drive for more than 300 kilometers and find a nice place to fish. We usually go to remote fishing villages, with no busy crowds or resorts. We ask locals for a small boat and go do our thing.
---
A Lorcha 289 AA R/C Rua do Almirante Sérgio, Macau, +853 2831 3193, +853 2831 3195, www.facebook.com/A-Lorcha-Restaurant
Tags
Related Posts