Eager to try something other than continental breakfast or toast and a latte? Well, Macau might just be the perfect place to start new routines! While the western world usually has bread, milk-based products–butter, yogurt, cappuccino–cereal, fruit juices, and perhaps some eggs and beans, breakfast happens differently in China and Asia. When traveling to Chinese cities, expect to be presented with congee, some fresh fruit, but also steamed food (like dumplings), maybe stir-fried noodles and boiled eggs as well. In Macau, there might be a wider–and more interesting–choice of breakfast foods.
Besides fried noodles or rice, dishes such as chee cheong fan (猪肠粉), and French toast filled with peanut butter (法蘭西多士) and try adding condensed milk (煉奶) to the mix or ham and cheese toast (火腿芝士三明治) are superbly popular amongst locals. These are all common in several restaurants in town. You can always try congee (皮蛋瘦肉粥) and choose to include centennial egg, pork, chicken or vegetables to it. Most of the neighborhood cha chaan tengs (茶餐廳) have similar options too. Find your favorite local breakfast spot, enjoy some toast and coffee while the morning news plays on the battered television, and listen to the Macau aunties and uncles talk about their day.
Hon Kee
(See featured image above)
An off-the-grid joint located in Coloane, its wooden open-air structure gives it a slightly bohemian ambiance. The food is awesome and really catches the Macau vibe. Noodle soup is one of their most famous dishes, but there's also an array of sandwiches to choose from, namely fried egg. Peanut butter toast is also a must and remember to ask for yeunyeung (coffee with tea and milk, a very popular drink in both Macau and Hong Kong) or iced lemon tea to complete your breakfast. The staff is really friendly and Hon Kee's location offers an escape from the city's hustle and bustle.
Opening hours: Thursday–Tuesday, 7:00am–6:00pm
Hon Kee Merendas de Lai Chi Vun Park, Coloane, +853 2888 2310
Also read: Hon Kee Café: A Taste of True Coffee in Coloane
Also read: Vintage Visits: Go Back in Time at These Macau Locations
Also read: Macau Lifestyle's Dining Guide to Coloane Village
Also read: A Beginner's Guide to the Cha Chaan Teng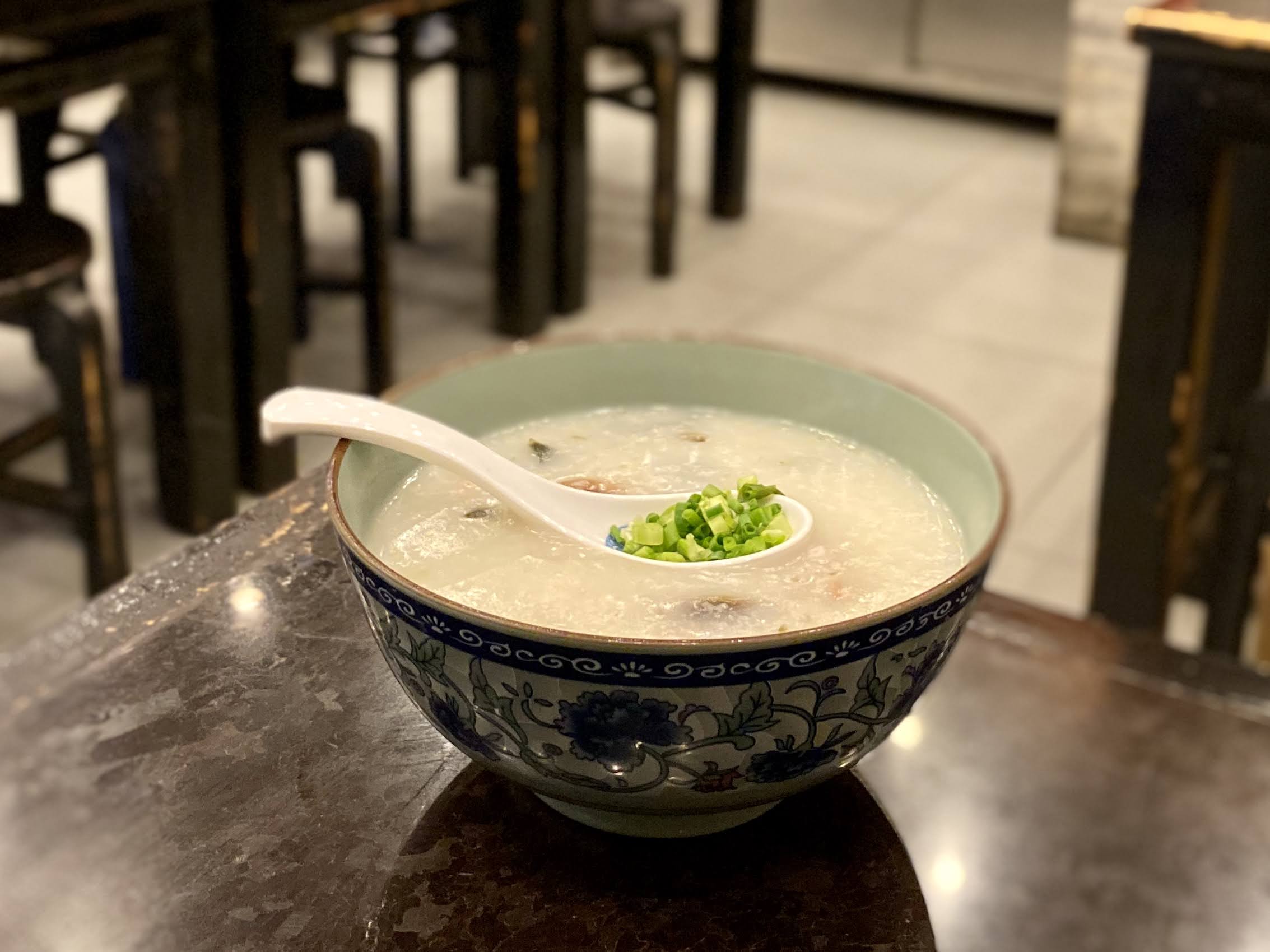 Piu Kei
Located in Taipa, right behind the Nova Taipa buildings, finding a good chee cheong fan after 11:00am can be quite difficult here. It's generally considered a breakfast dish and restaurants run out of it quite fast. Besides serving it all day until late, Piu Kei has consistently delicious food. Try the egg and pork or chicken congee (皮蛋瘦肉粥) and the wonton noodle soup (港式云吞面) as well. This is one of our all-time favorite places since it has an array of dishes to choose from, including boiled vegetables, fried rice, and noodles.
Opening hours: Daily, 7:00am–4:00am
Piu Kei 265 Rua de Bragança Taipa, Macau, +853 2885 5184
Also read: Macau's Best Cheap Eats
Also read: Macau's Best Wonton Noodles for Under MOP $50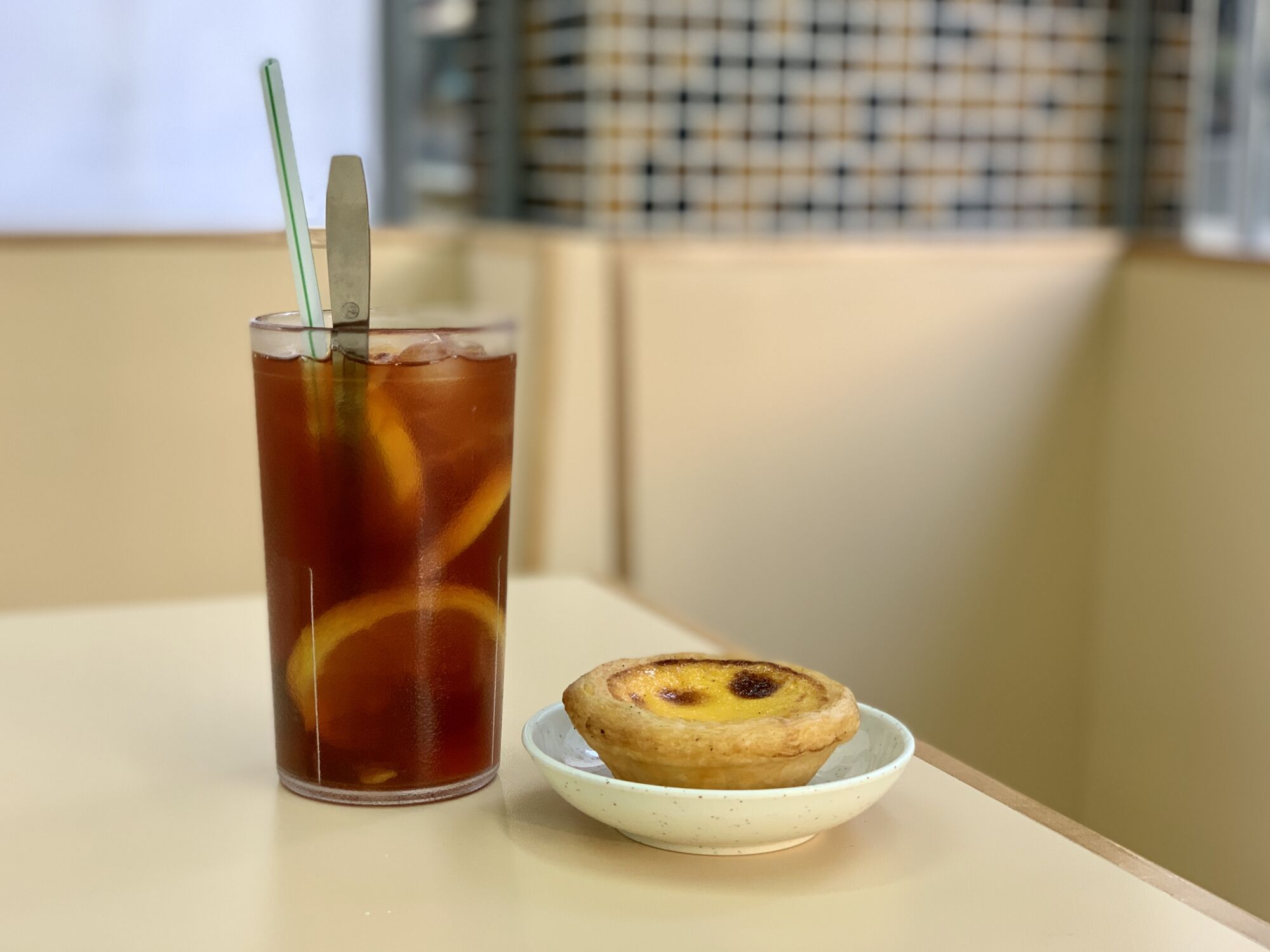 San Hou Lei
One of Macau's best-known food joints for its egg tarts, rather than just offering the traditional tart, this restaurant also sells fresh milk ones. It is usually crowded with tourists, so expect to wait if you really want to taste this one of a kind delicacy. Their pork buns are also a must. Tucked away in one of Taipa Village's lesser-known alleys, this place serves great food starting early, ideal for those looking not only to grab a bite before work but also something to eat after a long night out clubbing.
Opening hours: Daily, 7:00am–6:00pm
San Hou Lei Rua do Regedor 13, Taipa, Macau, +853 2882 7313
Also read: Where to Find the Best Portuguese Egg Tarts in Macau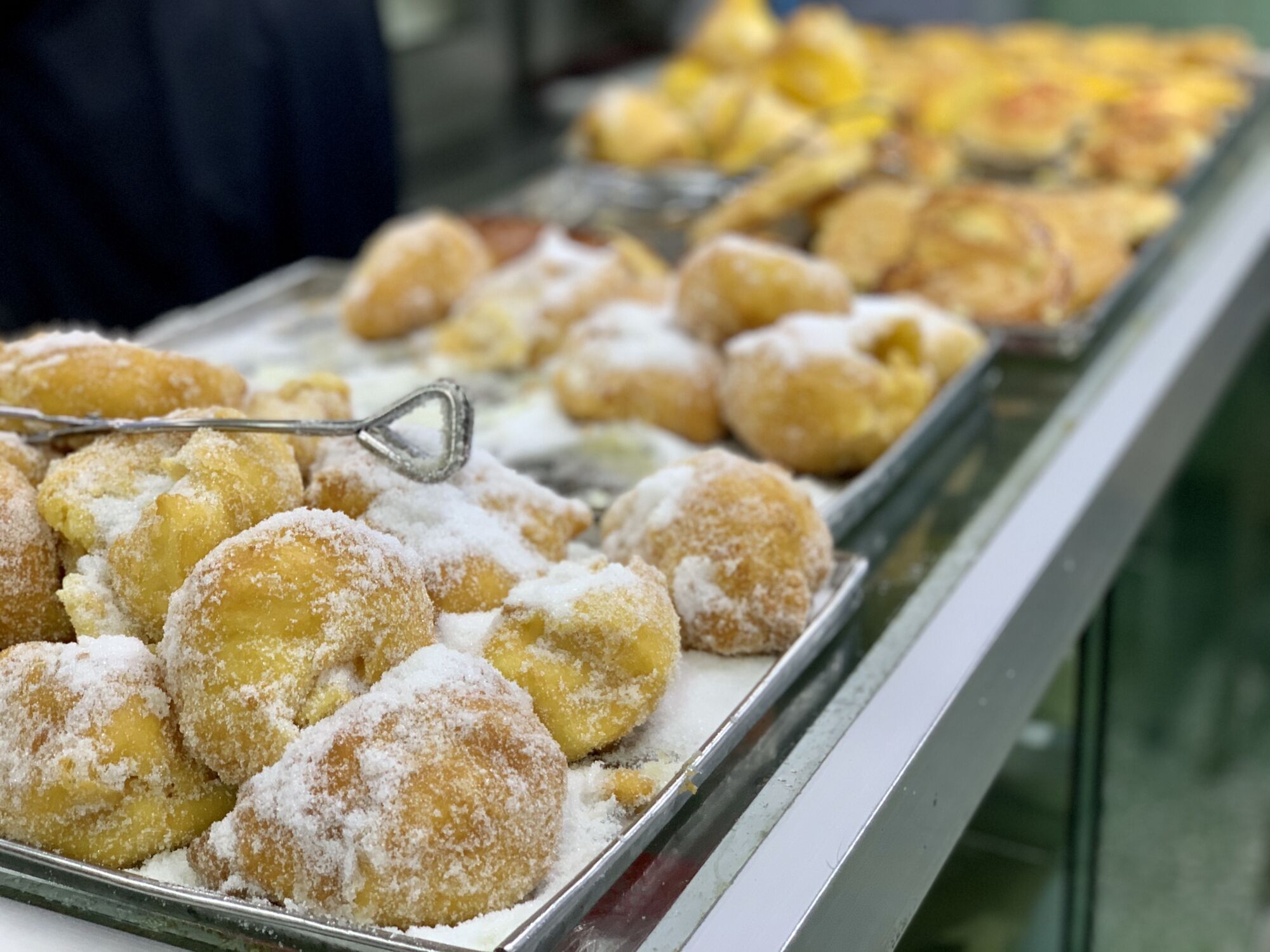 Nam Ping 
A small yet very old and well-known food joint in Macau, their menu has a notable detail: even though it's a Chinese place, all dishes are translated into English and Portuguese. One can have a simple butter or jam toast but also opt for an omelet or fried eggs with bread. Oatmeal is also a clever option for colder weather and Nam Ping has it in all kinds of shapes and tastes. We also love their char siu and egg sandwich which is so fluffy and delicious. Besides these more wholesome delicacies, they also serve a wide array of pastries; not too sweet, they're ideal to fill in that craving for something sweet.
Also read: Nam Ping: A Local Foodie Haven Nestled in Old Macau
Opening hours: Daily, 6:00am–6:00pm
Nam Peng 54 Rua de Cinco de Outubro, Macau, +853 2892 2267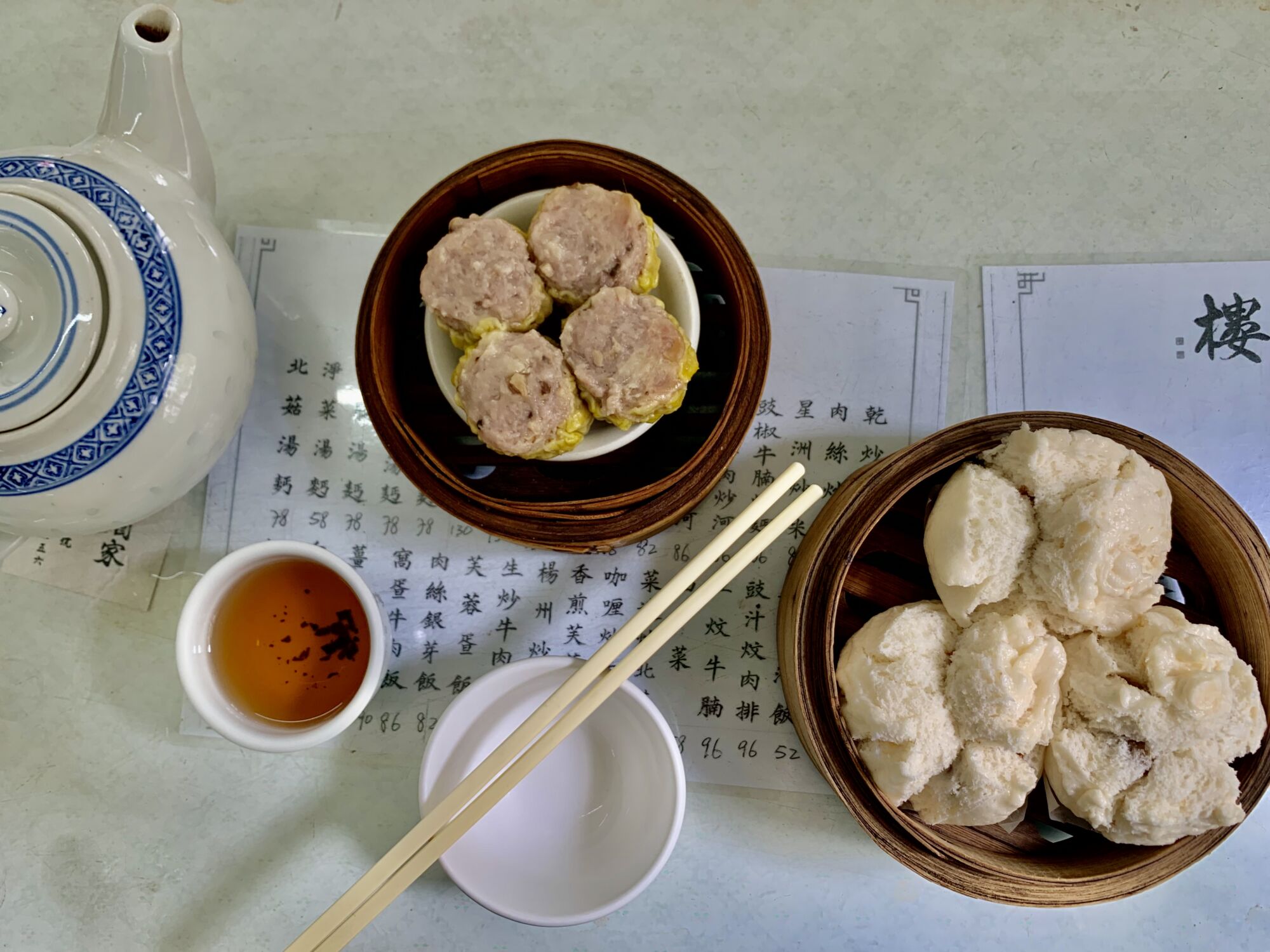 Long Wa Tea House
Any early birds out there? This spot is one of the oldest tea houses in Macau and has some of the most traditional dim sum dishes for all to experience! Want to get to know the authentic side of this city? Then head there, order some dumplings–the staff is happy to suggest and help with that–and have a wonderful breakfast surrounded with people chatting, couples holding hands, or the elderly reading the daily newspaper before the day actually starts. This spot close to the Red Market opens quite early, which is great for people looking to have a full-on Cantonese meal before hitting the office!
Also read: Long Wa Tea House: Going Back to the 1960s in Macau
Opening hours: Daily, 7:00am–2:00pm
Long Wa Tea House 3 Rua Norte do Mercado Almirante Lacerda, Macau, +853 2857 4456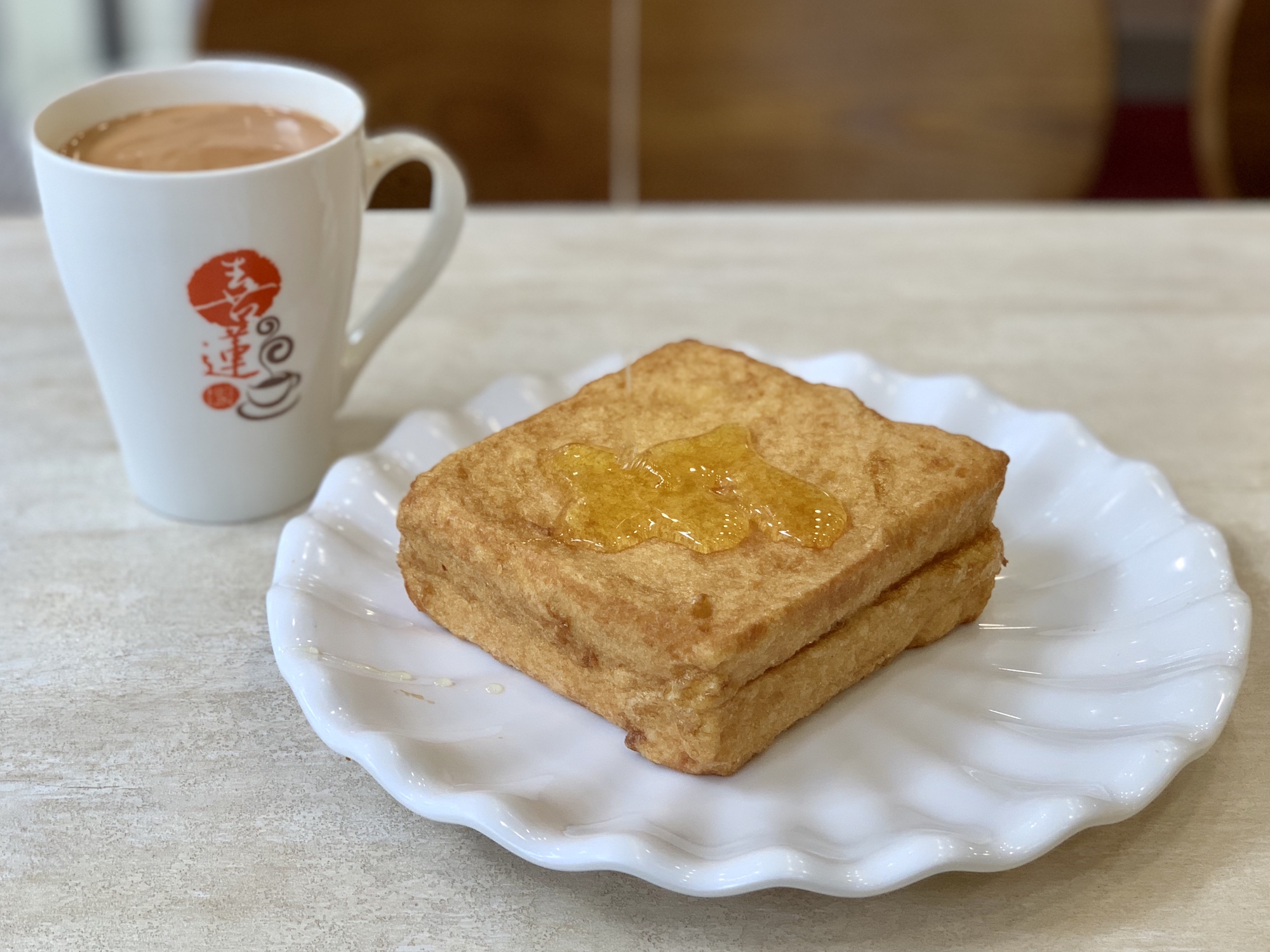 Hei Lin Café
Located in Taipa leading the way to beautiful spots such as Taipa Houses-Museum or Sam Po Temple, this is a very popular spot amongst locals. Frequently crowded, people head here not only for breakfast but for any meal of the day, really. From lunch to snacks or an early dinner, Hei Lin Café is spacious enough to accommodate everyone. It was a difficult choice–due to their wide menu–but we ended up choosing this delicious french toast: fresh bread with crunchy peanut butter in the middle and the option of having all that maple syrup on top! And, of course, a steaming hot milk tea to go with this sugar bomb. You can have almost anything at Hei Lin Café. Ask for the English menu and go through it: from noodles soups to stir-fried ones, preserved meat and egg sandwich to pork chop bun and fulfilling dishes such as curry with rice or Chinese-style minchi, there's so many to choose from!
Opening hours: Daily, 7:00am–8:00pm
Hei Lin Café Rua 84 Fernão Mendes Pinto, Taipa Village, +853 2882 7722, www.facebook.com/heilincafe1988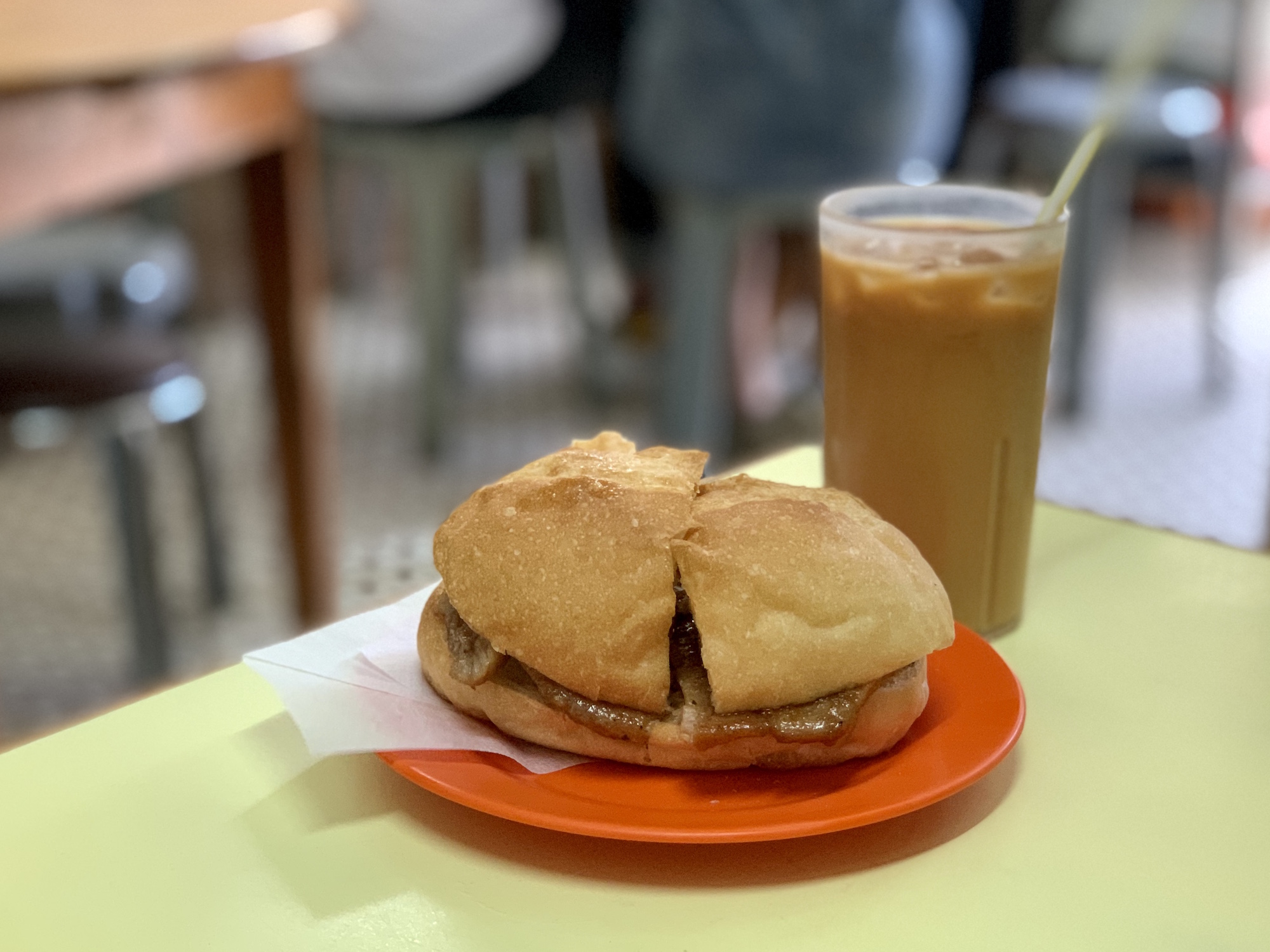 Heng Kei Cafe
Tucked away on a small alley in Taipa Village, Heng Kei offers simple solutions to all your breakfast problems. With a super-fast service, the staff is super friendly and eager to suggest the best dishes for the first meal of the day. Our table was presented with a freshly grilled pork chop bun on crispy bread with a tender piece of meat. An iced milk tea to go with it: fresh and more on the milky side, it's a great drink to kickstart the day. They offer other sandwiches, noodles soups, and much more. Heng Kei stands right in the middle of this busy area, but has a calm vibe because of its location, away from popular Rua do Cunha.
Opening hours: Daily, 6:00am–6:00pm
Heng Kei Cafe 18 Rua de Horta e Sousa, Taipa Village, +853 2882 7100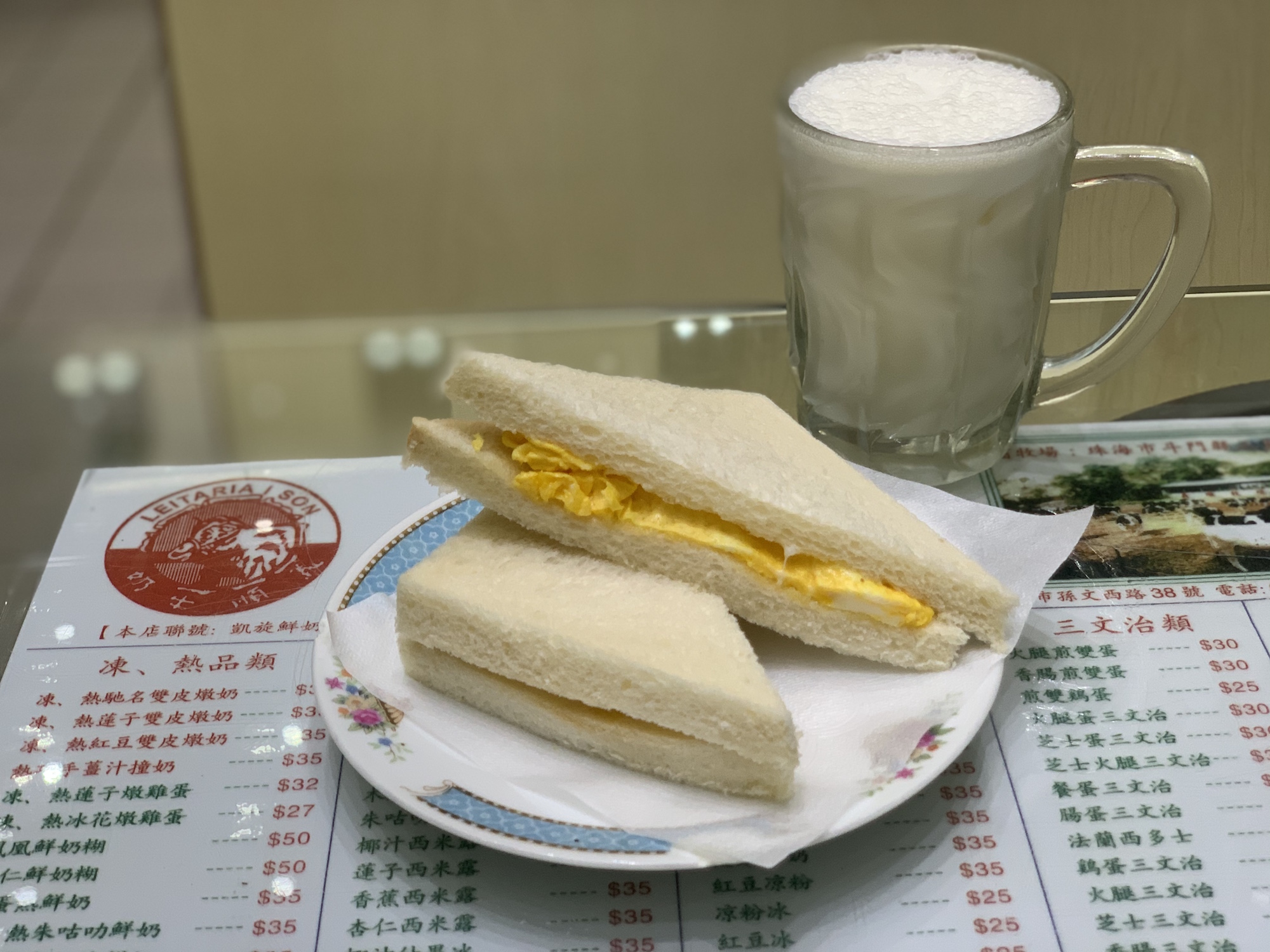 Leitaria I Son
Spot a local restaurant with a cow as a logo? Yes, that's the one! Leitaria I Son is very famous for its ginger and milk pudding, but it's also a great place for some very cool snacks, including breakfast, although they only open at 11:00am. From noodles to meat dishes, there's an array to choose from. However, we sometimes feel simpler is best, so our suggestion is their scrambled eggs sandwich with a fresh, foamy, and smooth banana milkshake, which has no added sugar and its all-natural ingredients. If you're still craving something more, go for the signature milk pudding; whether hot or cold, it's one of Macau's best-known desserts and snacks, so it's really worth the try.
Leitaria I Son 381 Av. de Almeida Ribeiro, Macau, +853 2837 3104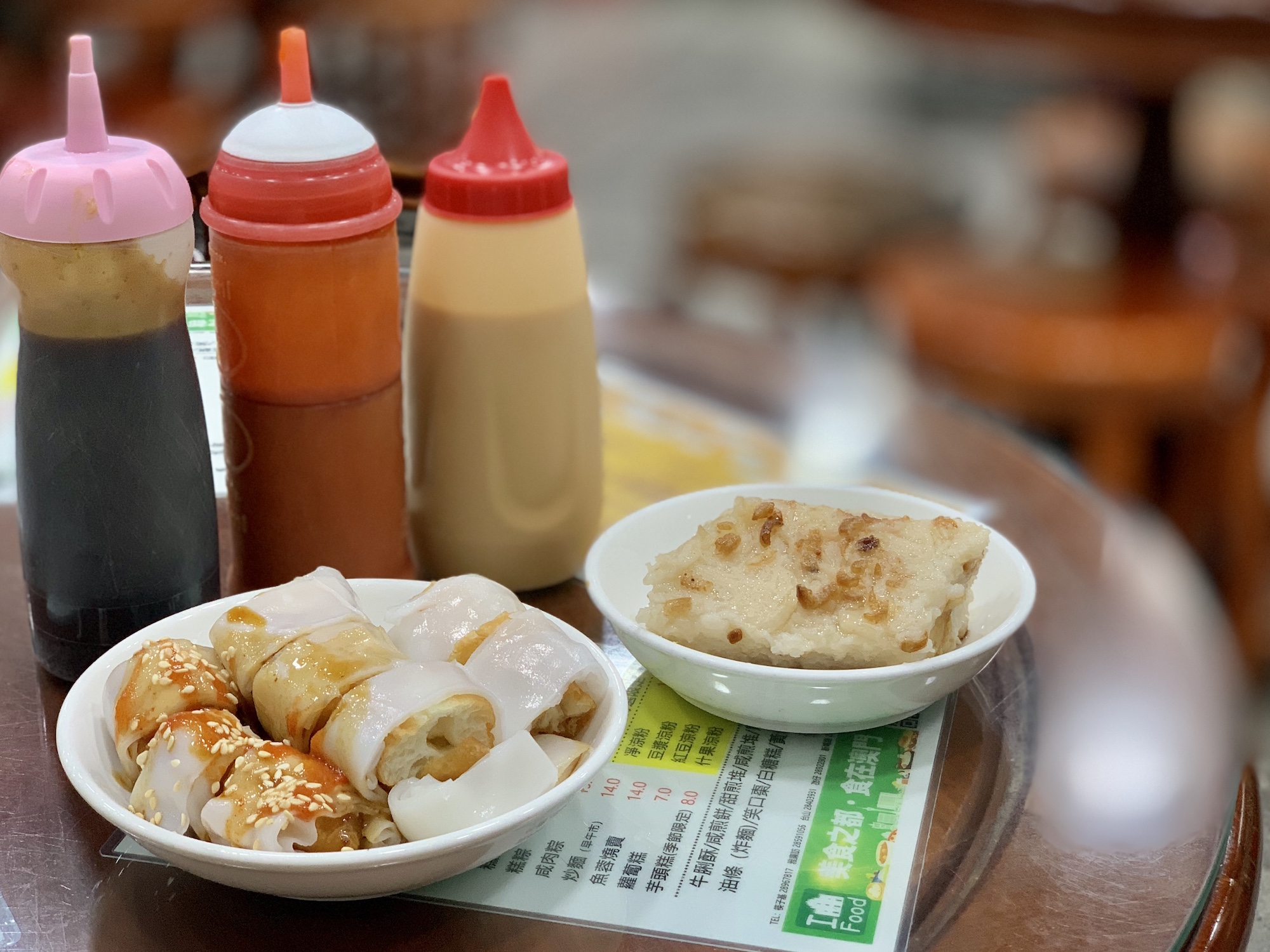 Seng Kei
They call themselves a "breakfast restaurant", so there's no doubt it's a great place to head to during early hours for special breakfast foods. There's even a special section on special items served during morning and evening only. Taro and turnip pudding, rice dumplings in bamboo leaves, steamed rice dough rolls, siu mai dumplings, and fried soft noodles are some of these. We went for the twisted dough sticks with rice sheet wrappers and turnip pudding. These are not only considered Cantonese breakfast items, but also very mouthwatering. The turnip cake–available in most yam cha menus across Macau–was soft and steaming hot. As for the rice wrappers, there's kind of a science to it: they're great on their own, but adding sauces like chili, peanut and plum give this dish a fantastic boost, as this is the traditional way to eat it. To drink, go for one of their several soy-based beverages.
Opening hours: 7:00am–6:o0pm
Seng Kei Congee 14 Rua dos Cules, Macau, +853 2832 3471
77 Av. do Ouvidor Arriaga, Edifício Fai Si, Macau, +853 2859 1056
264 南惠閣 (Nán huì gé) Block 2, Av. de Artur Tamagnini Barbosa, Macau, +853 2840 3931
Edificio Mei Keng Garden, Rua de Bragança, Taipa
Also read: Best Places for Congee in Macau
Tags
Related Posts