Congee is so ingrained in Chinese culture that you would most certainly find it anywhere in Macau–but what is congee? Congee is best described as rice porridge. The basic constituents of congee are rice and water–you simply boil the two together until they thicken and coalesce. Typically, congee is eaten at breakfast, but it's common to have it during the afternoon or even as a late-night meal. You can have congee plain with just salt, but the most common types of Cantonese congee that you will find are preserved egg with lean meat (皮蛋瘦肉粥), fish congee (魚片粥), beef congee (牛肉粥), meatball congee (肉丸粥) and pork intestines congee (粉腸粥).
To help those of you who do not speak or read Chinese, we will provide a glossary at the end of the article, which will come in handy when you explore these spots yourselves. Google Translate will be your best friend–take advantage of Google's image to text translation feature to read menus. You're not going to let a few Chinese characters get in the way of your taste buds now, are you? Keep reading to find out where the locals eat and where you can find the best congee that fuels the city of Macau!
Piu Kei (彪記)
(See featured image)
Piu Kei's Taipa branch at Flower City has the longest opening hours amongst all the congee places we recommend. They are open from 7:00am to 4:00am every day. What's more, fortunately for those of you who do not read or speak Chinese, Piu Kei has English in their menus! They have been around for 72 years and have three branches in Macau.
We took advantage of its late opening hours at the Flower City branch and visited around 10:00pm–11:00pm. We were not alone–there were three other people present having a late-night meal too. The plain congee was reasonable in size–the size of a small bowl of rice–but the congee with lean meat was almost double the size which makes for a satisfying late-night meal at Piu Kei. Apart from the generous selection of congee, which includes frog congee, crab congee and abalone congee, they also do noodles, rice rolls (which they call vermicelli rolls), fried dough stick (which they call fritters), appetizers such as fried squid and drinks like coffee and lemon tea.
Opening hours: Varies; Flower City – 7:00am–4:00am
Piu Kei Macau 2-14 Rua do Almirante Costa Cabral, Macau, +853 2859 3246
Piu Kei Taipa No. 256 Rua de Bragança, Taipa, +853 2885 5184
No. 41 Rua de Seng Tou (Flower City), Taipa, +853 2830 5429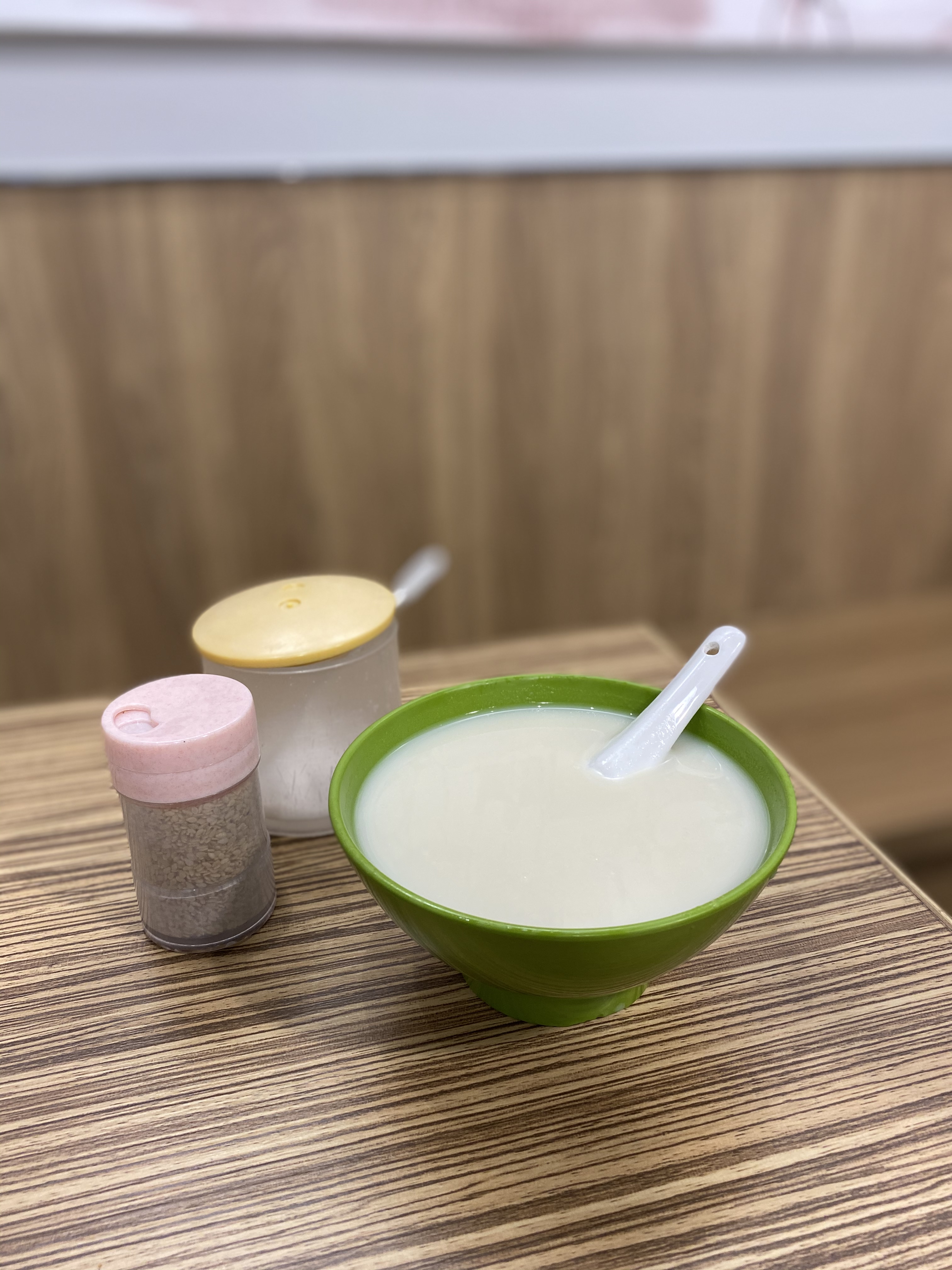 Seng Kei Congee (盛記白粥)
Seng Kei Congee (盛記白粥) is a familiar, if not the most well-known spot for congee amongst the citizens of Macau. It is a family business with over a hundred years of history which has been passed down over three generations. The popular restaurant has five branches across Macau.
The congee at Seng Kei is made by slowly boiling Thai rice with tofu skin at low heat, and they produce consistently smooth bowls of congee that simply glide down your throat! The flavor of rice and tofu skin complement and melt so seamlessly with one another that there are virtually no grains of rice visible. Seng Kei also serves other traditional Chinese breakfast foods like fried dough sticks (which you would have in the congee), rice rolls, fried noodles, and so on. They also serve twelve different traditional Chinese desserts such as tofu pudding and green bean soup, so there will be something for you whether you're a savory or a sweet eater. Seng Kei is super affordable–a small bowl of congee is MOP $7 and the most "expensive" thing on the menu costs only MOP $22. They also serve food incredibly quickly, so if you are hungry and craving Chinese breakfast or dessert, Seng Kei is the place to go!
Opening hours: 7:15am–7:00pm
Seng Kei Congee Rua dos Cules, Senado Square, Macau, +853 2832 3471
Edificio Fai Si, 77 Av. do Ouvidor Arriaga, Macau, +853 2859 1056
No. 264 南惠閣 (Nán huì gé) Block 2, Av. de Artur Tamagnini Barbosa, Macau, +853 2840 3931
Edificio Mei Keng Garden, Rua de Bragança, Taipa

San Ma Lo Seng Kei Congee (新馬路成記粥品)
San Ma Lo Seng Kei Congee (新馬路成記粥品) (not to be confused with the first Seng Kei) is a must-try congee place too. Located in an inconspicuous alleyway tucked alongside the busy road of San Ma Lo, Seng Kei is Macau's not so well-kept secret! It is a significant part of Macau's street food culture–though it is fronted by a small stand, the alleyway it is in contains small wooden tables and green plastic chairs that are kept cool by whirring fans. It is so popular with tourists that they even have Thai, Japanese and Korean menus.
Seng Kei is an old business of forty years operated by a bubbly couple who are friendly and happy to chat with their customers. The locals affectionately refer to the man in charge as "Long Gor", which means Brother Long. Brother Long has playful energy which is extremely contagious–if you are lucky you might catch him spontaneously bursting into song and singing old Cantonese pop songs! Brother Long and his wife wake up every morning at 4:00am to start cooking their congee, eventually opening up for business at 7:00am. The modest shop boasts 21 different flavors of congee. We tried the congee with century egg and lean meat which was big in size and quite filling. The congee on average costs MOP $26, with the most expensive one being MOP $33. The taste was fantastic with just the right level of salt, ginger, and spring onions. You could request to have fried dough sticks with it as well.
Seng Kei is also associated with San Ma Lo Seng Kei Congee at Broadway Macau but for the authentic, local experience, San Ma Lo Seng Kei is the place to go!
Opening hours: 7:00am–1:00pm (depending on how quickly they sell out)
San Ma Lo Seng Kei Av. de Almeida Ribeiro, 吳家圍, Macau, +853 6660 1295
Opening hours: 11:00am–1:00am
San Ma Lo Seng Kei Congee* E-G025, Broadway Macau Food Street, Av. Marginal Flor de Lotus, Macau, +853 8883 1823, www.galaxymacau.com
*Restaurant is closed until further notice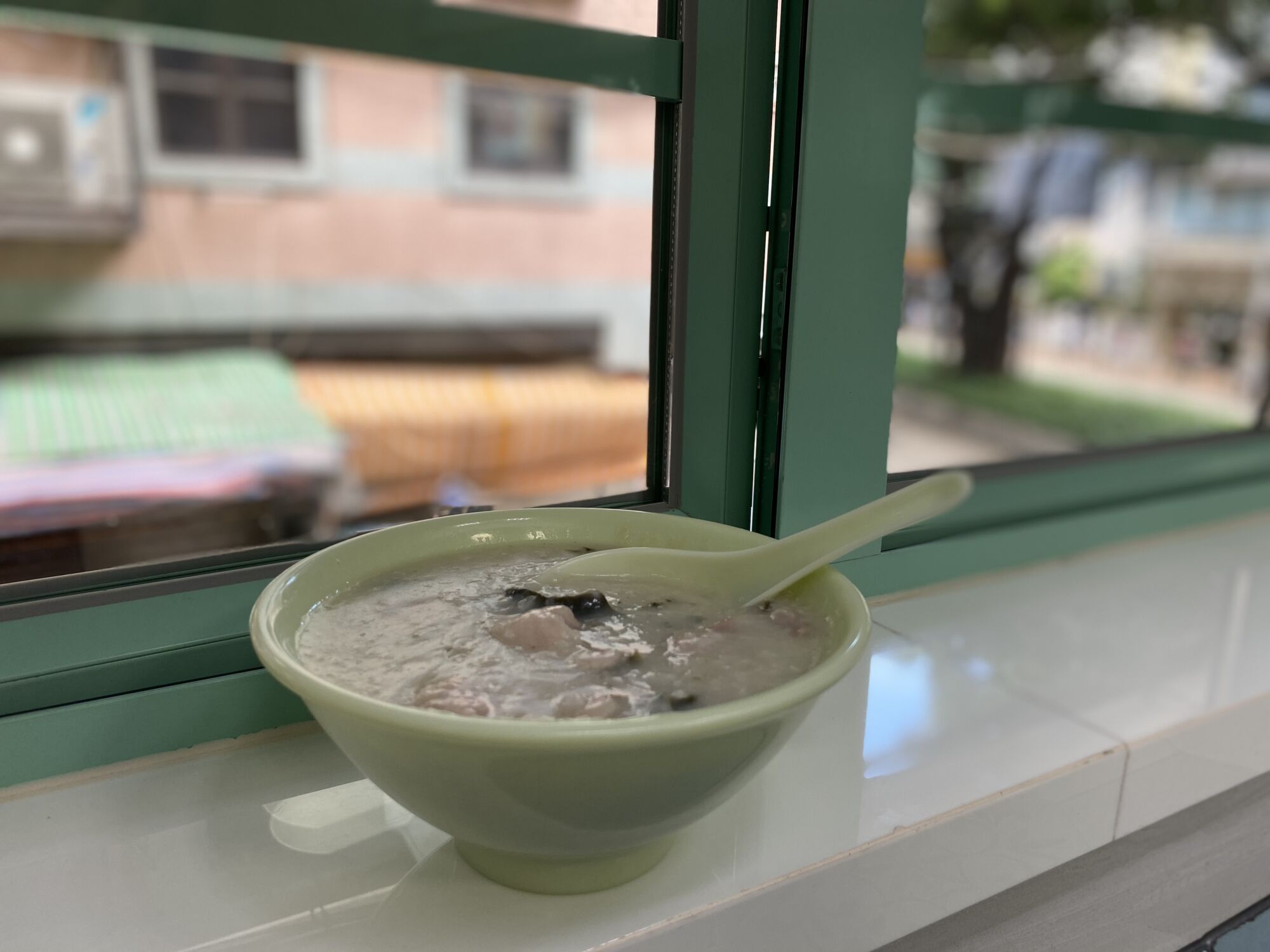 Fu Kei Congee (富記粥品)
Fu Kei Congee is located on Avenida Horta e Costa, one of the busiest and most important roads in Macau. It began in 1970, had a brief hiatus between 2017 and 2018, and then was passed onto the daughter of the founder.
The congee begins cooking at 4:00 in the morning every day. Their special is called a及第粥 (jí dì zhōu). It is a type of congee with meatballs, intestines, pig stomach, and pig liver. The congee was a hearty serving size and very filling! They have fifteen different types of congee to choose from and all their congee costs MOP $30. Although Fu Kei was refurbished two years ago, it still retains the nostalgic atmosphere and looks of an old "cha chaan teng" (cafes that are found commonly in Hong Kong and Macau) with its green tiled walls and wooden stools. If you sit on their upstairs area, you can overlook the bustling road below while you enjoy your big bowl of congee.
Opening hours: 7:00am–12:30pm, closed on Mondays
Fu Kei No. 83D, Avenida de Horta e Costa, Edificio Weng On, Block C, +853 2838 4706, www.facebook.com/fukei.congee.mo
Also read: A Beginner's Guide to the Cha Chaan Teng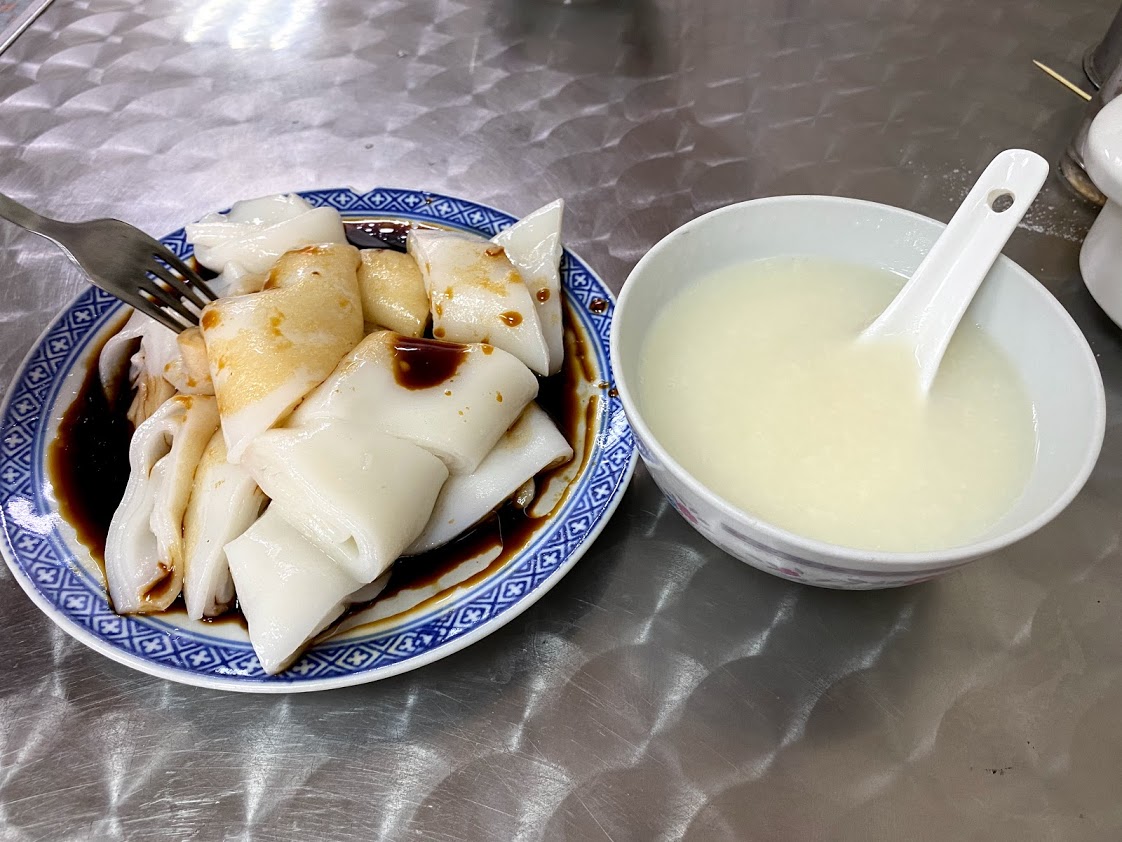 Fat Kee (台山發記粥品)
Fat Kee is a five-minute walk away from the border between Macau and the mainland. Since 1975, Fat Kee has served the locals of the northern area of Macau for breakfast with only two types of congee, namely plain (MOP $6) and preserved egg with lean meat congee (MOP $14). Most remarkable are their traditional handmade bulai rice rolls (布拉腸粉). These rice rolls are made by pouring the rice mixture onto a white woolen cloth, which is then steamed to create the soft, thin layers that make up the rice rolls. Depending on one's preference you could have rice rolls with fresh beef, Chinese barbeque pork (char siu), shrimp, or with siu mai.
Like most other congee places, the plain congee tends to come in a smaller bowl, which leaves room for you to pair it with other types of dishes such as rice rolls. They have five different types of rice rolls. You can have it plain, with beef, shrimp, char siu (Chinese barbeque pork), or with siu mai. You can also order sticky rice buns (糯米包) and siu mai (a popular dish of dim sum which tends to have prawn and pork within) on its own.
Opening hours: 8:00am–noon
Fat Kee Next to no. 144, Av. de Artur Tamagnini Barbosa, Macau

Glossary
粥 (Zhōu) – congee
油炸鬼 (Yóu zhá guǐ) / 炸麵 (Zhá miàn) / 油條 (yóutiáo) – fried dough stick
腸粉 (Cháng fěn) – rice roll
炸腸 (Zhà cháng) /炸兩 (zhà liǎng) – rice roll with fried dough stick inside it – have it with sweet soy sauce, sesame seeds and peanut butter
炒麵 (Chǎomiàn) – fried noodles
豆漿 (Dòujiāng) – soy milk
燒賣 (Shāomai or siu mai in Cantonese) – a type of dimsum that normally has pork and shrimp inside
粽 (Zòng) – a traditional Chinese dish made of glutinous rice typically stuffed with meat fillings and wrapped in bamboo leaves
蘿蔔糕 (Luóbo gāo) – steamed radish cake
Tags
Related Posts