Cha chaan tengs in Macau are like diners are in the US – they are affordable and no-fuss restaurants which offer an extensive menu of comfort food. The name literally translates to 'tea restaurant' or 'tea house', and they are casual hangout spots that first emerged in Hong Kong just after the second world war. These humble eateries were an attempt to sate locals' demand for western cuisine, which was considered a luxury during that time. When Hong Kong chefs added a bit of simple western flair to their fried food to make it appealing and affordable for the masses the cha chaan teng culture was born and it soon caught on here in neighboring Macau.
Cha chaan tengs basically serve tasty food that fuels the locals at their various mealtimes during the day. Whether it's a quick breakfast, a hearty lunch or late afternoon cravings, these restaurants serve up great calorific fare, including items like rich sweet milk tea, French toast, and delectably fried spaghetti.
Since English menus are uncommon in cha chaan tengs it can often be intimidating to those who don't speak the language. These establishments aren't known for gracious service as well (in fact, that's part of their simplistic appeal). So for the curious yet uninitiated, here's a basic guide on how to eat at a cha chaan teng.
Where
Cha chaan tengs are abundant all over the city – chances are you're never a block away from a cha chaan teng. They often have Chinese menus posted by the entrance while and inside you will find a majority of the patrons sipping on coffee or tea amidst the daily papers. A typical cha chaan teng usually serves noodles, rice dishes, and pastries, plus a myriad of drink options. Most of them have some kind of basic outdoor seating setup.
We have five favorite Macau cha chaan tengs (see a complete list of addresses below). However, all are equally good or have different specialties, so it's hard to pick a top one. While Nam Ping Cafe is great for pastries, Xinhongfa Cafe is known for its towering French toasts, the likes of which I'm sure you have never seen before. Hon Kee Cafe does a nice handcrafted coffee in a natural setting. Sai Van On Kei (see featured image above) has great pasta and buns, while Cidade Cafe offers awesome set meals and noodles.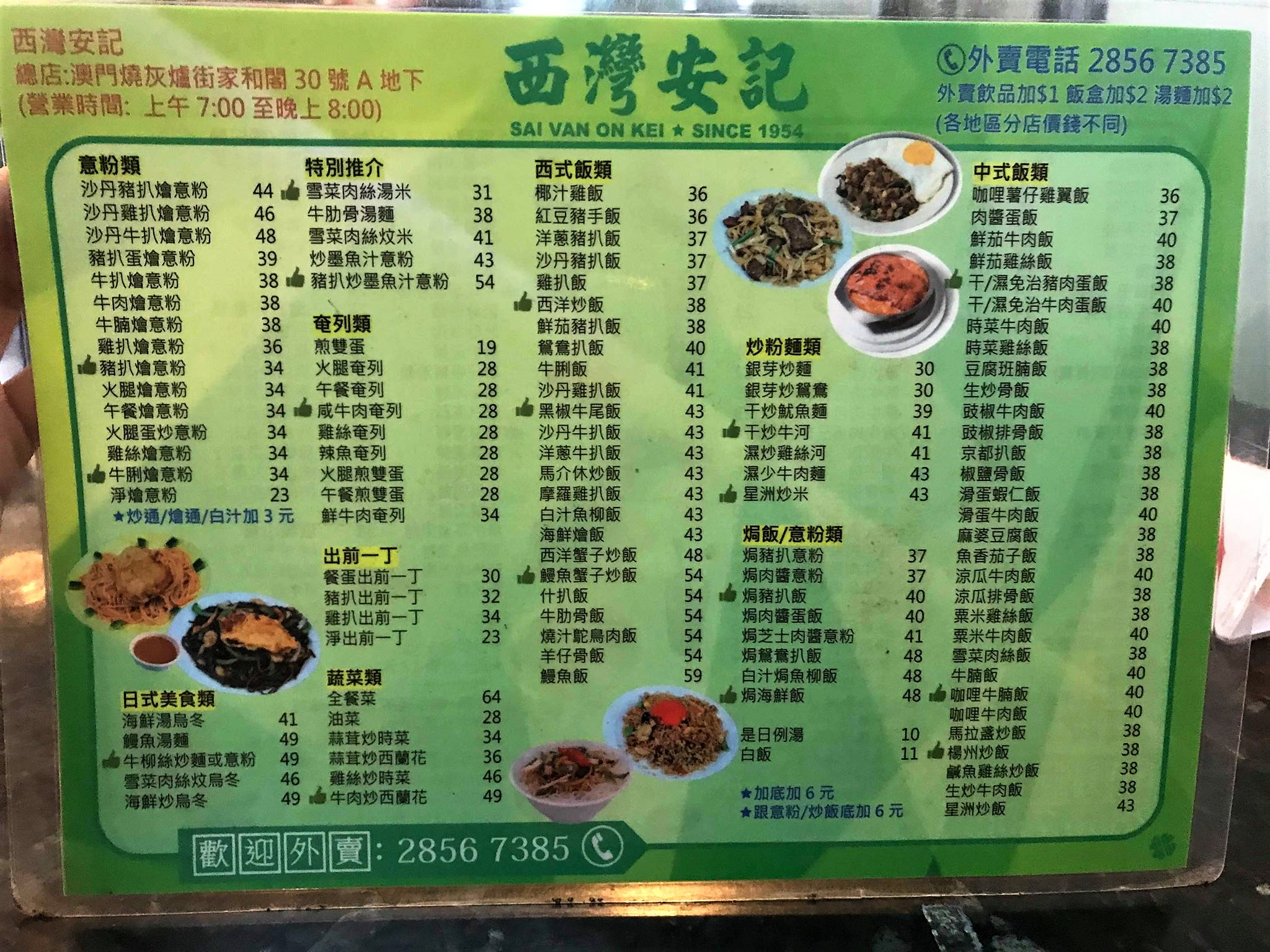 What to order
Upon sitting down, servers almost always place tea on the table and ask what diners want right away –  they don't beat around the bush here. Locals usually know what they want and have their favorites in mind and order them straight away. If you're not good at Chinese, we recommend looking around and pointing to dishes that others have, or referring to pictures. Or, you can always play a little game of menu-roulette and surprise yourself with what you've picked. Regardless of how you order, you might want to take a look at this handy little guide we've prepared specially for you to help you familiarize yourself with the offerings and make sure you don't get any unexpected surprises when ordering!
Drinks
Milk tea – 奶茶 (naai cha)
Coffee – 咖啡 (gaa fei)
Milk tea with coffee – 鴛鴦 (yuen yeung)
Iced lemon tea – 凍檸茶 (dong ling cha)
Red bean ice – 紅豆冰 (hong dau bing)
Customize your drink
Hot/cold: 熱 (yit)/凍 (dong)
Less/more/no: 少 (siu)/加 (ka) /走 (jau)
Ice/sugar/milk: 冰 (bing)/糖 (tong)/奶 (naai)
For example, an iced coffee with less ice and more milk would be 'dong gaa fei, siu bing ka naai'
Food
1. Instant noodles
Instant noodles with egg and luncheon meat – 餐蛋麵 (tsaan dan gung)
Tsaan = luncheon meat, dan = egg, gung = gung zai min = instant noodles
2. Sandwiches and toast 
French toast – 西多士 (sai doh si)
Club sandwich – 公司三文治 (gung si sam maan zi)
Toast with condensed milk and peanut butter – naai zeong doh
Condensed milk and butter toast – naai yau doh
Jam and peanut butter toast – zim zeong doh
3. Rice
Yeung chow fried rice – 揚州炒飯 (yeung chow chau fan)
Beef minchi with rice – 免治牛肉飯 (min zi ao yuk fan)
Fried fish with creamy corn sauce – 粟米斑腩飯 (suk mai ban lam fan)
Baked seafood rice – 焗海鮮飯 (kok hoi sin fan)
4. Noodles
Stir-fried beef and vermicelli noodles – 乾炒牛河 (gon tsau ao hor)
Wonton noodle soup – 雲吞麵 (wonton min)
5. Pastries
Egg tart – 蛋撻 (daan tat)
Pineapple bun – 菠蘿包 (bo loh bao)
One of the best things about Cha chaan tengs is discovering them yourself. The beginning of your great culinary adventure begins with a single step. Walk your way around Macau in places like the Senado Square, Taipa Village, or even around Red Market to eat your way around the city.
Addresses 
Nam Peng G/F, 85-85A Rua de Cinco de Outubro, Avenida de Almeida Ribeiro, +853 2892 2267
6:30am—6:30pm, daily
Xinhongfa Cafe Rua do Almirante Costa Cabral, No 55A, Costa, +853 2853 0452
6:00am–6:00pm, daily
Hon Kee Cafe Merendas de Lai Chi Vun Park, Coloane, +853 2888 2310
7:00am—6:00pm, daily (except Wednesday)
Sai Van On Kei G/F, Vo Court, 30 A R. do Chunambeiro, Sai Van, +853 2856 7385 / +853 2838 7108
6:00am—8:00pm, daily
Cidade Cafe G/F, 16-18 R. de Joao Lecaros, Sao Lourenco, +853 2893 7782
6:00am—5:30pm, daily
---
For a more extensive guide to the menus and some of the delicious items normally served up at these eateries, check out our list of must-try cha chaan teng food.
Tags
Related Posts