February is considered the most romantic time of the year with Valentine's Day celebrated on the 14th of the month. While it's terribly cliche, trust us, nothing means more to your significant another than a romantic date at these gorgeous loved-up restaurants going all out for the season of hearts!
The St. Regis Macao
(Featured image above)
Our favorite dining spot at St. Regis has raised the bar when it comes to this charmed season. On Valentine's Day, The Manor has created a heartfelt "Love Connection Valentine's Set Dinner".
Priced at MOP $2,088 per couple, the nine-course tasting menu comprises premium ingredients such as Baikal caviar, fresh sea urchin from Hokkaido, and Georges Bruck Foie Gras. Highlight dishes include Steak and Egg featuring egg yolk pintxos, piedmont fassone beef tartare and Baikal caviar, Lobster Pot with Boston lobster and clams, espelette pepper butter, samphire and guanciale, and – for those looking to end the perfect night on a sweet note – Mango Crêpe. By sticking with the best only for that precious person in your life, it's bound to be the best date night in the city!
The Manor The St. Regis Macao, Estrada do Istmo, Cotai, +853 2882 8898, www.stresgismacao.com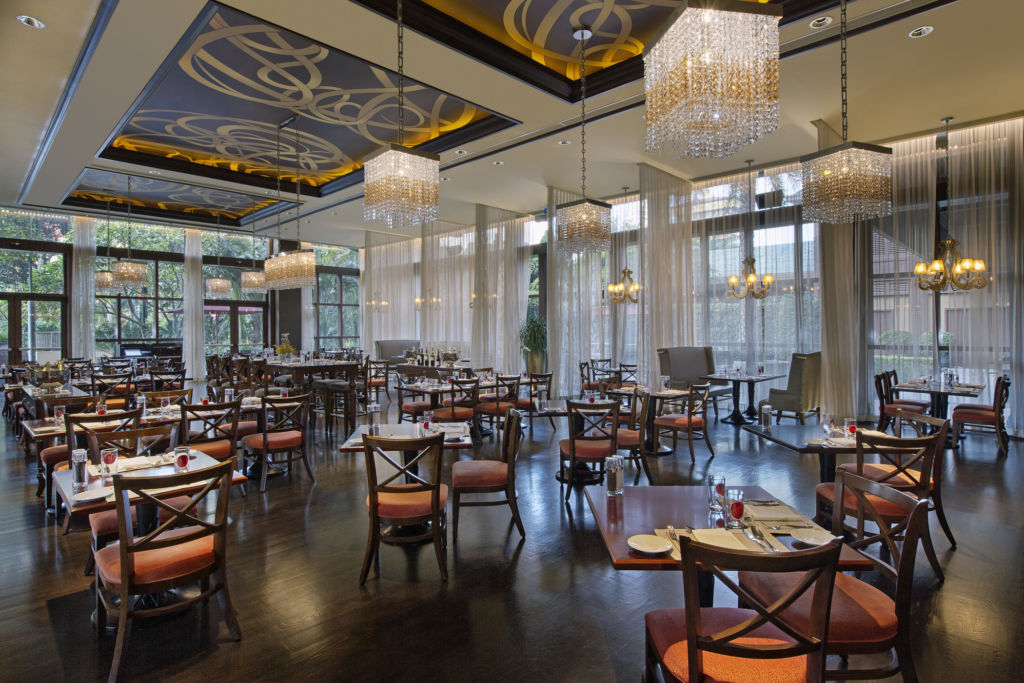 Sheraton Grand Hotel Macao
Aptly named the "Amore Valentine's Day Set Dinner" at the Italian restaurant, Bene, their six-course special menu made up of exquisite ingredients marks an evening of luscious flavors and delectable dining.
Start the night with a refreshing Terrina di Garnchio (Alaskan crab terrine with avocado, heirloom tomato, and basil granite). The epicurean journey continues with a Cappellaccio di
Granchio (raviolo filled with crab with saffron crustacean bisque), and Astice Gratinato ai Porcini e Wagyu. Cap off your meal with a rich Tortino al Cioccolato, all priced at MOP $2,088 per couple.
Bene Sheraton Grand Macao Hotel, Estrada do Istmo, Cotai, +853 2880 2000, www.sheratongrandmacao.com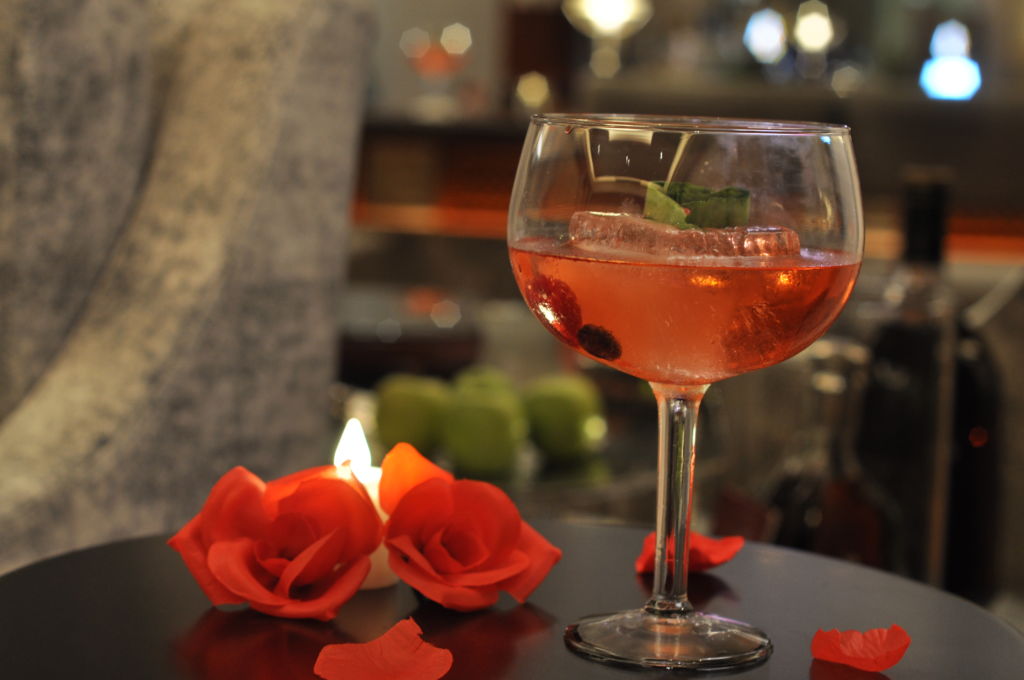 Grand Lapa Hotel
If you need a game plan to woo the heart of your significant other on Valentine's Day, then look no further than the Romantic Candlelight Dinner at Grand Lapa's Vasco Bar & Lounge. A bottle of champagne to set the mood, a medley of music and an intimate dining experience for only MOP $1,350 per couple, don't miss this divine date night. Now, if you want some fiery flavors in your night, head to Naam Thai Restaurant where Valentine's Day Set dinner also awaits for MOP $1,200 per couple.
Grand Lapa Avenida de Amizade, Macau, +853 2856 7888, www.grandlapa.com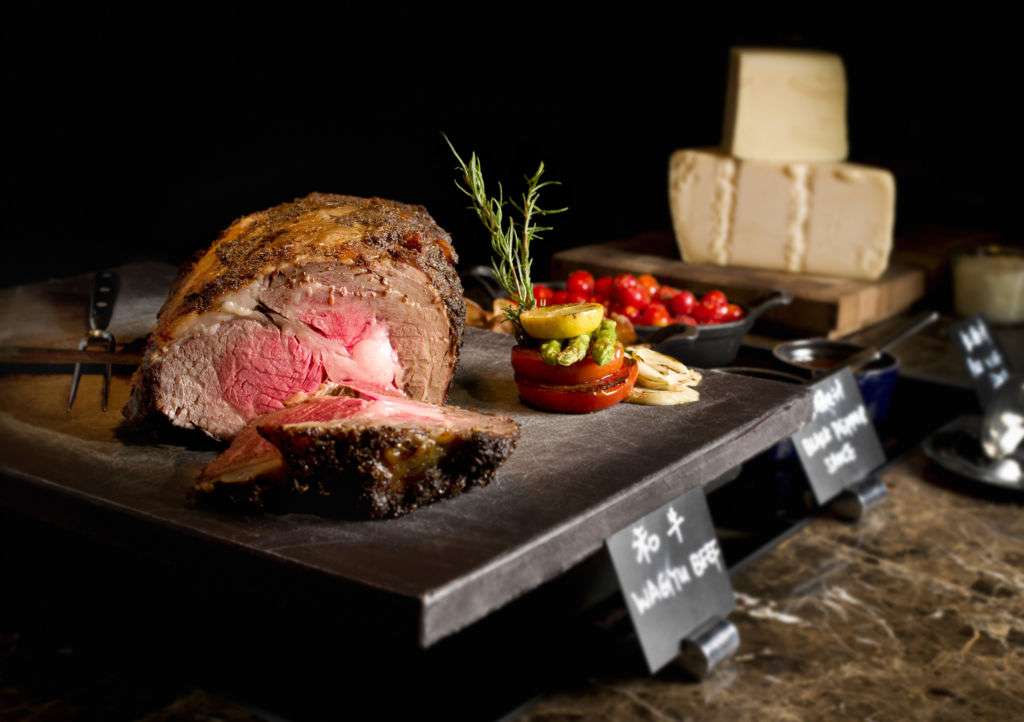 JW Marriott Hotel
Treasure the special evening with a trip to Urban Kitchen at JW Marriott Hotel. A relaxed dining ambiance mixed with a symphony of flavors as you explore the buffet of various cuisines, enjoy a heartwarming feast on a special night. It is priced at MOP $688 per adult, and if you opt to bring the kids which is truly okay, by the way, it's priced at MOP $334 per child (3-11 years old). You'll even get
a glass of sparkling wine, a heart-shaped dessert, and an instant photo to mark the beautiful occasion.
Urban Kitchen JW Marriott, Galaxy Macau, Cotai, +853 8886 6888, www.galaxymacau.com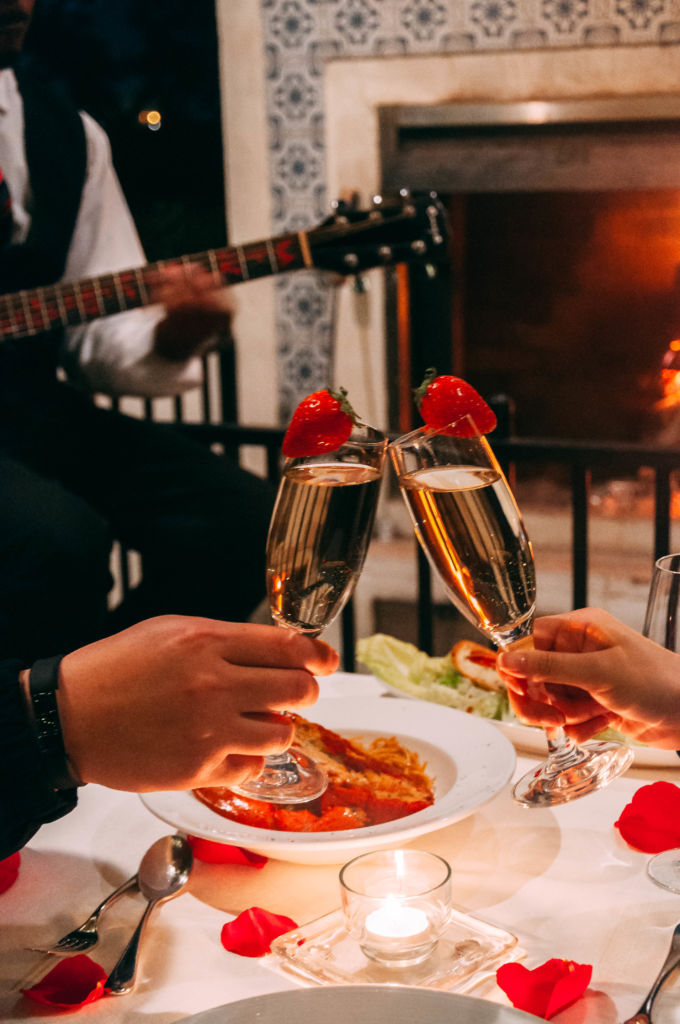 Grand Coloane Resort
A dining getaway from the bustling city vibe of Cotai hotels, the Romance Dinner Set at Grand Coloane Resort is just swoon-worthy. A delicious five-course dinner set awaits you and your date by the fireplace of Café Panorama. And a medley of love songs on background courtesy of the talented Curtis Scott will ensure your Valentine's Day will be the most memorable. A romantic photo shoot and sweet macaroons will also be included. How's that for divine details of a date? The dinner set is priced at MOP $988 for two persons and inclusive of two glasses of champagne.
Grand Coloane Resort 1918 Estrada de Hac Sa, Coloane, +853 8899 1127, [email protected] www.grandcoloane.com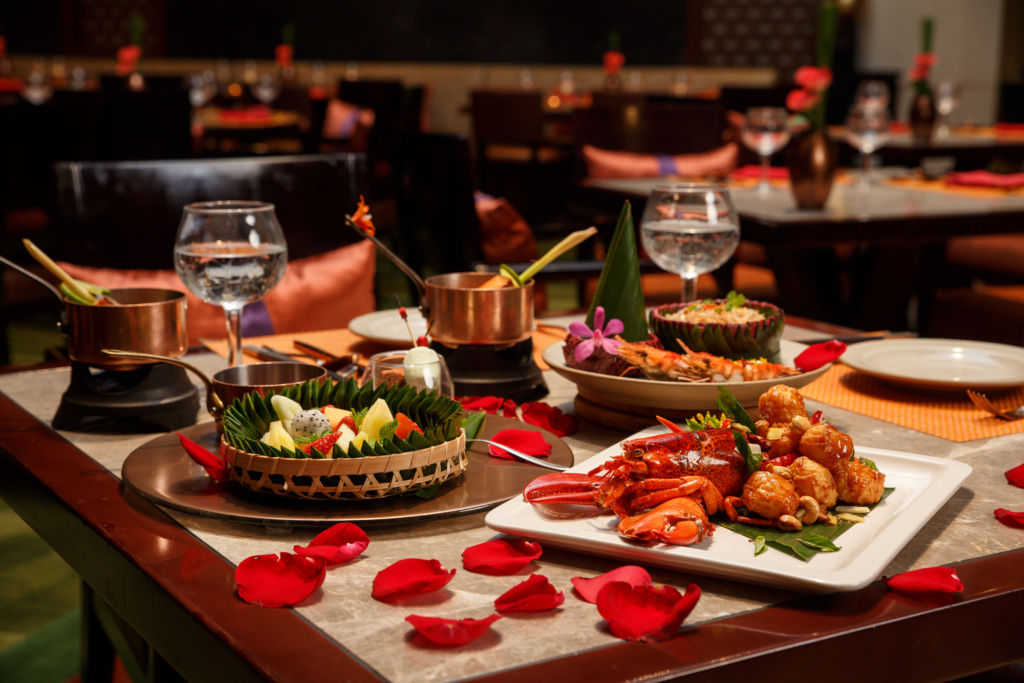 Banyan Tree Macau
Nothing says special like some spice on your Valentine's Day date. And, there's only one place in the city prominent for culinary taste and aroma. Saffron's romantic set dinner is a heart-warming creation by the kitchen team to pay tribute to the most passionate evening of the year. Sit back, relax and enjoy great food amidst an intimate vibe of the outstanding restaurant. It is available on February 14, 2018 from 6:00pm to 10:30pm at MOP $1,288 per couple. The price is subject to 10% service charge. An advance reservation is also required.
Saffron Banyan Tree Macau, Galaxy Macau, Avenida Marginal Flor De Lotus, Cotai, +853 8883 6061, www.banyantree.com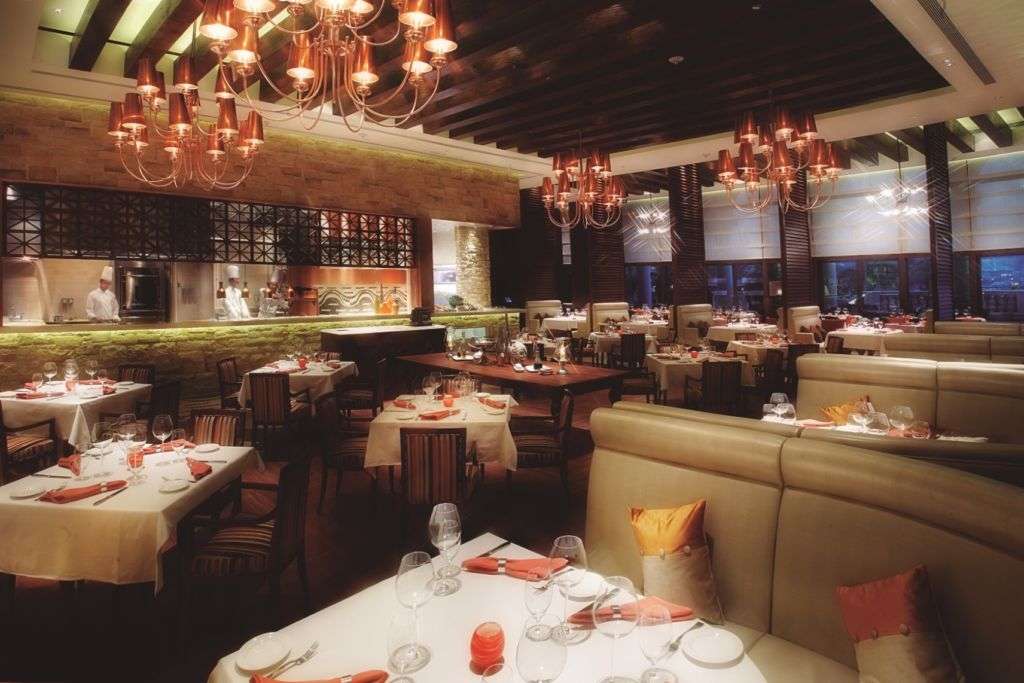 The Venetian Macao
Located right in the heart of The Venetian Macao, Portofino is a local favorite when it comes to Italian fare. A beautiful setting with contemporary interiors of burgundy and brown wood, there is also a good mix of private rooms dedicated for celebrations and special occasions. On Valentine's Day, take your sweetheart for a divine menu consisted of sashimi grade yellowtail tuna, Sicilian swordfish and black pork ham, grilled veal rib, baked black cod, caviar.  For dessert, delight in passion fruit, with raspberry compote and mandarin sorbet. The set menu is priced at MOP $ 1,118 for two persons.
Portofino The Venetian Macao Casino Level 1, Shop 1309, +853 8118 9950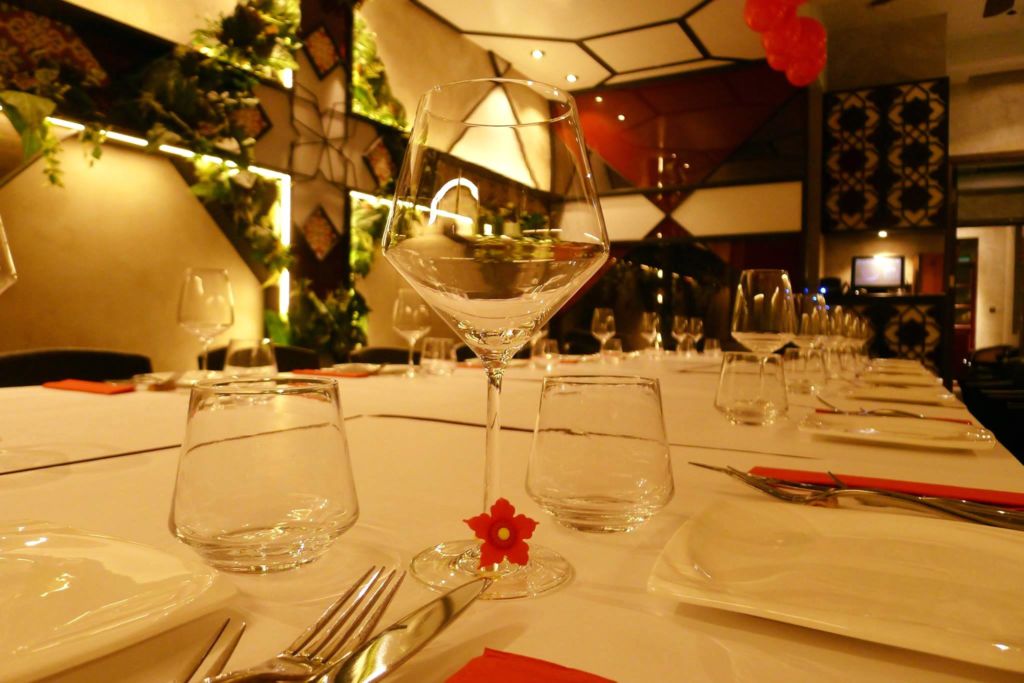 BELLA TAIPA
Take a stroll to the romantic rustic scene of Taipa Village where Bella Taipa is tucked away. The Italian restaurant always has a lovely atmosphere. On Valentine's Day, prepare to be captivated by a special menu consisting of lobster salad, oyster, potato soup with bacon and asparagus, handmade tortelloni with Italian Porcini mushroom, salmon papillote over mashed sweet potato and filet mignon with seasonal vegetable. To cap the lovely evening is a special San Valentino Tiramisu and a glass of Italian sparkling wine. The shared menu is priced at MOP $888 per couple.
Bella Taipa 1 Rua dos Clerigos, Taipa, +853 2857 6621, www.bellataipa.com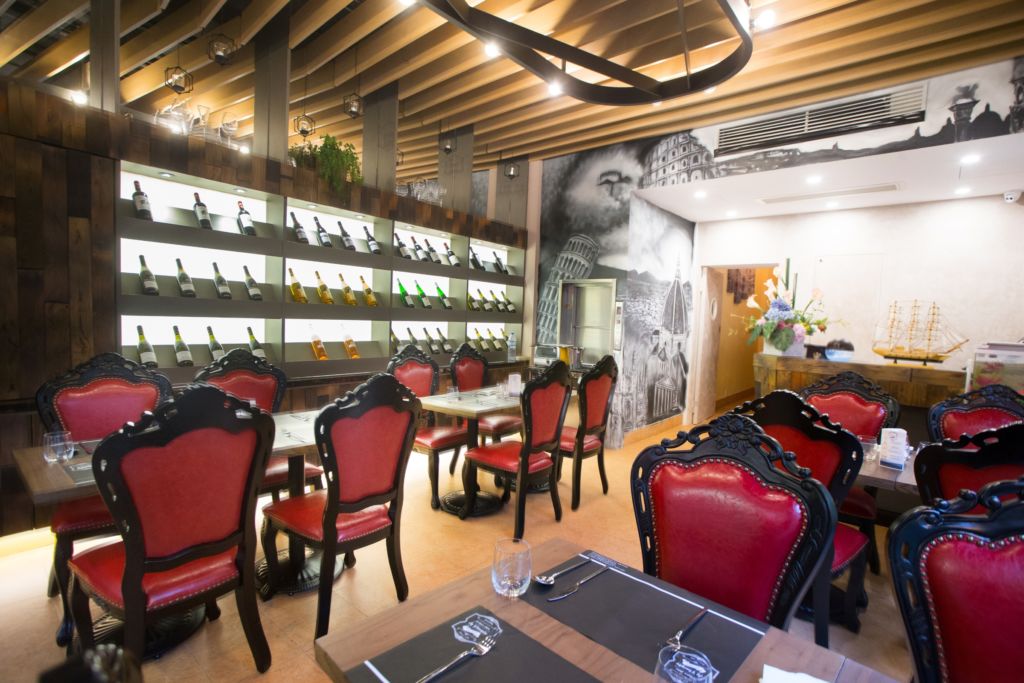 La Famiglia
A blend of chic and classic, La Famiglia is one of our new favorite dining spots in the city. With a contemporary rendition of Portuguese Italian cuisine, their Valentine's menu is one to watch out for. The main course in the form of grilled lobster in garlic and parsley butter with home-made two cheese mushroom ravioli might be the highlight but the accompanying dishes are just as equally delightful. Toast the special night with a glass of strawberry sangria. For just MOP $788 for two, this is one fancy Valentine's Day date.
La Famiglia +853 2857 6131, 76 R. dos Clerigos, Taipa Village, facebook.com/famiglia.macau

Tapas de Portugal
This hidden gem in Taipa Village is nestled just beside Antonio's. Shining on its own with a sophisticated yet comfortable atmosphere, we love the rooftop spot with a stunning view of the stars at night. On Valentine's Day, get ready for a delicious menu shared with the most special person in your life for MOP $688 plus 10% service charge.
Tapas de Portugal Taipa Village, Rua dos Clérigos No. 9, Taipa, Macau, + 853 2857 6626, [email protected]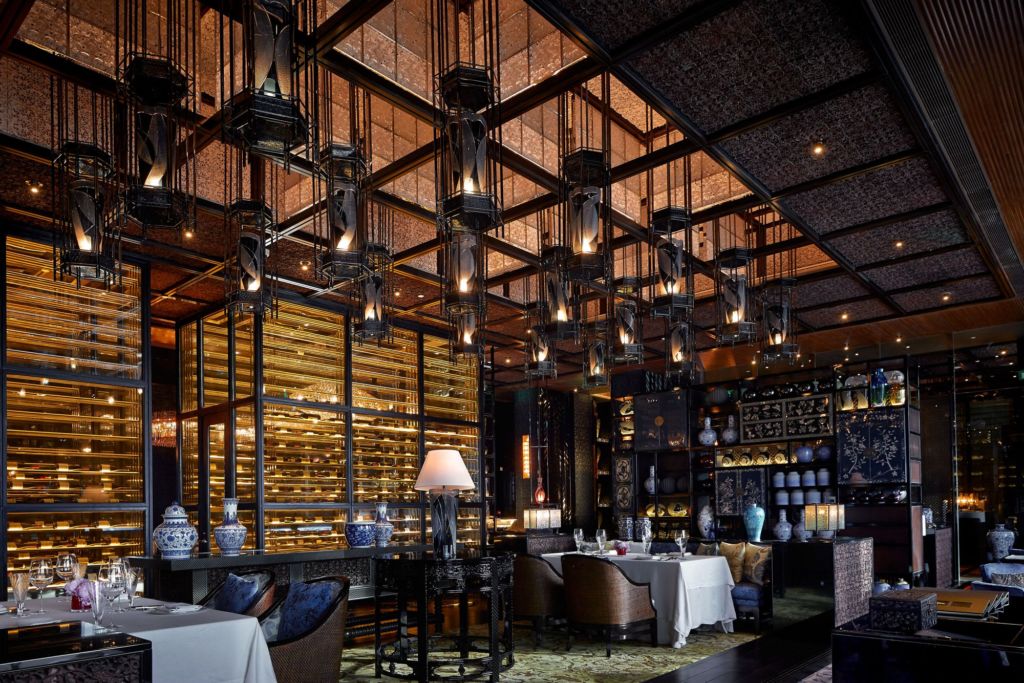 The Ritz-Carlton, Macau
There's what we call a Valentine's Day date and then there is what we call a Ritz-Carlton Valentine's Day. Going all out with luxe Michelin-Starred romance vibe at Lai Heen, this dining experience is by far one of the most magical things you can do with your loved one on such a special day. Cherish an 8-course divine dinner for MOP $3,888 for two persons. It includes two glasses of NV Perrier-Jouët, Grand Brut Champagne to toast a happily-ever-after.
Lai Heen 51F, The Ritz-Carlton, Galaxy Macau, Estrada da Baía de Nossa Senhora da Esperança, Cotai, +853 8886 6868, www.galaxymacau.com/lai-heen
Share
Tags
Related Posts