The recent soft launch of the Macau branch of The Cheesecake Factory has thrilled locals and visitors alike. We're absolutely elated to have America's favorite upscale casual dining restaurant that features the best confection–cheesecake! Here are the highlights of this amazing spot and must order items for your next visit.
History and soft launch
The brand's history goes way back to 1940, Michigan, when Evelyn Overton, inspired by a recipe she had found in a local newspaper, came up with her well-beloved original cheesecake. At the time, she was baking from her basement to supply cheesecakes to some of the best restaurants in town while raising her two kids. Fast forward to 1972, where the family moved to Los Angeles and used up all of their savings to open The Cheesecake Bakery, which grew as a result of hard work and dedication. As we write this, there are over 200 The Cheesecake Factory restaurants spread throughout the world, and one of them is now located at Sands Cotai Central! Macau diners are now able to indulge in almost 30 kinds of delicious cheesecakes but there is much more to The Cheesecake Factory.
There's something utterly inviting about dining places such as this recently soft-launched American-style diner. Perhaps it has something to do with the fact that it has something to suit all tastebuds. Maybe it's the balance of helpful and welcoming staff, a cozy atmosphere and a comprehensive menu with more than 200 menu selections that come in extremely generous portions for great value.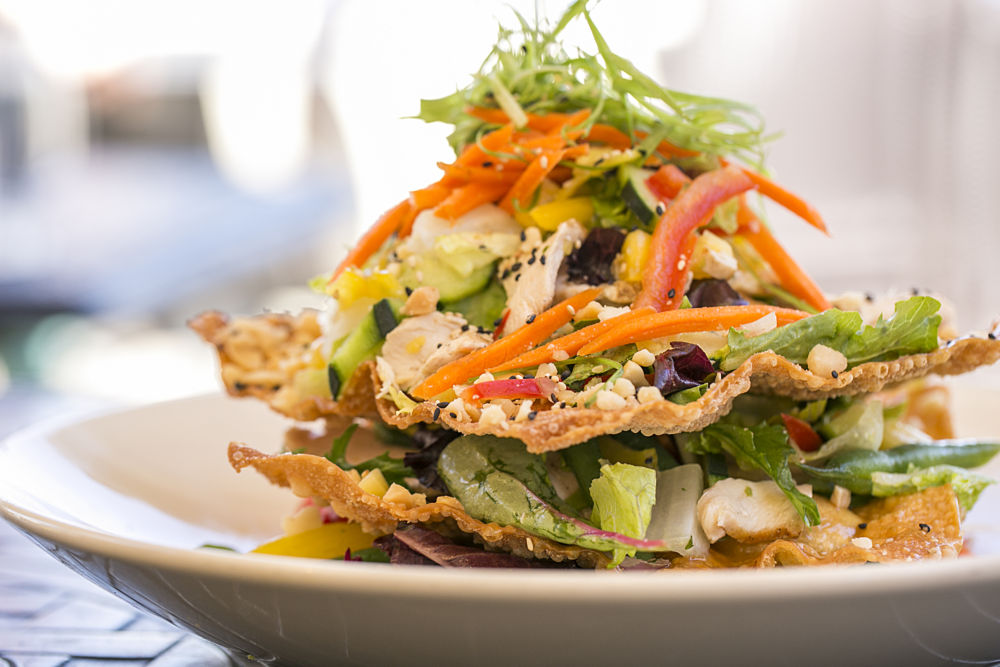 All-time American favorites and Asian flavors 
Flipping through the menu, we were amazed at the variety of crowd pleasers. The Cheesecake Factory is best enjoyed with friends and family with many shared dishes of generous portions. With snacks and appetizers such as avocado eggrolls, quesadilla and fried macaroni and cheese, to salads such as the incredible signature Luau salad (pictured above), superfoods specials like avocado toast and kale and quinoa salad, pizzas, countless burgers made with premium beef, specialties like shepherd's pie and Portuguese chicken–a Macau exclusive dish, pastas like farfalle with chicken and roasted garlic, fish and seafood, steaks and chops, and sandwiches including the famous Cuban sandwich… phew!
The Cheesecake Factory Macau presents guests with a few outstanding new dishes such as crispy Brussel sprouts, Thai coconut-lime chicken and crispy pineapple chicken and shrimp, which are sure to delight those preferring Asian flavors. Pair your food with something from their vast selection of cocktails, wines, sangria, hot drinks and, of course, milkshakes.
All-day breakfast and Sunday brunch enthusiasts are not forgotten with plenty of choices such as brioche breakfast sandwich, breakfast tacos (which we tried and loved), buttermilk pancakes and eggs Benedict. Little ones are able to order a special kids brunch that is inclusive of French toast or buttermilk pancakes, bacon and fresh fruits.
The legendary Cheesecakes
Cheesecake might be America's most-loved dessert, but this layered delicacy made with soft cheese is highly appreciated in other parts of the world too. Deciding which cheesecake you'd like to have could prove to be difficult but remember that you can always come back and try something else! The cheesecake window displays mouthwatering offerings such as fresh strawberry (the most popular flavor for over 40 years), cinnamon swirl (made using the famous Cinnabon), salted caramel, Oreo dream, chocolate hazelnut, pumpkin pecan, chocolate chip cookie dough, key lime and many more–indeed a sight to behold. To ensure that guests enjoy the original flavors, all cheesecakes are imported from The Cheesecake Factory in the United States of America. Other than their flagship dessert, other available desserts include strawberry shortcake, carrot cake, fudge cake and more!
Perfect for gatherings
The devoted culinary team at The Cheesecake Factory puts a lot of effort and dedication into preparing everything from scratch and that absolutely makes a difference. This is the perfect place to gather friends and family in a relaxed, comfortable environment while enjoying delicious food and cakes at your own pace.
---
For reservations, call +853 2882 3398
Opening hours: Monday–Sunday from 12:00pm to 9:00pm
The Cheesecake Factory Macau Shop 2203D-E, Level 2, Sands Cotai Central, Cotai, +853 2882 3398, thecheesecakefactory.mo
Tags
Related Posts