Working in the office from nine to five? Please, spare us! These days more and more people prefer freelancing and deciding their own schedule. When your workplace is where you choose it to be, all you need is a laptop, a steady WiFi connection, and a peaceful environment. Thankfully Macau has quite a few nice spots if you're freelancing or need to get some work done. Here are the best places in the city that will satisfy the needs even of the most demanding digital nomads.
– Macau –
Terra
Coffee House 
(See featured image above)
Downtown Macau can be busy and hectic, but it is also where many important and exciting things happen. When you need to sit down and work on your laptop, Terra Cafe could be a quiet harbor. Steps away from the financial district and the UNESCO heritage sites, Terra, however, has the peace and tranquility needed for a work spot. Minimalistic design, pleasant but not distractive music contributes to the right atmosphere too. Their coffee is some of the best in town and if productive work makes you hungry, there are salads and sandwiches to keep you going. 
Terra has two more locations, one on Rua 1′ de Maio and another one on Rua do Almirante Costa Cabral.
Opening hours: Daily, 12:00pm–8:00pm
Terra 20 Rua Central, Macau, +853 2893 7943, www.facebook.com/terracoffee
Terra the Coffee Pit 70B Rua do Almirante Costa Cabral, Macau, +853 6555 8798
Terra the Drip Bar 4 M shop, La Cite Block 364 Rua 1′ de Maio, Macau, +853 2847 3623, www.facebook.com/TERRA-DRIP-BAR
Also read: The Ultimate Guide to Macau's Best Coffee Shops

Sir Robert Ho Tung Library
Although this isn't a cafe, is there a better atmosphere to help you focus than in a library? There are hardly any distractions, and it is so quiet that one can hear the cogs turning inside the visitors' heads. While there are many public libraries in the city, one of them stands out for its historical value, a magnificent architectural ensemble with contemporary and colonial elements, and a tranquil courtyard. Green arches, a calming fountain, and a few tables set a serene ambiance, especially if you are fond of en plein air work. If not, find a spot inside and tune in to the productive vibe with the library bookworms. 
Opening hours: Monday–Saturday, 10:00am–7:00pm; Sunday, 11:00am–7:00pm (closed on public holidays)
Sir Robert Ho Tung Library 3 Largo de Santo Agostinho, Macau, +853 2837 7117, www.library.gov.mo/hotung
Also read: Read On: Best Libraries in Macau

Cuppa Coffee Macau
We love to work in a space that is full of light. Whether sunlit or with heavy rain, Cuppa Coffee's second-floor loft-like space, is an urban oasis that can become an inspiring spot to finish some tasks. A stylish design with bookshelves and travel photos on the wall with lounge music creates a setting that will help you focus and get into the right mood for work. Should you need a caffeine boost, go downstairs and order a mug of freshly brewed aromatic coffee!
Opening hours: Monday–Saturday, 8:00am–8:00pm; Sunday, 9:00am–5:00pm
Cuppa Coffee Macau 145 Avenida Comercial de Macau, Edif La Bahia, G/F, Macau, +853 2888 9916, www.mycuppacoffee.com

TOFF Café
"Some people look for a beautiful place. Some people make a place beautiful". Who said this? We don't know, but Toff Cafe's owners chose to hang this quote on their counter. A cozy eclectic cafe next to Lou Lim Ioc Garden, Toff, is packed with peculiar decor. Antique sewing machine, a bicycle, dry herbs, and so many more things in the Toff's collection make it a place with unique character. So if you need something inspiring to boost your creativity, this spot could be your office away from the office. When you ticked all the points in the to-do list, check out the menu for affordable and yummy set meals.  
Opening hours: Friday–Wednesday, 11:30am–9:30pm
Toff Café G/F D,72 Rua da Esperança, +853 2893 0014, www.facebook.com/toffcafe
Also read: Great Places to Grab a Bite in St. Lazarus District

Café Mart 
How about a funky cafe or bar as a temporary office? Not a noisy watering hole, but a friendly and trendy establishment, Cafe Mart can be the place for you. Most importantly, in the afternoon, it offers the right atmosphere combined with unlimited WiFi-connection. There is a table outside if the buzz of Macau's alleyways resonates with your rhythms. When you wish to refuel with caffeine or lunch, grab a menu and let Café Mart's staff take care of you. And when you feel like it's time to celebrate the work done with a drink, a cold bottle of craft beer is just an order away. 
Opening hours: Wednesday–Monday, 12:00pm–9:00pm
Café Mart 8 Rua do Ultramar, Macau, +853 2852 3768, www.facebook.com/CafeMart.Macau
– Taipa –

LAX CAFE
This one is highly recommended by folks staying in Taipa. LAX has great breakfasts and an overall decent kitchen. It's funky and a bit rustic, with paintings on the walls you can bring home and friendly staff, LAX is a perfectly suitable workplace. You can plug in your laptop inside or take a spot at one of the tables outside. It's in a part of town that is usually not too busy. So you will get those essential ingredients of privacy and peace. Another cool point is that besides your laptop, you can also take your four-legged work assistants because pets are welcome here, and the friendly staff at LAX will be happy to serve them with some water!
Opening hours: Daily, 10:00am–9:30pm
LAX cafe Lai Chun Kok, Supreme Flower City, 120 Rua de Braganca, Taipa, +853 2884 3093, www.facebook.com/lax.cafe
Also read: Best Pet Friendly Cafes in Macau

CUPPA COFFEE Taipa
Conveniently located between the residential area of Taipa and the historic Taipa Village, Cuppa Coffee can be a savior if you are running errands in the area and looking for a spot with WiFi and a delicious cuppa. Pick a quiet corner of the coffee shop where no one will disturb you and do what you need to do. Don't forget to check their upstairs space first where the chances of anything or anyone will disturb you are close to zero. The aroma of the freshly brewed beans will help to keep your brain on essential tasks as well.
Opening hours: Daily, 7:30am–7:30pm
Cuppa Coffee Rua Fernão Mendes Pinto, no. 104, Taipa, Macau, +853 2882 5201, www.facebook.com/cuppacoffee
Also read: Cool Cafes in Taipa

QUARTER SQUARE
If you happen to be in Taipa Village and need to send a few emails, study, or do whatever else you have to do, there is a tiny stylish spot called Quarter Square, which will allow you to get your work done in peace. You'll always be greeted as a friend here and feel most welcomed. They brew one of Macau's best coffees and offer a lovely little terrace upstairs with a charming view on Taipa Village rooftops. It's homey, but not too much, never crowded so that you won't be disturbed. Like in LAX Cafe, they love your fluffy companions here. In the end, their PR director is a French bulldog! So if you feel like your work, progress will stumble without your dog, bring them with you.
Opening hours: Daily, 11:00am–8:00pm 
Quarter Square N°89 Largo Maia de Magalhaes, +853 2857 6914, +853 6290 5138, www.facebook.com/quartersquare, www.instagram.com/quartersquare
Also read: Best Rooftops in Macau to Relax At
– Coloane –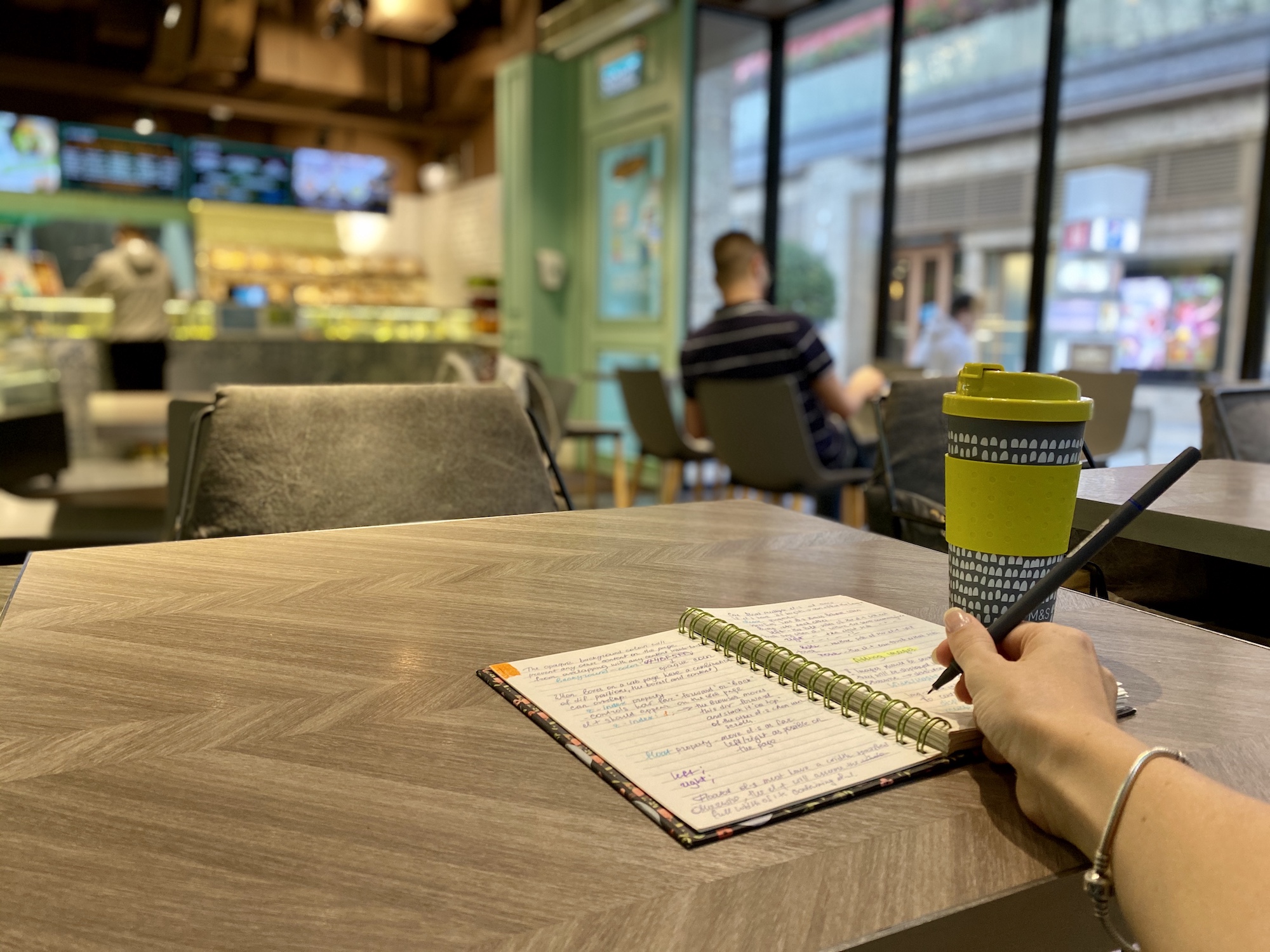 JAM & BUTTER
Jam & Butter is the number one daytime meeting and lunching spot for One Oasis residents and their neighbors. They offer indoor and outdoor tables, lounge music, and some of the fluffiest croissants in town. Whether you need a proper meal, a quick bite, or to meet someone to discuss business over a coffee, Jam & Butter will suit your needs. Sometimes it's challenging to get into the right set of mind and avoid distractions at home, so if you live in One Oasis, grab your laptop and head to Jam & Butter. A cup of matcha latte and a blueberry muffin will set you up for a couple of productive hours.
Opening hours: Daily, 8:00am–8:00pm
Jam & Butter Estrada de Seac Pai Van, One Oasis, Shop 12-13, www.skyconceptmacau.com/jam-butter
Also read: Best Freshly Baked Bread in Macau

Lord Stow's Garden Café
Have you seen those crowds queuing near the legendary Lord Stow's Bakery on weekends and even weekdays? Tourists often travel to Coloane specifically to visit this signature Macanese bakery and taste the king of egg tarts. There is a hidden secret near the bakery that not many people know about. Literally around the corner from its big brother, Lord Stow's Garden Café is a quieter spot hidden from the tourist crowds and has everything you want to let you work on your laptop in peace–after you've had some rose coffee and a couple of egg tarts of course!
Opening hours: Monday–Friday, 10:00am–6:00pm, Saturday–Sunday, public holidays, 9:00am–6:00pm
Lord Stow's Garden Café G/F C Houston Court 21 Largo do Matadouro, Coloane Village, +853 2888 1851, www.lordstow.com/lord-stows-garden-cafe
Also read: Best Places to Eat at in Coloane
Tags
Related Posts