Mango pomelo sago (楊枝甘露) is a dessert created during the 1980s by a traditional Cantonese-style restaurant in Hong Kong called Lei Garden (利苑酒家). The English translation of this well-known Cantonese dessert is quite literal–mango, pomelo, and sago are its main ingredients. However, the dessert also includes coconut milk, evaporated milk and milk. It is sweet, cold, and refreshing. Good mango pomelo sago tastes strongly of sweet mango and is balanced well with the tangy flavor of pomelo. Most places include lots of sago as well, which gives the dessert a cool and chewy texture. This dessert is very common in Macau and Hong Kong. You can find it in many traditional Cantonese-style restaurants and in dessert places. You may find that a lot of these dessert places claim that their mango pomelo sago is their signature dessert dish! Read on to find out where the locals like to go when they are craving this dessert.
Golden Mix Dessert (楊枝金撈甜品)
The Supreme Golden Mix Mango Dessert (MOP $41) is this shop's signature dish. What makes Golden Mix Dessert's mango pomelo sago special is its large size and the big scoop of ice cream that it comes with. You can opt for a smaller size for MOP $36 if you are not bothered about the ice cream. If you're feeling hungry, there is a wide range of options to choose from–they have pancakes, waffles, smoothies, snacks, rice dishes, pasta, and noodles.
Golden Mix Dessert has four branches in Macau–one in Taipa, one in Areia Preta, and two in Patane. Plus, their menus have English and Chinese on them so this place is very accessible! Their Taipa and Areia Preta branches are open from 2:30pm–2:30am and their Patane branches are open from 3.00pm–3.00am, which makes it a great spot to satisfy any late-night cravings. For updates, follow them on their Facebook page.
Opening hours: Daily, 2:30pm–2:30am (Taipa and Areia Preta); Daily, 3.00pm–3.00am (Patane)
Golden Mix Dessert Dr. Sun Yat Sen No.606, Edf Chun Lai Garden R/C-Loja-C, Taipa, +853 2856 3080
31-B Av. de Demétrio Cinatti, RC J, Macau, +853 2895 0543, +853 6569 9374
34 Av. de Demétrio Cinatti, Edf. Chun Iao R/C-D, Macau, +853 6668 0348
512 Rua Nova da Areia Preta, Kuong Wa San Chun, Bl.2 R/C-B, Macau, +853 2876 8536, goldenmixdessert.com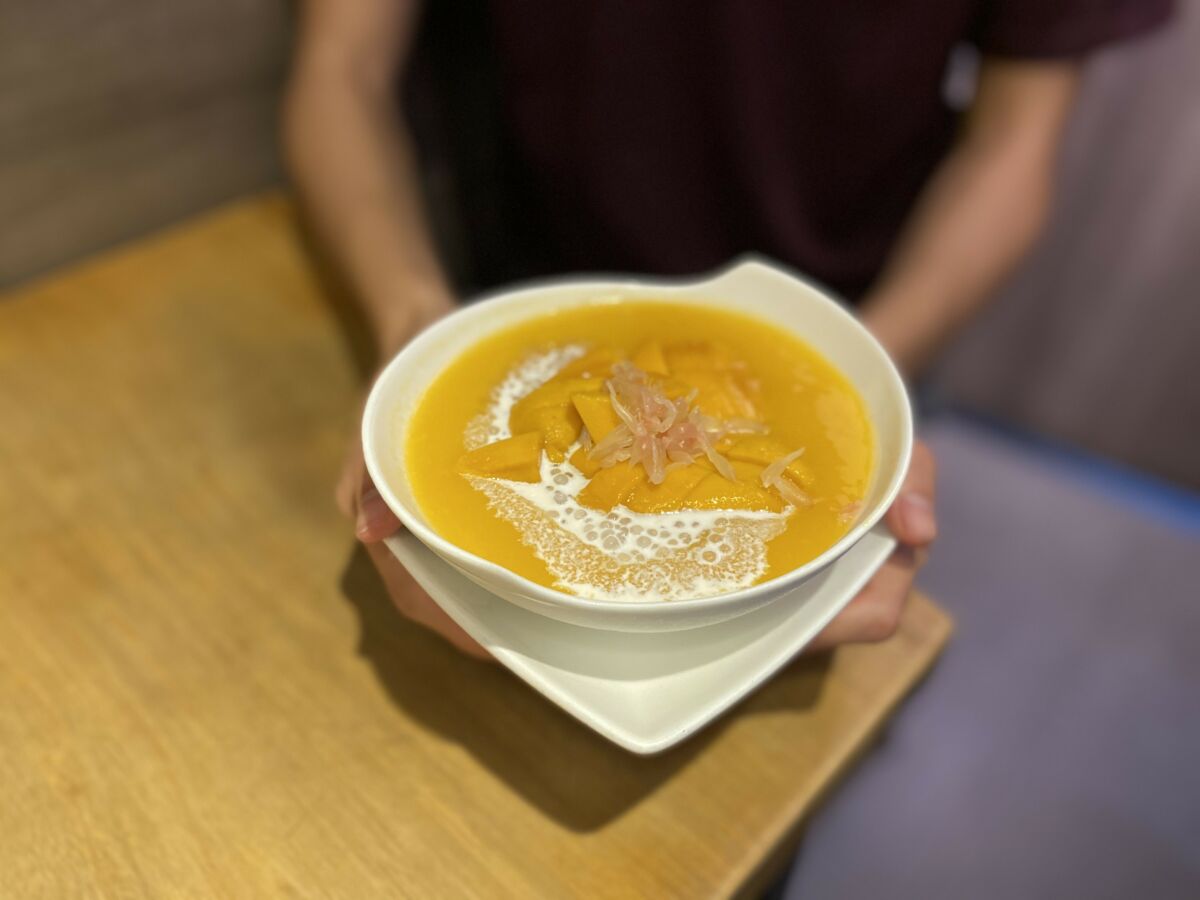 The Golden Tang Dessert (糖朝盛世)
The Golden Tang Dessert's mango pomelo sago (MOP $36) is also their signature dish. Their portions are big and they contain a significant amount of sweet mango and sago. They emphasize on their website that all their fruit is fresh and they make their desserts to order only. They opened in 2011 and now have three takeaway branches that are open from 2:30pm to 1:30am and one restaurant location on Rua de Martinho Montenegro which is open from 3:30pm to 2:00am. They specialize in mango, coconut, and durian-themed desserts but they also do traditional Chinese desserts. If you visit their restaurant, you can also order pasta and sandwiches as well.
Opening hours: Daily, 2:30pm–1:30am (Takeaways); Daily, 3:30pm–2:00am (Restaurant)
Takeaways:
The Golden Tang Dessert 31 Rua da Restauracao, +853 2821 6552
210 R. da Tribuna, Son Tok Garden (opposite the Escola dos Moradores de Macau), +853 2842 6075
81 Av. do General. Castelo Branco (right opposite The Macau Canidrome Club), +853 2822 0250
Restaurant:
41 Rua de Martinho Montenegro (50m opposite from the Theatre Alegria bus stop), +853 2835 2925, www.facebook.com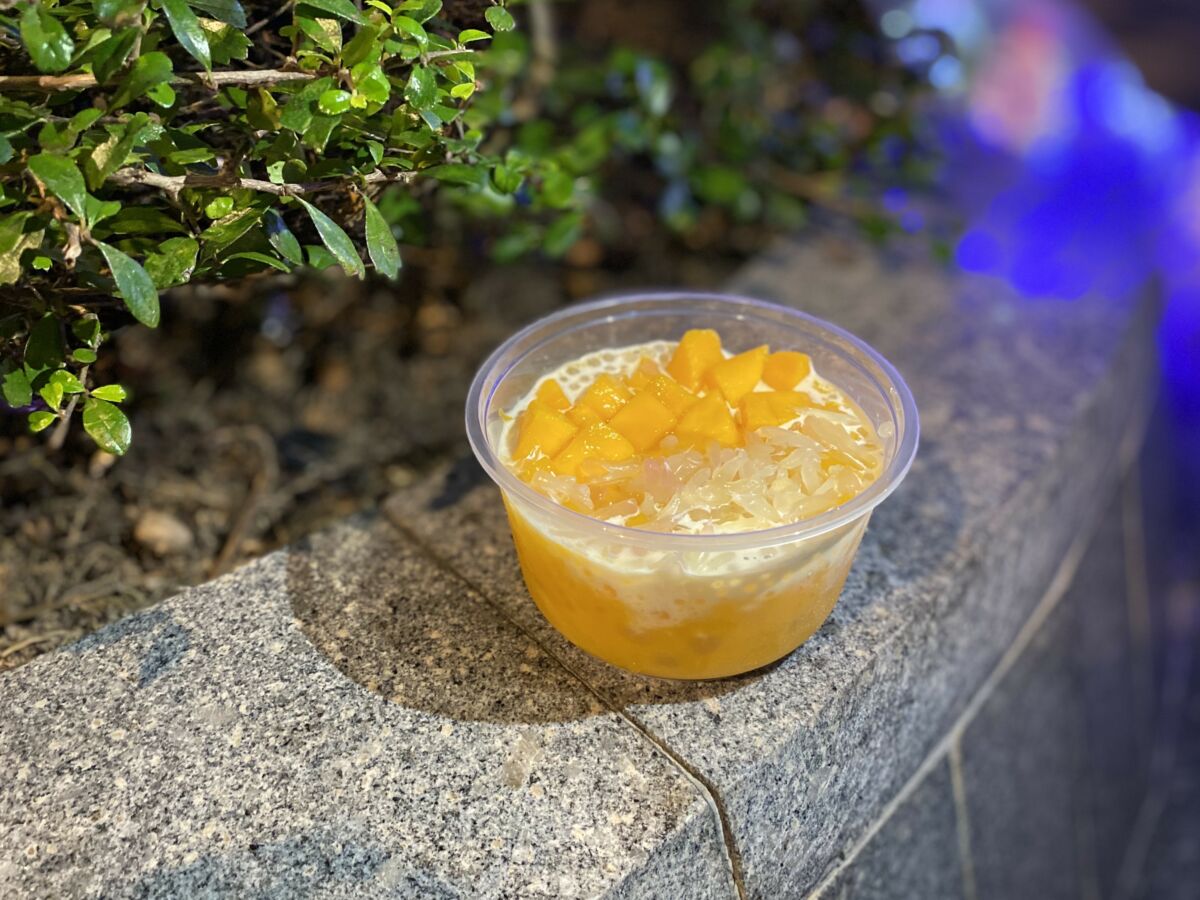 Tong Sui Store (糖水鋪)
Tong Sui Store is located in the bustling Fai Chi Kei area and is takeaway only. Queues are not an uncommon sight for this shop and it's clearly popular in the neighborhood. Their mango pomelo sago which is highly recommended in local food recommendation Facebook groups costs MOP $30 and comes in a relatively small plastic container. They mostly do desserts and tong sui (traditional Chinese "sweet soup" desserts) but they also have snacks like curry fish balls and chicken wings. Why not go for a walk along the river beforehand or afterward and treat yourself to some dessert?
Opening hours: Daily, 8:00pm–3:00am
Tong Sui Store Shop Q, G/F, Block 3, Edf. Lok Yeung Fa Yuen, 422A Rua do General Ivens Ferraz, Fai Chi Kei, +853 2826 2962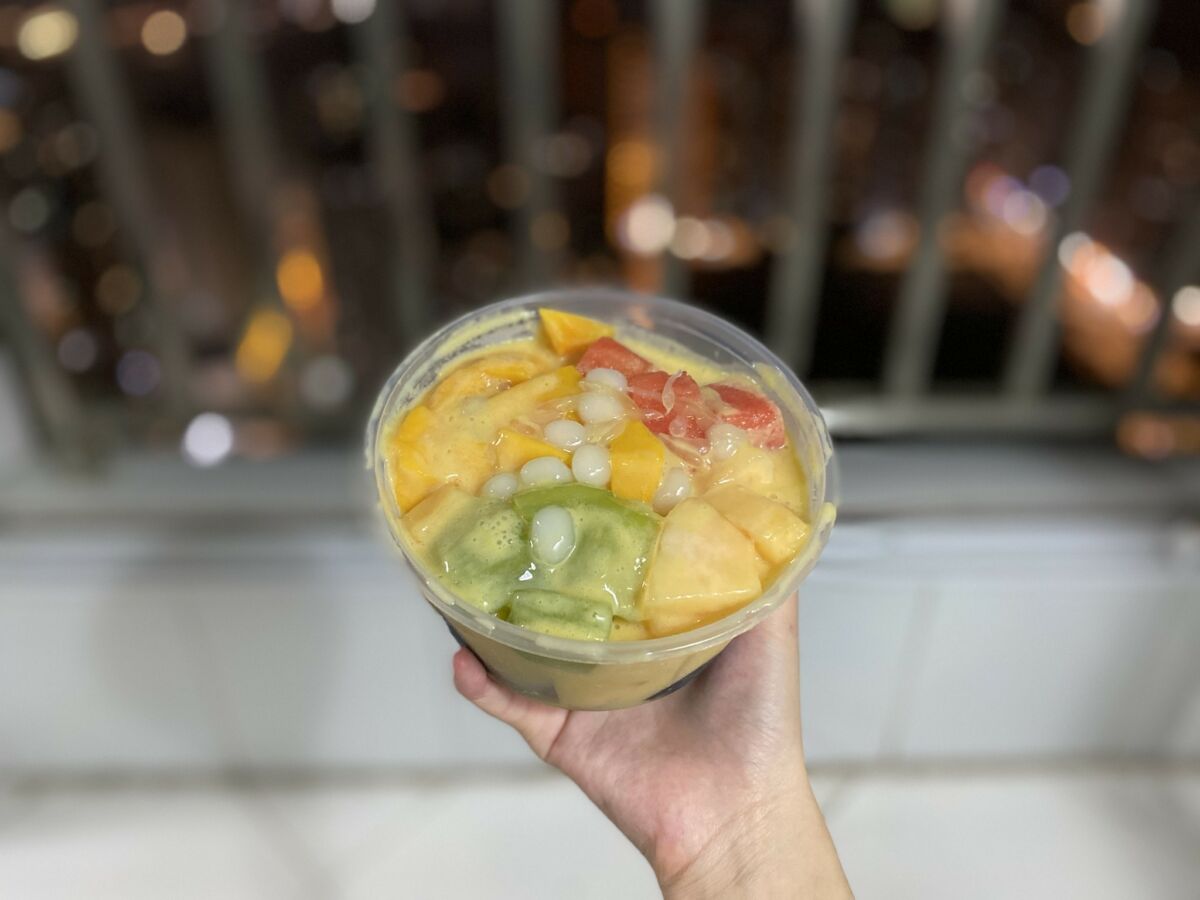 Fallin Sweet Dessert (甜不甩)
Fallin Sweet Dessert has eight variations of mango pomelo sago, with prices ranging from MOP $31–40. We tried out the most unique version which had an assortment of fruit on top such as kiwi and watermelon accompanied with "herbal jelly, agar jelly, and dumplings with mango sauce". They are takeaway only, and they do a range of traditional Chinese desserts, crepe cakes, and chicken wings as well. They have two branches, one in Taipa and one in Macau.
Opening hours: Sunday–Thursday, 3:00pm–00:00am; Friday–Saturday, 3:00pm–1:30am
Fallin Sweet Dessert Shop J, Av. de Kwong Tung, Edificio Hong Ip, Taipa, Macau, +853 6330 0624
Shop C, R. Um do Bairro Iao Hon, Edificio. Mau Tan, +853 6330 0348, www.facebook.com-Fallin-Sweet-Dessert
Tags
Related Posts