In Macau you can find food from all over the world, with just about every cuisine on the planet available here. One staple classic that is always good is Vietnamese food, with great baguettes and noodles to slurp on. Check out these amazing Vietnamese eateries made just "pho" you in Macau. Inspired by the French, the never boring banh mí is a baguette filled with southeast Asian flavors! Coriander and mint, glazed pork and chili are essentials of a good quality Vietnamese sandwich. While this can be good to have as a snack, we also love their wholesome and comforting noodles: served both hot and cold, some of the greatest noodles recipes in Asia come from this amazing country and there's a wide variety on offer in Macau. Read on and find out where to get the best Vietnamese food in Macau!
Bánh Mì Tik
(See featured image above)
A sister branch of Pho Tik, located on Barra side, they focus more on their fresh homemade (bánh mì) Vietnamese baguettes on the go and desserts. We love how bánh mì was created in Vietnam during the French colonial rule and has influences from both cultures. The sandwich is typically made like a French baguette with pâté added with different variants of Vietnamese meats and ingredients as the filling.
Bánh mì thịt nướng is our absolute favorite here with marinated, grilled Vietnamese grilled pork, creamy pâté, fresh cilantro, cucumbers, chili, and tangy daikon and carrot pickles between the crusty baguette. This tasty sandwich is just the perfect combination of flavors and textures of savory, creamy, spicy, sweet, and crunchy! Bánh mì õpla is a whole new different kind of breakfast if you're feeling ambitious with õpla, which originally comes from the French "oeufs au plat" which means sunny side up eggs.
Bánh Mì Tik 15 Praça de Ponte e Horta, Macau, +853 2853 0039,  www.facebook.com/Banhmitik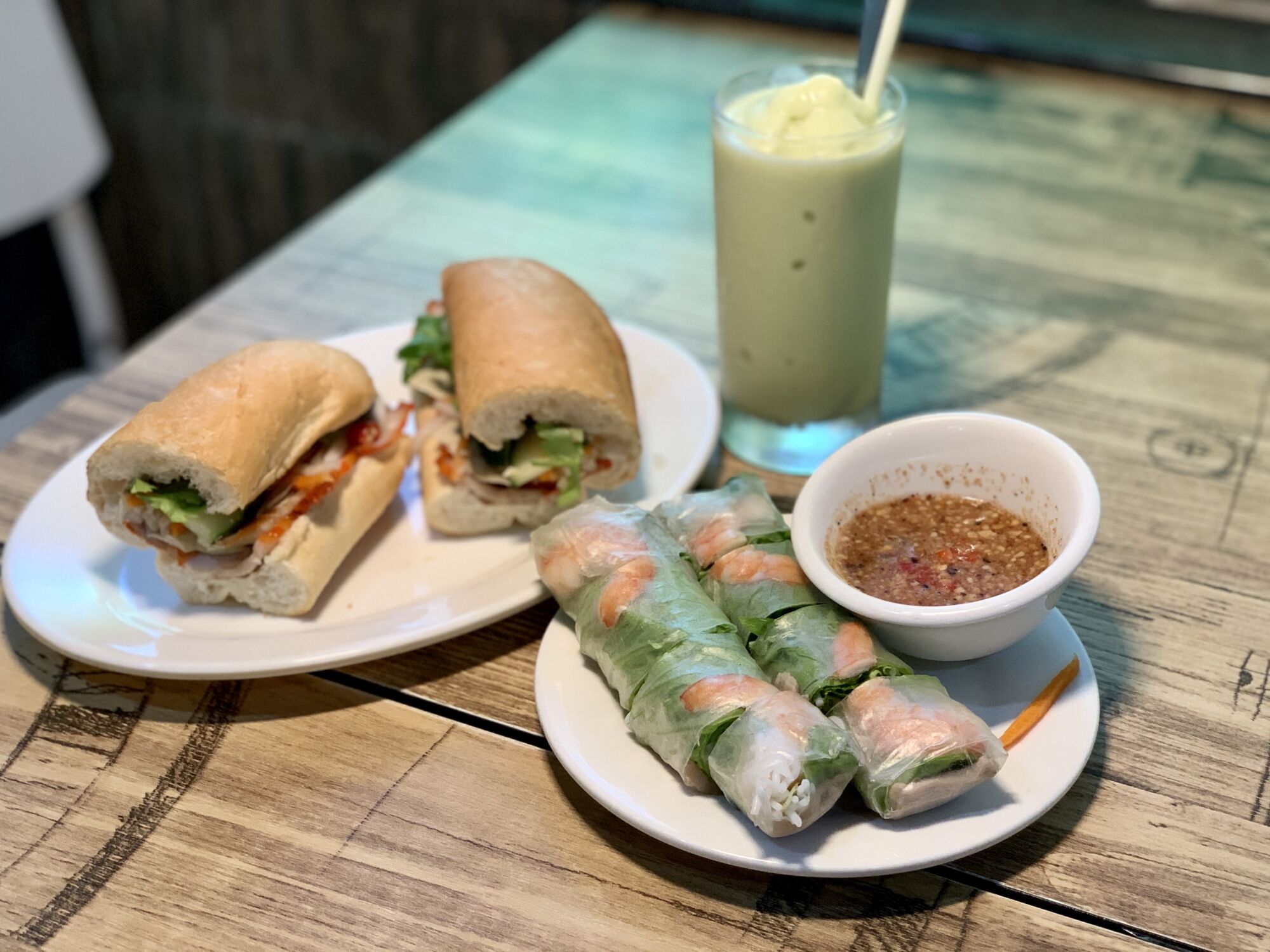 Pho Tik
At this place try their hủ tiếu nam vang. Nam vang is the Vietnamese word for Phnom Penh, the capital city of Cambodia. Also known as Phnom Penh noodles–initially from Cambodia then repackaged to suit southern Vietnam before becoming a classic in Vietnamese culture. Topped with minced pork, liver, and a few greens on rice noodles, make sure to spice up the soup broth with a few squeezes of fresh lime juice and some chili sauce to achieve a nice mellow flavor which is both slightly salty and sweet with a nice richness to it. We also like their bò bít tết. Bò translates to "cow" or "beef" and bít tết looks and sounds like the French word bifteck, which means steak.
Also, try their sizzling steak with a sunny side up egg and a smear of in-house pâté served hot-off-the-stove on a cow-shaped platter with cucumber and tomato slices, carrot and daikon cuts and their homemade baguette served on the side. Here you have the freedom to eat it however you like but it's recommended to try having it with every filling and to mop every inch of sauce left on the iron cast with their toasted bread. Vietnamese-style pepper lunch, anyone?
Pho Tik 13C Rua do Bpo. Medeiros, A Ka Long Building, Macau, +853 2852 3000, www.facebook.com/photikmacau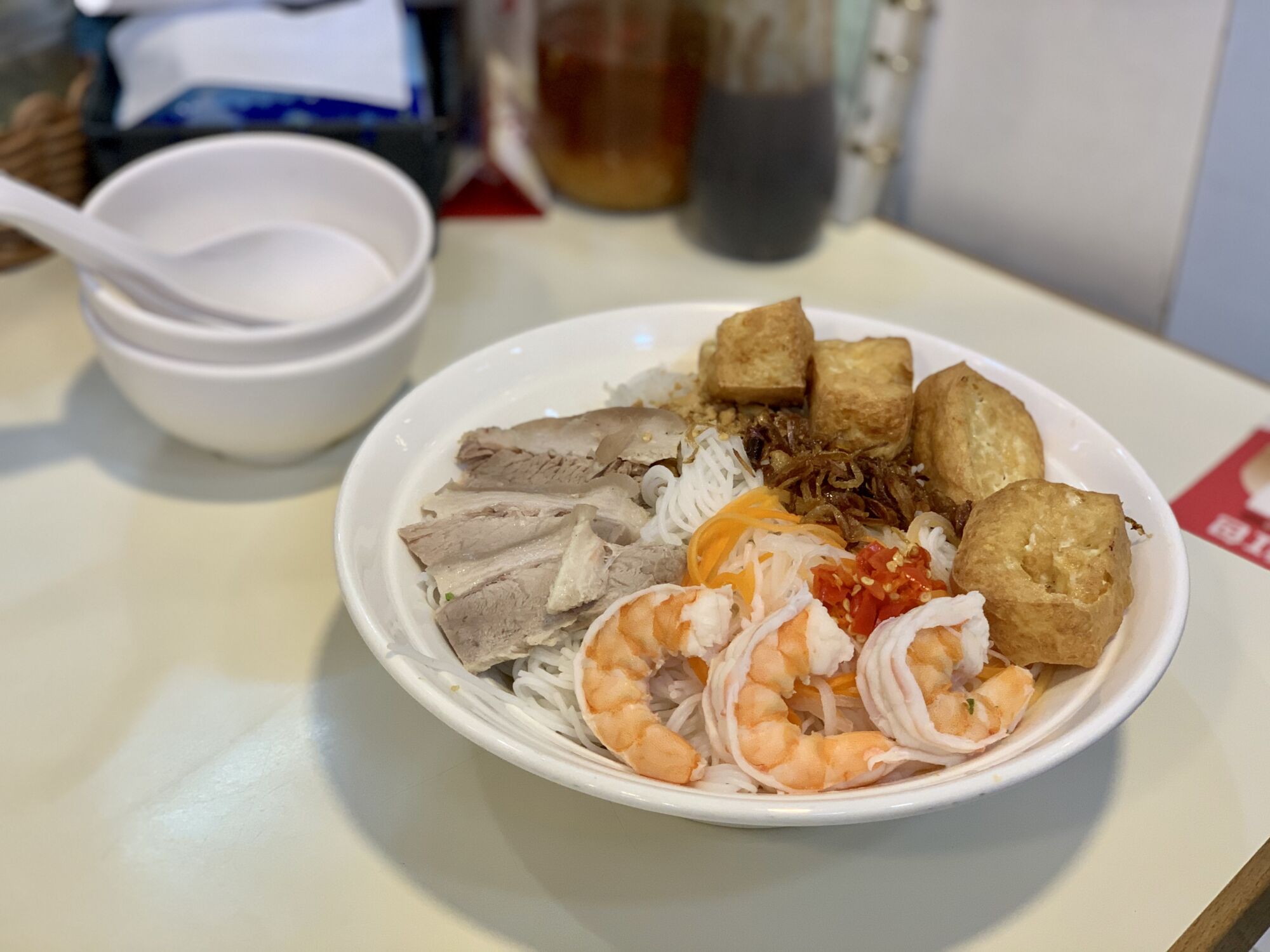 Pho Vietnam
This small and cozy restaurant serves delicious Vietnamese food in relatively large quantities and at a fairly inexpensive price. Alongside this Thai and Vietnamese alley located away from Tap Seac Square is this local style Pho Vietnam eatery, where you get to choose what type of noodles you prefer between rice noodles or vermicelli. With a wide choice of noodles and spring rolls and even set menus including drinks, Pho Vietnam has almost anything you can think of.
We tried their tofu and cloud ear fungus and our favorite item to order here is the one with beef balls. You'll get to taste the authenticity of Vietnamese pho noodles and also experience eating like a true local. Another must-try dish is the cold noodles with shrimp, pork meat, and deep-fried tofu, with the latter lending crispiness to this delicious bowl. With no soup or sauce, staff will also suggest you add a homemade chili mix, resulting in a very fresh and out-of-the-box flavor.
Pho Vietnam 10-12 R. de Abreu Nunes, Macau, +853 2853 3078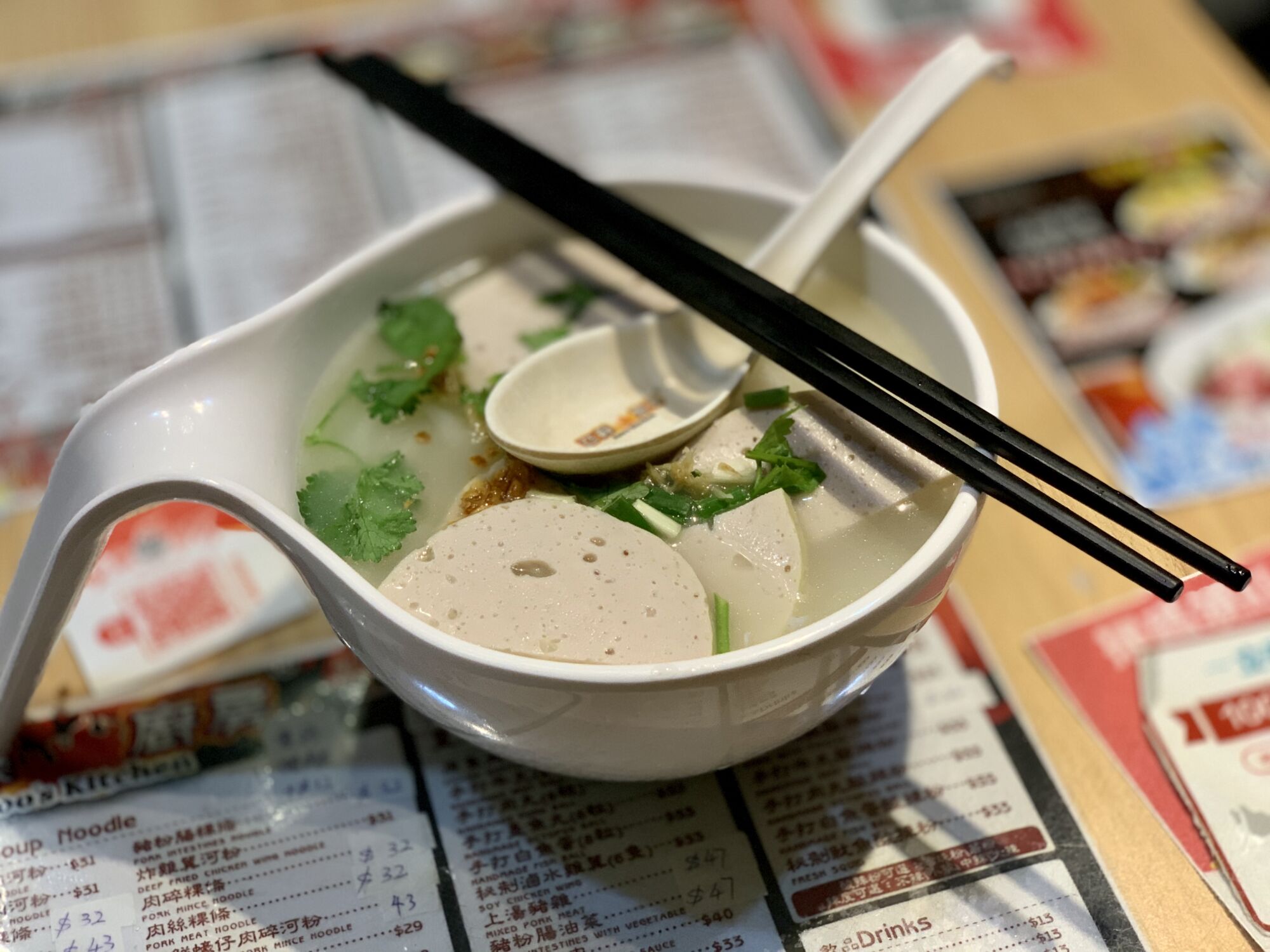 Soo's Kitchen
If you're just after something reliable and simple then Soo's Kitchen definitely is for you and they're even open 24/7! On a cold evening, on a lazy weekend afternoon, or even after a rough day at work, a bowl of never-ending hot noodles here is pretty much always a good idea. We always get their Vietnamese raw beef noodles. When the giant noodle bowl cups arrive, don't fret about having "raw" meat on top of your noodles as they are thinly sliced beef, so just wait for a few minutes to cook it with your broth while it's steaming-hot as if you're having your own hot pot party in a bowl.
Another favorite pick of ours is their Vietnamese leaf roll pork noodle. You may notice the sides of the meat are stained green and that's because the pork roll or ham is traditionally wrapped in banana leaves and then sliced like sausages. We also love adding a bit of jalapeño prepared on the side as an extra condiment for that extra spicy kick. They also serve snacks such as a variety of homemade beef balls, squid balls, fish balls, and more. Happy slurping!
Soo's Kitchen GF, 205 Av. Dr. Sun Yat Sen, Flores, Macau +853 2884 4590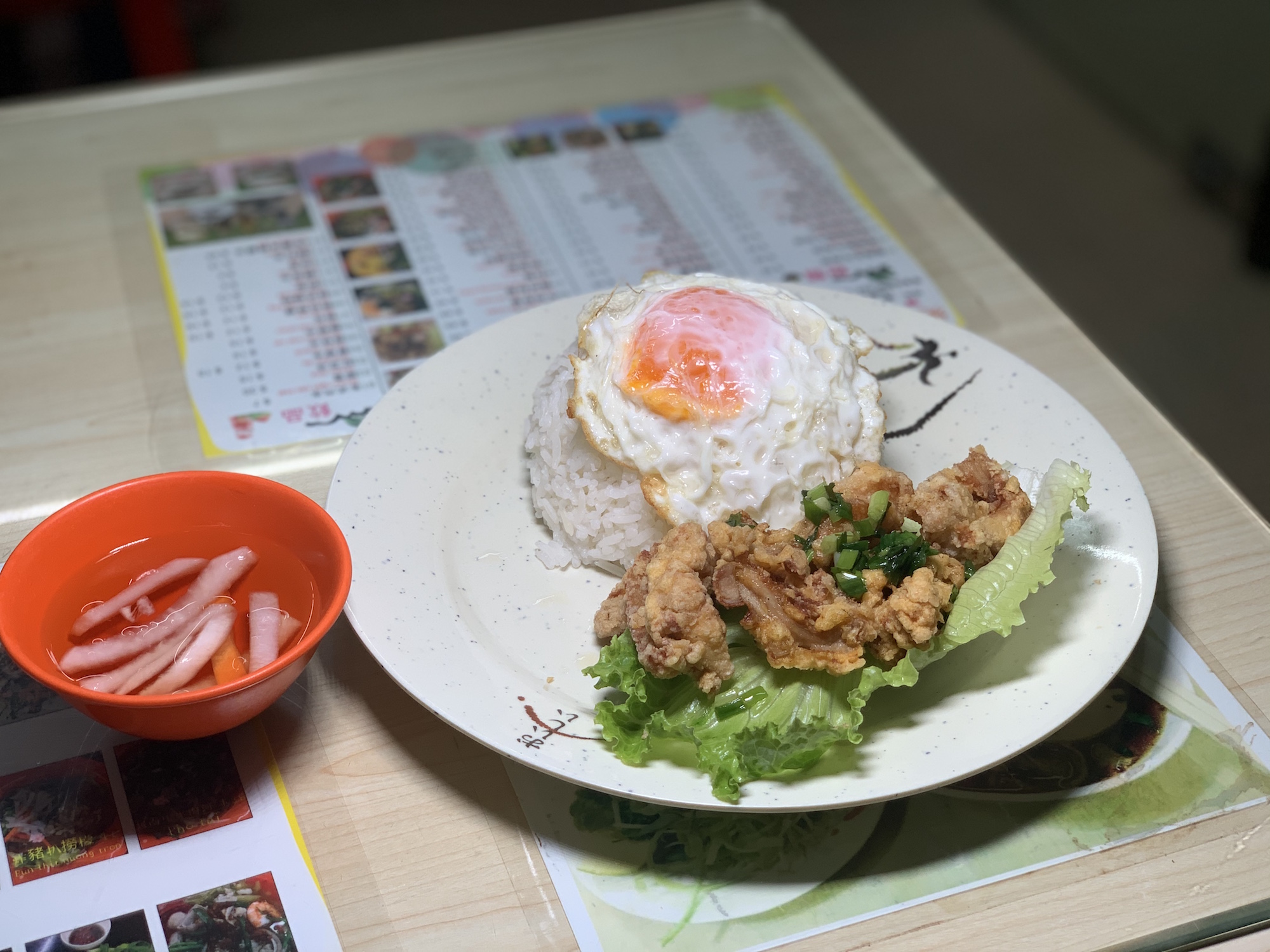 Quán Ăn Việt
A simple and affordable eatery set close to Kiang Wu Hospital and Camões Garden, Quán Ăn Việt might not be the prettiest restaurant, but it certainly has amazing food. Mainly serving different kinds of Vietnamese-style noodles soups, this spot also has great deep-fried goodies such as the one we had last time: fried chicken with a sunny side egg and steamed rice on the side. They also serve Vietnamese coffee drinks, plus great appetizers to kickstart your dinner feast. Also, it's managed by Vietnamese nationals so you can be sure of its authenticity.
Opening hours: Daily, 11:00am–8:00pm
Quán Ăn Việt 19 Travessa da Corda, Macau, +853 2835 7682
This article was originally written by Bel Faustino in 2017 and updated by Leonor Sá Machado in August 2020.
Tags
Related Posts