Macau is soon to be the richest place on Earth (according to the Inter­national Monetary Fund), and it's also rich with gastronomic delights, with plenty of upscale dining experiences to be had here. One of the top dining spots that never fails is Terrazza Italian Restaurant in Galaxy Macau™ – they have just renewed their menu with classic recipes with a touch of elegance. Chef Andrea Fioravanti has been leading the culinary team for two years now and masterplan behind the new dishes is to prove that familiar home recipes are what local foodies need. It's clear he has succeeded – read on to find all the delights and treasures on offer below!
Wine Experts
A pleasant hostess and an array of huge wine bottles greet on entry (always a good way to start a meal). In fact, this is not your average wine selection – Terrazza has one of the best wine lists in Macau, and this hasn't gone unnoticed by the Michelin Guide Hong Kong & Macau as the restaurant has been mentioned specifically for their wine selection. The many carefully selected wine bottles sit waiting to be consumed in their spacious wine pantry. If you find yourself a bit lost in the gigantic folio, which they humbly call a "wine list", there is help on the way. Two knowledgeable sommeliers are always ready to recommend what goes best with the dishes one has for your dinner. 

Familiar flavors 
To start, try the Fried Japanese Organic Egg with Potatoes Taleggio and Parma Ham. The appearance surely says, if not screams, fancy. However, when all of the ingredients are chomped down together, something familiar comes to mind — it taste like a luxury version of egg, potatoes and ham! This is a common home dish in the Mediterranean and in many places around the world, but here they've take it to the next level. There is organic Japanese egg with bright orange egg yolk, silky potato cream, potato crisps, and high-grade Prosciutto. All the flavors and textures are there – it is, without a doubt, a perfectly balanced and tasty dish.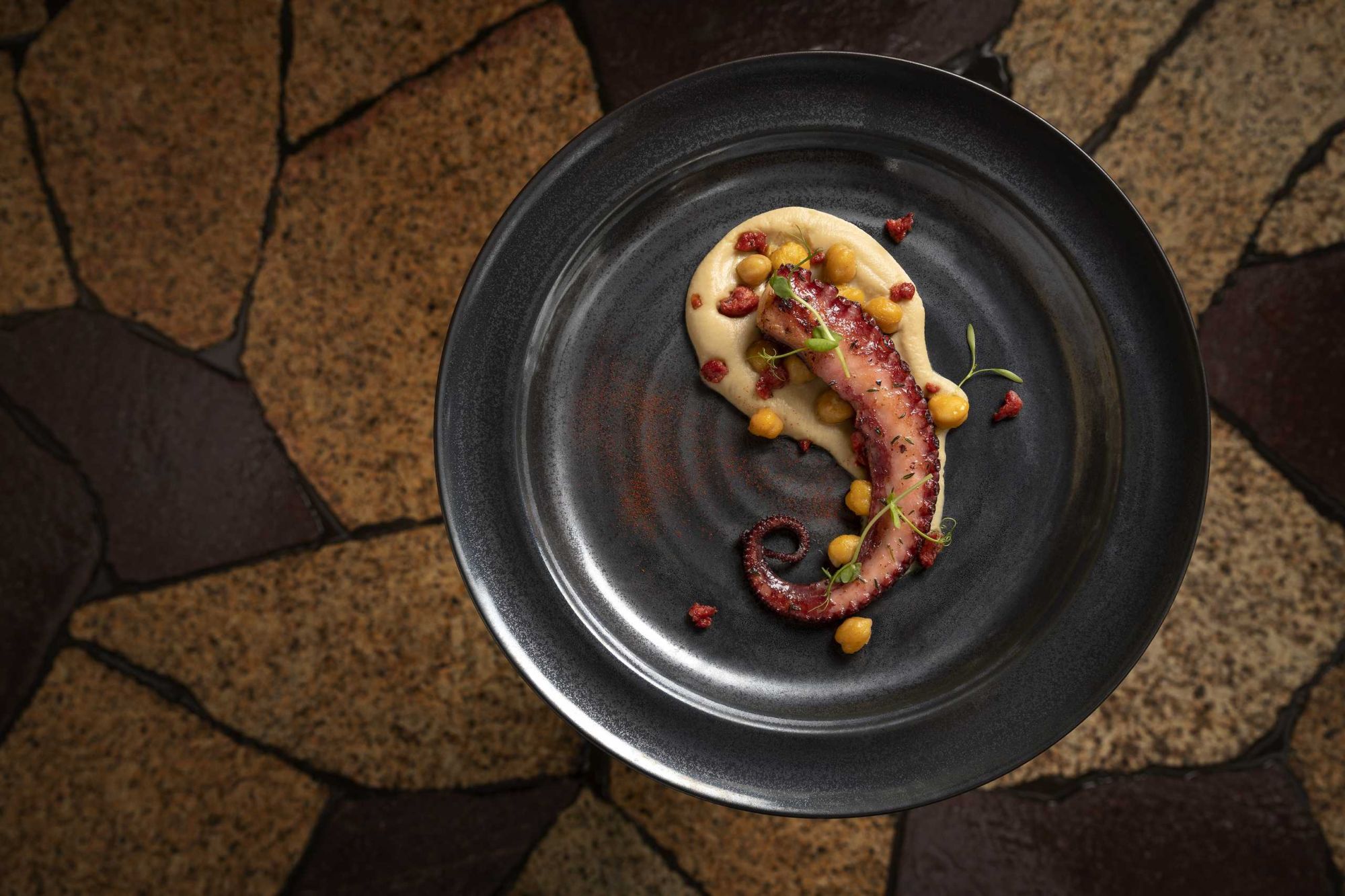 Seafood geography
To follow try the Grilled Octopus with Chickpea and Chorizo (see the featured image at the top). Born in Italy, chef Andrea has spent a great part of his life in Barcelona, so the influence of Spanish cuisine has always come into his creations. Actually, this octopus is even imported from Spain. Accompanied by smooth chickpea puree and smoky chorizo, it is a filling dish with high protein – just what ones needs during these cold winter days.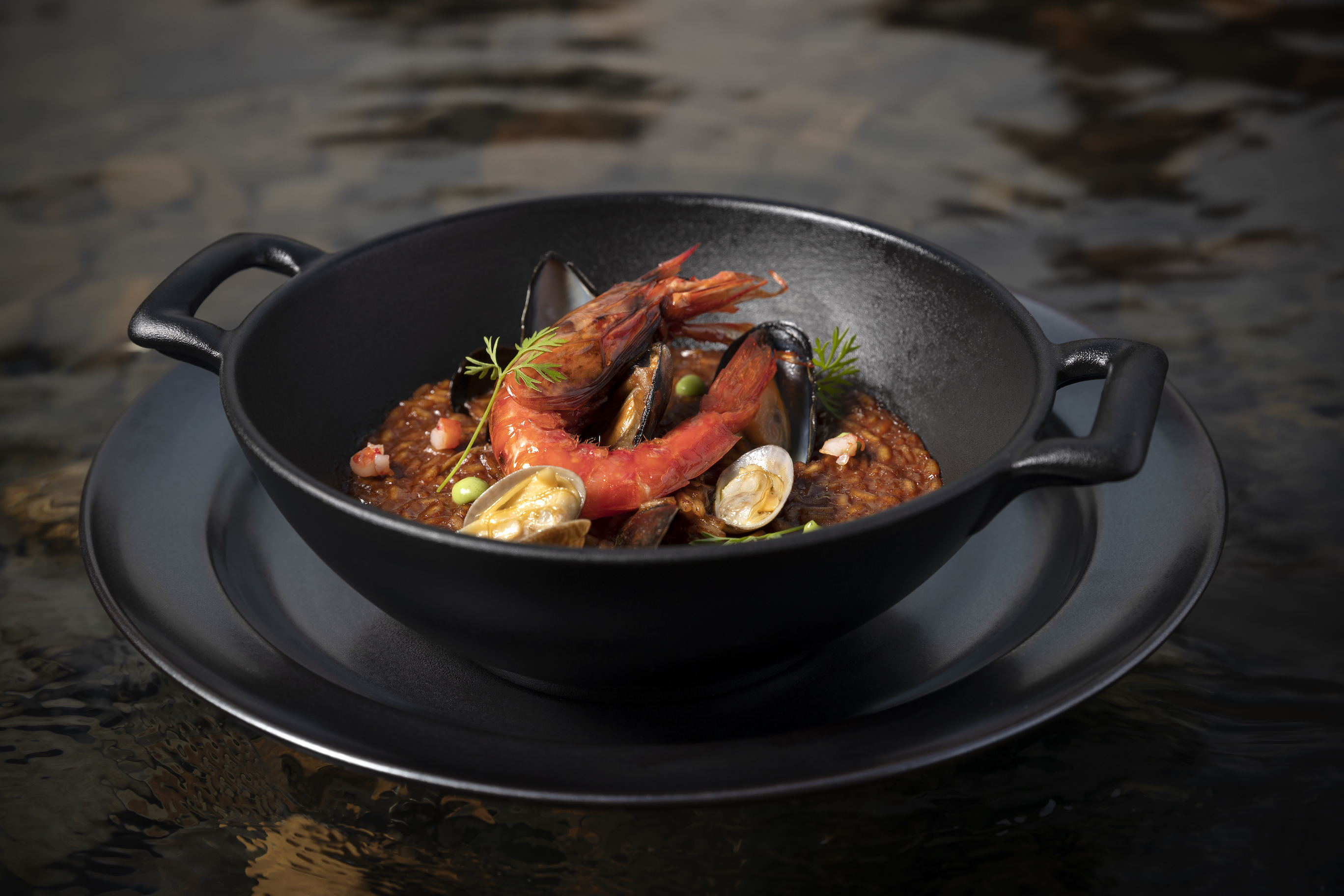 Another nice main is the Risotto, which exudes a mouthwatering seafood aroma. It features creamy rice with an incredibly rich sauce based on seafood stock – all crowned with the best specimens of the aquatic world. Spanish carabinero plays the lead role in this dish, which is one of the most coveted types of prawn. The Spanish carabinero is a deep-water jumbo-prawn with a distinct, slightly sweet flavor and delicate texture. There are also Canadian mussels and clams, equally delicious, which work in harmony with the prawns, complemented by parsley aioli and parsley leaves. 

Sweet conclusion
No one leaves an Italian dinner without concluding it with Italian dolce. Try the Chocolate cake. According to chef Andrea, this recipe deeply resonates with his childhood memories. This dessert is made of his memories plus various types of chocolate, roasted corn, and praline ice cream. Despite being so strong on the chocolate, it is not too sweet and is well-balanced. Followed by a shot of fragrant espresso, it leaves a satisfying aftertaste and a smile on a face. 
When familiar, traditional recipes get into the hands of creative and inspiring chefs like chef Andrea and his team magic happens. Like the melting chocolate, this place will melt the hearts of diners and please their stomach. These are traditional recipes that have not changed much through centuries – although they might look different, they are still the same dishes that have stood the test of time. The only difference is here they have been prepared with meticulously selected, high-quality products and presented in an artistic and stylish way. At the end of the meal, there is nothing left to say but to announce the verdict: "Bravo, chef!". Go and check it out yourself soon!
---
Terrazza Italian Restaurant 201, 2F, Galaxy Macau™ , Estrada da Baia de Nossa Senhora da Esperanca, Cotai, +853 8883 2221, www.galaxymacau.com
Tags
Related Posts