Macao Light Festival 2016 – Treasure of Light will illuminate the city, presenting video mapping projections, light installations, interactive games as well as a music and light show at various locations around Macau. This year, the Festival revolves around a quest for the 'Treasure of Light', with residents and visitors invited to embark upon an adventure as 'explorers' searching for the seven lost Energy Gems of Mazu, symbolizing 'Hope', 'Perseverance', 'Health', 'Happiness', 'Harvest', 'Bravery' and 'Fidelity'. By collecting the seven gems, 'explorers' can accumulate treasure from the sea to enjoy a virtual reality tour beyond their imagination.
Seven sets of light installations in all will be rolled out at various locations; namely, 'Lake of Treasure' comprising 360 LED glow balls at Nam Van Lake Nautical Centre; 'Path of Treasure' at Avenida Panorâmica do Lago Nam Van; 'Light Painting, Neon Sketching and Street of Illusion' at Anim'Arte NAM VAN; 'Blessings Stairway' at St. Lawrence's Church; 'Tree of Blessings' in Lilau Square; 'Cave of Gems' at Moorish Barracks and 'Harbour of Hope' in Barra Square.
Most of the light installations will shine with new interactive elements, with the 'Light Painting', for example, enabling spectators to create their own graffiti of light and share photos via social networking, while 'Neon Sketching' encourages spectators to sketch their own neon light art in concert.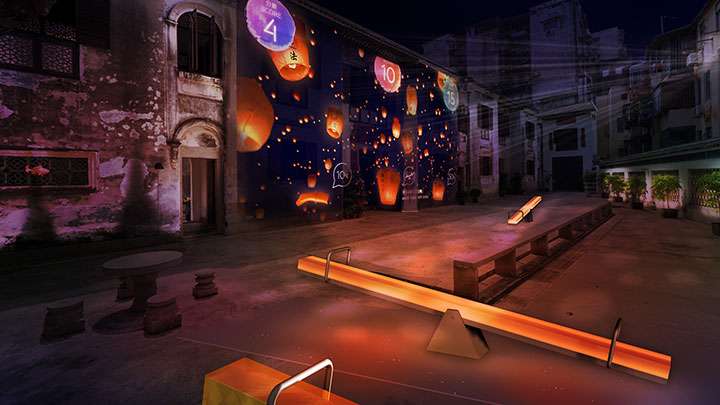 Four video mapping shows – 'Sailing', 'Inheritance', 'Source of Water' and 'Carrying-on' – will be staged at Nam Van Lake Nautical Centre, Mandarin's House, Lilau Square and Barra Square. The shows will take audiences back to the old days of Macau and its moving stories. The 5-minute shows are scheduled for 7:00pm, 7:30pm, 8:00pm, 8:30pm, 9:00pm, 9:30pm and 9:55pm.
When: December 4 – 31; the 5-minute shows are scheduled for 7:00pm, 7:30pm, 8:00pm, 8:30pm, 9:00pm, 9:30pm and 9:55pm
Where: Nam Van Lake Nautical Centre, Mandarin's House, Lilau Square and Barra Square
How much: Free admission
Tags
Related Posts