FRANCIS is one of those restaurants you just can't help going back to. Featuring fresh, delicious and creative Israeli cuisine, they also have one of the most interesting wine approaches in the city. Supporting small producers and growers of wine, FRANCIS delivers a varied wine list that can complement any meal without the heavy price tag. To find out why they focus on artisanal growers and the concept of FRANCIS, we speak to Simone Sammuri, James Ward and Asher Goldstein, the three young entrepreneurs behind the Middle Eastern flavors that has captivated Wan Chai.
FRANCIS has jumped onto the HK dining scene with a bang, full at almost every seating, what do you think makes FRANCIS so popular? 
There are different factors. First of all, it's the small, cosy and intimate factors. FRANCIS is cosy and friendly while offering a type of cuisine that was probably still unexplored in the city. We always try to deliver good value on the table when it comes to food and the wine list.
Could you tell us the inspiration behind FRANCIS, its style of food and why you decided to open?
For me it's a place that represents the three of us. When I say three of us I mean myself, who looks after the wine, James Ward who is Head of Operations and Asher Goldstein who is the Head Chef. Asher is from Tel Aviv, so much of his background and roots are translated onto the plate. James has experience in the hospitality industry as Head of Operations and for myself, I put my passion and knowledge into the wine program. So, the three of us combined resulted in FRANCIS. 
What are you branding FRANCIS as?
There's Israeli food on the menu due to Asher's background but we also feature flavors, spices and ingredients from all over the Middle East and neighbouring countries.
Asher, can you tell us about your background and your journey to becoming a chef? 
I started training from the very bottom in Tel Aviv for four years, before moving to Sydney helming the kitchen team at Berta and 121BC. I draw inspiration from home cooking with my family recipes with a European twist.
James, can you tell us bit about yourself and how you came to be in Hong Kong and General Manager of FRANCIS and Mr Brown?
I spent seven years in Hong Kong, first with Aqua Group, then Le Comptoir before deciding to use my experience and knowledge to develop my own concept. We identified a gap in the Hong Kong market for Middle Eastern cuisine with a unique wine program focusing on affordability and lesser known varietals from small to medium-sized producers in a very informal neighbourhood style venue.  That's when I met with Asher and Simone and FRANCIS was born.
What are the dishes everyone should try when they dine at FRANCIS?
[Simone]: One of the dishes that's really popular is the lamb ribs with yogurt and coriander sauce and we see people come back just for that. We recently went to Taste Hong Kong and it was featured there, with people coming back three or four times just for that. 
[Asher]: Yes, the lamb ribs showcases technique, traditional Middle Eastern flavours but presented in a contemporary way and mouthwateringly good!
[James]: Another very successful dish is the carrots! A very humble ingredient sourced locally but treated with the upmost respect. First of all, it's smoked, then roasted with a homemade spiced honey then served with almond cream. Perfect for any occasion, it's also a vegan dish and so satisfying.
And do you think there's anything on your menu you can't get anywhere else?
I think the way Asher makes the halloumi, makes it really special. Nowhere else makes it like this. First of all, the halloumi comes from a small farmer in New Zealand that makes a very small batch. We are one of the few businesses who are lucky enough to get hold of it. And we make it with pomegranate and wild oregano so he makes it unique.
Simone, can you share with us more about your background and love of wine?
My journey started in London when I worked for a company called Terroir, a wine bar and restaurant at Charing Cross. They focus on wine and small growers. I feel like every person who starts in the wine industry bases their identity on where they start working. For me, it's always been working in small places offering a wine program that showcases small artisan growers. I've been lucky enough to work at successful wine businesses in London, Sydney and then we came over to Hong Kong to open a place from Sydney, then back to London to open another wine bar. Then, the opportunity came up to open FRANCIS and I like small growers so we went with that. I love working with this concept! Leave the commercial brands to other places and let's do something different.  
What's the philosophy surrounding your wine offerings at FRANCIS?
It's a combination of things. There are two price ranges on the main list: HKD $350 and $600 for white and red so again, it's affordable and good value for money. Then there are some that aren't on the list which is great for finding hidden gems but these are priced differently.
Why is one of the core ethos of FRANCIS to make wine accessible? Did you feel like this was missing in the current market? How are you working to improve this?
FRANCIS is a small, dynamic, and fast paced place. We wanted to make the wine list as simple and straightforward as possible. People go to many places in this city and the lists are huge, with so many distracting things. They turn the pages and possibly not understand everything. We wanted to make it concise, small, simple in pricing and also what to look for. Then, my challenge is to make that price range for customers so there's plenty of option and a good diversity of styles of grapes and countries.
Where are most of your wines from? And how do you usually advise people on how to select a wine?
They are a little bit from everywhere. FRANCIS is a Middle Eastern restaurant so a good representation of wines from the Middle East is important. Thus, attention is placed on wines from Isreal and Lebanon mainly. Then there's a good combination of new world and old world while working with prevalently artisan growers.
When you approach a customer, this is actually what makes a good knowledgable sommelier: it's not actually about your knowledge but about who you have in front of you. I do this through interaction, by questioning my customer, filtering the preferences in order to give a couple of options. So for me, it's by interacting and asking. In that way, we have a sort of connection, and then I can easily get to a solution.
For wine newbies out there, what advice would you give to people wanting to learn more?
If you are a first timer, I feel like a restaurant is not the most suitable place to learn about wine so I would suggest staying in a silent room looking at your wine and studying it.
You have to visit a winery, just for the sake of sitting down next to a winemaker, understanding his feelings, and how much he cares about his wines 365 days a year. That touches you emotionally and you can learn so many things. Observe nature, see how the wine is made and follow the process right to the end.
Can you tell us about your Black Book of wines at FRANCIS?
So after the core list, we have this Black Book. This provides an opportunity to people to find hidden treasures! So if a supplier comes to me from a very small place, with something like four to six bottles–very rare–you can find that in the Black Book. Do note that this is first come first serve, so when the bottles are finished we cross it off and then we move on to something else. It's a handwritten book, so you sign and date it, then we cross it out and move on. There are about 20–30 wines in rotation at any time.
Is there any sort of wine brand or label you're loving at the moment that you think is a bit undiscovered?
I'll start off with my country so I'm going with a Fiano di Avellino. Fiano is an indigenous grape from the south of Italy and it's probably one of the best Italian white wines. It's very delicate, stony character, and lightly smoked so it is a great match for vegetarian dishes which we have plenty of here in FRANCIS. Dry, medium body, completely outstanding and frankly there's not enough in Hong Kong.
For reds, I recently tried a syrah, from Columbia Valley in Washington state near Oregon. It's a desert area–very hot, dry, sunny days with very cold evenings and long days. It was very ripe, bold, smooth and expressive, and I was really amazed by it. So it's all about going to try new wines that are not known by many people rather than just the classic brands.
What are three wine facts you can tell us about FRANCIS?
We have 10–15 labels from Lebanon which is something that is very unknown to many people in Hong Kong.
We have some Israelian whites, which is really niche and something you rarely find around.
And, as I'm Italian, my heart beats for Italian wine, so I always like to always have an Italian wine even at a Middle Eastern restaurant.
Can you tell us more about your new cocktail menu? What can diners expect?
Funny enough we have just reviewed this recently and made a good selection of spritzers using a good mix of ingredients with the purpose of making FRANCIS more dynamic. The food comes fast so the drinks have to come just as quickly, so they are simple and really reflect the menu. The list is primarily made up of cocktails that are refreshing and we've also got two clay pots in which we age our own Negroni–our star of the cocktail program.
You have just opened a new place on Wan Chai Ship Street – Mr Brown, can you tell us more about it?
It opened three weeks ago and it's our new baby, slightly bigger, with 60 seats. We take reservations which is a big difference from FRANCIS. Asher  is now cooking there and we call it a grill house where there is a good selection on the menu. There's some Middle Eastern touches but not exclusively. We do aged brisket and smoked duck so it is dedicated to the grill. It's an open kitchen but the mentality is similar to FRANCIS in that it is an accessible, affordable grill house, with a menu that includes seafood and vegetarian selections.
And a good wine selection?
And a good wine selection of course! We are starting from a very affordable mix of ranges, old world, new world and giving priority to small artisan growers.
In places like FRANCIS and Mr Brown, they are small enough that we can share our passion on the floor and let people discover something new and that's the job of a sommelier. It's not just a person in a suit. You can't just focus on the wine anymore, rather, you have to look at all aspects of the business. The way people dine is changing and it's not just starter and main course anymore. Thus, the role of a sommelier has to evolve too.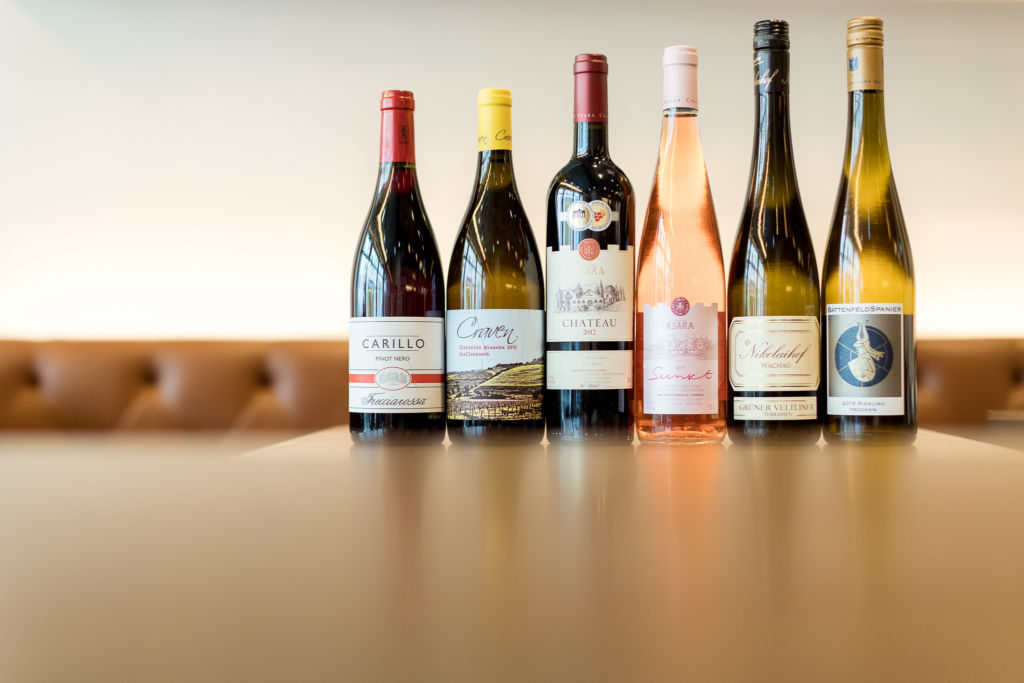 ---
FRANCIS 4 & 6 St. Francis Street, Wan Chai, Hong Kong, +852 3101 9521 
Mr Brown G/F, 9 Ship St, Wan Chai, Hong Kong, +852  3101 1081
Tags
Related Posts