What is Christmas if there isn't a slew of feasts to attend with your friends, colleagues, and family? This isn't any different in Hong Kong and there is definitely a place for you and your loved ones at these fabulous restaurants on Christmas day. We've ensured that the most festive day of the year is a delicious and care-free experience with a diverse selection of dining spots!
Zuma
(Featured image above)
Forget about those complicated cookbooks and head to Zuma for a festive feast. This location is our go-to destination of choice, with an outstanding line-up of new offerings for December. Don't miss the festive Daikoku Tasting Menu taking center stage in the lead-up to Christmas, alongside a celebratory-themed Baikingu Brunch. We also love the enchanting Santa's Grotto for the kids ensuring that the atmosphere is wonderful for both young and old. Don't miss the lively vibe from December 25 to 29 while the tantalizing Festive Daikoku Tasting Menu priced at HKD $1,280 is available from December 23 to January 1. It features the spectacular Kyoto carrot cake with caramelized figs and rum ice cream. Bring the whole family for an unforgettable dining experience.
Zuma Level 5 and 6 Landmark Atrium, 15 Queen's Road Central, Central, +852 3657 6388, www.zumarestaurant.com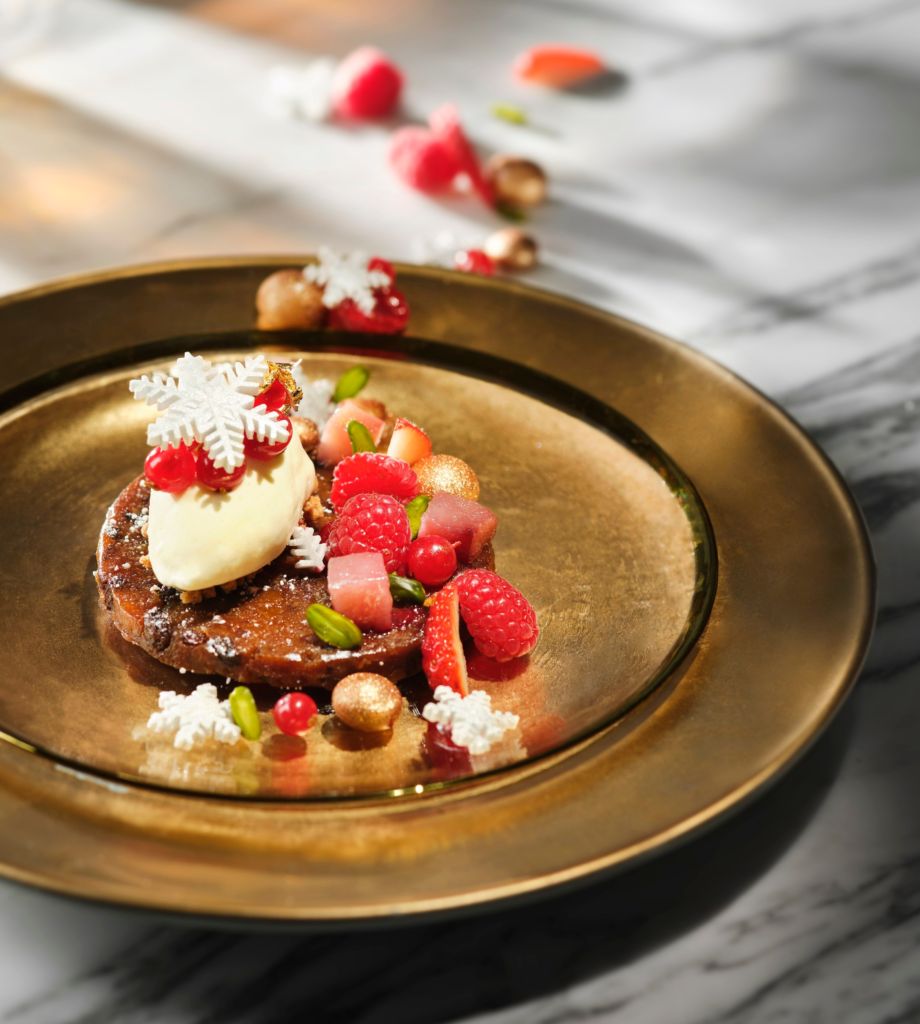 The Murray Hong Kong
Christmas Day should be about relaxing and spending time with your loved ones. That is why Popinjays at The Murray Hong Kong is the perfect destination for sophisticated celebrations elevated with sweeping views of the city. This Christmas Eve and Christmas Day, treat your loved ones to a lavish six-course Christmas dinner featuring European classics with a modern touch priced at HKD $1,288 for adults and HKD $588 for children.
If you have little ones in town, the Christmas Day Brunch is going to be phenomenal with visits from Santa Claus and a joyous live chorus of Christmas carols. It is available in two seatings at HKD $988 per adult and HKD $494 per child. The champagne and seafood buffet array includes a bountiful plateau de fruits de mer, live carving stations offering roasted turkey and barbecued meats, and a wide range of cold and hot selections guaranteed to make every guest smile.
Popinjays The Murray Hong Kong, 22 Cotton Tree Dr, Central, Hong Kong, +852 3141 8888, www.marcopolohotels.com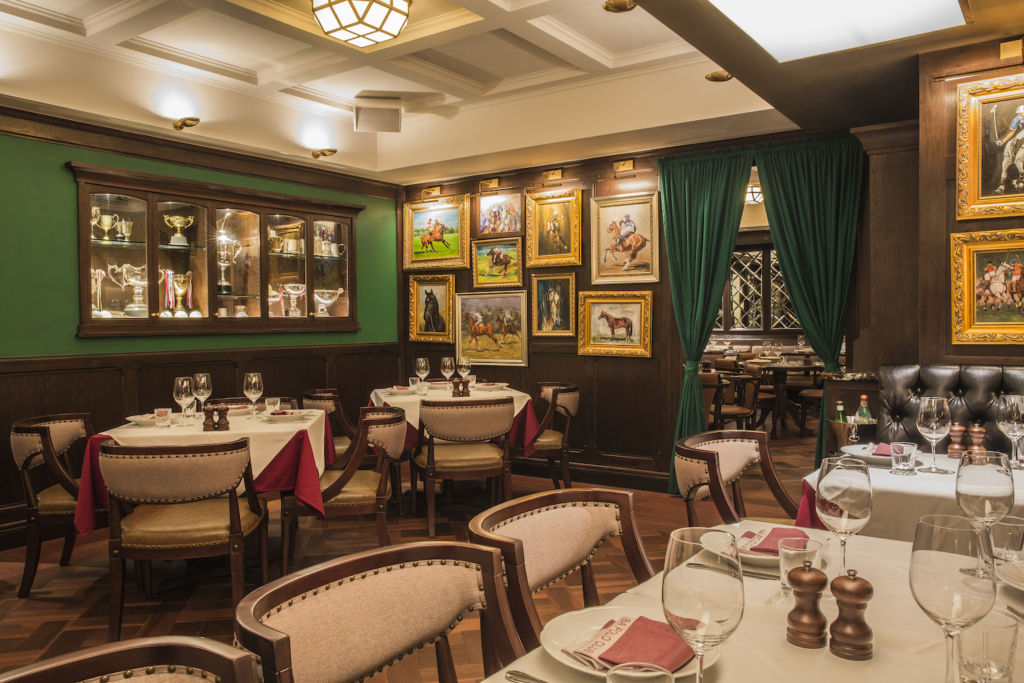 Buenos Aires Polo Club
Buenos Aires Polo Club sets the stage for an evening of style and sophistication. The Festín de Navidad is available on December 24 and 25 priced at HKD $678 per person. Indulge in pure black Angus steaks from the pampas' General Pico range. It is accompanied by classic sides such as rich mascarpone and brown butter-bolstered mashed potatoes and your choice of beef, chicken or spinach and provolone classic empanadas. We love the family-style setting and warm ambiance evoking a sense of family love that's ideal for the holiday season.
Buenos Aires Polo Club 7th Floor LKF Tower, 33 Wyndham Street, Central, Hong Kong, +852 2321 8681, www.bapoloclub.com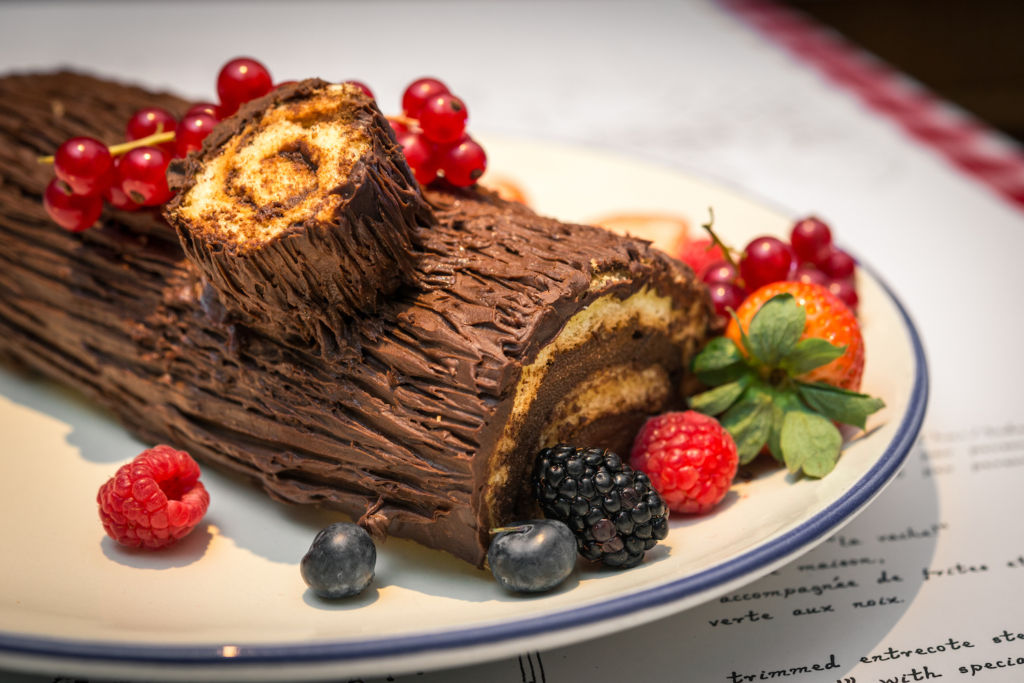 La Vache!
Travel to the city of love without the long plane ride at La Vache! Throughout December, clink glasses of Kir des Alpes priced at HKD $98 to whet the appetite for the USDA Prime Ribeye and bottomless portions of golden frites that follow. We adore everything at this classic Parisian steakhouse. To honor the beautiful season of joy, they are bringing back their irresistible holiday Buche de Noël priced at HKD $138 which features whipped cream and fresh berries rolled in soft layers of chocolate cake. Bring your girlfriends for a stylish and Christmassy meal at La Vache!
For inquiries, email [email protected] and [email protected].
La Vache! SoHo, 48 Peel Street, Hong Kong, +852 2880 0248
La Vache! Tsim Sha Tsui, 12 Hart Avenue, Kowloon, Hong Kong, +852 2666 6818, www.lavache.com
8½ Otto e Mezzo BOMBANA
Partake in an exquisite Christmas meal designed with perfection in mind and expect great creations at the three-Michelin-starred 8½ Otto e Mezzo BOMBANA. They are launching a special set menu on Christmas Eve priced at HKD $3,288 +10% service charge per person. The menu includes several refined Italian dishes, such as chestnut gnocchi embellished with the aromatic Alba white truffle, juicy and tender poularde from Bresse and the popular Mayura beef sirloin "signature series" from Australia. Celebrate Christmas the Italian way at this award-winning dining spot.
8½ Otto e Mezzo BOMBANA Landmark Alexandra, Shop 202, 18 Chater Rd, Central, Hong Kong, +852 2537 8859, www.ottoemezzobombana.com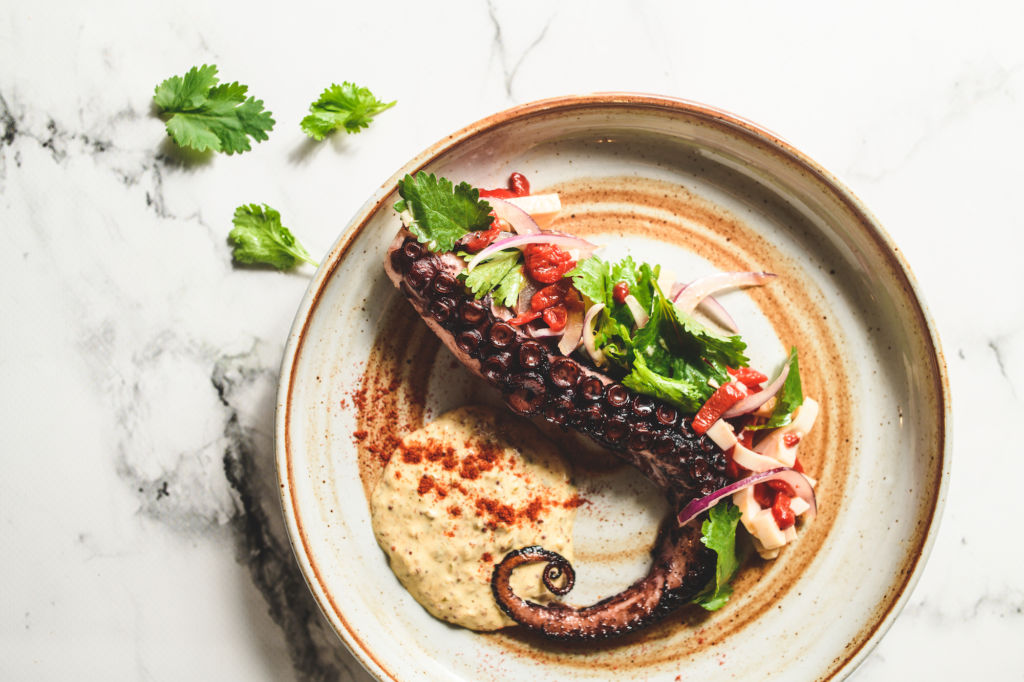 KINSHIP
Eat, drink and be merry at Kinship. We love this restaurant's farm-to-table ethos and this season of giving, it's our simple way of dining guilt-free. Chef Chris Grare has concocted a special Christmas dinner menu on December 24 and 25 only priced at HKD $488 plus a 10% service charge. It's comprised of the classic prawn cocktail, turkey roulade, sweet potato risotto and other delightful dishes that will make your dining experience even merrier during this festive season.
Kinship 3/F 2-4 Shelley Street, Central, Hong Kong, +852 2520 0899, www.kinshiphk.com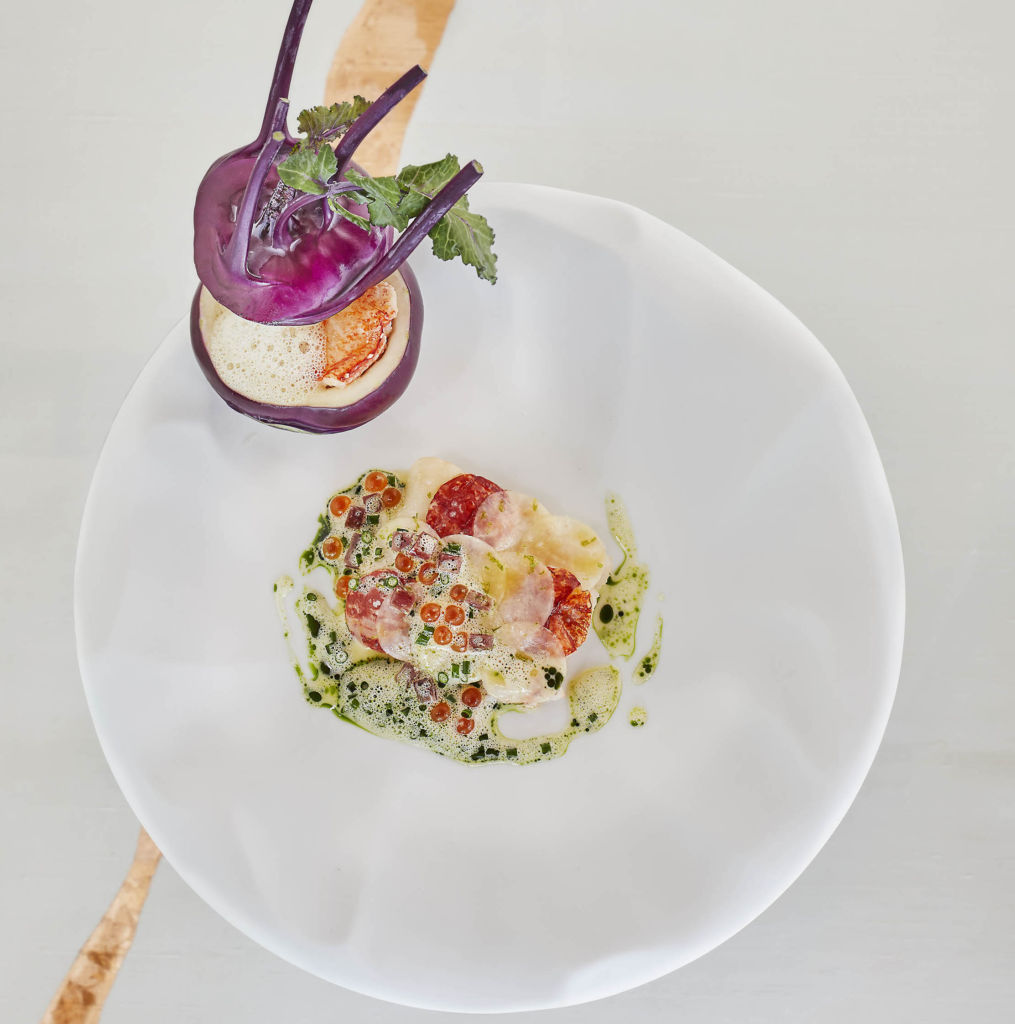 ÉCRITURE 
Make it a special dining date at Le Comptoir's two-Michelin-Star contemporary French restaurant, Écriture. Chef Maxime Gilbert has prepared a seven-course dinner menu featuring classics such as sea urchin duck foie gras, Hokkaido scallop, grenailles potatoes, and white truffle, Brittany blue lobster and more! It's priced at HKD $1,988 plus 10% service charge. Indulge in a memorable evening with your sweetheart while celebrating one of the jolliest times of the year.
Écriture 80 Queen's Road Central, Central, Hong Kong, +852 9229 4627, www.facebook.com/ecriturehk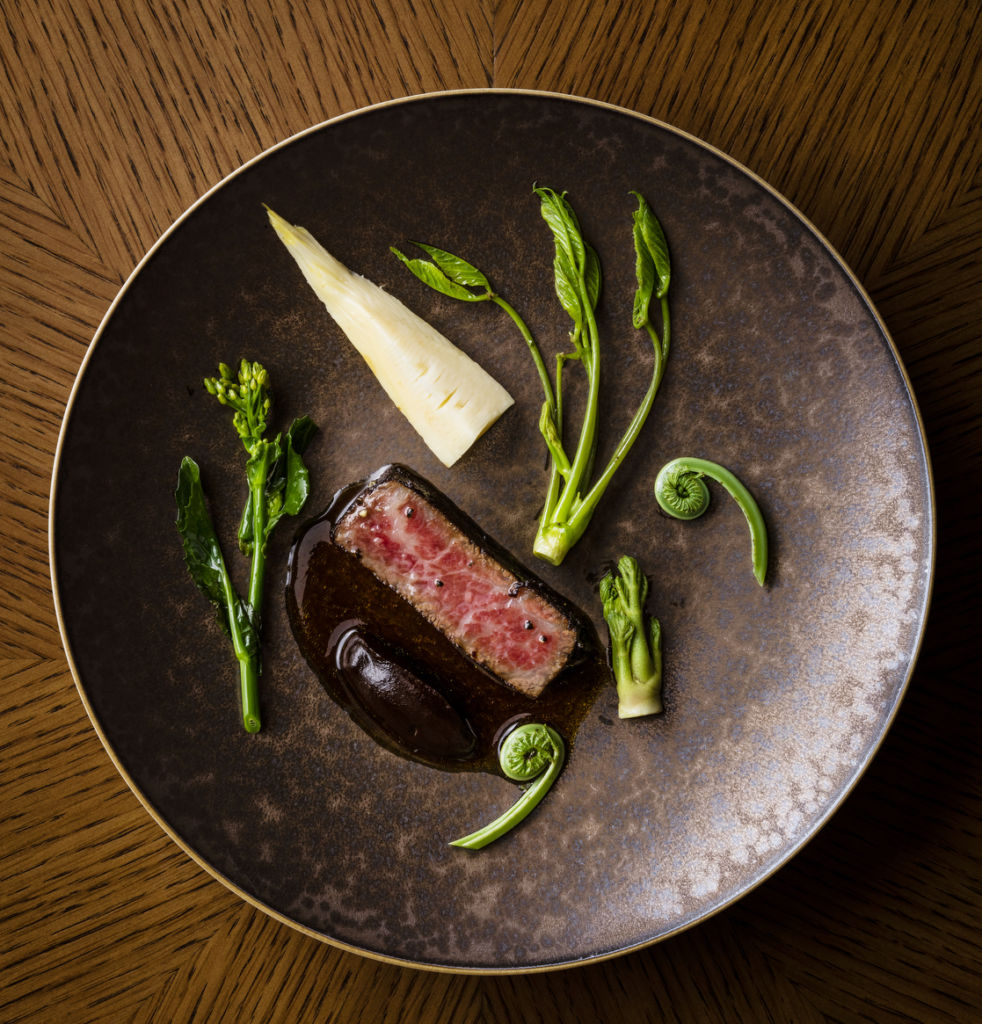 The Landmark Mandarin Oriental, Hong Kong
Amber is nestled at The Landmark Mandarin Oriental, Hong Kong. It has often been dubbed one of the best French restaurants in Hong Kong. The prominent restaurant has attracted gourmands from all over the globe. This Christmas, seize the opportunity to dine at this stylish location with all the glamorous feels and indulge in an eight-course Christmas Eve dinner priced at HKD $3,288. Expect the best ingredients on your plate and celebrate the season of joy with your loved ones at this elegant space. You can also opt for the Christmas Day lunch with a six-course menu priced at HKD $1,788.
Amber The Landmark Mandarin Oriental, Hong Kong, 15 Queen's Road Central, Central, Hong Kong, +852 2132 0066, www.mandarinoriental.com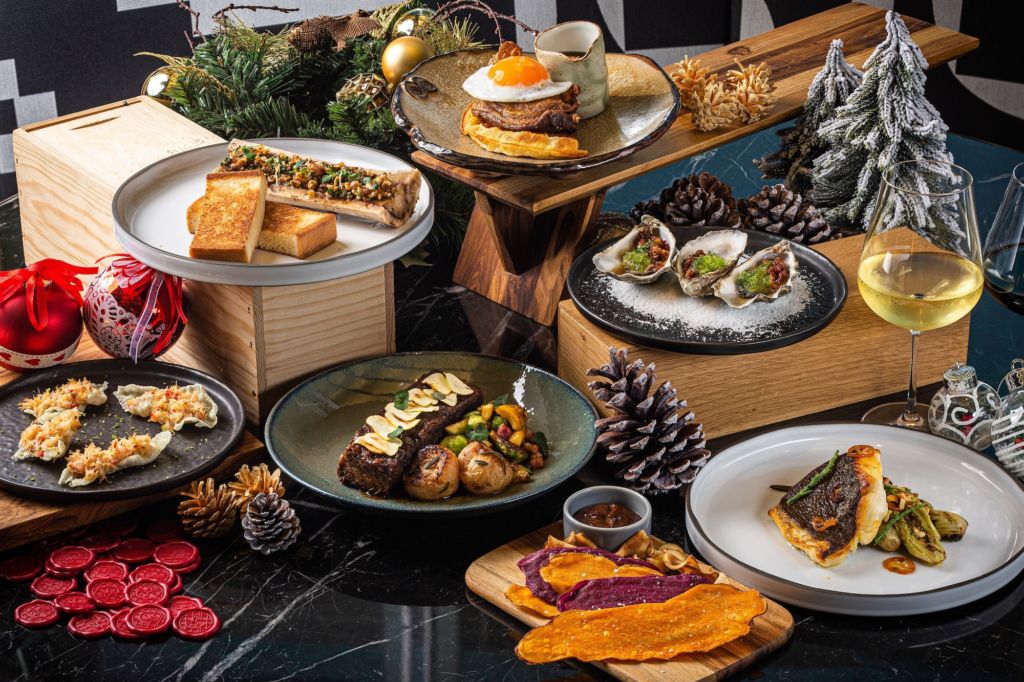 Duck & Waffle Hong Kong
Duck & Waffle Hong Kong is the perfect spot for small or big gatherings. The Christmas Eve tasting menu has been exclusively created to cater to family and friends. The restaurant has an inventive tasting menu priced at HKD $680 per person and HKD $250 for wine pairing. It's available on Christmas Eve for all to enjoy. The unique menu features dishes such as Irish crab–an indulgent combination of shredded crab meat with pickled chilies, nori cracker, and lime–and the iconic Duck & Waffle, a delicious confit duck leg sandwiched between a gloriously fluffy waffle and a crisp fried duck egg, drizzled with homemade mustard maple syrup. Guests can also enjoy the festive cocktail Christmas hug, a delicious mix of red wine, pumpkin spice, dark chocolate, and orange.
Duck & Waffle Hong Kong Shop 1081, Podium Level 1, ifc mall, 8 Finance Street Central, Hong Kong, +852 2267 6338, duckandwaffle.com.hk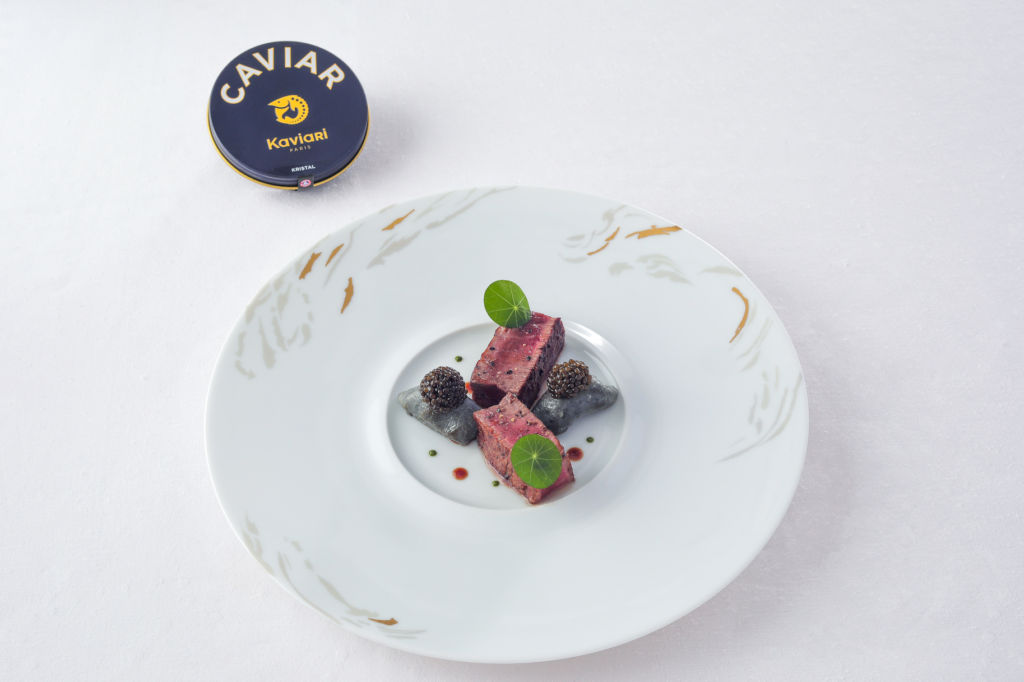 L'Envol at The St. Regis Hong Kong
Enjoy a festive masterpiece at L'Envol located at The St. Regis Hong Kong. Led by Michelin-starred chef Olivier Elzer, the restaurant presents innovative French gastronomy with impressively curated menus. The Christmas Eve dinner menu will feature homemade buckwheat tagliatelle with farmed hen egg yolk and Ossetra caviar. It will also showcase roasted French capon with "Perigord" black truffle. The Christmas Eve dinner menu is priced at HKD $2,688 per person plus 10% service charge. The lunch menu on December 25th is also priced at HKD $2,688 per person plus 10% service charge. Dine in the stylish surroundings of L'Envol at one of the most wonderful days of the year with your closest friends and family.
L'Envol The St. Regis Hong Kong, 1 Harbour Dr, Wan Chai, Hong Kong, +852 2138 6818, www.marriott.com
Tags
Related Posts