Graduated from Macau Productivity and Technology Transfer Centre (CPTTM) in Fashion Design and Manufacturing in 2017, local fashion designer Jack Lam has a passion for fashion. Even though he is not able to fully dedicate himself to the field just yet, he has to combine it with his information technology job. With a highly positive and persistent attitude towards his career, the fashion designer's main desire is to create his own classics one day, long-lasting, timeless and functional designs that people feel comfortable in. Macau Lifestyle met with Jack Lam to find out more about his work and upcoming projects, the role of MaConsef (CPTTM Fashion Incubation Program) in his career, the current Fashion Interaction–Guangzhou-Hong Kong-Macao-Shenzhen Creative Fashion Exhibition and more!
Firstly, what brought you into the realm of fashion designing? Was this a long-time passion?
Firstly, I have to say I work in the information technology field. As time went by, I felt like dedicating mostly to the fashion industry, but since I have to provide for my family I've been postponing the shift. The income from IT is much better, but this shift is unavoidable as I cannot handle both occupations at the same time and fashion is a long-time passion of mine. So in the future, I'm hoping to drop the IT business and devote myself to the fashion industry. But to be honest, my IT background has helped me a lot in creating my designs, specifically with drawing, measurements and 3D projections.
Where do you get inspiration for your designs? 
Mainly from daily life, I see someone passing by and suddenly get an idea for a design. At the same time, I always keep practicality in mind. When I think of a design, I want it to be simple, something that feels organic. Also, I bring into my creations my own liking. I get inspiration from cowboy-style as well!
When you come up with a design, do you have a target audience in mind? Who are you designing for? Could we say you design for modern people living urban lives?
I do not have a specific audience in mind. I just design according to what is on my mind. Whoever accepts my creations can wear them and this way my design spreads out to reach a greater audience. I want to be able to create my own style. If people like my creations they automatically like me as a designer.
The fashion industry is extremely fast-paced where people's needs and wishes change quickly. Do you feel the pressure to constantly innovate and be one step ahead?
A classical design is enduring. I am not able to predict what will be popular in the future, I just follow my path and come up with my designs. I do not follow trends. Anything classic is cyclical, I want to create my own classics based on pre-existing elements. This is my direction, even though I know it's not easy, this is the goal on my mind.
You won the first place at your graduation show with your collection "Future". Shortly after you graduated from CPTTM you were able to create your own brand, Jack Lam. Please tell us more about how this came to happen. What were the main challenges you faced while creating your namesake brand?
I'm relatively new in this business and I notice my fellow graduates worry too much. The main point is to keep on working, learning and adjusting throughout the process. We just can't be stuck with ideas, we need to move on to action.  Not to overthink. During the course I learned from my mistakes and constantly adjust in order to create something good enough to present the judges with. This field can be challenging, so many people give up when facing these challenges. I'm not one to give up.
Where can people check out your collections and purchase your designs?
I'm expecting to have my designs available to the public in 2020. I'll start with a website and then my designs will also be available for purchase at certain shops.
You've also been invited to join MaConsef. Could we say that being a part of the incubator helped set off your career? Could you tell our readers what happens at the fashion incubator? 
This program is so helpful! It's not just a regular class where you stand listening to your teacher. The teacher is a designer and he or she will discuss the creation with the student, give their input on all matters related to the process, from drawing to which materials to use and so on. So students not only think about what they want to do, they actually move on to creating the final product, all the while getting valuable insights from teachers. These experts, from various fields of fashion, help us adapting our drawings into something feasible.
You and Ms. Yaya Tam (along with one other team of local designers) are representing Macau in the "Fashion Interaction – Guangzhou-Hong Kong-Macao-Shenzen Creative Fashion Exhibition" which serves as a platform for young fashion designers from the four cities to exchange ideas, work and interact with each other. Do you think that fashion designers in the Greater Bay Area can benefit from bringing their strengths together in order to attain greater visibility and show the world what is being done in the area?
Designers from different areas have different cultural backgrounds. We learn from each other and soak up the best each has to offer. Likewise, we can also learn from what our peers are not so good at. We combine our strengths and exchange ideas–this is the greatest advantage of this interaction. Even though there is competition, it is healthy competition.
Do you stay in Macau most of the time? Do you travel a lot for work? Were you able to show your work abroad?
I'm based in Macau and my project is for local people mostly, even though of course I do not exclude any audience. But it's mostly a local project. In the future, I might consider participating in art events, not strictly fashion related.
What plans or projects do you have for the upcoming future?
My plans for the future are simple: keep on working, keep on exploring this field in order to achieve creating my own classics. Learn from my mistakes. I'm not afraid of failure, I'll persist and keep on trying. I'll be dedicating myself mainly to fashion, having always maintained my IT knowledge which helps a lot with my fashion work. For example, it comes in handy while working on my website.
---
Fashion Interaction–Guangzhou-Hong Kong-Macao-Shenzhen Creative Fashion Exhibition, the finale exhibition of Macao Fashion Gallery for this year, takes place between September 21 and December 31. The exhibition showcases the excellent works of eight new fashion designers/designer teams from the core cities of Guangdong, Hong Kong, and Macau Greater Bay Area.
Each designer/designer team presents two representative costumes, totaling 16, allowing the audience to appreciate the unique styles of the designers from the four places at close range and feel the infinite design possibilities under the same cultural background. Meanwhile, the exhibition also serves as a new fashion platform for the fashion youth of the four places to exchange and interact with one another and bring strength together.
In addition, a sales space, entitled "2019 Exclusive Fashion Collections—Showroom" is set up in the exhibition hall to gather garments and accessories of more than 20 local original brands and present diversified original boutiques to fashion lovers.
When: 10:00am–8:00pm (closed on Mondays, open on public holidays), September 21–December 31, 2019
Where: Macao Fashion Gallery, 47 Rua de S. Roque, Macau
How much: Free admission
For more information, call +853 2835 3341 or check their website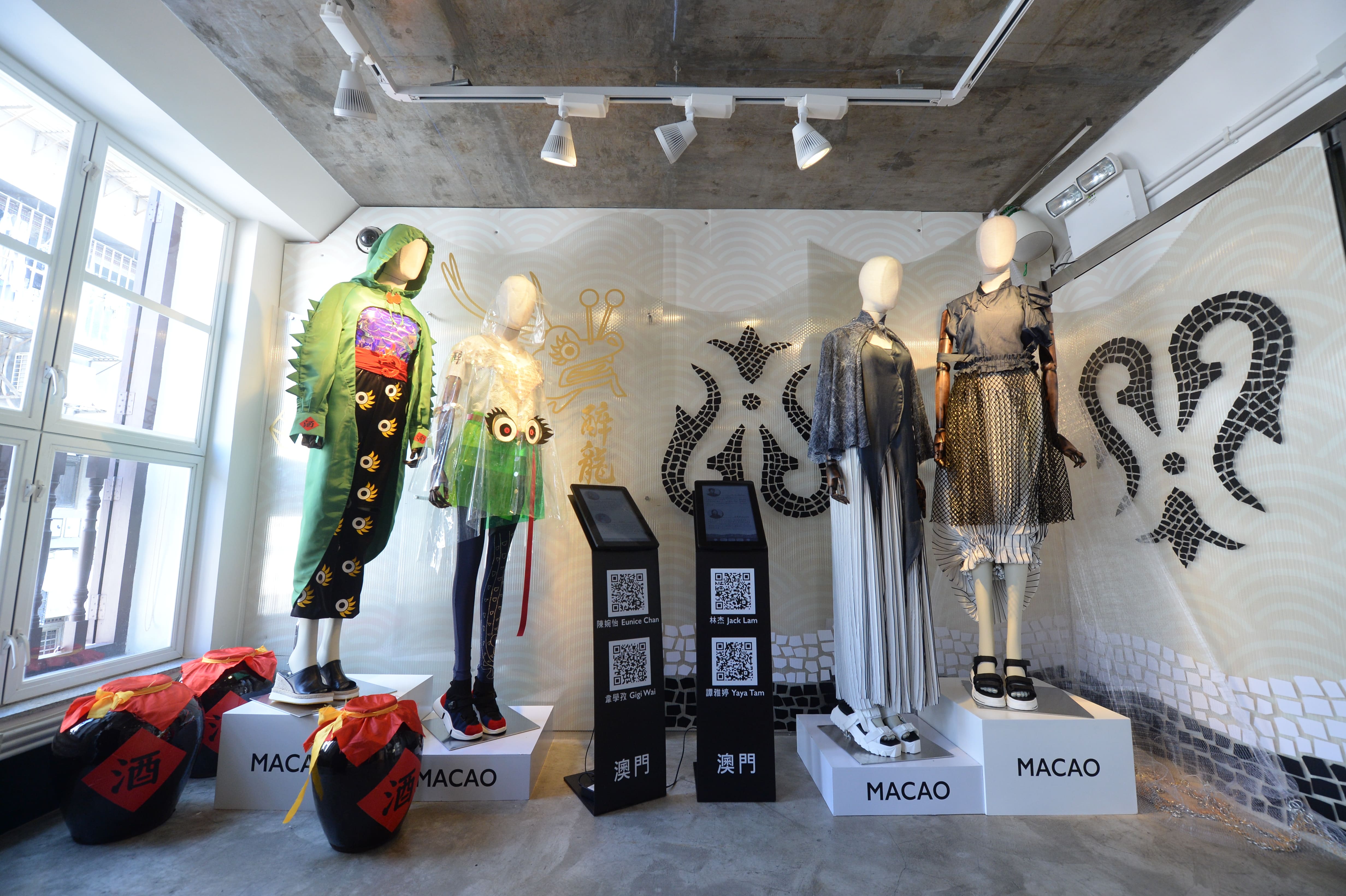 Tags
Related Posts