Beginning a journey with quite a distinguished lineage, one does not simply follow the same road as our forefathers. We do however carry their wisdom in our ways and carve our own mark into the world and into the lives of other people. More than just the son of famed Macanese author and lawyer Henrique de Senna Fernandes, Filipe de Senna Fernandes has emerged as a man of his own path and principle.
In the midst of a rainy day in Macau, Filipe's jubilant hello was a refreshing welcome to a start of a seemingly dull day. His effortless enthusiasm was instantly shared as he answered all of our thought provoking questions unfiltered and unabashed. The hardworking family man leads a busy life. Filipe explains, "I work in different areas on different days. All I can say is I've been very busy with MISE this year. I am a co-founder of MISE while I am also president of Macau Hockey Association among other ventures." Although he has been across various fields of the industry from media, music, marketing, entertainment, hospitality, telecommunications and more, the facet of his life where he identifies himself the strongest is one that's meaningful and profound – a father of two. We gained insight into his life as an optimistic figure in Macau.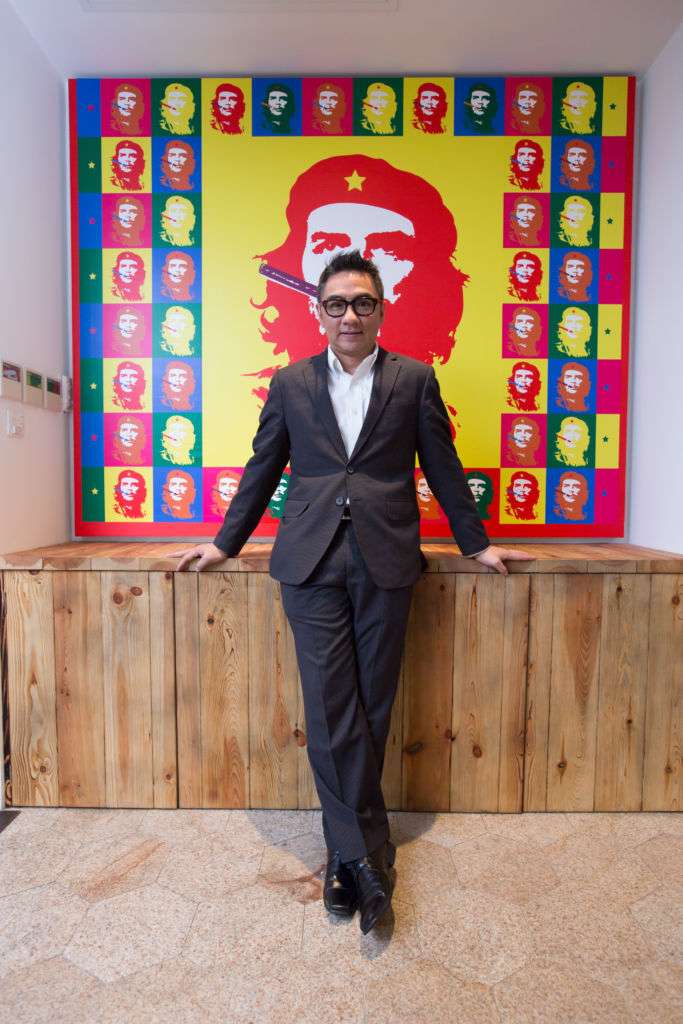 What do you love most about Macau?
The size of Macau is one that always stands out. I always call it a small big city. It's small in size but enormous in many ways. It has a little bit of everything and it is a convenient place to live in.
Do you have any fond memory during your childhood years that you could share with us about Macau? Do you remember places that you were particularly fond of?
The simplicity of Macau is one I will always fondly remember. We had a pretty simple life in Macau back then and I quite miss those days. I truly love the Nam Van area because that's my neighborhood. It's a place I grew up and I loved walking in the area.
What's your favorite restaurant in Macau? Why?
I have countless choices but one that stands out would probably be the Macau Military Club. The neo-classical architecture, rich history and topping it off is the fantastic Portuguese cuisine. The food and service are truly good and incomparable. The restaurant setting is beautiful and it's not very pricey.
Can you tell me a bit more about your current hobbies ? Are you doing anything new?
To be honest, music is quite seasonal these days for me. I actually played for 33 years and then I stopped for a few years. I've been idle after getting married and now with two kids, responsibility shifts.
What's on your playlist right now? 
I'm into retro these days. This year I played a few times and it was all retro (he laughs nonchalantly). It's probably because of my age and experience. People don't think of me as the new guy. There's a big competition out there. I've been there and done that. I truly enjoyed and liked it. I have a wide range of music that I play but as of now, I'm mostly into retro mode.
How did you start with your musical interest as a DJ? 
I think there were a few revealing moments in my life. It was 1989 and a time when I was a DJ at the legendary Green Parrot disco. I usually played for friends and small crowds. I had a stroke of luck working consistently for a continuous period of time. That was the old times.
Experiencing club life changed my views and perspective. I lived in Canada for 13 years and it helped me with my DJ career. I could remember countless numbers of events that I truly found memorable. The turning point is in Canada and they truly had respect for you as a DJ back then. It was truly very rewarding.
Macau is a small place and Hong Hong was a bit better but they still did not have the big grasp of the DJ world. In Canada, I was a member of a DJ pool and exchanged ideas and worked with record labels. It changed my whole outlook. I used to have that flame burning, a yearning that you wanted to go and explore and risk everything but I agonized over many things. I eventually chose to pursue my MBA. It was a hard decision to make but it was also monumental. Nowadays it's very different. The technology, access to music, sound system, it's all very competitive.
I've read from one of your accounts that you also worked in Macau Tourism. What did you enjoy most about that stage in your career and life?
I enjoyed meeting different people and promoting Macau in a general perspective. On a more professional side, I loved promoting Macau as a MICE destination. A lot of people think of Macau as a gaming and leisure destination more of a gaming mecca. I was out there talking to people to come to Macau and do business here. It was a different perspective and I enjoyed and loved doing it. I feel great in that part of the industry. I am a co-founder of MISE and I am actively involved. I may not be a part of the government but I am truly passionate about contributing to the society. To make it more accessible to organizers and to conduct their events in Macau is a motivating drive.
I understand you have a very busy lifestyle. What defines a perfect weekend in your routine?
We don't have a particular routine. Every weekend is different but the most important thing is to spend it with family. Sometimes we go to the pool and hang out. My kids love Hard Rock Cafe (laughs). It's a great place for a chilled-out weekend. We also go to China because my in-laws are there and we drive away from Macau. It's the perfect getaway. My wife and I are pretty busy, we shift the schedule around but we stick to simple plans when it comes to the kids.
Who had the most influence in your life whilst growing up?
My dad.
What was the best advice your father ever gave you?
Be humble! Be humble with everyone you meet in this lifetime. Don't classify or categorize the people you meet. Extend the same respect and courtesy to everybody. I believe in it and I try to follow.
How do you keep a balanced lifestyle?
With a deep breath and chuckle, Filipe answers with all honesty, "It's something I am still learning. I think I'm still in the process of learning how to do it. Striking the right balance between family and work is a struggle but you learn as you go on."
What's your personal motivation in life?
I believe that whatever you do in life, make a difference. Even if you do things differently than what people perceived to be normal or stereotypical, that's okay. I always have a different view than the usual and that's fine. What truly matters is that you have focus and that you continue to inspire other people and that keeps me going.
What's the first place you would recommend to a visitor in Macau? And what advice would you give to a newcomer to Macau?
If I had a friend over for a visit, I'd take them for a ride around the city. You could roam around the city fast and be acquainted immediately. You'd see everything all at once. Many people can't imagine how Macau is. It is often portrayed and accentuated by casinos and yes the occasional culture orientation. You have to be here to feel everything in between. Macau is somewhere between everything Asia and Europe. You have the new and old in here where catholic churches are intertwined with Buddhist temples. You have to take it one step at a time and then explore from there.
Find out more about Macau Meetings, Incentives and Special Events Association (MISE). Learn about the non-profit organization with the objective of supporting MICE professionals working in the Meetings, Incentives and Special Events industry.
My Macau by Filipe Senna Fernandes:
Macau Military Club 975 Av. Da Praia Grande, Macau
Hard Rock Cafe Level 2, The Shops at The Boulevard, City of Dreams, Estrada do Istmo, Cotai, Macau
Live and Love Macau features a glimpse into the world of Macau's most respected figures and inspirational characters while revealing all about their thoughts and version of MY MACAU.
Tags
Related Posts