Since we're almost into the fourth quarter of the year it's a good time to review what fashion trends took the lead this year and see which predictions came true or fell flat. Earlier this year there were a lot of looks cascaded down the runways of fashion weeks across the four major fashion capitals of the world – not all of these made the cut, but a few key trends did catch on.
As it turns out, the biggest fashion trends of 2018 continue to be daring, bright, and sparkly. This year there as been a penchant for retro florals, hard PVC materials, bright candy floss tones and all that glitters. These are in vogue and this will continue into fall – major designers are still going heavy on the glitter and sequins, proving that these shiny, glistening details have been wearable all year round. Plus, these trends don't seem to be heading out soon, so you can consider stocking up – check out this rundown below of the trends you should know.
Sparkle for Days
When New York Fashion Week kicked off last spring with Tom Ford's ready-to-wear gowns and mini dresses, it was clear all that glitters is no longer reserved just for the holiday party season. Major runway presentations extended this theme with the likes of Coach, Oscar de la Renta and more progressing towards the end of the week long festival with Marc Jacob's sequined numbers. The same could be seen on the runways of London, where brands known to have a penchant for glitz and glamor upped the ante and presented their own pieces, while even brands not often associated with twinkling pieces (like JW Anderson) jumped on the bandwagon.
Add some sparkle to your fall wardrobe with a sequin-embellished piece, a shiny satin dress, or a pair of glitter boots.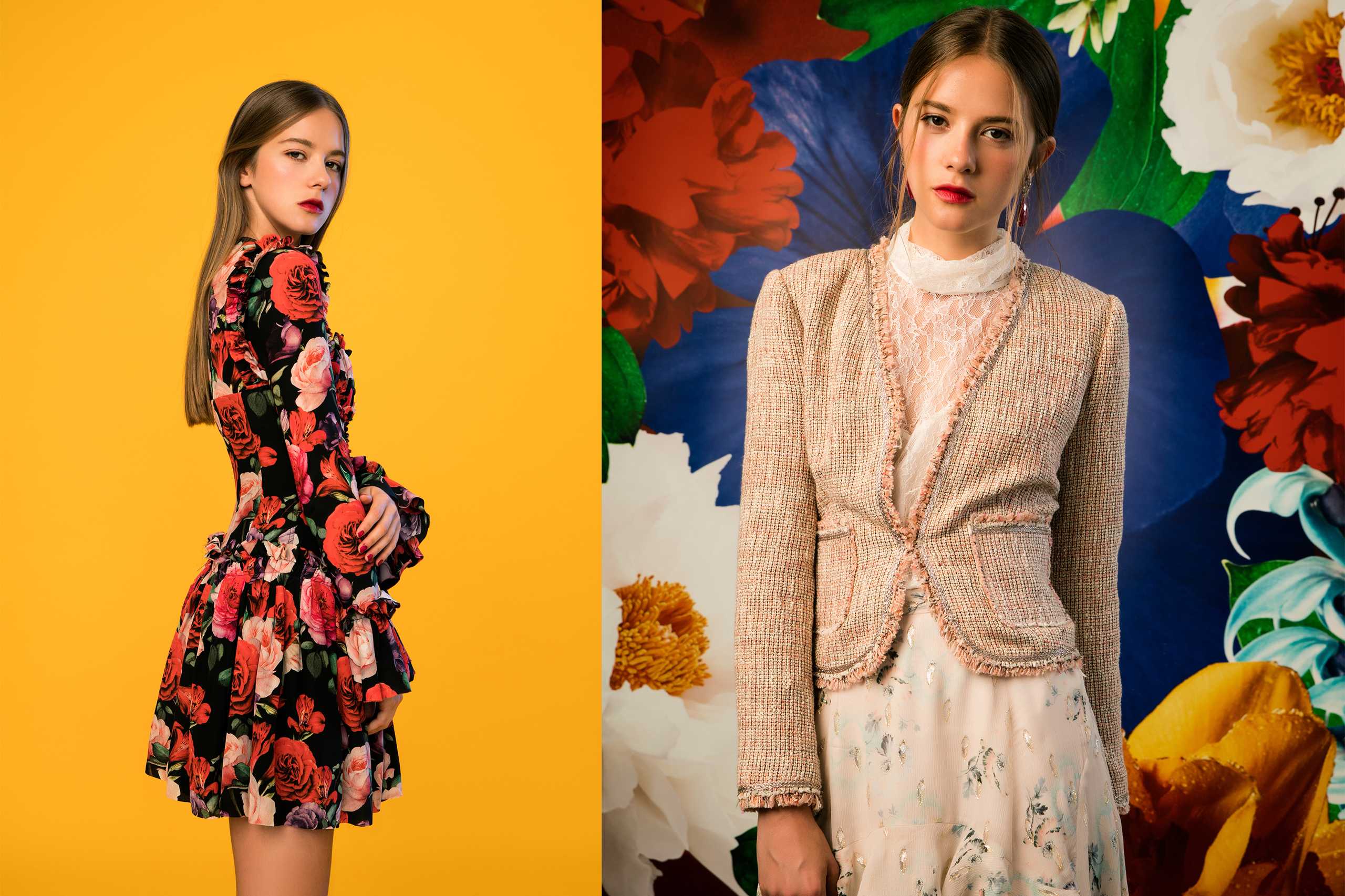 70's Garden Party
The floral trend is hardly groundbreaking – it comes and goes in various iterations every so often. The latest, however, feels unique in a way that makes the pieces somehow reminiscent of your aunt's tapestry or your grandma's sofa – in a good retro way, that is. Vintage does seem to be every designers' source of inspiration as of late after all – sometimes the most unlikely references from the past can make for something extraordinary. These new kinds of floral patterns radiate 70's vibes, as seen on Dolce & Gabbana's rose prints on dark backgrounds – very similar to Giuseppe di Morabito's Exclusive mini dress. Gucci, of course, is to be noted as well, presenting retro florals in the most eccentric, maximal way possible.
Take a step back in time and throw some retro flair into your fall wardrobe with some exclusive dresses or a romantic skirt.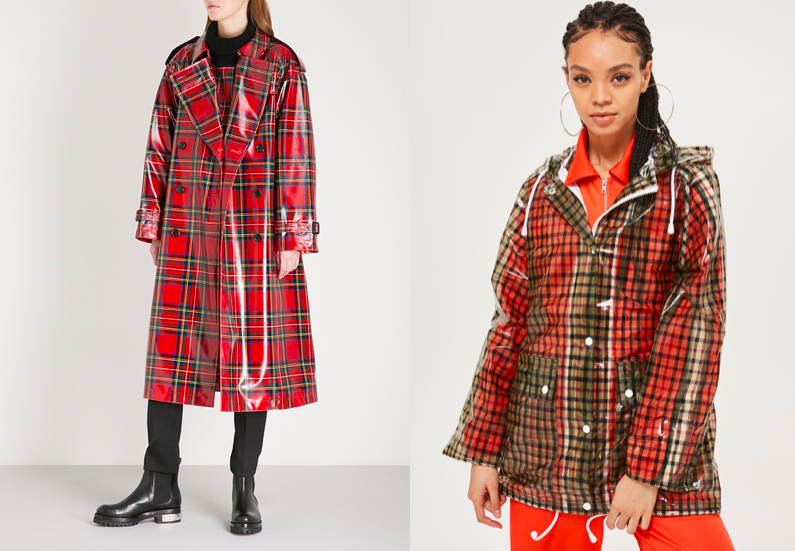 Plastic Fantastic 
The process of elevating synthetic pieces into luxury items has seen designers employ plastic to add a slight sporty, street and casual look to items. This has given rise to a trend that's full of irony known as the plastics. Making its high-fashion and street-side debut on pieces like Burberry's functional, rubberized raincoats to Chanel's see-through hat, this trend has been cascaded down fashion week runways and outside tents all over the world. Plastic bags, anyone? Here's a few of our PVC picks.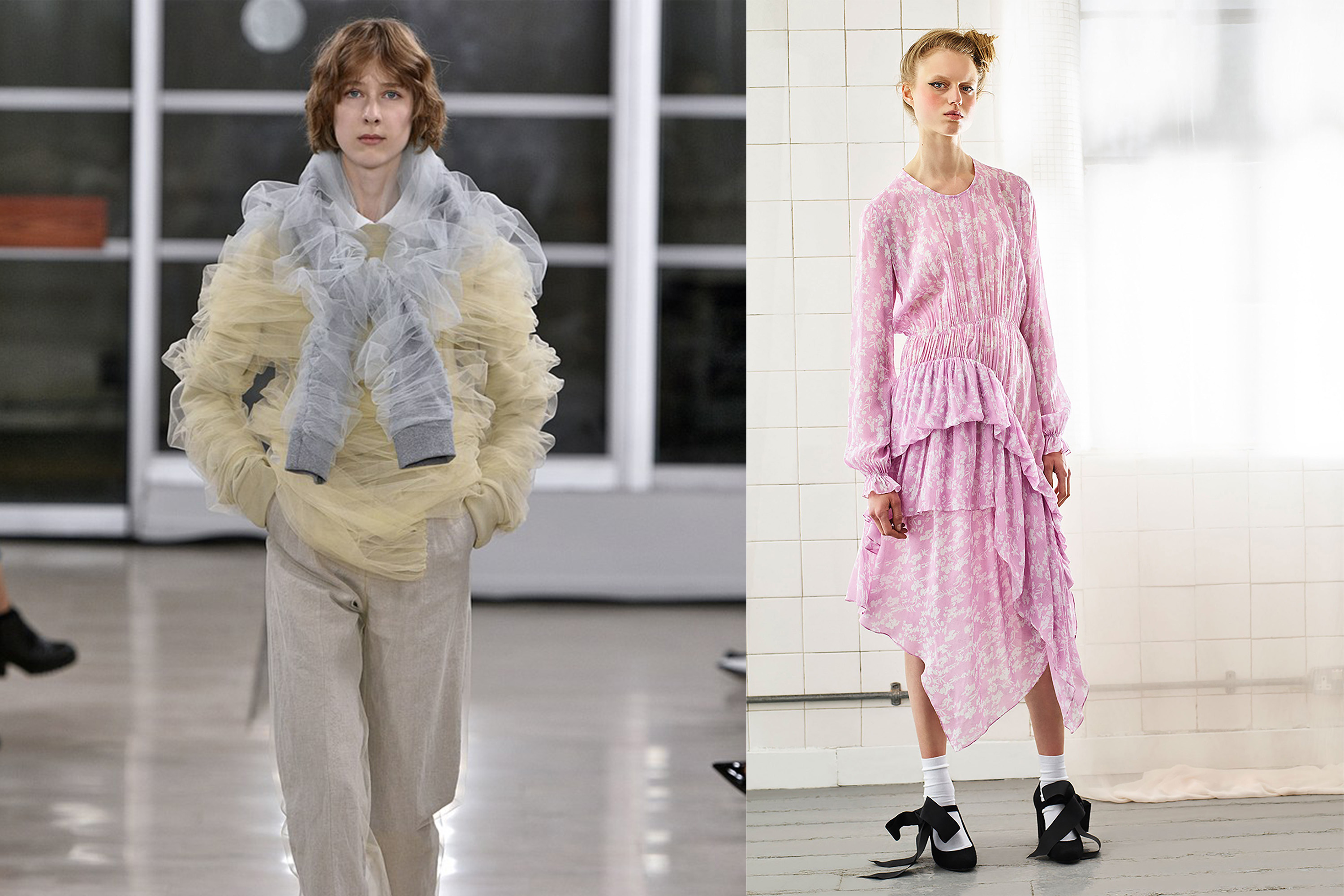 Candy and Cake
Pretty yet powerful looking silhouettes stood out in candy floss colors and sugar almond shades on the runways this year. As if the hues weren't enough to sweeten our palettes, designers have also taken into account sugary textures notably in Preen's show. The show was inspired by women's rights and featured ruffled dresses and draped shapes in delicate shades. Meanwhile, voluminous skirts and ball gowns were spotted at Carolina Herrera and Off-White shows.
Spend the end of summer in long, billowy dresses or skirts such as these which can easily transition into fall staples with the addition of your favorite knee-high boots and a coat.
Tags
Related Posts