Nuno Lopes de Oliveira was born and raised in Macau. With a mother who was 2nd runner up in the 1985 Miss Macau beauty pageant and a grandfather who was one of the founding members of the legendary band Tuna Macanese, Nuno feels he is continuing the legacy of his family as he breaks new ground in the Macau fashion industry. He was the first ever Macau designer to be featured in British Vogue and Vogue Italia, and the first from Macau to showcase at London Fashion Week. Last year he was recognized by Asia Fashion Awards as a Top Young Fashion Designer.
What do you love most about Macau?
Growing up in Macau I have seen a lot of big changes. I love that Macau has become such a glamourous city but always manages to retain its natural beauty. What I love about Macau is a feeling, it's not really a physical thing. This mysterious feeling of home, the glamor of this place that keeps on inspiring me. The way my hometown inspires me can be seen through my designs. The use of gold and glitter that I often use in my work is a reflection of where I'm from, after all I do think Macau is one of the most glamorous places in the world.
Were you introduced to fashion at a very young age?
From a very young age I have been surrounded by all different elements of fashion, I come from a family who believes it is important to dress well as it is a respect both for others and to yourself. My earliest memories of my appreciation for clothing were the beautiful dresses that my grandma would wear to work although, at that point I didn't know what fashion was but I know when something is beautiful. I think that it is important to have an eye for beauty in this industry, otherwise there's no point in having the occupation of being a designer.
Was there a crucial moment when you realized you wanted to pursue the path of a fashion designer?
I've always known I would pursue the path within the areas of arts and my parents were always very encouraging and supportive of me as a young kid to develop what I was good at. It was the age of 15 I decided to branch out and leave Macau to pursue my passion for the arts in the UK. When I moved to the UK I realized the possibilities and opportunities available to students. When I graduated high school I was able to to study fashion design at college. This was the time I decided my discipline within the arts and put all my energy into becoming a fashion designer.
Do you think Macau supports a creative environment for talents like yours? If not, how can it improve?
If I am honest, at the beginning the government seemed to be very encouraging in supporting small local creative businesses with all the subsidy plans. The negative aspect to these subsidies, rather than awarding support to creative people, they prefer to award this support to people who will give them the biggest financial return. So this can cause a lot of artists to compromise their creativity to more commercial designs. Most importantly there is not a proper art school here in Macau, so it makes it hard for a lot of young people with talents to get into their fields. Especially many families can not afford to send their kids overseas to pursue the study of arts. It is common in Macau and Asia that the idea of pursuing a career with in the arts is unrealistic. It is common knowledge that Macau is a very money-conscious place, its not enough just to be economically wealthy but also diversely and culturally wealthy.
What trends do you currently see in the fashion industry?
As in fashion trends, the early 00s styles are definitely coming back but with a twist of sparkle. For me less is never more, it's all about the balance. As globalization increases, fast fashion has been taking a toll on small creative business and individual designers. This is due to big fast fashion houses continuously bringing out new collections every other week other than the normal two seasons. This is causing smaller labels who do not have as much labor power to suffer as they can not keep up. Fast fashion is giving undeveloped countries a lot of job opportunities in clothes manufacturing, however the harsh reality is their working environment, conditions of living, or even basic safety standards are unsuitable. It is unfortunate that there is this side of the fashion industry and hardly any of the consumers know or care. They just want cheap, affordable clothing. Consumers taking part in this ugly cycle don't just minimize smaller creative designers but affect the safety of factory workers across the world.
What skills are important for a successful career in fashion design?
I think to call yourself a fashion designer you will need to at least know how to construct a garment, and turning an idea and translating it to clothing by the use of fabrics. I have seen so many proclaimed fashion designers that can't even create a pattern from measurements or even work a sewing machine. Above all a unique intuition to translate your own style and ideas through your design and to create it in to a 3D piece of clothing, there are so many designer nowadays that are too caught up in following trends or being too commercial, it has made them loose their artistic authenticity.
Who are your favorite designers?
My all time favorite designer is Versace, I love the opulence and their idea of excess. The brand itself has accomplished so much throughout the years, understanding exactly what their clients like. I am also obsessed with The Blonds, two New York-based designers. Their use of materials is so unique and each season they seem to have a clear, straightforward theme, but they never fail to impress.
How did you start your namesake brand? And how do you foresee it growing?
My brand started immediately after I graduated as I was very lucky to have an amazing start with all the exposure that I had for my graduate collection which showcased at London graduate fashion week, that kind of launched my brand. I didn't want to miss the opportunity that followed that event. I couldn't see my self working for another brand as I knew my ideas would never be heard. Having my own brand is the best way to bring all of my ideas to life, ensuring people get to see my work and have the chance to wear my clothes. I was really inspired to start my own brand after I was named one of the top ten fashion students by Vogue Italia. I hoped that if a renowned fashion magazine such as Vogue could recognize my work, the public would too.
Who is the epitome of the Nuno Lopes brand? Any celebrities whom you hope to dress someday?
Nuno Lopes men are sexy, confident, glamorous and not afraid of what people think of them, willing to take some risks. I hope my designs will empower men to be different and I believe it is ok for men to feel and be glamorous and young. Above all just don't take life so seriously. Fashion should be an enjoyable thing and stress free.
So far luckily I have worked with some amazing celebrity stylists in the UK and had my designs worn by Paris Hilton and Years & Years from the UK. And I hope to dress Adam lambert next as I think his style really goes with the Nuno Lopes aesthetic.
How is your design different from your other competitors?
I would say I have a very distinctive style as a designer and I think that's why Vogue and all these stylists took notice of my work. My designs are very true to myself and I don't really follow trends because as a designer the minute you follow trends you will start to lose the authenticity of your brand. I think that is why a lot of stylists and artists noticed me in the first place—a fashion designer should create trends and not follow them. Also as a menswear-focused brand I would say my kind of menswear is not very conventional for now and people can see that my designs are different.
What kind of advice would you give the younger generation who wants to pursue the same career?
I would definitely tell them if you are not 100% confident or sure about yourself and the image you want to project, think twice before entering the industry. It is very competitive and also launching your own brand is hard work. Working hard is the key to success and not taking too much time off.
---
Follow Nuno on his website: www.instagram.com/nunolopesfashion and Instagram: @nunoglamor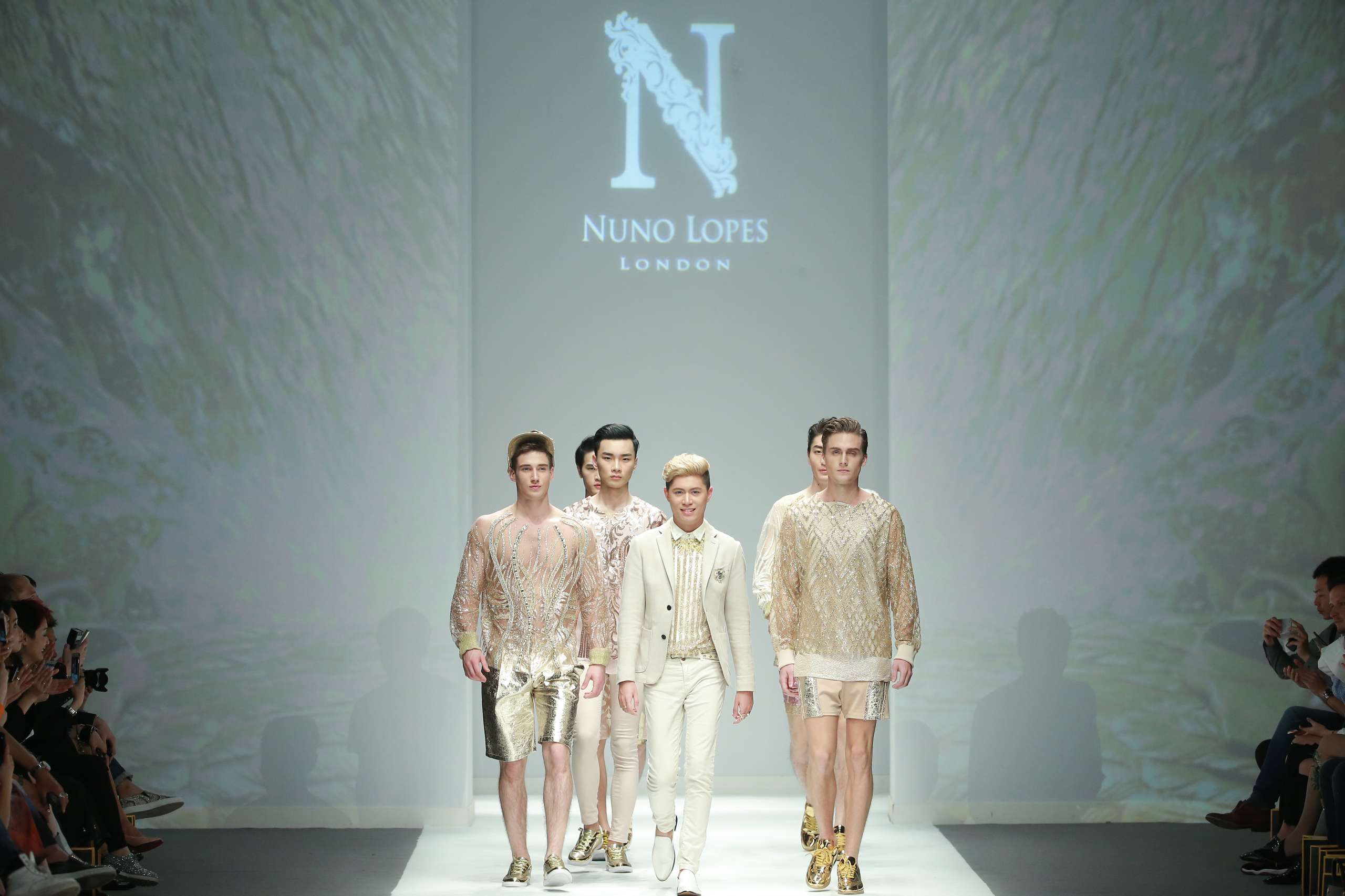 Tags