If you love traveling as much as I do then you must be missing blue skies, outdoor adventures, and ocean-front views during these grey and humid days. A hop, skip, jump away; Vietnam is a great destination for a quick escapade. The food is delicious, it's easy to get to, and it has something for everyone.
A very special place for a weekend getaway is Hoi An, a UNESCO World Heritage site. This beautiful coastal town has fabulous places to shop, delicious restaurants and cafes, as well as cultural and historical spots.
You can get to this lovely place by flying to Da Nang from Macau, followed by a 30km car ride down the coast (here's more about Da Nang). A taxi from the Da Nang airport to Hoi An will cost you about USD $20. You can also book a shuttle for a much cheaper rate, as it only takes 30-45 minutes.
Hooked on Hoi An
Located on Vietnam's central coast, Hoi An is a lovely old trading town, peaceful and picturesque by day and lit up by lanterns at night. During the 16th and 17th centuries, it was one of Asia's leading ports, which explains its Chinese, Japanese and European influences. It is wonderfully preserved, as it became a World Heritage Site in 1999. You are surrounded by culture, with many colorful colonial buildings that will make for perfect Instagram posts. It is super-photogenic, this town!
Renting a bike is a must in Hoi An, and most hotels offer bikes for guests. The majority of the town center is car-free and everything is nearby.

Sightseeing—a Cultural Snapshot
It is charming and filled with century-old architecture, narrow streets, and colorful houses. The Old Town is truly a quaint and unique place to explore. The best sight-seeing spots are walking distance from each other.
Make sure to visit the Japanese Covered bridge, which dates back to the 16th century. It is a historical spot created by the Japanese to cross to the Chinese quarter across the water. Nowadays, walking across is free and on the other side, you can find many art galleries and souvenir shops. I recommend spending an afternoon in this area to buy local art and beautiful crafts.
Another sightseeing spot is the Chuc Thanh Pagoda, which is the oldest and one of the most cherished Buddhist pagodas in Hoi An. Not too far is the Fujian Assembly Hall, built for worship and gathering. Walk around and take pictures of the main gate, the Cantonese temple, and shrines.
During the evening, the Old Town comes alive and is colorfully lit up. There are pedestrians all around the bustling riverside. There is a famous restaurant called "Morning Glory" that serves traditional Vietnamese dishes in a colonial building. Despite being a large restaurant, you will need to make a reservation because it is very popular. Nu Eatery is also a great place for dinner, this one is located on the other side of the Japanese bridge. This place has fabulous food, but it is small and always in high demand. There are many riverfront cafes and bars offer a charming view of the Thu Bon River. Walk around and find a spot that catches your eye, you will enjoy everything in this lovely town.

Old Town night market
No trip to Hoi An is complete without a visit to the night market. When the sun goes down, one of the busy streets of the old town comes to life with local vendors, artisans, and colorful lanterns all around. You can buy beautiful decorative items, traditional lanterns, handmade jewelry, and souvenirs. If you walk by the river, you can find many locals selling small paper lanterns. Make sure to follow the tourist tradition of buying a lantern, lighting the candle, and placing it in the river while you make a wish.
Japanese Covered Bridge Nguyễn Thị Minh Khai, Cẩm Phô, Tp. Hội An
Chuc Thanh Pagoda Khu Vực 7, Phường Tân An, Thành Phố Hội An, +84 235 3861 099
Morning Glory Restaurant 106 Nguyễn Thái Học, Minh An, Tp. Hội An, +84 235 2241 555, tastevietnam.asia
Nu Eatery 10A Nguyễn Thị Minh Khai, Cẩm Phô, Hội An, +84 129 519 0190, www.facebook.com/NuEatery
Shop Until You Drop
Hoi An is famous for the tailor shops. I recommend doing this during your first day in Hoi An so you have time to find the best fabrics and to check the quality of your tailored piece. It is definitely worth getting a custom-made dress, shirt or suit. You can bring a picture of what you want and select the fabric, or you can pick from the designs they have on display and get it tailored to you. It is very quick—most shops offer 24-hour tailoring service, so once you select your design and fabric, they will take your measurements and sew your clothes by the next day, or even deliver it to your hotel. Don't forget to bring your bargaining skills along. You should negotiate and check the prices and designs at a couple of stores before selecting one.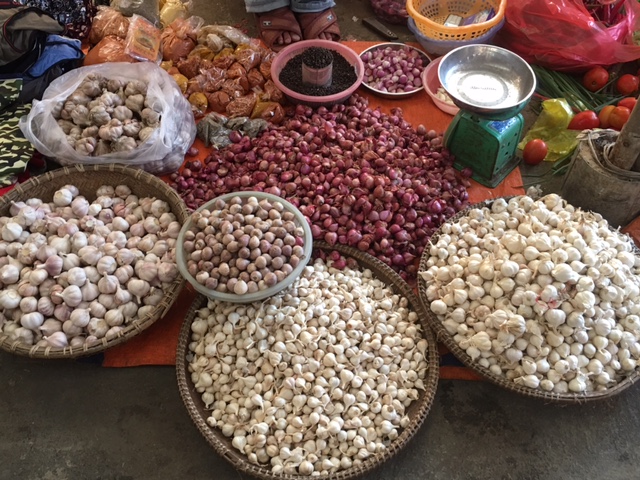 Vietnamese Cooking Lesson—A Unique Experience
During your visit, I highly recommend taking a cooking lesson. It was one of the best experiences of my trip. My favorite part of the cooking tour was getting a glimpse of authentic Vietnamese life. I signed up for the cooking lesson offered at the hotel, hosted by a local restaurant called An Bang Beach Village Restaurant, which is located in a small, undeveloped, yet beautiful beach area.
Mr. Dong was the best host and chef, he picked us up at the hotel lobby and gave us some recipe options. Once we selected the dishes we wanted to learn he took us on a motorcycle to the local market. The ride was exciting as we could see all the bustling local life, the small houses and the fields where they pick the crops early in the morning.
At the market, locals sell fresh fruits, vegetables, spices, live poultry, and freshly caught fish. We walked around the market with the chef, while selecting our own ingredients and learning about Vietnamese produce, local herbs, and spices. On the way to the restaurant, we stopped for a delicious Vietnamese coffee at a local shop and then hopped on for a scenic drive to the An Bang beach area.
The lesson was quick and fun, very hands-on and enjoyable. The best part is we ate our own meal for lunch. As an extra perk the restaurant offered sunbeds by the beach, so we could relax while soaking up the sun.
An Bang Beach Village Restaurant Tổ 6B, Cẩm An, tp. Hội An, +84 90 354 26 13, www.anbangbeachvillage.com

Where to Stay
There are plenty of hotels, five-star resorts, villas and boutique hotels to choose from in Hoi An. A high-end option is the Anantara Resort, a river-side colonial style hotel with lovely terraces and gardens.
If you are traveling with family or if you want a boutique hotel a bit away from the busy center, I recommend the Essence Hoi An Hotel & Spa. I stayed there during my most recent visit. The room was spacious and clean, the breakfast buffet was delicious and the pool area was nice and cozy. This hotel has a shuttle to the old town that stops right by the street where all the tailor shops are located. It also takes you to An Bang beach, which offers sunbathing chairs at no cost for hotel guests.
Whether you go for the shopping, the cooking lessons, or the cultural sites I guarantee you will fall in love with the charming and ancient city of Hoi An.
Anantara Resort 1 Phạm Hồng Thái, Cẩm Châu, Hội An, +84 235 3914 555, hoi-an.anantara.com
Essence Hoi An Hotel & Spa 132 Hùng Vương, Thanh Hà, Hội An, +84 235 3915 915, www.essencehanoihotel.com
Tags
Related Posts