If you've been looking for "places to go in Macau", Rua da Felicidade might've come up a lot. During the 19th century, this street was known for being the city's red-light district, when Chinese merchant Vong Lok and his son Vong Tai ruled it. The street was mainly populated with brothels and some teahouses, with opium shops occupying the others. Gambling stalls and restaurants were also abundant. "Sensual pleasures" could be found here and on two other streets–Beco da Felicidade and Travessa da Felicidade.
This trio was called the "three streets of the flower paradise". Until a few years ago, the two-story buildings were all grey with red doors and decorations. This street was always a sight to see and a pleasure to walk along. It still feels that way, but most of the doors are now green, while others stay painted with the color of love.
After the Second World War, prostitution and opium were made illegal and banned from Macau. Rua da Felicidade lost its appeal but in time, it would regain its popularity. This time, for more wholesome reasons.
The local government decided to revamp it, painting all the old doors green and leaving the ones in good condition, red. It still is a sight to see albeit with a bit more tourists and popular shops. Rua da Felicidade is a must-visit when you're in town! Besides great photographs, have dinner in one of Macau's oldest local restaurants (Fat Siu Lau); visit or stay a night in San Va Hotel, which dates back to 1870. This street has so much to offer and these are just a few not to be missed!

Yi Yan Tang Dessert
When you start exploring this street, this is the first place you'll come across. Serving typical traditional desserts, it's a good spot to stop at and relax before heading out to tackle all the fun you're about to have. Try the mango and pomelo cold soup and perhaps if you're craving something savory, their abalone noodles with homemade XO sauce really hits the spot! For more recommendations, check out our trip to this dessert place here! See their Facebook page to whet your appetite!
Opening hours: Daily, 12:30pm–11:00pm
Yi Yan Tang Dessert G/F, 1 Rua da Felicidade, Macau, +853 6660 2916 
Also read: Why You Must Visit Yi Yan Tang Dessert in Macau
Naughty Nuri's
Call ahead if you want to dine in this amazing joint, or you will risk not having a table available. They serve some of the best ribs in town and others, such as Indonesian dishes. Founded in Ubud (Bali, 1995), they have franchised all over Asia and Rua da Felicidade's is the only one in town! To find out what we liked and what food to order, check out our article here. Check their Facebook page for menu information and more.
Naughty Nuri's 7 Rua da Felicidade, Macau
Also read: Naughty Nuri's: Balinese Food and Must Try Ribs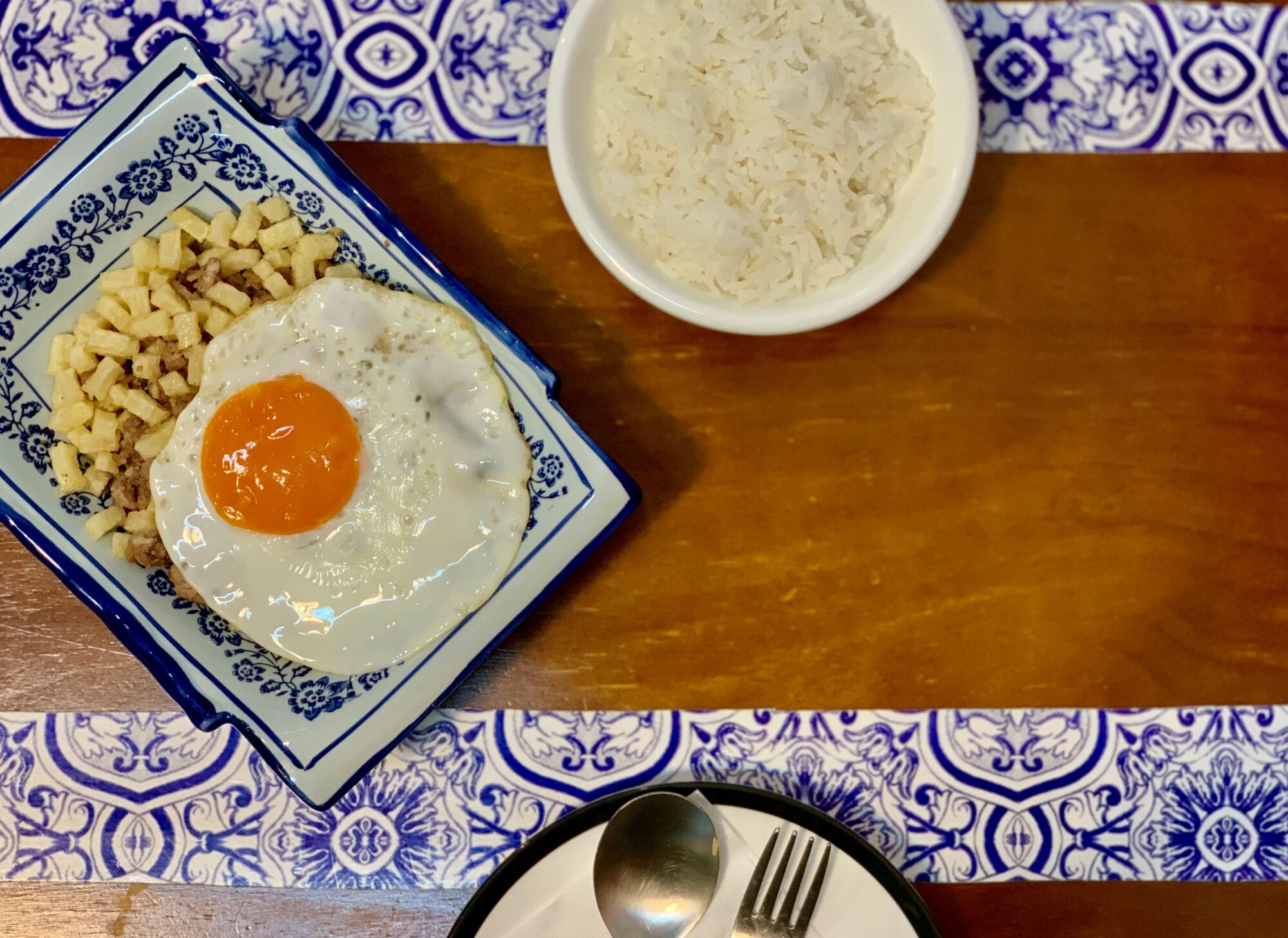 Belos Tempos
This is one of Macau's oldest restaurants! Serving Macanese and Portuguese dishes, it's the perfect spot to try out minchi, tacho, or a creamy codfish! Located on the right side of the street–if you are going down–it's a two-story building with an old entrance. It also has a room that can be booked for private events, decorated with furniture pieces from another time.
Opening hours: 12:00pm–10:00pm
Belos Tempos 10 Rua da Felicidade, Macau, +853 2893 8670, www.facebook.com/belostempos
Also read: Belos Tempos Restaurant: The Real Macanese Deal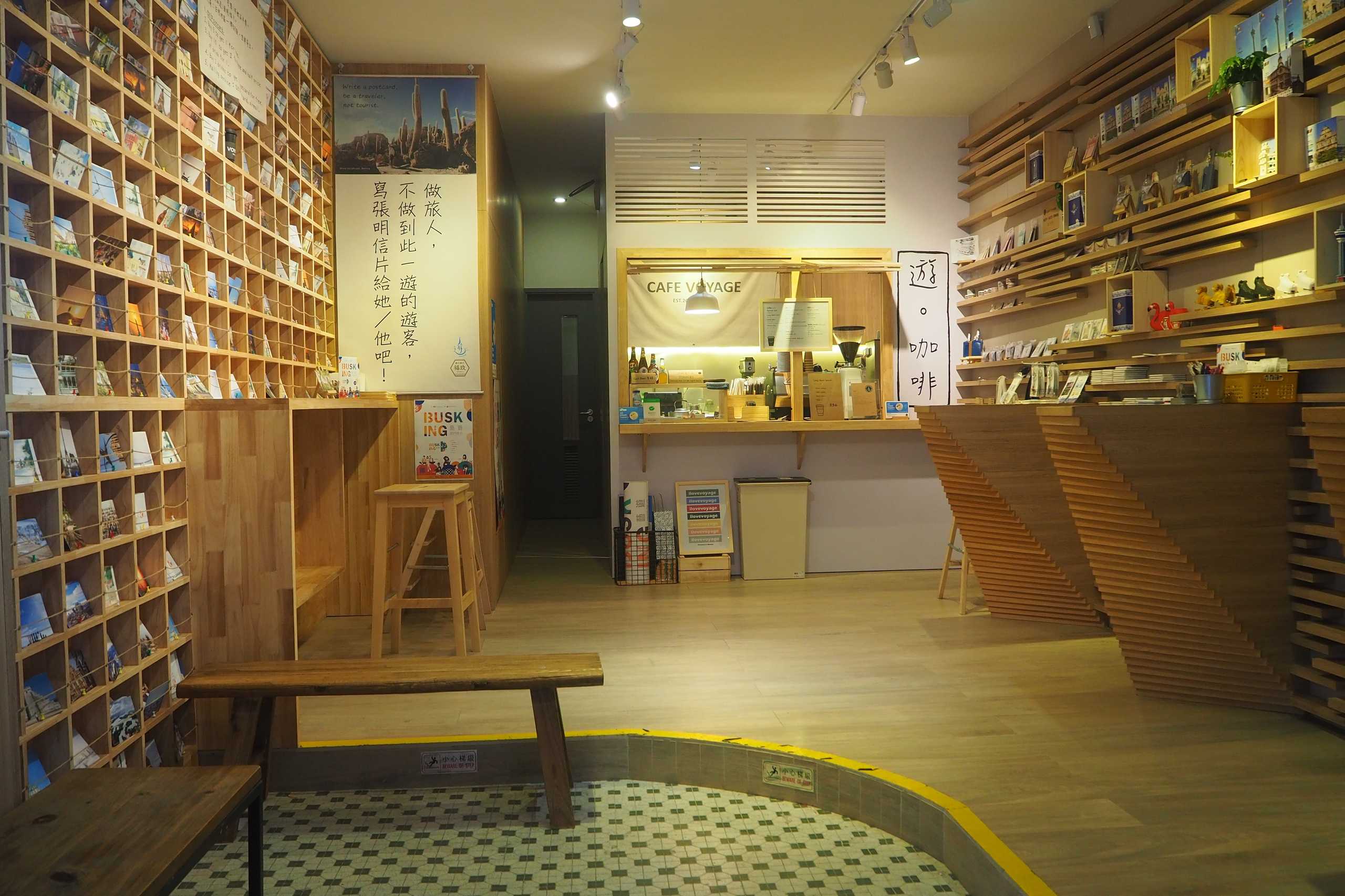 Once Upon a Time
A coffee and gift shop all in one, just being there makes you happy. It is a beautiful space to spend some time in to get away from all the chaos outside! Go in, take a seat, and enjoy this nice and cozy spot! Here, you can buy little gifts like knickknacks and Macau souvenirs, to original postcards and even pens and keychains! Voyage coffee is really tasty as well, perfect for an afternoon sip while strolling around.
Once Upon a Time 45 Rua da Felicidade, Macau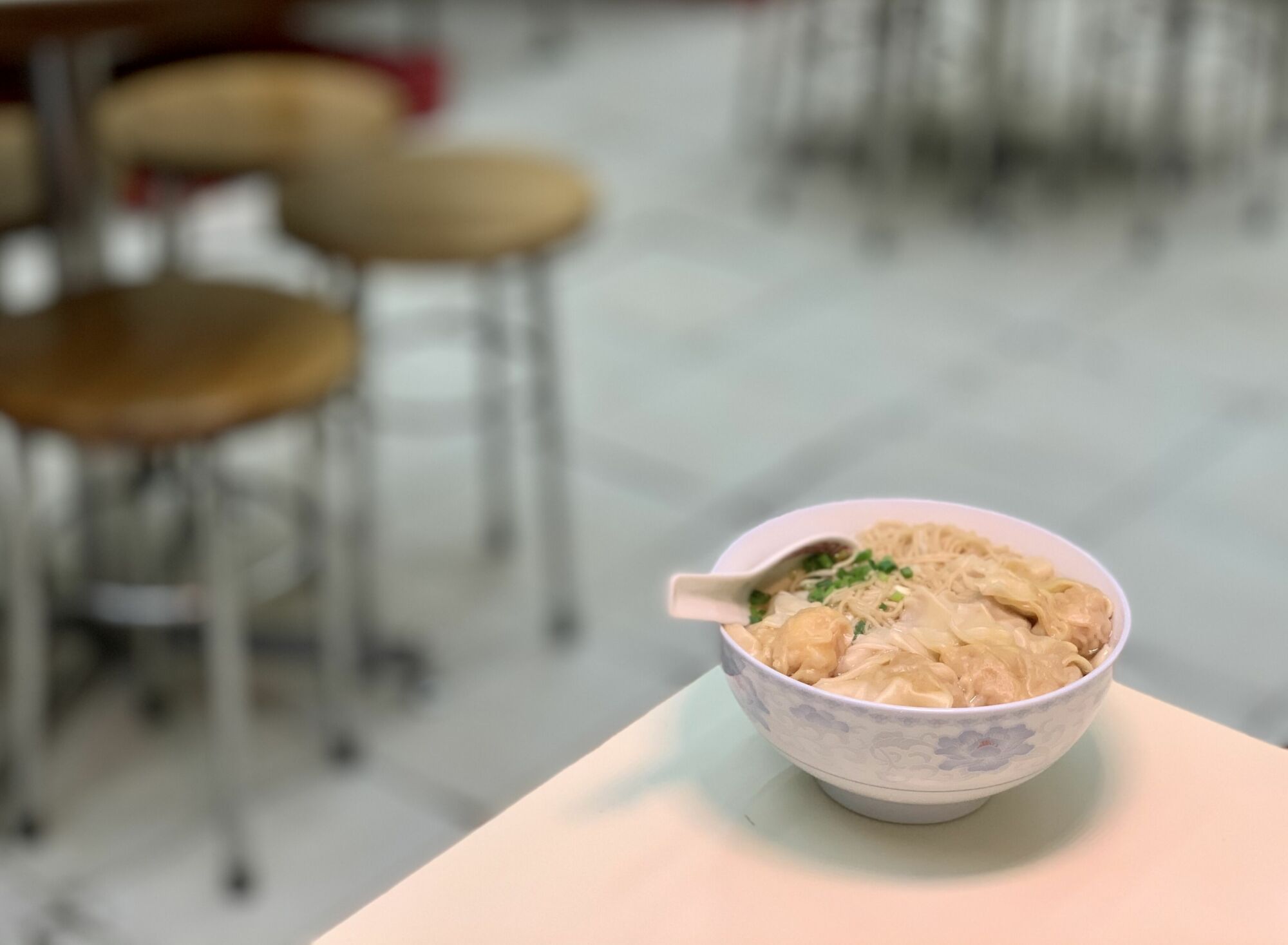 Cheong Kei Noodle
Cheong Kei Noodle is an oldie but a goodie! Serving some of the best wonton noodles in town, getting a table can be quite difficult, so be sure to get there before peak time. With a historic vibe, its interior is cosy and the staff knows what they're doing, so don't worry, you're certainly in good hands!
Opening hours: 11:30am–00:00am
Cheong Kei Noodle 68 Rua da Felicidade, Macau, +853 2857 4310
Also read: Where to Get The Best Local-Style Noodles in Macau
Also read: Macau's Best Wonton Noodles for Under MOP $50
Fat Boy Peanut Candy
If you've just had something to eat at Cheong Kei Noodle Shop, it'll be hard to miss Fat Boy Peanut Candy located right opposite. It is an easy one to spot because it's the only stall on Rua da Felicidade! Fat Boy Peanut Candy is owned by locals who have been making handmade peanut candies for decades now. Grab some to eat while you walk down the street or buy a pack for when you feel homesick for Macau. Treat yourself to some Made in Macau sugary goodness!
Cheong Kei Noodle Rua da Felicidade, Macau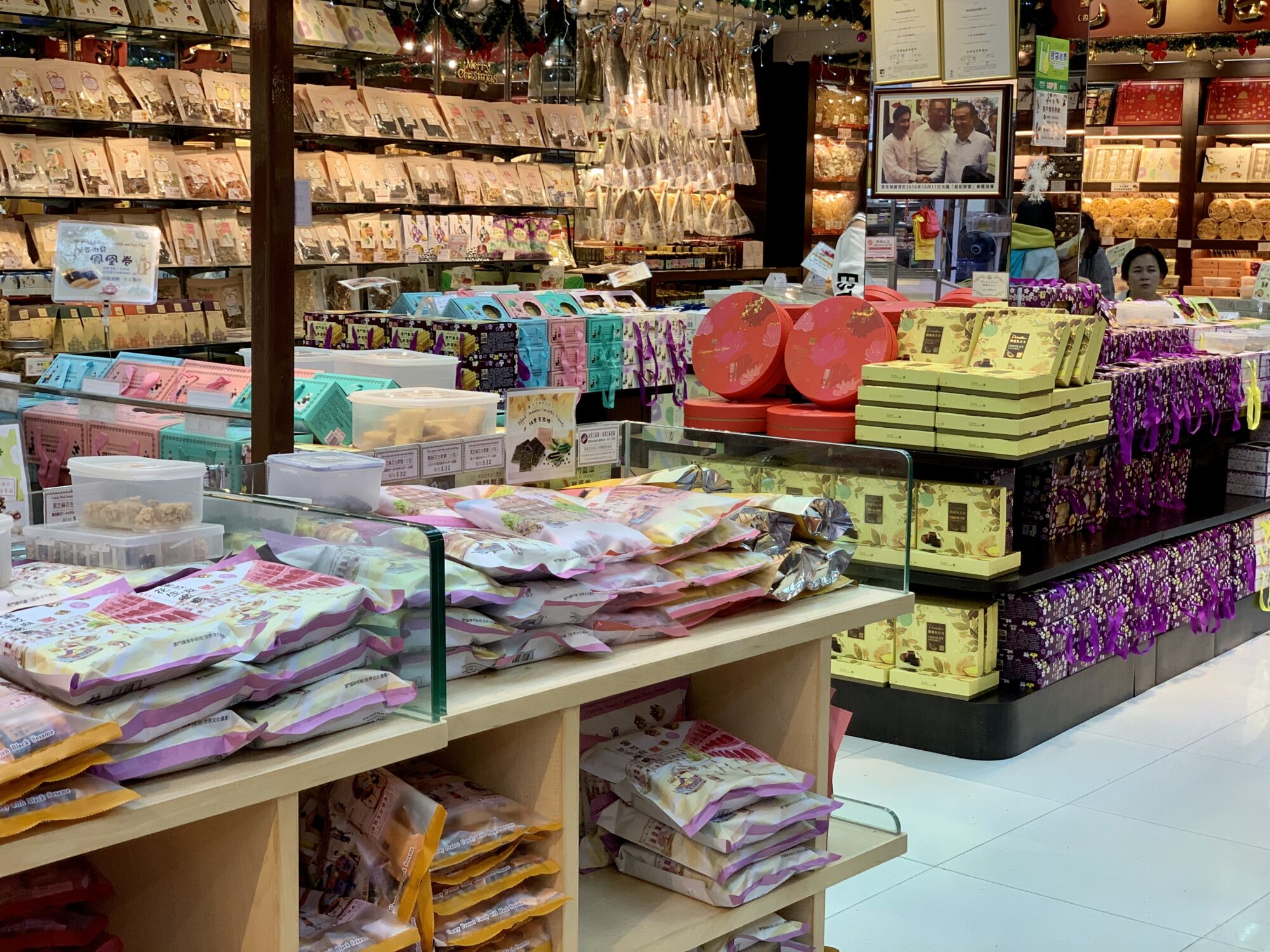 Koi Kei Bakery
With some of the best almond cookies and meat jerky in town, this is one of many branches of the famous bakery. Try the cookies which are available to the public but be careful with your sugar levels! Conversely, they also have gift boxes that you can fill with their tasty treats to give as souvenirs to friends and family.
Koi Kei Bakery 70–72 Rua da Felicidade, Macau, www.koikei.com
Also read: Macau's Must Try Snacks
Also read: Macau's Best Street Food
Also read: Where to Find the Best Portuguese Egg Tarts in Macau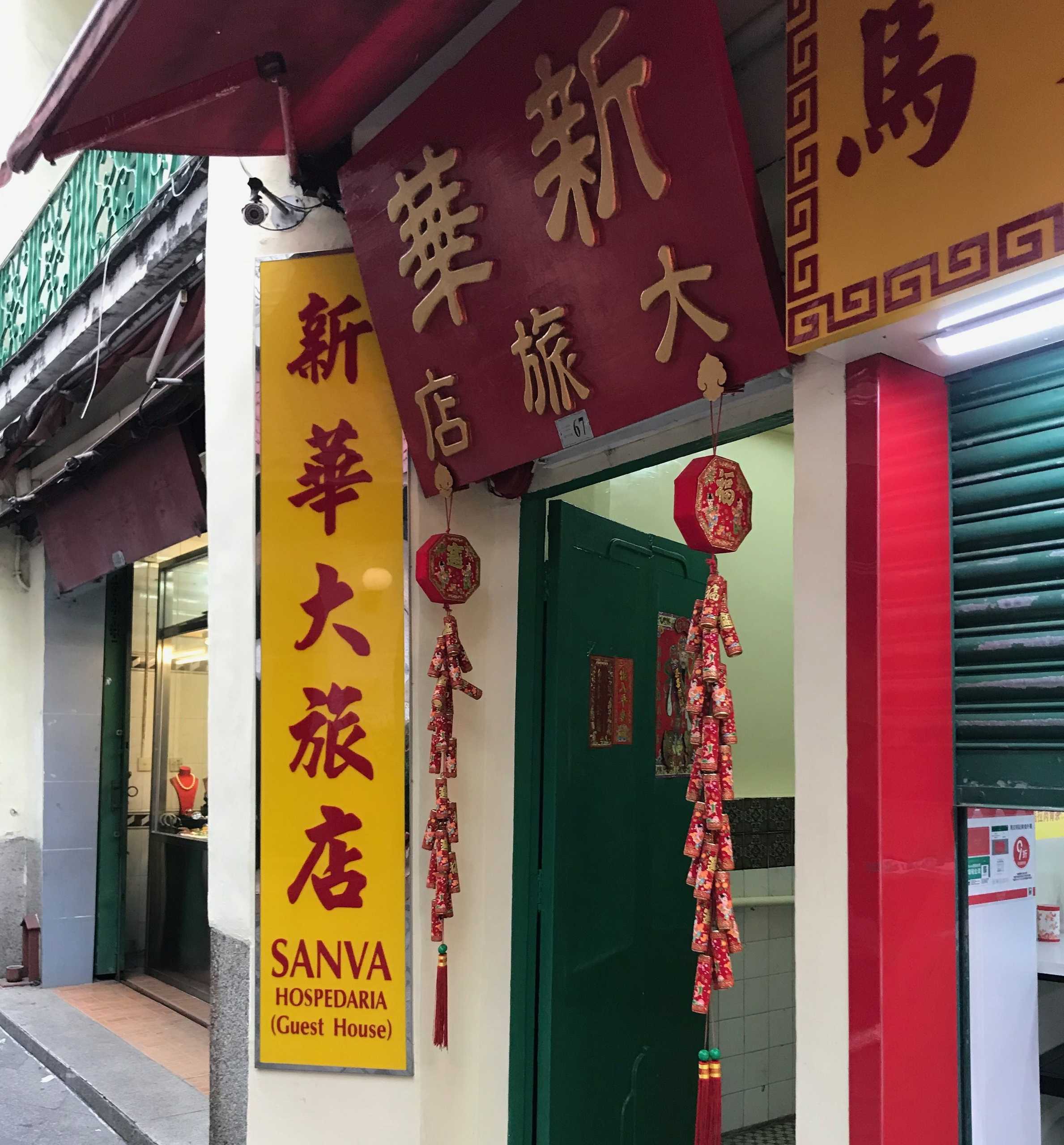 SanVa Hotel
SanVa might as well be called the heart of Rua da Felicidade since it's been active as a guest house since the 30s. It's a really cute space, where time stands still. Check out this spot if you're looking for cool photos for your Instagram feed and a taste of old Macau!
SanVa Hotel 65–75 Rua da Felicidade, Macau, +853 2857 3701, [email protected]
Also read: Macau's Must Try Snacks
Also read: Macau's Best Street Food
Also read: Where to Find the Best Portuguese Egg Tarts in Macau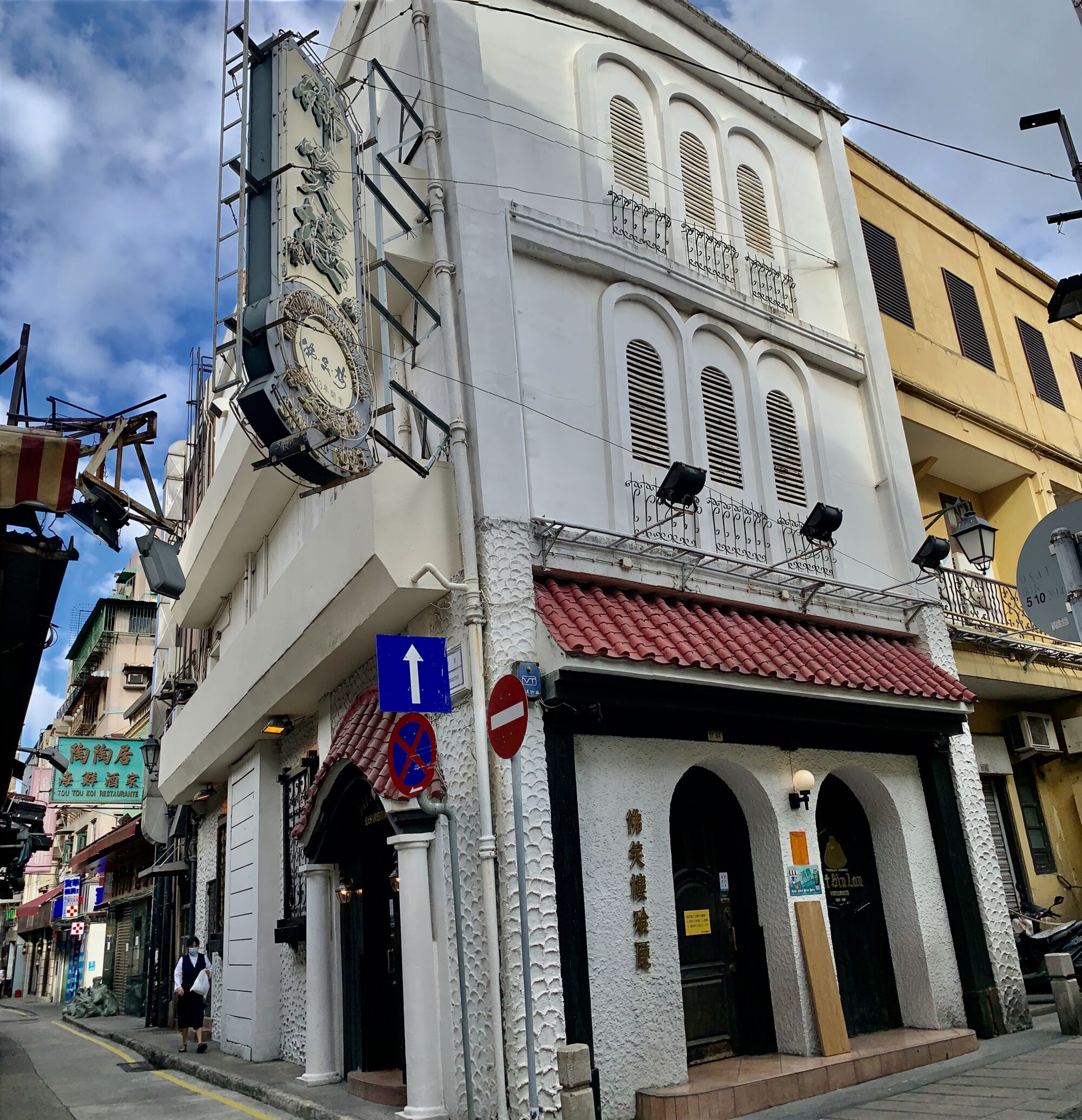 Fat Siu Lau
Established in 1903 in Macau's former red-light street, Fat Siu Lau restaurant is still alive and kicking, with the same decorations, remarkable front door and is run by the same family who founded it. Its signature dish is called "shek ki"–roasted pigeon–and it is said to be a local delicacy made with a family recipe. You'll certainly feel the historic vibe when stepping into Fat Siu Lau.
Opening hours: 12:30pm–10:30pm
Fat Siu Lau 64 Rua da Felicidade, Macau, +853 2857 3580
Also read: Do it Like a Local: True Macau Establishments
Also read: Vintage Walks: Coolest Neon Signs in Macau
Also read: 10 of the Oldest Restaurants in Macau
** The Factory Macau closed operations as of August 2021
The Factory Macau
Looking for the Best Chocolate Cake in the World? Well, look no further! From Portugal, with lots of love and cocoa, The Factory sells this amazing dessert. They also have matcha and butter biscuits and fresh homemade bread! Have an espresso or juice for tea time with your pals but be sure to taste a few of their biscuits or cakes before heading out the door.
Opening hours: Tuesday–Sunday, 11:00am–8:00pm
The Factory Macau 73 R. da Barca da Lenha, Macau, +853 2857 7545, www.instagram.com/thefactorymacau
Also read: Sweet Arrival: "The Best Chocolate Cake in the World" Hits Macau
Tags
Related Posts